aka Momma's Boy; Night Warning; Thrilled to Death
---
USA. 1981.
Crew
Director – William Asher, Screenplay – Stephen Breimer, Boon Collins & Alan Jay Glueckman, Story – Collins & Glueckman, Producers – Breimer & Eugene Mazzola, Photography – Robbie Greenberg, Music – Bruce Langhorne, Makeup Effects – Al Apone. Production Company – S2D Associates.
Cast
Jimmy McNichol (Billy Lynch), Susan Tyrrell (Cheryl Roberts), Bo Svenson (Detective Joe Carlson), Julia Duffy (Julie Lyndon), Marcia Lewis (Marge), Steve Eastin (Coach Landers), Britt Leach (Sergeant Cook)
---
Plot
Since the death of his parents in a freak car accident at a young age, Billy Lynch has been raised by his aunt Cheryl. When Billy announces that he is going to university in Colorado on a basketball scholarship to be with his girlfriend Julie, Cheryl becomes jealous. She invites a repairman over and forces herself on him but then, as Billy returns, cries rape and stabs the handyman to death. Billy is forced to lie and cover up in front of the police. Detective Joe Carlson is certain that Billy is a homosexual and is having a secret affair with his basketball coach and goes out on a limb to try and prove his case. Meanwhile, as Cheryl begins poisoning Billy to make him stay with her, he begins to uncover dark secrets about her and his parents.
---
Butcher, Baker, Nightmare Maker came out during the height of the slasher cycle (1980-2) where it attained little-to-no interest and was dismissed as an average entry in the genre. It has since floated around under a variety of different titles, most commonly Night Warning. Seen today, it has a compulsive fascination to it that makes it a worthy artifact for rediscovery by the Psychotronic film cult. Although more so than any allegiance to the slasher cycle of the era viz Halloween (1978), Friday the 13th (1980) et al, Butcher, Baker, Nightmare Maker hearkens back to the heyday of the 1960s and the cycle of Batty Old Dames psycho films that began with the success of What Ever Happened to Baby Jane? (1962), all featuring Hollywood actresses past their glory days going bonkers in grand scenery-chewing style.
To this extent, the film features Susan Tyrrell. Tyrrell is not exactly a former Hollywood star past her prime – she was only 36 when the film was made (although looks at least 46) – although is an actress who gives the impression of having been past her prime her entire life. Every role Tyrrell plays gives the impression that she goes on a major drinking bender just before shooting as requisite prepping for the role. The part here is one of the most perfectly suited she has ever been given. She lets all stops out and gives a totally demented performance. She in particular gains her feet in the last quarter where the film throws all caution to the wind and joins her, going all-out with barnstormingly Gothic regard.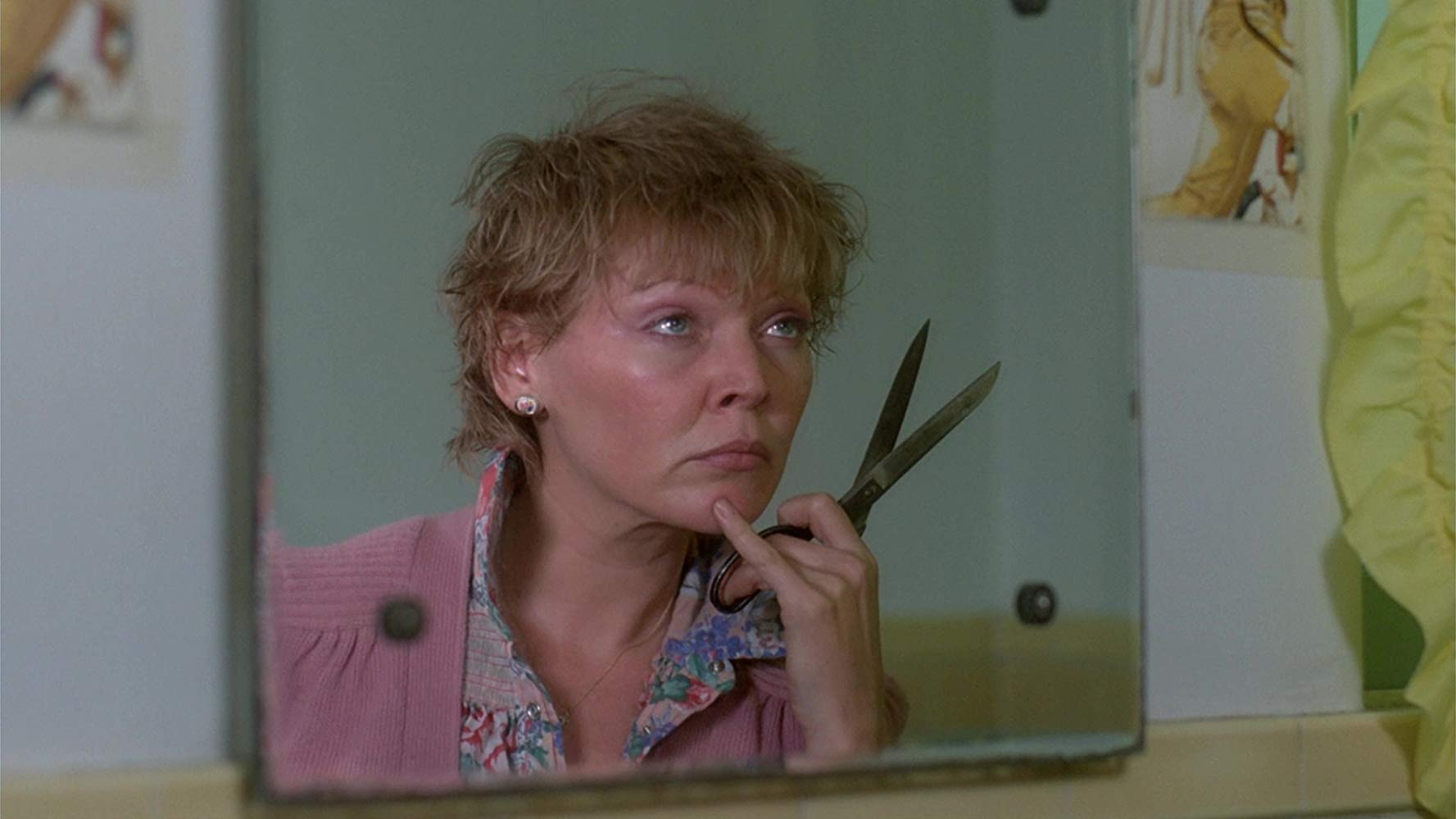 What is most fascinating about the film is its portrait of tormented psychology. Up against Susan Tyrrell, Bo Svenson gives an equally fascinating performance as a cop who ignores all evidence to the contrary and pursues his own dogged agenda hounding young Jimmy McNichol with accusations of being a closet homosexual. What is most intriguing about the film is the fact that it does not concentrate on the psychology of the psycho of the piece (Tyrrell) but rather on the psychology of the victim (McNichol) caught up in her schemes.
In fact, for once, the psychology in a slasher film rings with an uncommon touch of authenticity and credibility. We see Jimmy McNichol caught between a cloying, domineering mother figure with clearly incestual desires on him, between a tentative romance with his girlfriend, and between Bo Svenson's bullying cop figure who is determined to manufacture a case that he is gay and having a secret affair with his openly gay basketball coach.
The fascination and torridness of the psychological portrait and its ring of authenticity makes one suspect that it is a personal story on the part of one or other of the screenwriters. Indeed, the whole film reads as a couched story of one man's struggle with divided sexuality – guy with a domineering and toxic mother figure uncertain whether he is gay or not, his standing up to try to assert his heterosexuality against a tormenting pseudo-father figure who accuses him of being gay, and at the end of cautiously accepting a traditional heterosexual relationship with his girlfriend. Although you are not entirely sure though if the heterosexual relationship Jimmy McNichol eventually settles for is one he would be entirely happy with.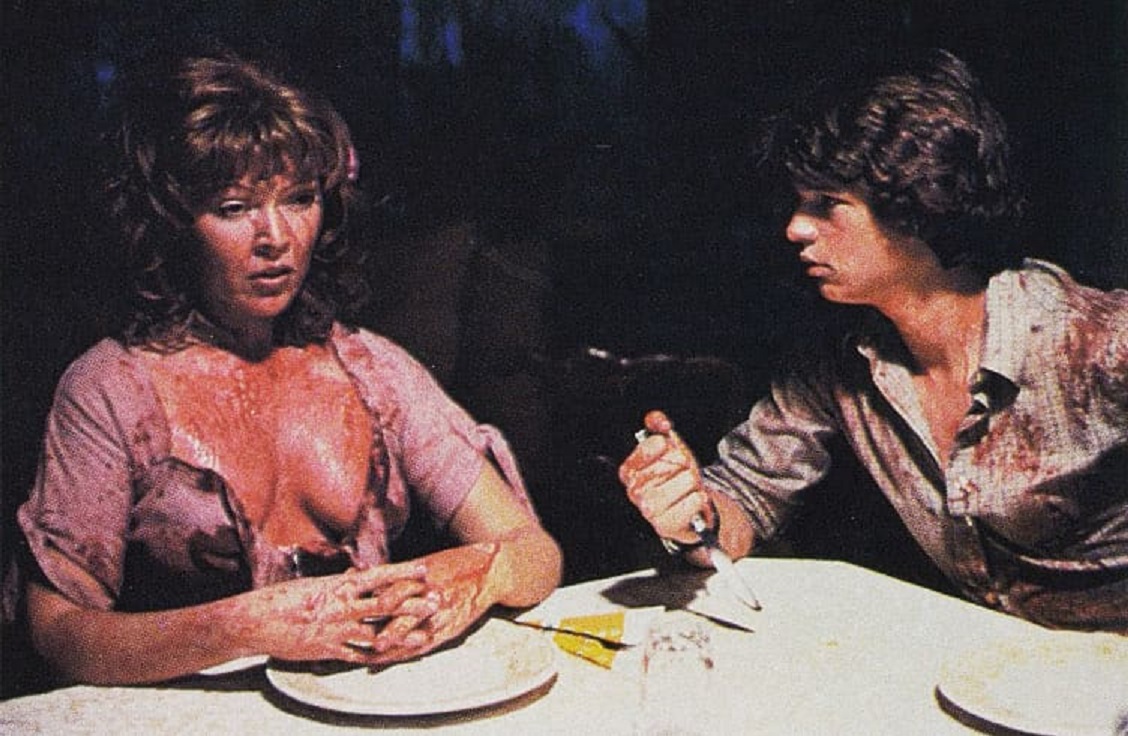 What is equally fascinating here is the ambiguity with which McNichol's conflict is couched – in the sexual relationship with his girlfriend he is seen as being somewhat dysfunctional; while after conducting the murder at the end, the first place he turns to seek solace and comfort is the blacklisted gay coach, and there is more than a touch of uncertainty in the fadeout on he and his girlfriend hugging. Quite possibly you suspect the screenwriters would have been quite happy to have McNichol go off with his coach but the morality of the day in 1981 would never have allowed that as an ending. Fascinating.
William Asher will probably be best remembered as the director of the various teen Beach Party films of the 1960s, which included Beach Party (1963), Muscle Beach Party (1964) and Bikini Beach (1964), plus a couple that involved gonzo genre meldings with Beach Blanket Bingo (1965) and How to Stuff a Wild Bikini (1965). Asher's one other film of genre interest was the classic Communist Scare science-fiction film The 27th Day (1957). Asher also did a good deal of tv work as director and producer, most notably as a producer on the series Bewitched (1964-72).
---
---