---
Crew
Director – James McTeigue, Screenplay – Ben Livingston & Hannah Shakespeare, Producers – Marc D. Evans, Trevor Macy & Aaron Ryder, Photography – Danny Ruhlmann, Music – Lucas Vidal, Visual Effects Supervisor – Marcus Hindborg, Visual Effects – Filmgate, Molinare & Trixter, Special Effects Supervisor – Paul Stephenson, Prosthetic/Makeup Effects – Daniel Parker, Production Design – Roger Ford. Production Company – Relativity Media/Intrepid Pictures/Galavis Films/Endgame Entertainment.
Cast
John Cusack (Edgar Allan Poe), Luke Evans (Detective Emmett Fields), Alice Eve (Emily Hamilton), Brendan Gleeson (Charles Hamilton), Kevin McNally (Henry Maddux), Sam Hazeldine (Ivan Reynolds), Oliver Jackson-Cohen (John Cantrell), Jimmy Yuill (Captain Eldridge), Brendan Coyle (Reagan), Pam Ferris (Mrs Bradley)
---
Plot
Baltimore, 1849. The celebrated poet and writer of horror tales Edgar Allan Poe is a penniless drunk scraping to get by. He makes plans to marry Emily, the daughter of powerful society man Charles Hamilton, although Hamilton has threatened to shoot him if he does not keep away. Poe is then brought in police detective Fields who is investigating a series of murders that are all copycats of the extravagant deaths that take place in Poe's stories. Poe is asked to aid the investigation and realises that the killer is next going to strike at Hamilton's society ball. They ball is invaded by a figure of Death on a horse, which the killer uses as a distraction to snatch Emily. The killer then begins to play with them, leaving clues at each of the murder scenes as to where he has hidden Emily.
---
Edgar Allan Poe (1809-49) was the world's first horror writer – although other contenders exist, he is the only one to put out a consistent body of work in the genre. It is his horror stories, beginning with Metzengerstein (1932), that Poe was most known for, although he also wrote poetry and mystery stories, in particular the world's first detective story with The Murders in the Rue Morgue (1841). Poe produced a number of classic tales and developed a mastery that few other horror writers have of concision of effect where almost every aspect of the story is focused on creating emotionally charged adjectives describing the desolate and gloomy. All other aspects of the story, usually explanations, backstory and even names of the characters, have been trimmed so that most of Poe's stories exist a single macabre scene or effect.
Edgar Allan Poe was one of the few writers of the day to attempt to live by writing fiction and, as a result, has gained a reputation as being penniless, which was often true. This leads to one of the most contentious aspects about the popular image of Poe as destitute, a drunk and an opium addict – while he drank heavily, most of this was an invention of Poe's rival Rufus Griswold who somehow became appointed the executor of his estate and published a vicious tribute smearing Poe's character. Although most of Griswold's claims have subsequently been disproven, this image of Poe is one that exists in the popular imagination.
Poe also died under mysterious circumstances where he was found wandering incoherently through the streets of Baltimore and taken to hospital, only to die there four days later. The cause of this is shrouded in mystery, including the fact that Poe was said to be wearing someone else's clothes and saying the name 'Reynolds', although to whom this referred has never been ascertained. Even the cause of Poe's death is not known due to the fact that the medical records have vanished from the hospital, although a great deal of fanciful conjecture exists around the subject.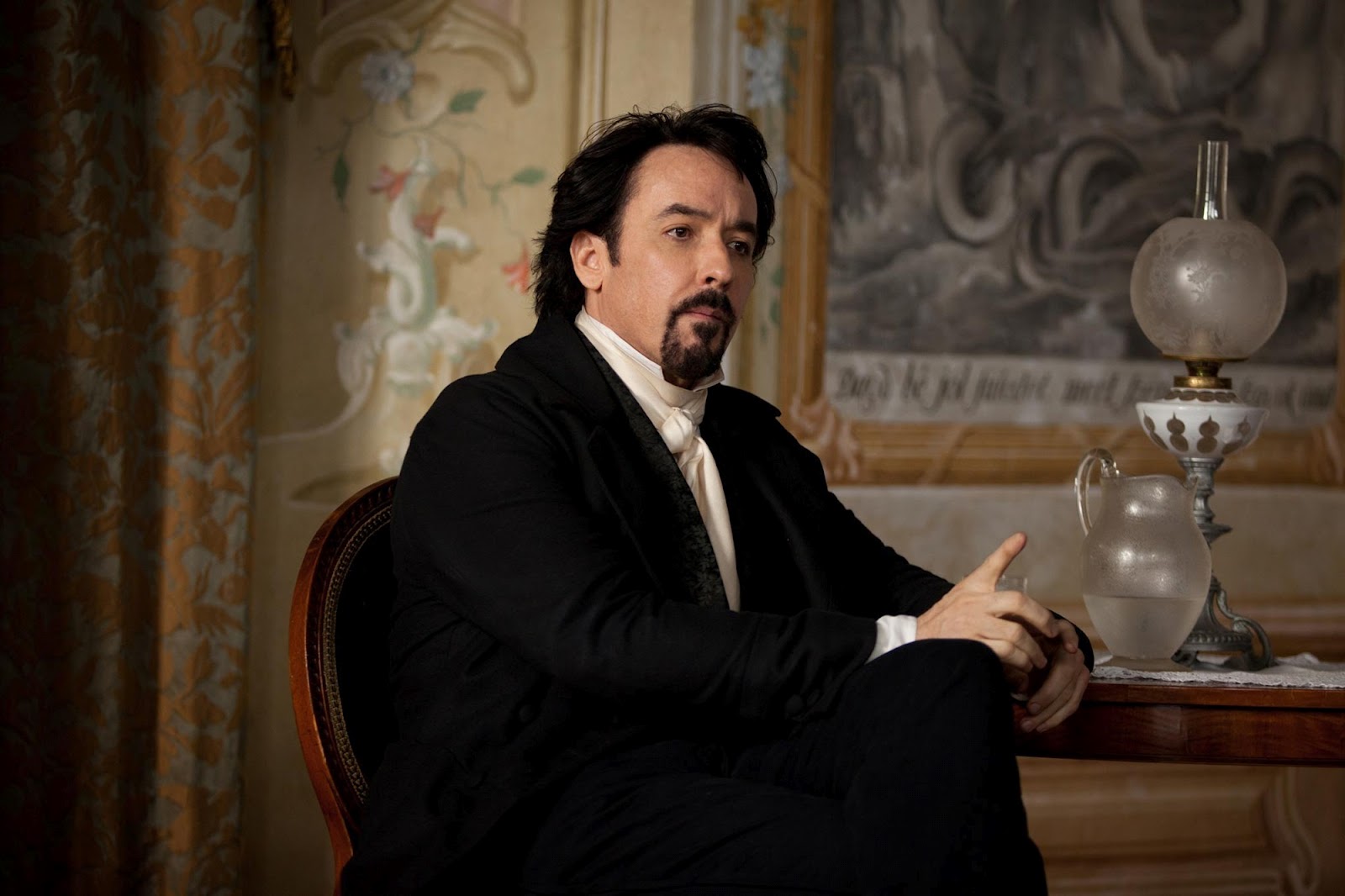 The Raven – no relation to any of the other Poe-based films with the same name including The Raven (1915), an Edgar Allan Poe biopic; The Raven (1935), a similar film about a mad killer using a series of Poe-themed tortures; Roger Corman's comic romp The Raven (1963) about duelling magicians; Ulli Lommel's The Raven (2006) and David DeCoteau's The Raven (2007), both about a mad killer, or indeed the original Edgar Allan Poe poem The Raven (1845) about a mournful man being visited by a raven and contemplating the loss of his love Lenore – is a work of fiction that winds in the mystery of Poe's death with a serial killer plot. This makes The Raven one of a mini-genre of films that attempt to merge details of an author's life with aspects of their creation come to life – Agatha Christie solving a murder mystery in Agatha (1979), H.G. Wells as a time traveller in Time After Time (1979), Dashiell Hammett involved in a real world detective mystery in Hammett (1983), Franz Kafka trapped in a labyrinthine bureaucracy in Kafka (1991), Arthur Conan Doyle as a detective in the tv series Murder Rooms (2000-1) and The Strange Case of Sherlock Holmes and Arthur Conan Doyle (2005), The Brothers Grimm encountering fairytale characters in The Brothers Grimm (2005) or Herman Melville on a whaling expedition in In the Heart of the Sea (2015), even Bram Stoker up against Dracula in the tawdry Bram Stoker's Dracula's Guest (2008).
It is important to note in contrasting The Raven to the life of Edgar Allan Poe that the film bears only a handful of facts in common with the real Poe. Let's see – Poe was the author of a number of horror stories and mysteries that are mentioned by name The Murders in the Rue Morgue, The Masque of Red Death (1842), The Mystery of Marie Roget (1842), The Facts in the Case of M. Valdemar (1845) and so on, as well as a poet and literary critic. He was frequently in financial problems, although never penniless. He did die in 1849, saying the cryptic words "Reynolds", although was not found on a park bench but wandering through the streets. He did have a wife Virginia who died from consumption as is recounted here, although no such figure as Emily Hamilton or her father exists in the historical record. The film does incorporate several of the facts that are generally believed to be true about Poe – he was expelled from West Point, although it was more a case of an expulsion that Poe willingly contrived himself than due to his unruly personality. The film also accepts the common misconception that Poe was a moody depressed drunk and an opium addict, although this was an invention of executor Rufus Griswold (who is now rewritten as one of the first victims of the killer).
The Raven is a film that also seems woefully ignorant of its historical period in any way that goes beyond the basic costume outfitting and set designs – the police use modern forensic techniques such as microscopically examining hair samples or looking at fingerprints, whereas in reality the first organised police force had only been established in the USA in Boston in 1838 (ten years before the film's setting) where they were structured more along the lines of a city militia and with no separate units such as detective squads. Nobody was even employed as a police detective in the US until Allan Pinkerton in 1849, while the first detective bureau was not established at any police department in the US until 1857 and the word detective did not even enter the Oxford English Dictionary until 1843. Even the scriptwriters are using a term like 'serial killer' over a century before it was actually coined by FBI agent Robert Ressler in the 1970s.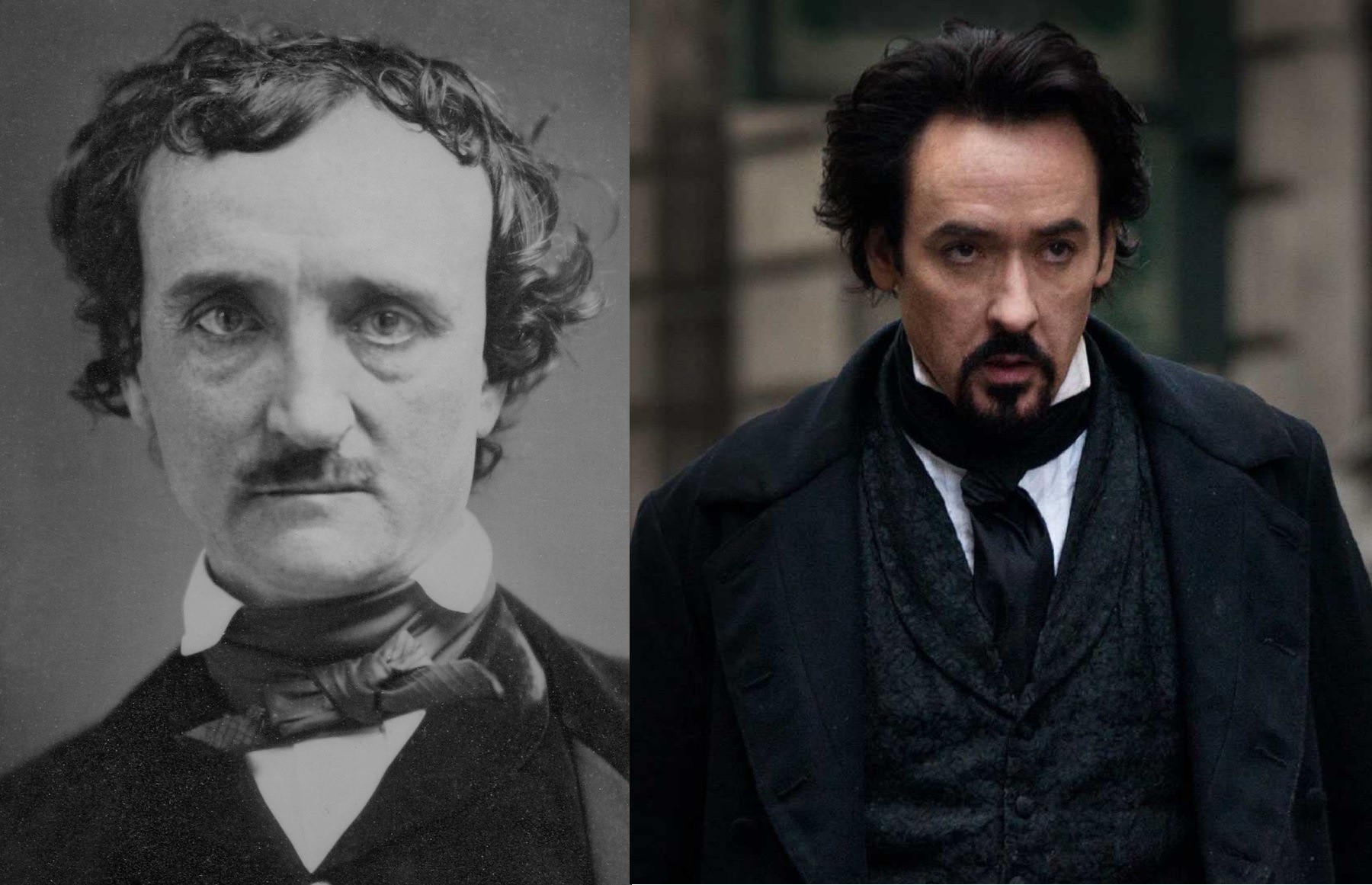 Aside from that, I also had a problem with John Cusack as Edgar Allan Poe. Now, this is no criticism of John Cusack, who I think is a fine actor and good in almost everything that he does. It is just that one never feels that the character Cusack plays on screen is the same person that wrote such desolately bleak works as The Fall of the House of Usher (1839) or plumbed the mind of guilt with the searing brilliance that Poe did in The Tell-Tale Heart (1843). The Poe that survives in his photos – do a Google image search – is smallish of build, seems like he has a head too big for his body, has an oddly plastered comb-over hair style and small mustache (not a goatee). Some of the other initially planned casting choices such as Ewan McGregor and Jeremy Renner seem even less like Poe. For a more accurate physical fit, I would nominate the British actor Charles Kay. The Poe that you get the sense of in his writings and criticism seems to have had an uncannily morbid obsession in the full Romantic sense, but was also fiercely opiniated and filled with his own self-importance. The Poe of John Cusack seems not so much a character who dwells on the despair, misery and hopelessness of the human condition, as one who is mocking and wryly ironic in a modern way, and far too quick with a typically Cusack-esque one-liner or comeback.
Even as the serial killer thriller/murder mystery it sets out to be, The Raven disappoints. James McTeigue, the former Wachowski Brothers assistant director, who made an impressive directorial debut with V for Vendetta (2006) and then went onto the stylishly fired up Ninja Assassin (2009), seems off form. He delivers various cliches poses with figures in cloaks striding through the mist, down dank cobbled streets and so on, but little that keeps you gripped or draws you inside a darkness in the same way that a work like Se7en (1995) did. The plot seems construed as a take on Dario Argento's far more entertaining Tenebrae (1982) – a writer is drawn into dealing with a serial killer who stages murders using scenarios from his stories – with the added novelty of casting Edgar Allan Poe as the central character. (You cannot help but think how much of a field day that Dario Argento would have had with the plot here). The trail of the mystery seems singularly uninvolving, lacks any dashes of brilliant deduction or startling surprises and reversals, little even in the way of gory despatches. The revelation of the killer's identity seems an indifferent piece of plotting that one shrugs their shoulders at – and even then, the film fails to offer any motivation for the killer's obsessive connection to Poe and reasons for reconstructing his death scenes (which would also seem to require resources and a pay grade well beyond what someone in their position would be earning in the day).
James McTeigue next went onto direct the non-genre action film Survivor (2015) ) and the home invasion film Breaking In (2018), while he also acts as producer on The Matrix Resurrections (2021).
---
---