USA. 2006.
Crew
Director – Stacy Title, Screenplay – Crossed Out – Jacob Hair, Story – Jacob Hair & Tim Sullivan; The Scumlord – Chris Kobin & Tim Sullivan, Story – Tim Sullivan; Rapsody Askew – Jonathan McHugh, Created by Jonathan McHugh & Tim Sullivan, Producers – Ted Chung, Jonathan McHugh, Martin Shore, Tim Sullivan & Christopher Tuffin, Photography – Claudio Rocha, Music – Patrick Copeland, Visual Effects – Genone/DCDC (Supervisor – Wayne Kennedy), The Myth Animation – Titmouse, Makeup Effects – Vincent Guastini, Production Design – Nick Plotquin. Production Company – Xenon Pictures/Social Capital/BloodWorks/Snoopadelic Films.
Cast
Snoog Dogg (HOH/Devon), Gabriel Pimentel (Half Pint), Tamisha Jones & Irina Voronina (Slanks). Crossed Out: Daniella Alonso (Posie Santana), Danny Trejo (Derelict), Noel Gugliemi (Fatcap), Teyo Johnson (Streako), Jeff Licon (Nib), Billy Dee Williams (Pastor Charlie Willows), Cleo King (Mrs Willows). The Scumlord: Anson Mount (Tex Woods Jr), Ernie Hudson (Roscoe Lee), Brande Roderick (Tiffany), Richard Gant (Jackson), Tucker Smallwood (Stevens), L. Kenneth Richardson (Vance), Sidney Tamiia Poitier (Wanda). Rapsody Askew: Pooch Hall (Sod), Aries Spears (Quon), Lin Shaye (Carla), Diamond Dallas Page (Jersey), Jason Alexander (British Record Mogul)
---
Plot
The Myth:- The gangbanger Devon accidentally shoots his young sister. Remorseful, he wishes that there was something he could do to bring her back. A figure from Hell tells him to slit his throat. Devon does so whereupon he is resurrected as the demonic enforcer HOH. HOH wanders the hood, telling stories of the souls he has come to claim. Crossed Out:- Fleeing from rivals, the tagger Posie Santana hides on a rooftop where she encounters a derelict from Hell. He holds her down and forcibly gives her a tattoo on one forearm. Afterwards, Posie finds that whenever she crosses out someone's tags with her spray can, they end up dying horribly. The Scumlord:- Tex Woods Jr is required by the terms of his inheritance to spend one year living in the retirement home his father set up for the four men who served under him in Vietnam. The obnoxious Tex and his girlfriend Tiffany move in, forcing the aging men into a single room and making them work around the house. At the same time as Tex severely curtails the men's food allowance, Tiffany feeds her dog caviar. After Tex rapes and kills the maid, the men decide it is time to take matters into their own hands. Rapsody Askew:- The wannabe rapper Sod prays in a church, promising God that he will be good if he can have success. A year later and Sod is a rising success. He is then visited by a supernatural envoy who informs him he has not fulfilled his bargain. Reminded of the ruthless and arrogant actions he has conducted on his path to success, Sod is told that it is now time to pay the price.
---
When curiosity piqued me to pick Snoop Dogg's Hood of Horror up off the dvd store shelves, I knew that I had to see it for its conceptual whackness value. The basic premise has been to take a horror anthology a la the Amicus films that came after Dr Terror's House of Horrors (1965) or works like Creepshow (1982) and Tales from the Crypt (1989-96) and to replace the Rod Serling/Cryptkeeper-type narrator character with rapper Snoop Dogg to tell a series of 'hood-centred horror tales. Now you might thing the idea of a horror film set among the urban 'hood is using a setting that has too many grim realities of its own to work but surprisingly the idea has been done before in Tales from the Hood (1995).
Snoop Dogg's Hood of Horror is directed by Stacy Title. The only other work from Stacy Title that I had seen prior to this was The Last Supper (1995), a modestly amusing black comedy about a group of liberal students who invite right wing radicals to dinner and then bump them off. She subsequently went on to make the boogeyman film The Bye Bye Man (2017). Some of Hood of Horror is co-written by director Tim Sullivan, best known for 2001 Maniacs (2005) and sequel, Driftwood (2006) and the I Was a Teenage Werebear segment of Chillerama (2011).
Despite its promise, Hood of Horror is a film that fails to rise to the wackiness of its premise. There is an animated prologue about how HOH got his name and, while the animation is interesting, the pace of the segment is far too laidback and voice recording too quiet to be effective. The segments with Snoop Dogg as narrator are fairly terrible. Snoop tries to deliver everything in rhyme but his accent mangles it – "hood of horrors" comes out sounding like "hood of whores." Snoop Doog makes all the requisite bad puns but, try as he might, he just cannot do the evilly cackling narrator thing. Tripped out as a pimp and accompanied by his hoes, he merely looks seedy. In truth, take away the guy's bling and in plainclothes the only part you could cast him in would be the role of the snitch or a sleazy individual pushing drugs to children on a tv cop show.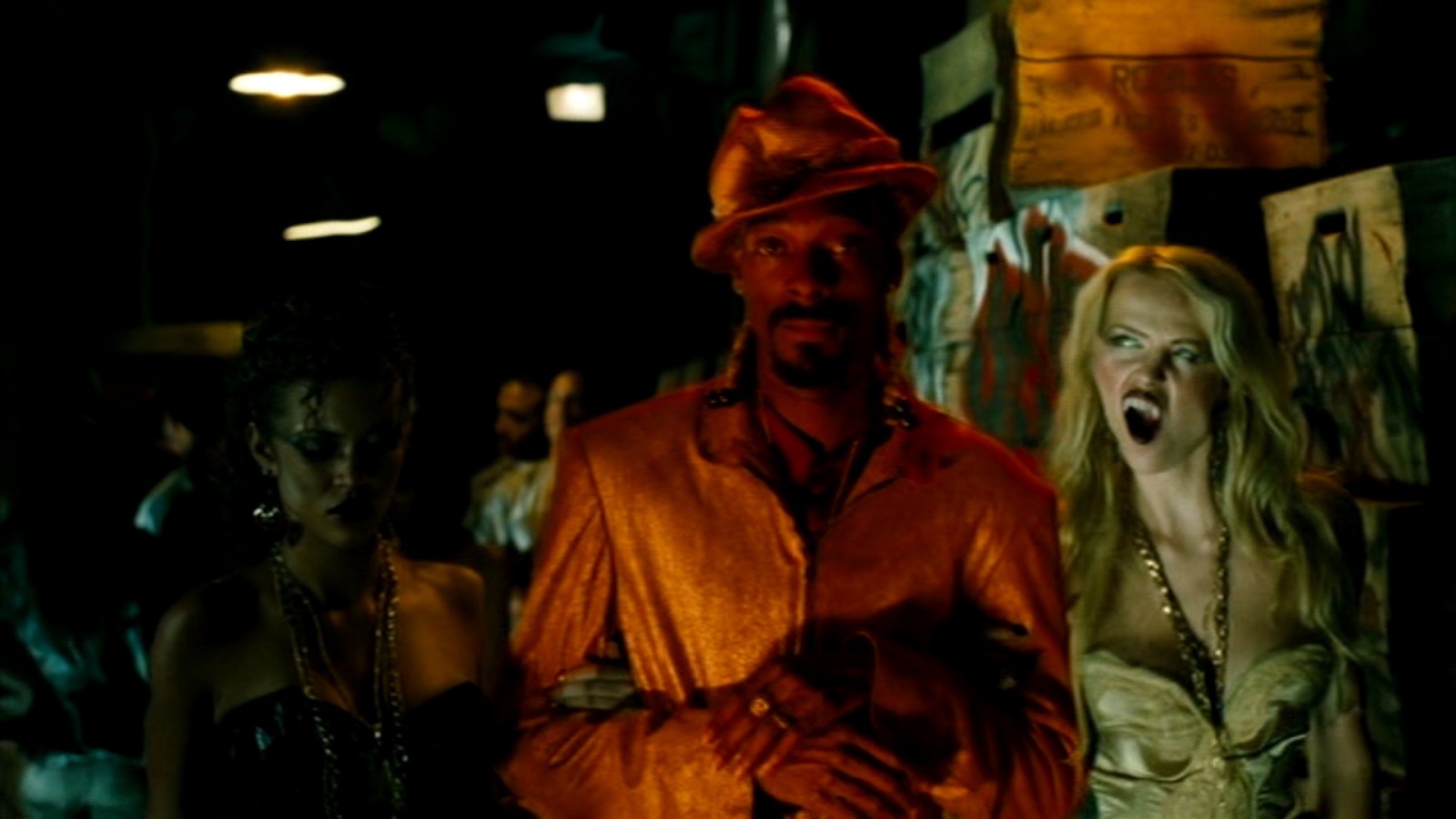 The segments are highly variable. The first episode Crossed Out fails to work. The story is strongly reminiscent of the Drawn and Quartered segment of Amicus's EC adaptation The Vault of Horror (1973), which had Tom Baker as an artist who could kill with the paintings he painted. However, the story here is slight and the actors cast weak. The only notable point about the segment is some very gory deaths – one victim with a bottle of malt liquor impaled through his head; another strangled by the phone cord and splattered in a phone booth; Daniella Alonso dispatched with a can of spray-paint impacted into the top of her skull; and the revelation at the end of the mural painted with her body parts including her eyes sitting in the midst of the wall, which leads to a very bad final pun. Certainly, Stacy Title shoots the segment with an incredibly vibrant colour scheme.
The second segment The Scumlord is also strongly reminiscent of another of Amicus's EC adaptations, namely the Blind Alleys episode of Tales from the Crypt (1972), which had Nigel Patrick as a owner of a home for the blind who made the men in his care suffer while he lived a life of luxury, before they turned on him with a cruel typically EC Comics just desserts revenge. The Scumlord is the one segment of Hood of Horror that works the way an anthology segment should. It is staffed by some entertainingly hateable and loathsome caricatures, Stacy Title gets the tone of black humour down perfectly and there is an undeniably grotesque just desserts ending where Brande Roderick is fed caviar down a tube until she explodes and then her dog feasts on her remains. There is a fine performance from the perpetually underrated Ernie Hudson.
You think at this point that Snoop Dogg's Hood of Horror has finally started to finds its feet. Unfortunately, the subsequent segment Rapsody Askew slips back to the same routine as Crossed Out. The story's morality play is a dull one and the episode holds nothing remarkable, barring a reasonable performance from Lin Shaye as the heavenly messenger. The segment at least has the bizarre sight of Jason Alexander of Seinfeld (1990-8) fame affecting a British accent that he does not seem able to keep straight for a single complete sentence.
---
---