---
Crew
Director – Adam Wingard, Screenplay – Charles Parlapanides, Vlad Parlapanides & Jeremy Slater, Based on the Manga by Takeshi Obata & Tsugumi Ohba, Producers – Jason Hoffs, Roy Lee, Dan Lin, Masi Oka & Ted Sarandos, Photography – David Tattersall, Music – Atticus Ross & Leopold Ross, Visual Effects Supervisor – Colin Strause, Visual Effects – [Hy*drau*lx] (Supervisor – Bill Kunin), Special Effects Supervisor – Joel Whist, Makeup Effects – Lindala Schminken FX Inc. (Designer – Tony Lindala), Production Design – Tom Hammock. Production Company – LP Entertainment/Vertigo Entertainment.
Cast
Nat Wolff (Light Turner), Lakeith Stanfield (L), Margaret Qualley (Mia Sutton), Shea Whigham (Lieutenant James Turner), Willem Dafoe (Voice of Ryuk), Jason Liles (Ryuk), Paul Nakauchi (Watari), Jack Ettlinger (Kenny Doyle), Matthew Kevin Anderson (Agent Young), Paul McGillion (Principal Green)
---
Plot
Light Turner, a nerdish teenager in high school in Seattle, is surprised when a notebook called Death Note falls from the sky. In reading it, he finds it contains numerous rules and learns that any name he writes in the book, as long as he is visualising the person in his mind and it is their true name, will be killed in the manner he writes down. The death god Ryuk appears to him, urging him to use the book. He writes down the name of the school bully Kenny and is witness as Kenny is decapitated outside the window immediately after. He uses the opportunity to kill the man responsible for the death of his mother who escaped prosecution. He tells fellow student Mia Sutton about the book and as the two become involved, they decide to use its powers for good. They set out, killing guilty criminals and evil dictators around the world, in each case getting them to sign the Japanese name Kira at the scene. Kira gains a cult following around the world. At the same time, L, a genius detective, has joined Light's father, a police detective, in an attempt to solve the Kira killings. As L hones in on Light with unerring ingenuity, a rift grows between Light and Mia over the use of the book.
---
Death Note was a popular manga that appeared in weekly comic-book Shonen Jump between 2003 and 2006, and was later collected in a twelve-volume series. The manga was then adapted into two movies, Death Note (2006) and Death Note: The Last Name (2006), both directed by Shusuke Kaneko and featuring the same cast, which were released three months apart the same year. There was also an anime series Death Note (2006-7), which lasted for 39 episodes, as well as a series of light novels, even a videogame and a musical. The popularity of the Death Note phenomenon has also resulted in a stand-alone spinoff film L: Change the World (2008), which concerns L's activities subsequent to the films; Death Note (2015), an eleven-episode tv mini-series remake of the manga, a tv mini-series Death Note: New Generation (2016); and a further film from Shusuke Kaneko Death Note: Light Up the New World (2016).
The English-language remake comes from Adam Wingard who has been a name on the rise in the horror genre in recent years. Wingard first appeared with the horror film Home Sick (2007) and then gained festival acclaim with the hallucinatory Pop Skull (2007), followed by the serial killer film A Horrible Way to Die (2010) and the non-genre likes of What Fun We're Having (2011) and Autoerotic (2011) before gaining increasingly wider recognition with the likes of You're Next (2011), The Guest (2014), Blair Witch (2016) and Godzilla vs. Kong (2021). Wingard has also directed segments of the anthologies The ABCs of Death (2012), V/H/S (2012) and V/H/S/2 (2013).
Death Note joins a great many Japanese and Asian horror films that have been given English-language remakes since the success of The Ring (2002). Others include The Grudge (2004), Dark Water (2005), Pulse (2006), The Echo (2008), The Eye (2008), Mirrors (2008), One Missed Call (2008), Shutter (2008), Don't Look Up (2009), Possession (2009), The Uninvited (2009), Apartment 1303 3D (2012) and 13 Sins (2014). Indeed, producer Roy Lee and his Vertigo Entertainment production company have come to specialise in buying up Asian horror properties for the express purpose of generating English-language remakes and are behind Death Note and most of these others.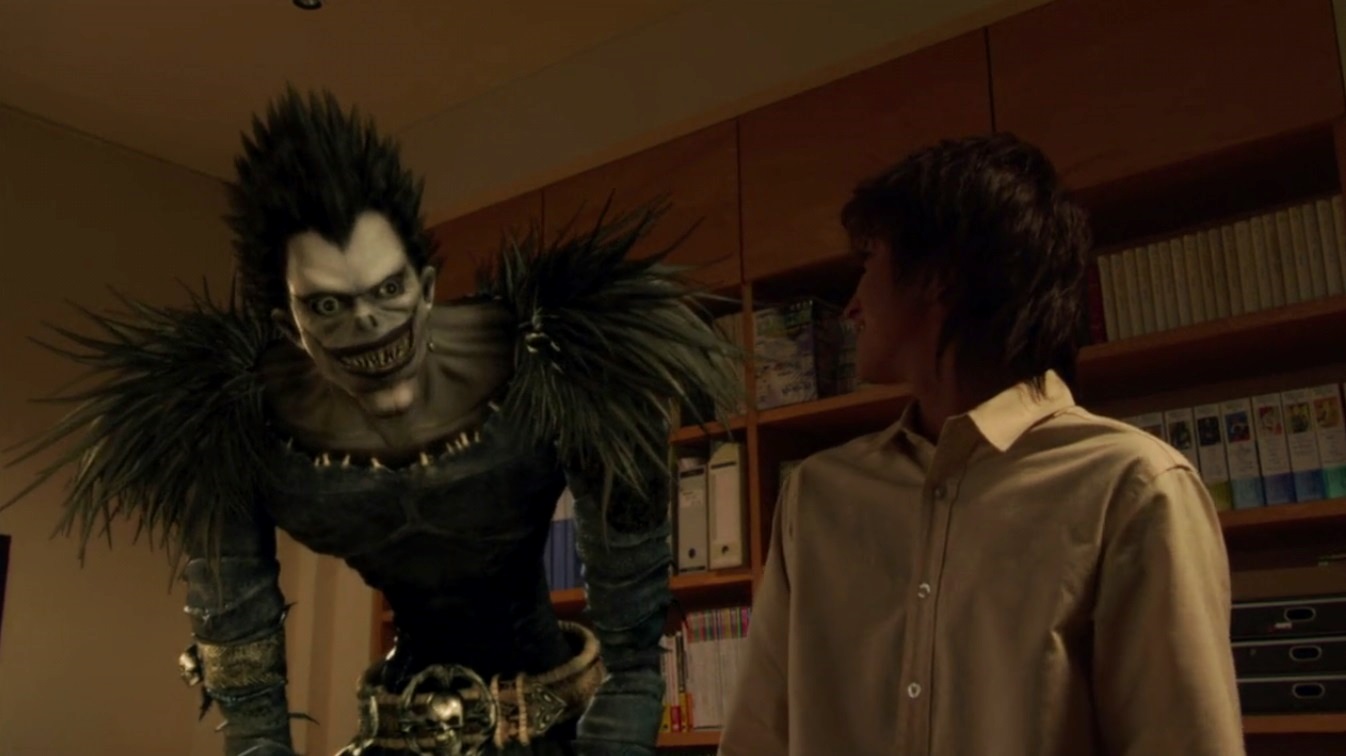 Adam Wingard has Americanised the first Death Note film. In doing so, he has streamlined the plot somewhat. There is not as much of the battle of wits between Light and L as there was in the first film (and in particular the second film). The other thing given more prominence here is Light's girlfriend Mia who is a very different character to his girlfriend Misa in the Japanese-language film. Here she has knowledge of the Death Note book and joins Light in selecting their targets, while the latter third of the film features a conflict between the two of them when she starts using the book on her own after he urges caution under the eye of surveillance by L, a plotting twist that did not exist in the original. Lakeith Stanfield's performance as L mimics but is not as supremely weird as Kenichi Matsumaya was in the original. Indeed, in the second half, L is watered down to being nothing more than an obsessed detective on the trail of his target.
Prior to release, Death Note became subject to the Politically Correct buzzword of the moment – 'whitewashing' (rewriting of foreign/alternate ethnic source material or non-Caucasian characters with white face), something that was also heavily levelled against the recent English-language remake of Ghost in the Shell (2017). (It should also be noted that these same accusations have been entirely absent when it came to any of the other abovementioned English-language remakes of Asian horror properties).
Most of the other abovementioned English-language remakes are fairly ho-hum and inferior to their originals. I didn't dislike Death Note as much. It is passable in its own right, not as effective as the original but workable. Far more so than Shusuke Kaneko did in the original, Adam Wingard places a focus on the victims undergoing novelty deaths – Jack Ettlinger experiencing a bizarre gory decapitation, a hostage-taker being creamed by an armoured SWAT truck, FBI agents jumping off a roof en masse.
---
---