---
USA. 2016.
Crew
Director – Mike Flanagan, Screenplay – Mike Flanagan & Jeff Howard, Producers – Sam Engelbardt, William D. Johnson & Trevor Macy, Photography – Michael Fimognari, Music – The Newton Brothers, Additional Music & Themes – Danny Elfman, Visual Effects – Arc Productions (Supervisor – Bret Culp), Special Effects Supervisor – Bruce Larsen, Production Design – Patricio M. Farrell. Production Company – Intrepid Pictures/Demarest Films.
Cast
Kate Bosworth (Jessie Hobson), Thomas Jane (Mark Hobson), Jacob Tremblay (Cody Morgan), Annabeth Gish (Natalie Friedman), Dash Mihok (Whelan Young), Topher Bousquet (Canker Man), Jay Karnes (Peter), Kyla Deaver (Annie), Hunter Wenzel (Tate), Lance E. Nichols (Detective), Antonio Romero (Sean Hobson), Scottie Thompson (Teacher), Courtney Bell (Andrea Morgan)
---
Plot
Seeking a means of getting past their grief over the accidental drowning of their son Sean, husband and wife Mark and Jessie Hobson decide to adopt. The child they choose is Cody Morgan who is perfectly mannered despite coming with a history of troubled foster homes. Cody has a fear of going to sleep. Once Cody is in their home, they discover that his dreams become manifest. When he sleeps, the house is filled with butterflies. They are then startled to see Sean brought back to life. Mark becomes concerned when he realises over successive nights that Jessie is feeding Cody more images of Sean so that he can bring him back to her while he sleeps. However, Cody's dreams also bring his nightmares to life and with them a sinister figure he calls The Canker Man.
---
Mike Flanagan is a director who has proved himself of considerable worth in the last few years. Flanagan first appeared on the genre scene with his fourth film, the amazing Absentia (2011). From there, he went onto the likes of Oculus (2013) about an evil mirror and Hush (2016), an incredibly taut psycho-thriller about a deaf woman being stalked and taunted by a killer. Before I Wake was the second of three films that Flanagan made in 2016 and he followed it with Ouija: Origin of Evil (2016). He subsequently went on to make the Stephen King adaptation Gerald's Game (2017), the tv mini-series The Haunting of Hill House (2018), Doctor Sleep (2019) and the tv mini-series Midnight Mass (2021), while he also produced, created and directed some episodes of the tv mini-series The Haunting of Bly Manor (2020) and The Midnight Club (2022). The release of Before I Wake was held up in release for two years by the financial collapse of distributor Relativity Media.
Before I Wake is a film with an original idea and full of interesting possibilities. The premise of the kid with the ability to bring things into reality reminds you a good deal of the It's a Good Life segment of The Twilight Zone (1959-63), which was later remade by Joe Dante in Twilight Zone – The Movie (1983). The idea of someone with the ability to makes dreams real was done in The Lathe of Heaven (1980) and Lathe of Heaven (2002) about a man whose dreams change the entire nature of reality, although that takes more of a science-fiction approach than Before I Wake does. The horror spin put on the idea here makes you think of a 1980s A Nightmare on Elm Street sequel – maybe something like Dream Demon (1988).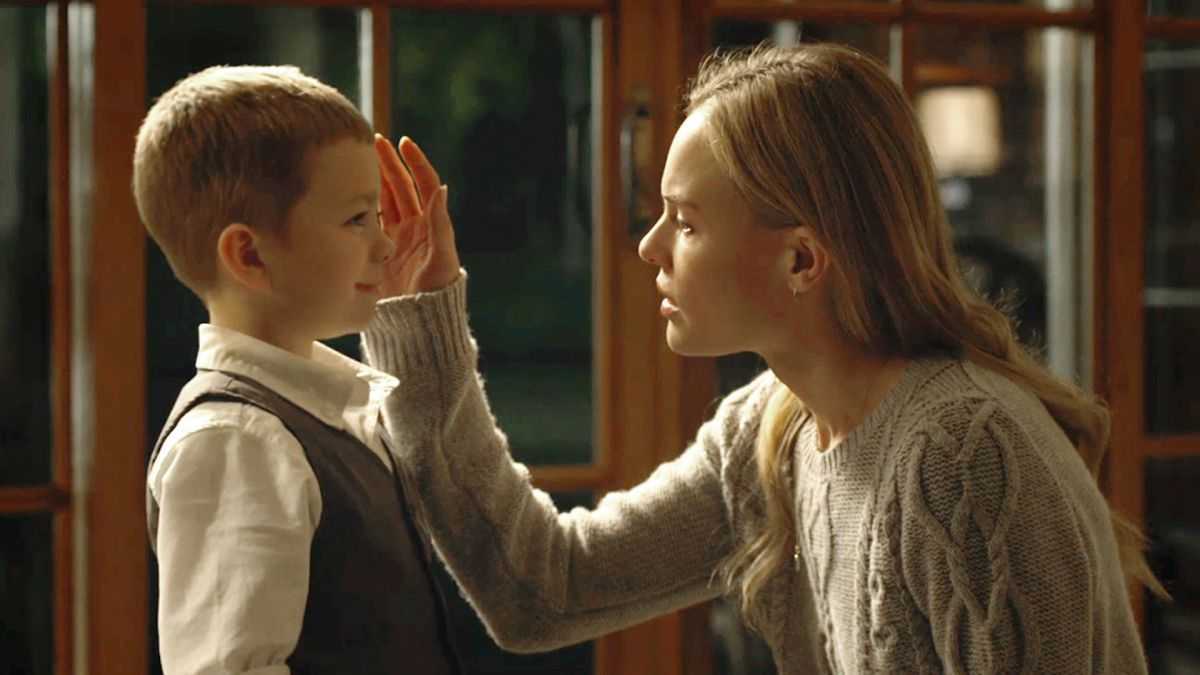 The promise that Before I Wake holds is a good one, yet the delivery is disappointing. For all the imaginative possibilities inherent in the idea, all that we ever get is the kid creating butterflies and bringing images of the dead back to life before the film slips over into the horror side of things and people are chased by the Canker Man. I think I expected more from Mike Flanagan given the impressive things he has done with his other films.
Here, in the scenes when the dead kid Sean comes back to visit Thomas Jane and Kate Bosworth and the score swells with the noticeable effort to create emotion in an audience, Flanagan feels like nothing more than a wannabe Steven Spielberg imitator. This is the most disappointing of Mike Flanagan's films – contrast the eerie appearances of the insect creatures in Absentia with the unexceptional, digital creation of the Canker Man here where it seems that it could just be a bogeyman out of a dozen or weak copycat formula horror films.
---
---