---
Crew
Director – Ciaran Foy, Screenplay – David Chirchirillo, Ian Goldberg & Richard Naing, Story – David Chirchirillo, Producers – Trevor Macy & John Zaozirny, Photography – Jeff Cutter, Music – Bear McCreary, Visual Effects – Eye-Spy VFX (Supervisor – Jose Marra) & Spin VFX (Supervisor – Wesley Sewell), Special Effects Supervisor – Chris Bailey, Makeup Effects – Fractured FX (Designer – Justin Raleigh), Production Design – Bill Boes. Production Company – Intrepid Pictures/Bellevue.
Cast
Charlie Shotwell (Eli Miller), Kelly Reilly (Rose Miller), Max Martini (Paul Miller), Lili Taylor (Dr Horn), Sadie Sink (Haley), Lou Beatty Jr. (Motel Owner), Jared Bankens (Gang Leader)
---
Plot
Husband and wife Paul and Rose Miller travel cross-country with their ten-year-old son Eli. Eli has an autoimmune disease that produces a severe allergic reaction if he is exposed in the slightest to everyday air and must be kept in a contamination suit as they travel. They travel to a clean house facility run by Dr Horn who promises to cure Eli of his condition. They are welcomed by Dr Horn and settle in to the large, old mansion from which she runs operations. There Eli is contacted by a Haley, a mystery girl who says she is a neighbour. She helps Eli realise that the house is haunted by the ghosts of those who have died as the results of Dr Horn's experiments.
---
I was impressed by Irish director Ciaran Foy with his first feature film Citadel (2012) dealing with sinister children on a Scottish council estate. Foy was subsequently brought to the US to direct the negligible Sinister 2 (2015) and then made The Wildling (2016), the pilot for a tv series that never sold. Eli was Foy's third film. He subsequently went on to direct episodes of The Haunting of Bly Manor (2020).
Eli certainly comes with an unusual hook. There is the premise of the kid (Charlie Shotwell) with the extreme autoimmune condition that requires him to be housed inside a plastic tent and permanently wear a contamination suit whenever he is outside. The precariousness of the condition is never more than clearly demonstrated during the opening scenes where he is crossing the motel parking lot and is taunted by a gang only to fall and make a tiny tear in his suit whereupon he goes into anaphylactic shock.
Unfortunately, I had issues immediately after that as soon as the film arrives at the clean house. Quite clearly, nobody involved with the film has actually bothered to research decontamination procedures used at real medical facilities. When Charlie Shotwell first enters the building, the only decontamination procedure he undergoes is to pass through a room that blows air against his plastic suit. In a real contamination facility, his suit would be thoroughly hosed down and he would be asked to step into a clean uncontaminated set of clothes. Similarly, his parents are allowed to bring in suitcases containing their street clothes and wear them without any need to decontaminate them without any seeming awareness that these would be carrying outside contaminants. In actuality, everybody should have been given a clean set of clothes, probably something like surgical gowns, when they arrived. The facility would probably not be so open plan because it leaves untold possibilities for dust and any kind of mould to emerge from its cracks. Optimally, every room in the house would be sealed to prevent contaminants being carried between rooms by the movement of air.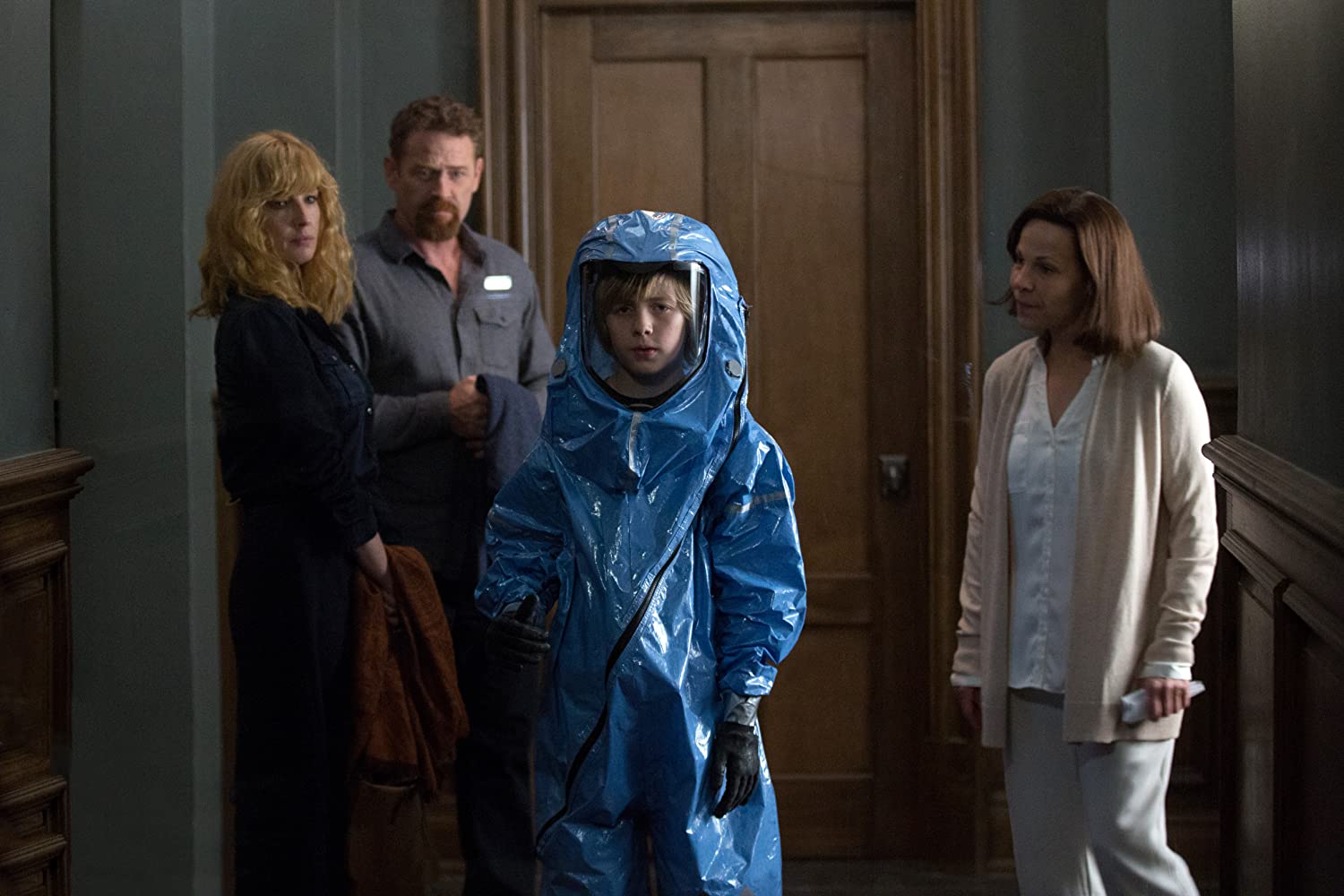 Similarly, the medical procedures we see happening are so obviously sinister and mediaeval as to hold no plausibility. They and the absurd notions of decontamination cause the film's basic credibility to dissolve. Which is a shame as in other areas Ciaran Foy does a reasonable job in maintaining the spooky atmosphere and the suggestion of sinister things going on in the clean house.
That brings us to the big twist ending. [PLOT SPOILERS]. Here we learn that Charlie Shotwell is not even suffering autoimmune disease and that this has all been an elaborate ruse to get him to the house. Although quite what anybody would gain from such an elaborate charade (one that surely must have been maintained his entire life) is not something that the film makes clear. I find myself wondering why the parents couldn't simply have convinced Eli that they needed to take him away somewhere for medical treatment. It is not even clear why Lili Taylor's doctor has to fabricate actual medical procedures either.
[PLOT SPOILERS CONTINUE]. The big revelation then comes is that Eli is actually the Devil's child and that the procedure has all been set up to … well I am not quite what they were intending to do but it seemed to involve attempts to neutralise the devil children. This is something that ended up with the other children being killed hence the ghosts haunting the building. It is quite one of the most ridiculous left field endings one has seen in some time and one that reveals everything else that has happened to become a contrivation that goes beyond absurd.
---
---