---
Crew
Director/Screenplay – Jon Reiss, Producers – Jon Reiss, Jacqui De La Fontaine, Jill Goldman & David Rubin, Photography – Matt Faw, Music – Cary Berger, Music Supervisor – Steve Pross, Makeup Effects – Norman Cabrera, Production Design – John Di Minico & Thomas Thurnauer. Production Company – Eucoloris Films/Flying Cow Productions.
Cast
Paul Hipp (Robert Marrs), Boyd Kestner (Zack Taylor), Bitty Schramm (Hallie Marrs), Radha Mitchell (Sophie)
---
Plot
Independently wealthy L.A. photographer Robert Marrs and his wife Hallie go away on vacation, leaving Zack and Sophie, a couple recommended by friends, to look after their house. Upon returning, they find Zack and Sophie have been having difficulty finding a place of their own and are reluctantly forced to let them stay on. To their annoyance, Zack and Sophie start taking increasing liberties. Hallie wants to have a baby and insists that she and Robert only have sex during her fertile period, much to Robert's frustration. He strays into Sophie's arms and Hallie walks out when she finds them together. Zack then forces himself on Robert, which causes Sophie to walk out. Zack proceeds to treat Robert as his slave, having him cook, clean and pay for everything, even physically abusing him. Eventually, Robert has his revenge, as he starts to poison Zack and plans a nasty comeuppance.
---
Cleopatra's Second Husband debuted at the Los Angeles Film Festival in 1998 but only received a sparse arthouse release two years later after director Jon Reiss had a hit with his rave culture documentary Better Living Through Circuitry (1999), which was actually shot following Cleopatra's Second Husband.
The film starts out as a variant on the unwelcome-stranger(s)-in-the-house psycho-thriller a la Funny Games (1997), Pacific Heights (1990) and the later With a Friend Like Harry (2000), which has many similarities to this. Jon Reiss sets up a scenario of stifling yuppiedom that is just begging to be upset. Bitty Schramm gives a particularly alarming performance here as an out-of-control breeder chick, turning her husband's desire for sex down with lines like: "We'd be wasting perfectly good sperm." Her upset at discovering him – with attached nipple clamps! – in the arms of Radha Mitchell is not so much at finding him with another woman as to how this reflects on their planned pregnancy: "I can't believe you'd do this to me – I'm probably going to ovulate any day now."
Jon Reiss's direction is a little too quiet and understated. Paul Hipp gives a performance that is, even right up until the end, passive to the point one wants to shake him and yell "Get a backbone." However, just when the film seems to be heading along predictable pathways, Reiss starts to throw all manner of bizarre spins. He intriguingly defines the relationship between besieged homeowners and tormenting tenants in terms of sexual relationships, an area where the pristine Pacific Heights never thought to venture. The issue is made pointedly clear in the direct cuts between Paul Hipp and Bitty Schramm's passionless procreative attempts and Boyd Kestner and Radha Mitchell's heated rutting against a wall.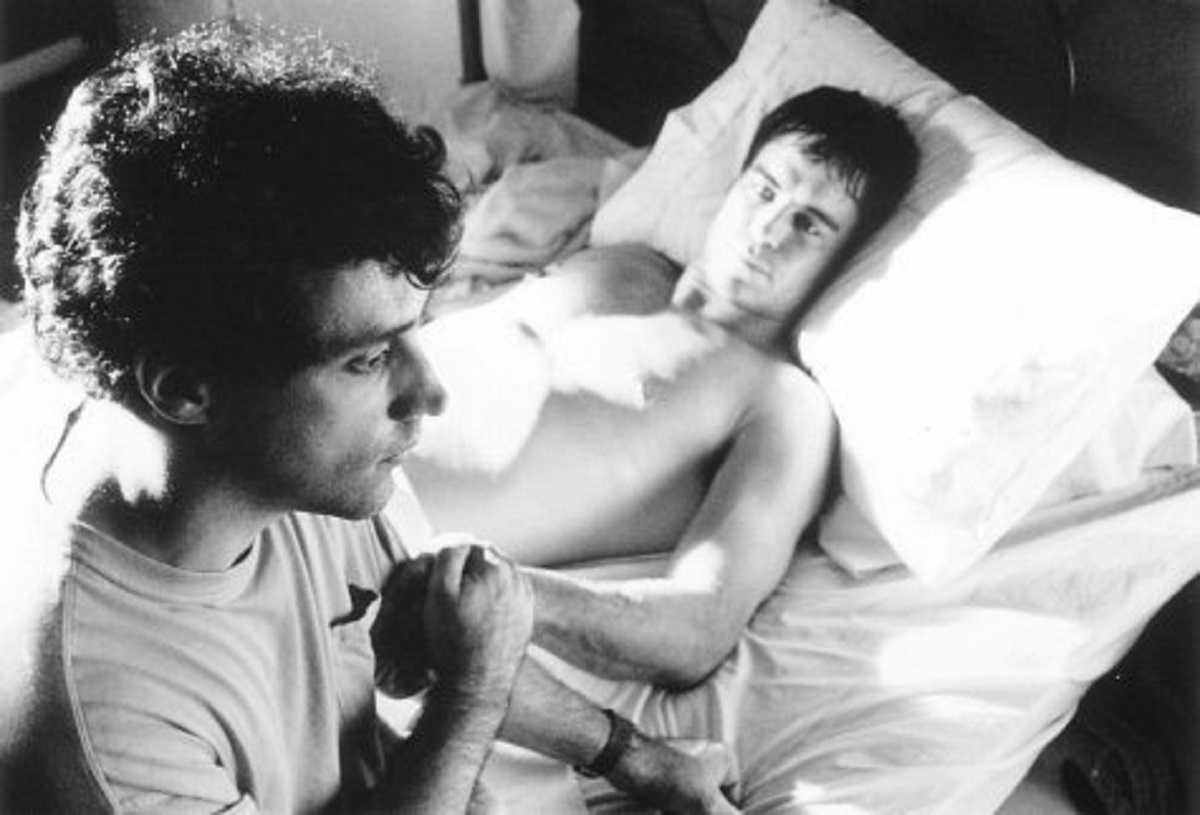 In his first twist, Reiss gets the women out of the scene and has Boyd Kestner force himself on Paul Hipp and the relationship develop into a dom/sub gay relationship, one where tenant Kestner uses home-owner Hipp as a total doormat. "This place is getting untidy. If you're not going to clean, can you at least hire a housekeeper?" he announces. The film becomes really strange when Paul Hipp starts to poison Boyd Kestner, ending with a startling situation where the film enters well into genre territory – not unlike the ending of The Vanishing (1988). By this point, Cleopatra's Second Husband has become a rather compulsive vehicle.
One thing though – what on Earth does the title mean? There is nobody named Cleopatra in the film, nor anybody who has a second husband. Maybe there is some subtle meaning intended in regard to the film's relationships but it is a point that eludes one.
Jon Reiss has only made two other films subsequently with the documentaries Bomb It (2007) and Bomb It 2 (2010)
(Nominee for Best Actress (Bitty Schramm) at this site's Best of 1998 Awards).
---
---