---
Crew
Director – Steve Cohen, Screenplay – Steve Cohen, Kelly Curtin McCall, Robert McCall & Michael Michaud, Story/Producers – Kurt Anderson & Richard Brandes, Photography – Joseph Montgomery, Music – Richard Burns & Steve Gurevitch, Visual Effects/Special Effects – FTS EFX Inc (Supervisor – Lou Carlucci), Makeup Effects – Teresa Vest, Production Design – Radha Metha. Production Company – Le Monde Entertainment/Unapix Entertainment Inc/Prostar Entertainment Inc.
Cast
Rose McGowan (Debbie Strand), Alex McArthur (Peter Rinaldi), Peg Shirley (Fiona Long), Phil Morris (Detective Joe Rosales), Robert Silver (Detective Phil Archer), Sherrie Rose (Marilyn), Ryan Bittle (Greg Straffer), J.C. Brandy (Janie Magray), Julie Nickson (Anna Nikaski), Krissy Carlson (Meegan), Wendy Robie (Principal Joyce Saunders), Milton James (Monsoor)
---
Plot
After the death of her parents in a fire, something detectives are regarding as being of suspicious cause, teenager Debbie Strand goes to live with her grandmother in L.A. At her new school, she develops a crush on teacher Peter Rinaldi and does everything she can to be with him. However, when her authoritarian grandmother and other people get in the way of her desire, she starts killing.
---
Devil in the Flesh belongs to a mini-genre of psycho-thrillers that emerged as variations on Fatal Attraction (1987) – that of the underage teenage girl stalker. Previous outings on this theme included Poison Ivy (1992) and sequels and The Crush (1993).
Devil in the Flesh is like a better version of The Crush. Where both Poison Ivy and The Crush, and for that matter Fatal Attraction, always stood on the side of the male object of the girl's affections, seeing the girl as a lethal and unbalanced force, Devil in the Flesh is more interesting in that it muddies the equation somewhat. Unlike these others, this story's principal focus is on the girl with the guy remaining a distinctly supporting character.
At contrast to say Glenn Close in Fatal Attraction or Alicia Silverstone in The Crush who are painted as just disturbed and evil with no redeeming qualities, Devil in the Flesh seems to relish the bad girl defiance the teenage girl embodies (something added to even further by the casting of Marilyn Manson's then girlfriend Rose McGowan), although eventually it does censure her actions as unbalanced. It gives the feel of a script that trod a more traditional path being handed to a director who wanted to fire it up and get audiences to identify with the character.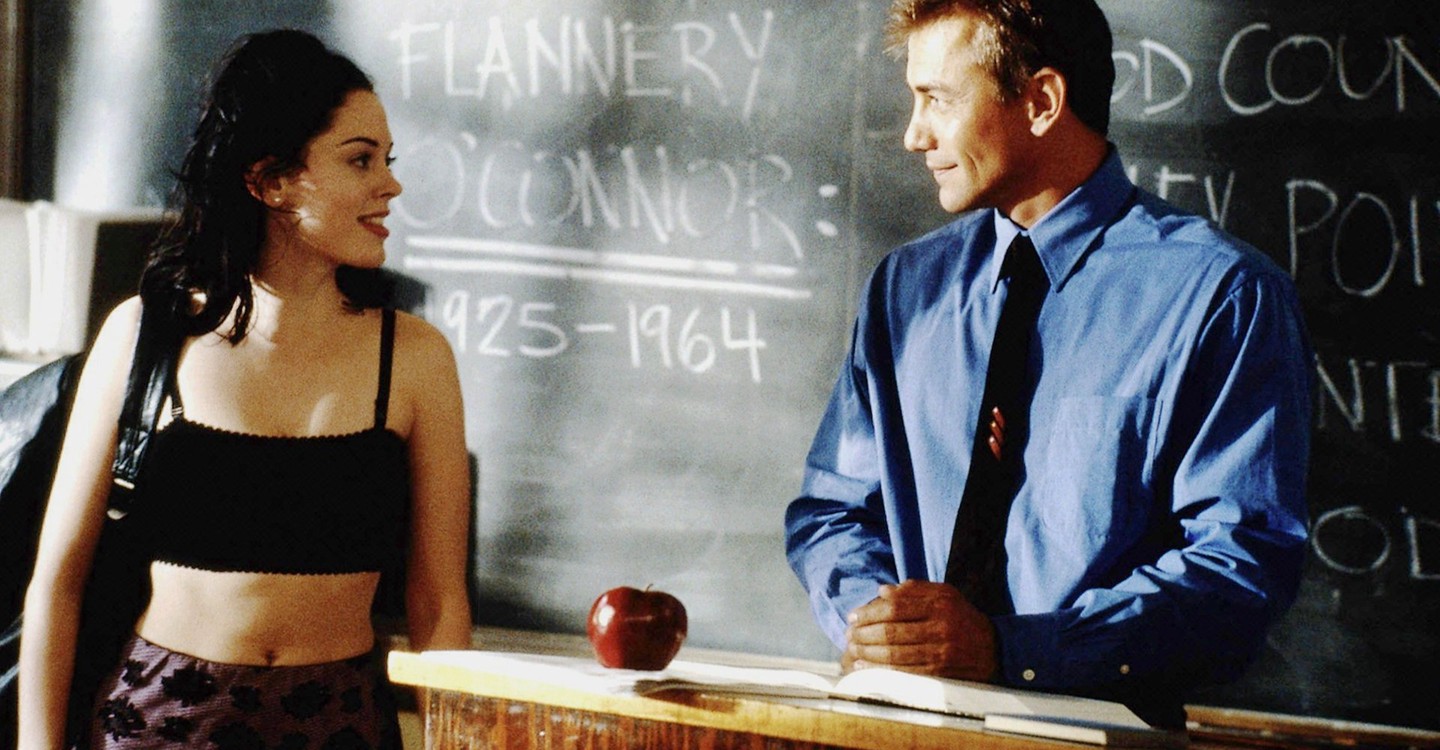 In the central role, Rose McGowan is particularly well cast. She does the one-liners with conviction – there is a particularly amusing "Hasta la vista, Bebe" as she disposes of the aunt's dog – rather than campiness. As opposed to any cliche villainy, it is a part where she convinces that she is working out something personal and of being someone who has learned to use her body to get what she wants at too young an age.
The film is also well directed. One particularly liked the great opening shot, a pan in ultra-slow motion around to face Rose McGowan as the house erupts in flames behind her and she walks away in triumph, a shot that shows it was most certainly her that lit the flames even though nothing is said.
The lesser sequel was Devil in the Flesh 2 (2000) where Rose McGowan was replaced by Jodi Lynn O'Keefe who etched the part with far less subtlety.
---
---