---
Crew
Director – Jon Amiel, Screenplay – Ann Biderman & David Madsen, Producers – Arnon Milchan & Mark Tarlov, Photography – Lazlo Kovacs, Music – Christopher Young, Special Effects Supervisor – R. Bruce Steinheimer, Makeup Effects – CWI (Supervisor – Mark Walas), Production Design – Jim Clay. Production Company – Regency Enterprises.
Cast
Sigourney Weaver (Dr Helen Hudson), Holly Hunter (Inspector Mary Jane Monahan), Dermot Mulroney (Reuben Getz), William McNamara (Peter Foley), Will Patton (Nicoletti), Harry Connick Jr (Daryll Lee Cullum), J.E. Freeman (Lieutenant Thomas Quinn), John Rothman (Andy)
---
Plot
Helen Hudson, a psychologist who specializes in profiling serial killers and a celebrity on the lecture circuit, is attacked by escaped serial killer Daryll Lee Cullum following one of her lectures. Thirteen months later, the experience had left Helen an emotional wreck, suffering from such extreme agoraphobia that she is unable to leave her apartment. She is reluctantly persuaded by police detective Mary Jane Monahan to lend her expertise to a new serial killer case. She realizes that this killer is a copycat who is modelling all his killings after famous killers of the past, including The Boston Strangler, Son of Sam and the Hillside Stranglers. At the same time, the killer has developed a fixation with her and comes after Helen determined to replicate the Daryll Lee Cullum killings.
---
Copycat came out the same year as the undisputed serial killer classic Se7en (1995). It ended up being overlooked in Se7en's enormous shadow and was given a lukewarm critical reception, even though it was a strong and intelligent effort in its own right. Like many other efforts around the same time, it is set itself around the media fascination with serial killers. Copycat gets no marks for originality in the choice of theme. Its novelty is the introduction of a serial killer that mimics other serial killers.
The film's underlying theme, echoed also by the likes of Natural Born Killers (1994) and 15 Minutes (2001), seems to be not only that the media attention given to serial killers is unhealthy but that it produces a perverse adoration – throughout we see would-be killers flocking to the convicted Daryll Lee Cullum as though he were a prophet and of Sigourney Weaver, who has written a book about killers, being treated as though she were a poster pin-up girl. The film takes such critique of serial killer celebrity to the logical extent, seeing that the media attention given to them breeds other killers seeking the same notoriety – and in this case even replicating famous crimes – just like a disease.
The film's success lies in telling a strong, intelligent story. It has clearly done its homework about serial killers and constructs an excellent thriller set around current psychological and forensic understanding of classic cases and their motivation. Particularly impressive is the characterisation – the film takes its time with characters, even lesser characters such as J.E. Freeman's captain are given time and some, such as Will Patton's colleague, who is initially painted as a jerk, are shown with surprising sympathy.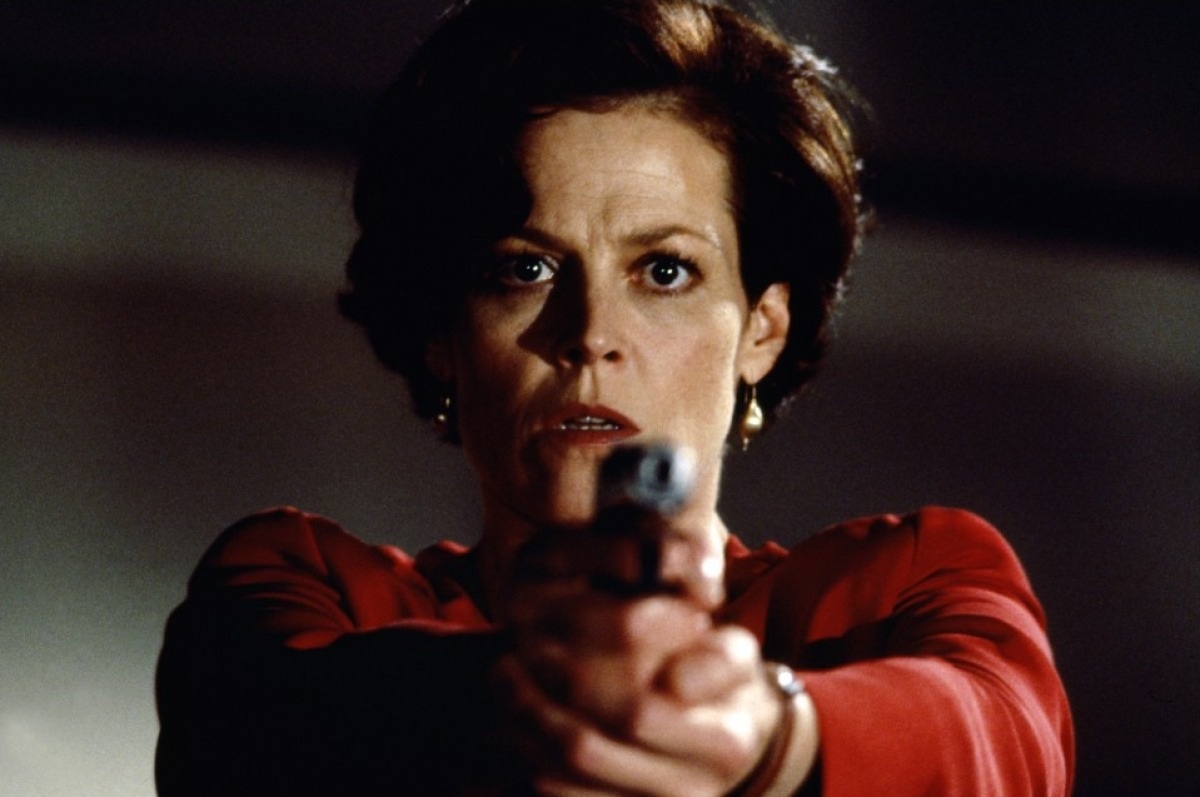 If there are faults in the script it is that it does take its time to get there, making occasional detours away from the main action, such as the long scene with the drug bust that sets up Dermot Mulroney's death. It is obvious where the film is heading – that the culminating killing will be a re-enactment of the Daryll Lee Cullum attack on Sigourney Weaver and that she will have to fight for her life by finding the reserves within herself to overcome her agoraphobia – but it works extremely well nevertheless.
Jon Amiel, the British-born director of the likes of Aunt Julia and the Scriptwriter (1990), Sommersby (1995) and Creation (2009), does an excellent job. There is a particularly gruelling opening moving from the lecture where Sigourney Weaver makes a number of potently effective points about profiling to Harry Connick Jr's killer emerging in the ladies room, ending with Weaver strung up over the toilet by a noose around her neck.
There are no other scenes that quite match the shock effectiveness of such an opening, but Amiel still manages to keep the film wound at an intensity – the suspenseful unveiling of the existence of a copycat killer; the eerie computer messages Sigourney Weaver receives; and especially the introduction of William McNamara where we go from seeing him calmly talking to his mother to the shock revelation of a girl tied up in his basement.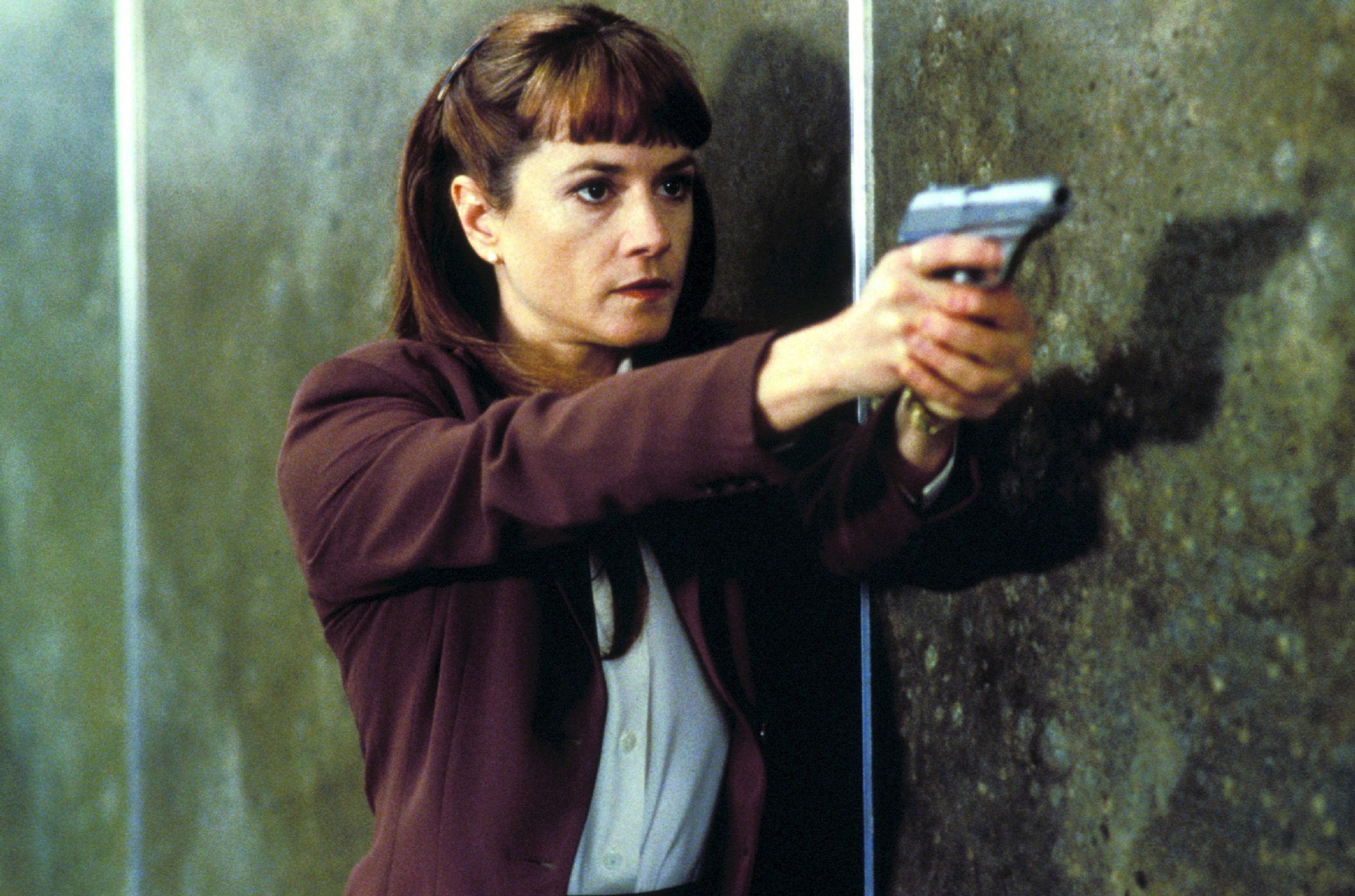 The film is well cast, particularly its two female leads. Sigourney Weaver does this coldly logical and harshly defensive role well and the intensity of her neurotic introverted performance takes one aback. Holly Hunter is also good, she has natural commanding charisma and the character's reliance on own her instincts and rapport with her male comrades is well established. Singer Harry Connick Jr has a particularly alarming part as the serial killer Daryll Lee Cullum.
Director Jon Amiel has directed other genre works such as the Dennis Potter tv mini-series The Singing Detective (1986) set inside a hospital patient's fantasies of a cheap detective novel and the Magical Realist Queen of Hearts (1989). Amiel next went onto the lame millennial caper thriller Entrapment (1999), which fails to work in every way that Copycat succeeds in doing, and the rather terrible big budget journey to the centre of the earth sf film The Core (2003). Amiel also produced the Magical Realist Simply Irresistible (1999), directed by this film's producer, Mark Tarlov.
(Winner in this site's Top 10 Films of 1995 list. Nominee for Best Original Screenplay, Best Actress (Holly Hunter) and Best Actress (Sigourney Weaver) at this site's Best of 1995 Awards).
---
Trailer here
---