---
USA. 1995.
Crew
Director – David Fincher, Screenplay – Andrew Kevin Walker, Producers – Phyllis Carlyle & Arnold Kopelson, Photography – Darius Khondji, Music – Howard Shore, Special Effects Supervisor – Danny Cangemi, Makeup Effects – Rob Bottin, Production Design – Arthur Max. Production Company – New Line Cinema.
Cast
Morgan Freeman (Detective William Somerset), Brad Pitt (Detective David Mills), Gwyneth Paltrow (Tracy Mills), Kevin Spacey (John Doe), R. Lee Ermey (Captain)
---
Plot
With only a week to go before retirement, detective William Somerset is partnered with young enthusiastic rookie detective David Mills. They are sent to investigate a murder where an obese man has been bound and fed until his stomach has exploded. Next, they investigate a lawyer who has been forced to cut a pound of flesh from his own body. Somerset discovers that the killings are connected, with the words 'Gluttony' and 'Greed' having been written at both crime scenes. As other bodies appear, Somerset realises that they are dealing with a serial killer of extraordinary calculating intelligence who is trying to make a moral point and draw attention to the Seven Deadly Sins.
---
Se7en is an absolutely breathtaking thriller. When Se7en came out it wowed audiences everywhere and was compared up alongside The Silence of the Lambs (1991). If anything, Se7en was far more deservous of the superlatives that were heaped on the overrated The Silence of the Lambs than The Silence of the Lambs itself was. It is one film where script, mood, performances, the look of the film, everything combines into a single, searing vision.
Se7en was directed by David Fincher. David Fincher worked for a time as a production assistant at Industrial Light and Magic and then emerged in the late 1980s, directing a number of dazzling music videos for artists like Paula Abdul, Michael Jackson, Madonna, George Michael, The Rolling Stones and Sting, to name but the more famous. Fincher debuted as a theatrical director with the worthwhile but poorly received Alien3 (1992) and then made a name for himself with Se7en.
After the minor dip of his next film, the dull reality bender The Game (1997), Fincher then regained form with the incendiary and quite amazing Fight Club (1999). He has followed this with the thriller Panic Room (2002), the true-life serial killer film Zodiac (2007), The Curious Case of Benjamin Button (2008) about a man who ages backwards, The Social Network (2010) about the establishment of Facebook, the English-language remake of The Girl with the Dragon Tattoo (2011), the thriller Gone Girl (2014); and the true-life Mank (2020) about Hollywood screenwriter Joseph Mankiewicz; as well as producing the tv series Mindhunter (2017-9) about the establishment of the FBI's Behavioural Science Unit, carving a niche as one of the most visionary directors of the 1990s and beyond.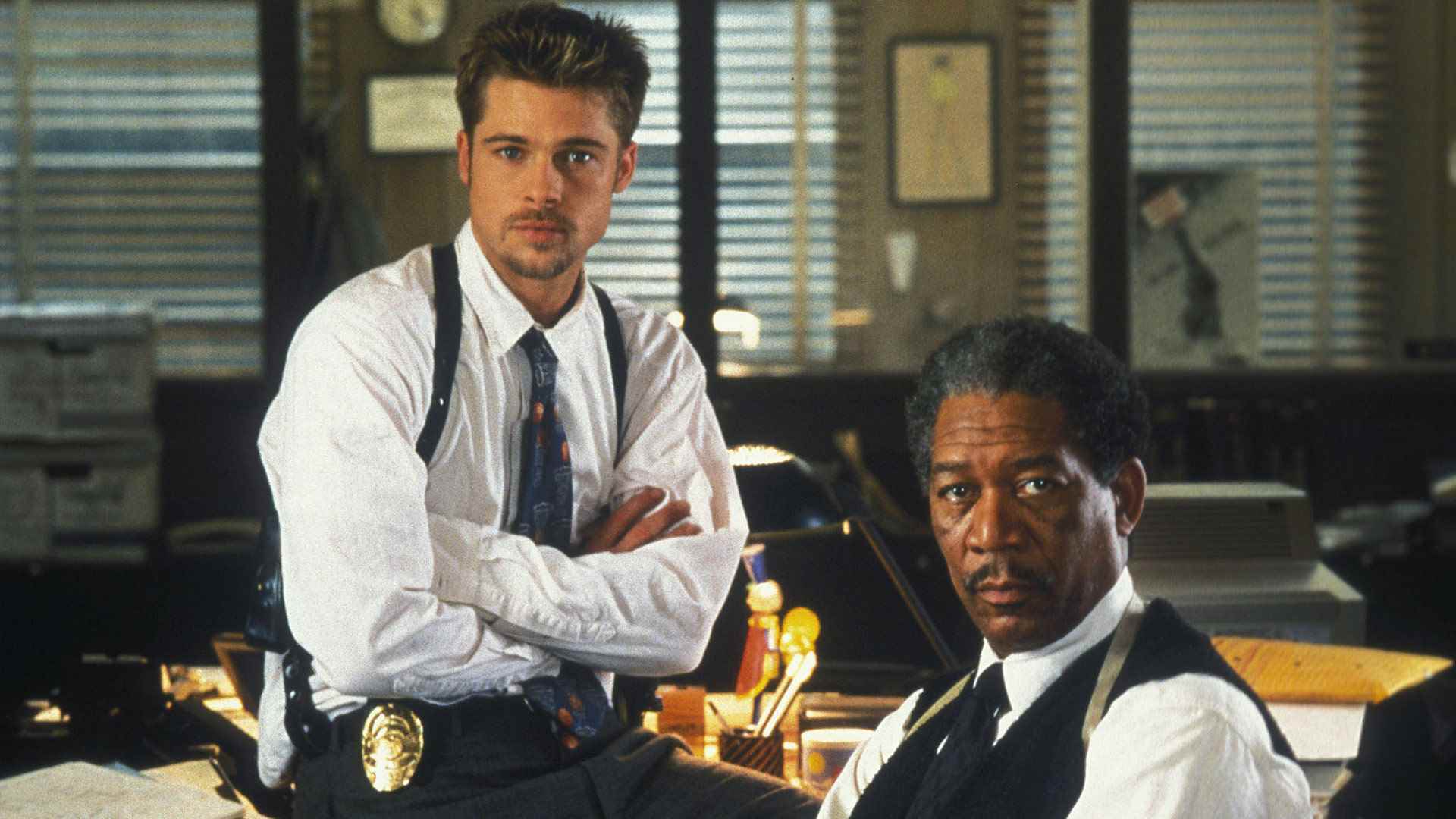 David Fincher gives Se7en has a unique look. The film comes almost entirely in rain washed monochromes. The film's palette consists only of the grey colours of rain, the dirty browns of apartment exteriors and faces photographed in a heightened sepia tone. Half the apartment interiors are shot as though the only light bulbs available were 20 watt. There is an amazing opening credits sequence, which comes as though the film was flickering through broken sprockets. Both the dank, ill-lit subterranean lighting and the flickering, broken film look was subsequently appropriated by a number of other music videos and films.
Both visually and philosophically, Se7en seems to portray the moral fracturing of modern world, indeed seems to shoulder the weight of no less than the breakdown ofTwentieth Century life. This fin du seicle dis-ease is a preoccupation of screenwriter Andrew Kevin Walker who returned to the theme with his subsequent script for 8MM (1999) and even managed to work his preoccupation with millennial anxieties into his script for Tim Burton's 18th Century set Sleepy Hollow (1999). Se7en seems to embrace somewhere between an Old Testament divine judgement and a poet's outlook in its view of people struggling to find something of purity to hold onto in a world that is (in the visual sense) literally bearing down on and crushing them with its indifference.
The four characters in the film all voice varying degrees of response to this. Morgan Freeman makes a powerful speech about it being easier to beat than to raise a child, it being easier to rob than to work. Brad Pitt's youthfully naive enthusiasm is contrasted against Morgan Freeman's sheltering from his own damaged emotions. Gwyneth Paltrow appears to be coming to pieces because of the pressures and loneliness of living in the city – there is an utterly heart-wrenching scene where she speaks to Morgan Freeman about being pregnant and her fears of raising a child in 'this city' (which is never named). And then there is Kevin Spacey's killer who kills because he wants to draw attention to sin – there is one disturbingly plausible moment where he explains how sin has become easy to tolerate.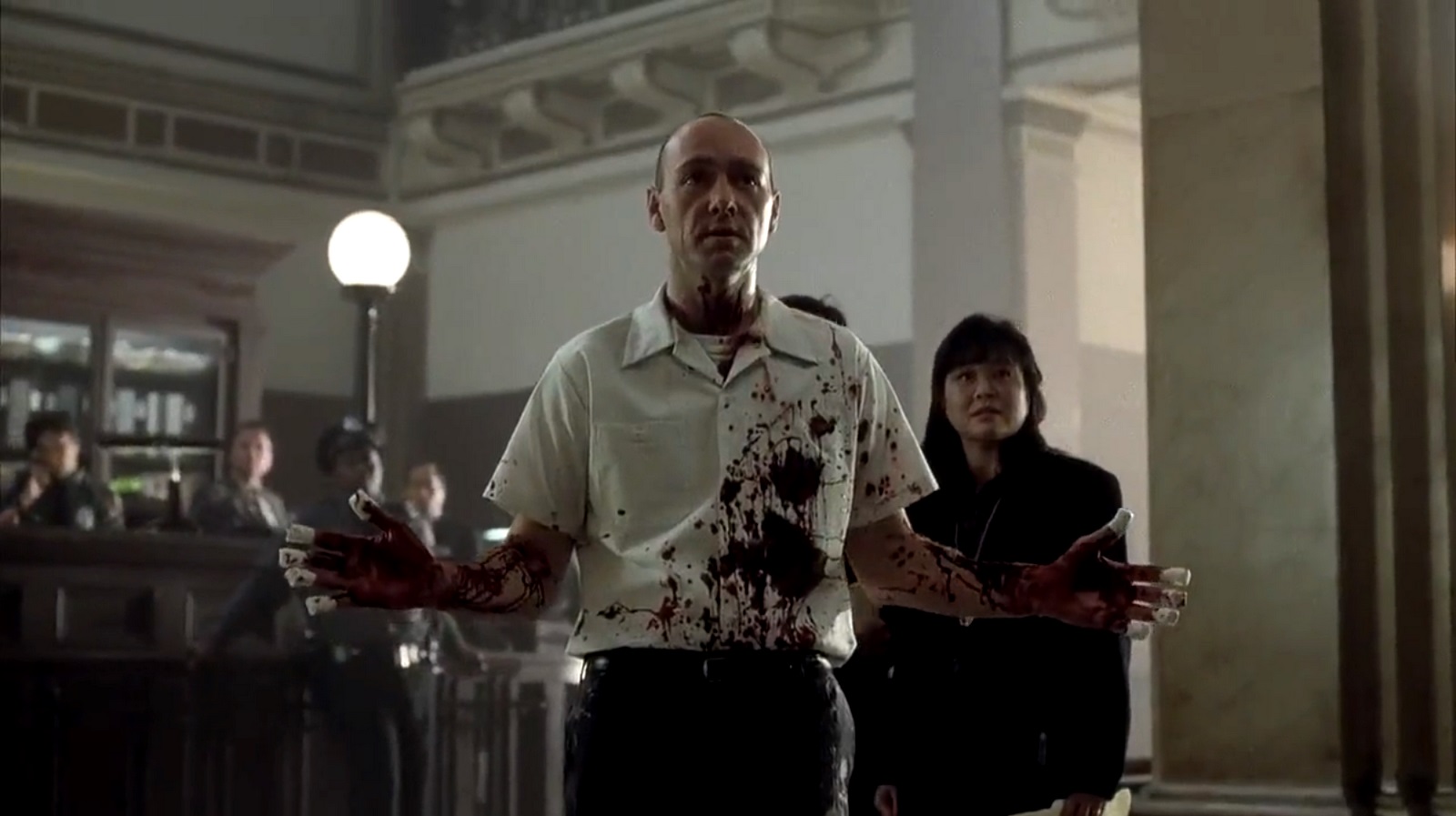 Andrew Kevin Walker seems a writer who aches with an earnest desire to lift the fin du siecle weight of modern social decay from one individual's shoulders and find something in life of moral worth. One of the film's most haunting images is when Morgan Freeman visits the library and ironically comments on a group of security guards who play cards bored while surrounded by the weight of human knowledge gathering dust.
Andrew Kevin Walker writes and David Fincher directs the script's turns with knife-edge suspense. Se7en delivers startling shocks and twists that work as much in the imagination as they do in physicality – the discovery of the Sloth victim still alive as a veritable corpse who has been timed to be found to the very day a year in advance; or when the killer walks into the police station and simply gives himself up.
However, the most horrifying twist is the ending. It is a twist that every first-time audience leaves the theatre talking about. It is an ending that defies all taboos in the genre, it dares to cross lines and in the most disturbing way possible. The ending was much fought over, with the studio (New Line Cinema) wanting to cut it for something more upbeat (purportedly they wanted to have a dog's head found in the box) but where Brad Pitt used his clout and had it written into his contract that the ending stayed. The result is the difference between what would have made for a good film and one that emerges as an unforgettable classic.
The performances are all excellent. Morgan Freeman is great at portraying a person with a tight-lipped hold on their emotions. That and the reserved wisdom and cool analytic ability the script provides him with makes for a superb performance. Brad Pitt acquits himself well, portraying the character's boyish macho naivete with some subtlety. One of the best parts in the film is from Gwyneth Paltrow (Brad Pitt's real-life girlfriend at the time) whose hauntingly fragile performance becomes the heart of the film. It is the effectiveness of this, in particular her heart-wrenching scene talking to Morgan Freeman, that makes the ending as disturbing as it is.
Also of interest is the clairvoyance thriller Solace (2015), which was originally intended as a sequel for Se7en until Fincher nixed the idea whereupon it was mounted as a standalone film. This is an excellent and well worthwhile film in its own right.
The script for Se7en came from Andrew Kevin Walker, who up until that point had written a couple of throwaway genre entries with Brainscan (1994) and Hideaway (1995). Andrew Kevin Walker would go onto write other high-profile genre scripts such as 8MM (1999), Sleepy Hollow (1999) and The Wolfman (2010).
(Winner for Best Film in this site's Top 10 Films of 1995 list. Winner for Best Director (David Fincher), Best Original Screenplay, Best Supporting Actress (Gwyneth Paltrow) and Best Cinematography, Nominee for Best Actor (Morgan Freeman), Best Actor (Brad Pitt) and Best Supporting Actor (Kevin Spacey), at this site's Best of 1995 Awards).
---
---