---
Crew
Director – Michael Winterbottom, Screenplay – Frank Cottrell Boyce, Idea – Frank Cottrell Boyce & Michael Winterbottom, Producer – Julie Baines, Photography – Seamus McGarvey, Music – John Harle, Art Direction – Rupert Miles. Production Company – British Screen/Merseyside Film Production Co
Cast
Amanda Plummer (Eunice), Saskia Reeves (Miriam), Des McAleer (Eric McDermott), Ricky Tomlinson (Robert), Paul Bown (Gary), Freda Dowie (Elsie), Emily Aston (Katie)
---
Plot
Eunice wanders along the highway, where she walks into gas stations, asking female attendants if they are Judith and getting angry when they say they aren't. One attendant Miriam calms Eunice down and takes her back home to stay. There Eunice sexually forces herself on the weak-willed Miriam. The next morning Eunice leaves and Miriam runs after her. As she follows Eunice, Miriam realizes that Eunice is leaving a trail of dead bodies wherever she goes. Joining her on a chaotic cross-country journey, Miriam attempts to redeem the evil inside Eunice.
---
1994 was a bumper year for the theme. Seemingly spontaneously, a number of films all around the world – the Canadian Fun (1994), Peter Jackson's celebrated Heavenly Creatures (1994), the French Sister, My Sister (1994) and a few months later Butterfly Kiss – took up the theme of girl lovers/murderers. Each effort appears to have arisen of its own devices rather than jumped a trend. The only inspiration the films may have had in common was the recent success of the feminist/anarchist tract Thelma and Louise (1991).
Butterfly Kiss is an extraordinary film. All of this can be placed down to its characterization. At the centre of the film is a startling performance from Amanda Plummer. Amanda Plummer has the tendency to come across as a bug-eyed fruit loop in films – she plays with a weird intensity that is often wildly inappropriate to a role. Here however her weirdness has been well attuned to the film at hand. She even adopts a convincing Midlands accent.
There is a real intensity to Amanda Plummer's character – the scene where she takes her top off to reveal chains wrapped around her torso and piercing her nipples and the bruised skin underneath is completely wild. In fact, all the sex scenes are wild – the scenes with her fucking the guy in the back of the glass repair truck and seducing Des McAleer who gets turned on by her dominating him both contain a wild kick. Her extroverted aggressiveness and scary unpredictability has a jagged kinesis in the film – you never know what she is going to do.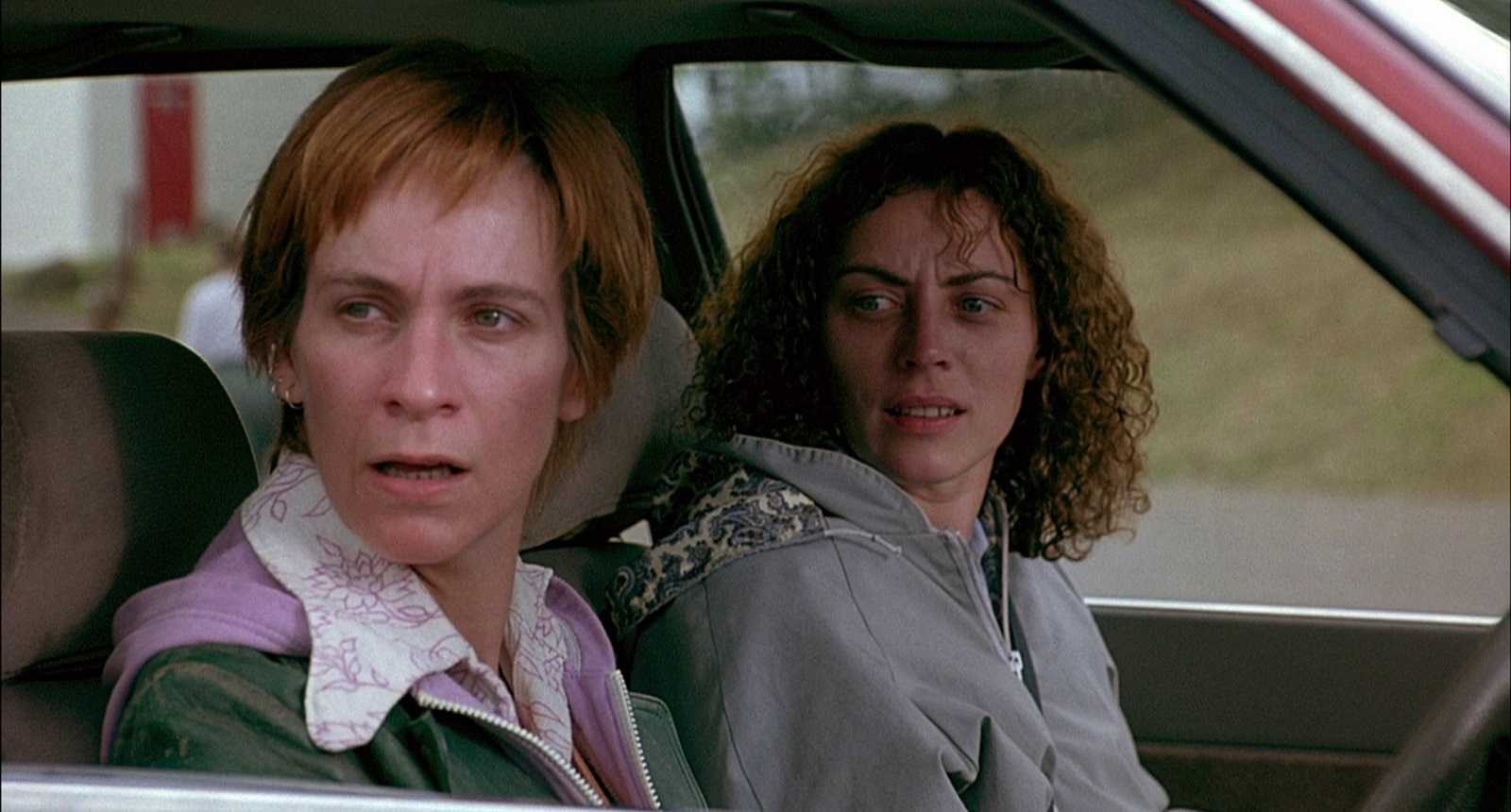 Balanced out against Amanda Plummer is a good performance from Saskia Reeves. Reeves is all-too believable as someone so lacking in self-esteem that she becomes completely absorbed in another personality. The excuses she makes when she finds that Amanda Plummer has conducted the first murder – "I'm sure you had your reasons to kill him," "You've got to find the good in each person" – have an alarming plausibility. There is a strange subtext about religious punishment and redemption, which culminates in the film's haunting finale.
Butterfly Kiss was the third film from British director Michael Winterbottom. Winterbottom went onto the acclaimed likes of Jude (1996), Welcome to Sarajevo (1997), Wonderland (1999), The Claim (2000), 24 Hour Party People (2002), Tristram Shandy: A Cock and Bull Story (2005), The Road to Guantanamo (2006) and A Mighty Heart (2007). Winterbottom later returned to genre material with the dystopian future film Code 43 (2003) and The Killer Inside Me (2010) about a psychopathic deputy sheriff.
(Winner in this site's Top 10 Films of 1995 list. Nominee for Best Actress (Amanda Plummer) at this site's Best of 1995 Awards).
---
---