---
Crew
Director/Producer – Ted V. Mikels, Screenplay – Joseph Cranston & Arch Hall, Photography – Bill Anneman, Special Effects – Gary Heacock, Makeup – Sherri Vernon, Set Design – John Robinson & Laura Young. Production Company – Ted V. Mikels Film Corporation.
Cast
Sean Kenney (Dr Howard Glass), Monika Kelly (Angie Robinson), Sanford Mitchell (Landau), J. Byron Foster (Maltby), Warren Ball (Caleb), Ann Noble (Cleo), Zena Foster (Mrs Babcock), Earl Burnam (Mr Desisto), Drucilla Hoy (Tessie)
---
Plot
Landau, the head of the Lotus Cat Food company, has made a deal with the grave digger Caleb to dig up corpses. The bodies are then ground down at the Lotus factory and processed as the company's pet food. This has the unforeseen effect of causing the cats that eat the meat to become addicted to human flesh. When they become hungry, the cats now turn on and devour the flesh of humans. Dr Howard Glass and his nurse/girlfriend Angie Robinson begin an investigation after coming across several deaths where owners have been killed by the cats .
---
Ted V. Mikels (1929-2016) was a director who holds a notoriety in Psychotronic movie circles. His is a name often mentioned in the same breath as other directors of this era like Herschell Gordon Lewis, Andy Milligan and Al Adamson. Mikels was responsible for films such as The Astro-Zombies (1968), Blood Orgy of the She-Devils (1972) and The Doll Squad (1973), the latter of which Mikels claims was ripped off as the basis of Charlie's Angels (1976-81). (See below for a full list of Mikels' other genre films).
The Corpse Grinders is centrepiece in the cult of Ted V. Mikels. The plot description you get – "double-dealing cat food company grinds down bodies taken from the graveyard as the meat in their pet food, making the cats hungry for human flesh" – has an undeniable sleaze value. It is surely the essence of what everybody imagines horror double-bills were like back in the day of the so-called grindhouse cinema. As such, The Corpse Grinders gets full marks for one of the most exploitative premises of any film ever made during this period.
That said, the film on display is way less interesting than it ever sounds in synopsis. While you can easily apply terms like 'sleazy' and 'sordid' to it in description, the only real terms you can apply to the film you see on screen are 'dreary' and 'dull'. The Corpse Grinders only runs to 72 minutes, far shorter than the average film, but even those are a hard slog.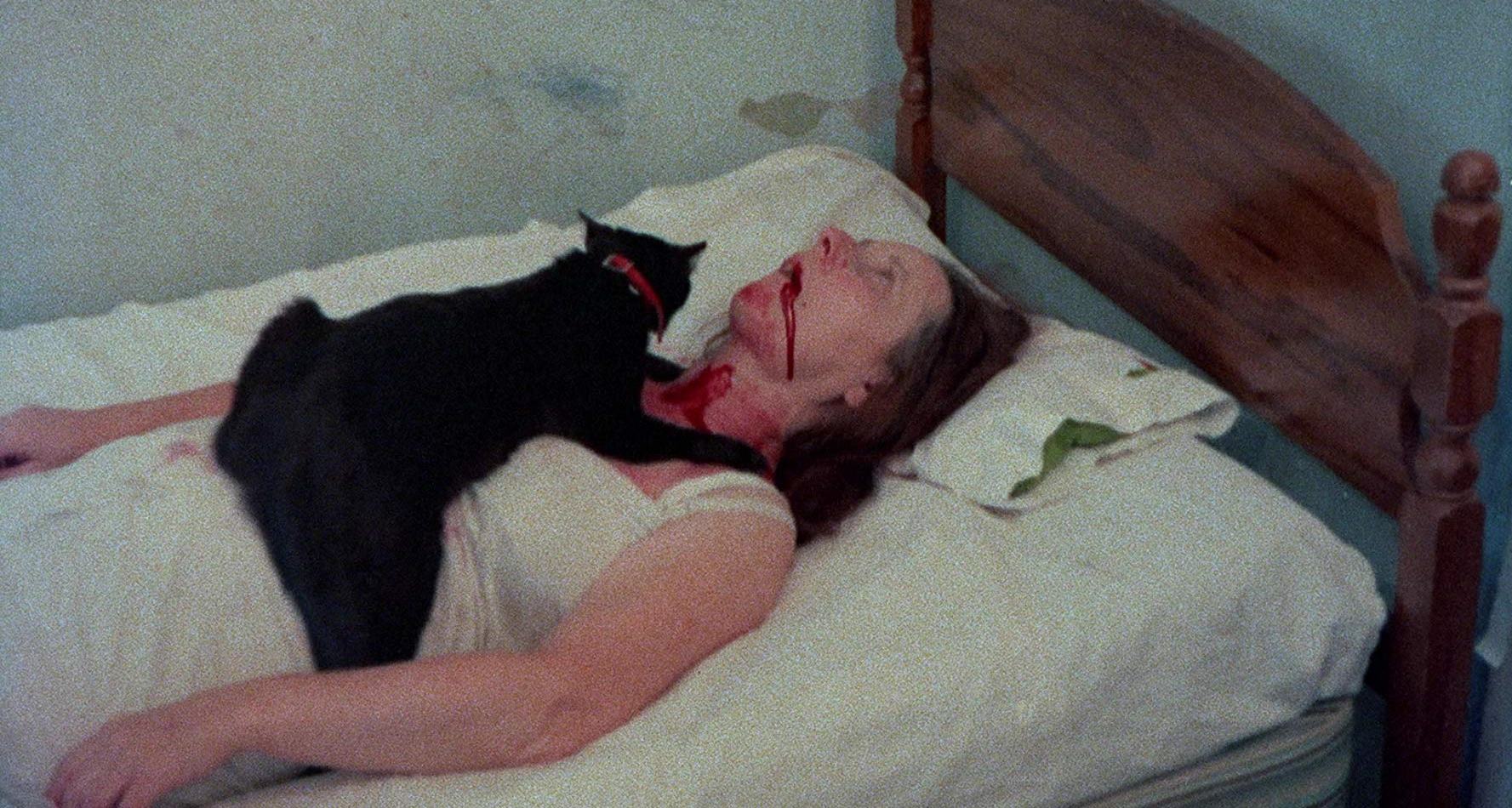 Though he is considered a cult director, Ted V. Mikels never learned the rudiments of filmmaking. For all the ridicule that was heaped on Edward D. Wood, Jr. as the worst director of all time, Wood at least had a grasp of style and even occasionally atmosphere but Mikels lacks any of that. His approach to direction is simply to point a camera at a cheaply-made set and film what happens, rarely cutting his shots up or using closeups. There is no idea of tension or suspense in any of Mikels' films, he seems unaware of how to make what happens work as a dramatic story. The Corpse Grinders is often listed as a splatter film but even when we see shots where bodies are fed into the meat grinder there is no blood to the film.
That also brings us to the acting, which is abysmal. It is no surprise that none of the actors here were ever heard from again. There are appalling performances from in particular Ann Noble as the gravedigger's wife and Drucilla Hoy as a handicapped employee at the factory. It would be a breach of trade descriptions to even call this acting.
Ted V. Mikels made a sequel with The Corpse Grinders 2 (2000) and executive produced a third film for a different director with The Corpse Grinders 3 (2012).
Ted V. Mikels' other genre films include:- The Astro-Zombies (1968), Blood Orgy of the She-Devils (1972), Dimensions in Fear (1998), Cauldron: Baptism of Blood (2004), Demon Haunt (2009), Mark of the Astro-Zombies (2010), Astro-Zombies M3: Cloned (2010), Astro-Zombies M4: Invaders from Cyberspace (2012) and Paranormal Extremes: Text Messages from the Dead (2015), as well as produced The Worm Eaters (1977).
---
---