---
Crew
Director/Producer – Don Siegel, Screenplay – Harry Julian Fink, R.M. Fink & Dean Riesner, Story – Harry Julian Fink & R.M. Fink, Photography – Bruce Surtees, Music – Lalo Schifrin, Makeup – Gordon Bau, Art Direction – Dale Hennesy. Production Company – Malpaso Co.
Cast
Clint Eastwood (Inspector Harry Callahan), Andy Robinson (Scorpio), Reni Santoni (Chico Gonzales), Harry Guardino (Lieutenant Al Bressler), John Vernon (Mayor), John Larch (Police Chief)
---
Plot
San Francisco is being terrorized by a psychopathic killer who calls himself Scorpio and demands $100,000 from the city – if not he will kill "a Catholic priest or a nigger." Police inspector Harry Callahan, nicknamed Dirty Harry because he takes on the dirtiest of jobs, tracks down and arrests Scorpio. However, Scorpio is able to get off because Callahan conducted an illegal search and violated his rights. Scorpio taunts Callahan, hiring someone to beat him up and then telling the media that it was Callahan. When Scorpio takes a busload of children hostage, Callahan disobeys direct orders and goes after him.
---
This classic Clint Eastwood vehicle was a big hit. It created the indelible image of the tight-lipped, rule-breaking cop that still stands Clint Eastwood by nearly 30 years later. Dirty Harry is a landmark film in many ways. It spawned its own series of sequels (four in all, which were still being made over fifteen years after this) and a subgenre of copycats such as Death Wish (1974) and sequels and much of Sylvester Stallone's output. It gave birth to a genre of ruthless anti-heroes by viciously turning its back on classic heroism and the morality represented by the likes of John Wayne et al. Clint Eastwood and his anti-heroic followers live in a society that has weakened and gone sick around them, one where they had internalised their morality and react against the 'moral disease' of this world with contempt and a ruthless lack of pity.
For all the Dirty Harry films have come to represent, most of them are surprisingly routine and even dull in the plot and particularly action department. At most, they are distinguished by the odd one-liner – the line that will probably go on Clint Eastwood's tomb is "Go ahead make my day" but few people can actually name the film it came from – Sudden Impact (1983). Most of all, what one remembers is their attitude.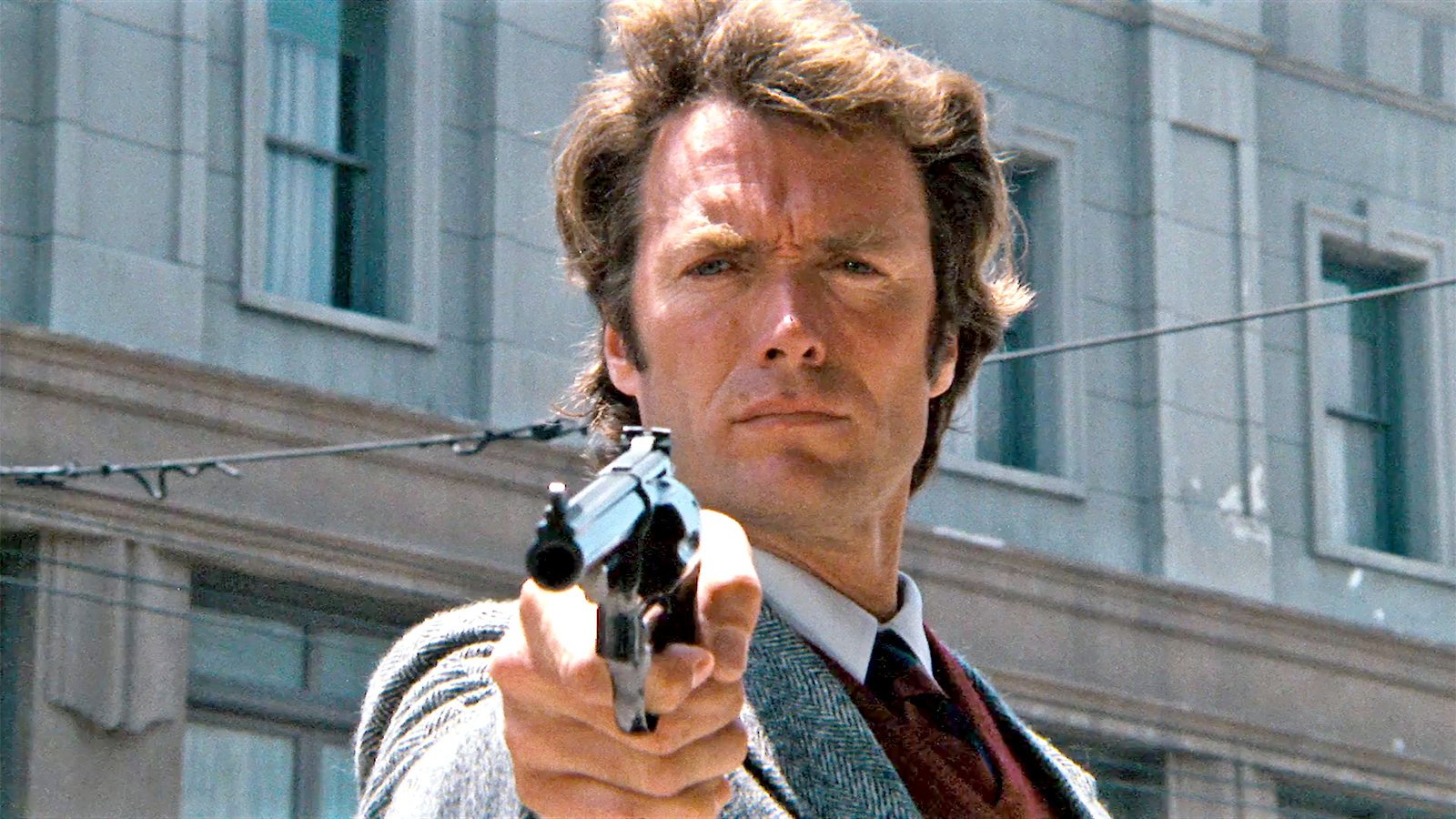 Dirty Harry is the best of the quintology. There isn't much to the plot concerning all-encompassing psycho Andy Robinson. What one remember about Dirty Harry though are the set-pieces – the suicide that Eastwood shows brutal contempt for; and his famous speech, since much parodied: "I know what you're thinking – did he fire six shots or only five? Well, to tell you the truth, in all the excitement I've kind of lost track myself, but then this is the .44 Magnum, the most powerful handgun in the world, and would blow your head clean off. You've got to ask yourself the question – do I feel lucky? Well, do you punk?"
Dirty Harry is a naked libertarian fantasy, although it could only be taken seriously by the most naive. (Some of the script was purportedly uncreditedly tuned by the most famous Hollywood libertarian conservative of the era, John Milius). The psycho of the piece is portrayed as someone utterly despicable – a coward and a double-dealer, but most of all as someone who protests about his rights and manipulates an overly liberal justice system, a common theme of these films. The film has to become ludicrously contrived in order to make its point about the potential abuses that can be made out of insisting that people have rights under the law – the search of the killer's quarters, despite what the film says, is conducted with Probable Cause.
The scene where Eastwood deals with a suicide who is threatening to jump, fooling him into anger by showing brutal indifference to his emotions and then grabbing him while he is distracted, clearly demonstrates the libertarian position as to the waste of time it is to show sympathy for the less stable of mind. Ultimately though, Dirty Harry does represent a deep-seated hypocrisy – it takes a strong and strident moral tone, regarding its parade of killers and prostitutes as 'sick', yet ends up appealing to the very presentation of such 'sick' violence in order to entertain its audience.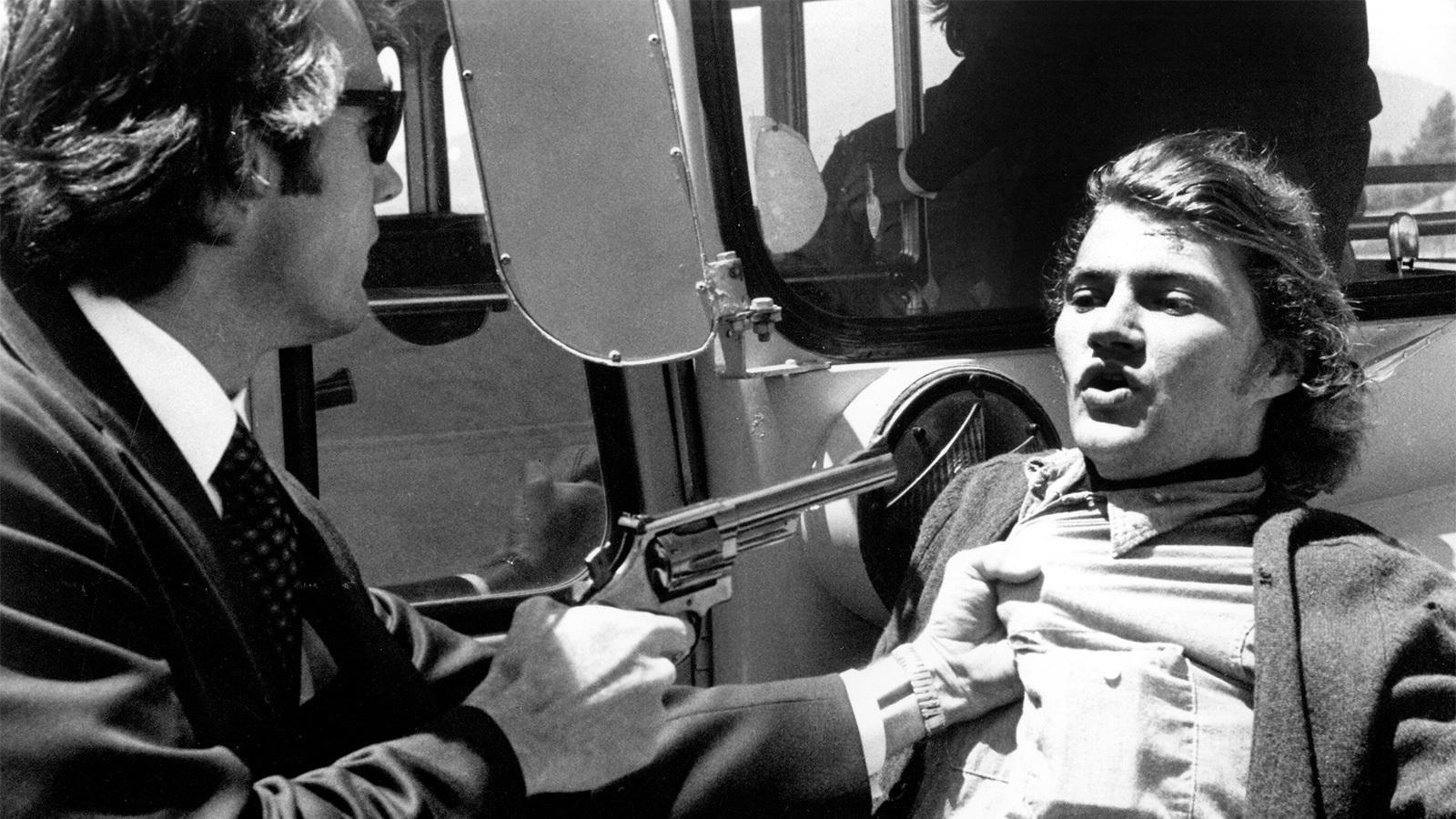 The Scorpio killer played by Andrew Robinson was taken almost directly from the real-life Zodiac Killer who was terrorising San Francisco at the time that Dirty Harry came out, with the killer here even being named after a zodiacal sign. Beginning in 1969 and through the 1970s, the Zodiac wrote a series of cryptic letters to police and newspapers, among which he threatened to shoot at a busload of children. A detailed depiction of the real-life Zodiac Killer hunt is seen in David Fincher's excellent Zodiac (2007), against which Dirty Harry is amusingly contrasted at one point.
The other Dirty Harry films are Magnum Force (1973), The Enforcer (1976), Sudden Impact (1983) and The Dead Pool (1988).
These days Clint Eastwood is almost as well known as a director than he is an actor. Eastwood's other films of genre interest as director are:– the female stalker film Play Misty for Me (1971); the supernatural avenger Western High Plains Drifter (1973), the hi-tech fighter plane heist Firefox (1982), the oldsters in space film Space Cowboys (2000), the psycho-thriller Blood Work (2002), Changeling (2008), a true-life story about a missing child, a police cover-up and a serial killer, and the afterlife character drama Hereafter (2010). In acting appearances, aside from most of the aforementioned, Eastwood has appeared in Revenge of the Creature (1955), Tarantula (1955), the talking mule film Francis in the Navy (1955), the twisted Southern Gothic horror The Beguiled (1971), the S&M psycho-thriller Tightrope (1984) and the Dirty Harry film The Dead Pool (1988).
---
Trailer here
The famous "Do you feel lucky punk?" scene here:-
---