---
Crew
Director/Producer/Photography – Ted V. Mikels, Screenplay – Ted V. Mikels & Cory J. Udler. Production Company – TVM Global Entertainment.
Cast
Colie Knoke (Addison London), Josef Niznik (Brandon Connell), Volmar Franz (Addie's Father), Drew Marvick (Justin Samuels), Brenda Grippi (Steffani), Ted V. Mikels (Old Man in Park), Terri Lynn Hicks (Channeller), Grant Philipo (Costume Museum Curator), Scott Blacksher (Psychometry Expert), Beverly Washburn (Brandon's Mother), Jim Wheble (Brandon's Father), Michael Dean (Randy), Sean Morelli (Paul), Lonnie Hammargren (Communicator with the Dead), Grace LaFleur (Tarot Card Reader), John G. Waite (M.D. in Office), Donna Hamblin (Harata), Marilyn Weinmann (Man in Park's Widow), Ronni Lea (Secretary TV Show)
---
Plot
Addison London's fiancé Brandon Connell is killed while driving from their home in Las Vegas to California. Even before she receives news of his death, Addison is receiving text messages from Brandon asking help in coming through. She consults various people about what to do and is given a series of devices to help communicate. During the course of this, she receives visions from the dead and discovers her own abilities as a medium. As she tries to rid herself of this ability, the ghosts instead encourage her to regard it as a gift. She gains fame when the reality tv show Paranormal Wars learns of her abilities.
---
Ted V. Mikels (1929-2016) has a legendary reputation as one of the great Z movie directors. Mikels' heyday was in the late 1960s/1970s with films such as The Black Klansman (1966), The Astro-Zombies (1968), The Corpse Grinders (1971), Blood Orgy of the She-Devils (1972) and The Doll Squad (1973). In the 1980s and beyond, Mikels was rediscovered by the psychotronic film cult and his works gained renewed attention. This gained him the opportunity to go on to make a host of other films, including several sequels to his earlier works – there were three sequels made to The Astro Zombies alone. (See below for Ted V. Mikels' other films).
Paranormal Extremes: Text Messages from the Dead was the second-to-last film Mikels made before his death in 2016. It was followed by Ten Violent Women: Part Two (2017), which remains unreleased as I write. Mikels was around the age of 86 when he made Paranormal Extremes – he is in sufficient health to appear on screen during the opening minutes (albeit with the aid of a walking stick) as the old man who appears to Colie Knoke in a park and urges her to go and visit his girlfriend. In acknowledgement of his advancing years, Mikels has a prophetic line about "The guy Up There's got it figured out. He knows when it is time to slow down." Although given that Mikels was still making films in his late eighties right up until he passed, quite clearly The Almighty was taking his time getting around to giving Mikels the word that it was time to slow down.
The 'text messages from the dead' aspect of the title is somewhat of a misnomer. It is a catchy attention-grabbing title that makes you think the film is going be akin to films like White Noise (2005) and Dark Signal (2016) about Electronic Voice Phenomena, or perhaps Unfriended (2014) or Friend Request (2016) with dead people suddenly appearing on social media or perhaps most so Selfie from Hell (2018). However, while a few text messages start to come from the dead fiancé in the first few scenes after he is killed, said messages are forgotten about soon after. The theme of text messages from the dead was more substantially taken up by the subsequent Stephen King adaptation Mr Harrigan's Phone (2022).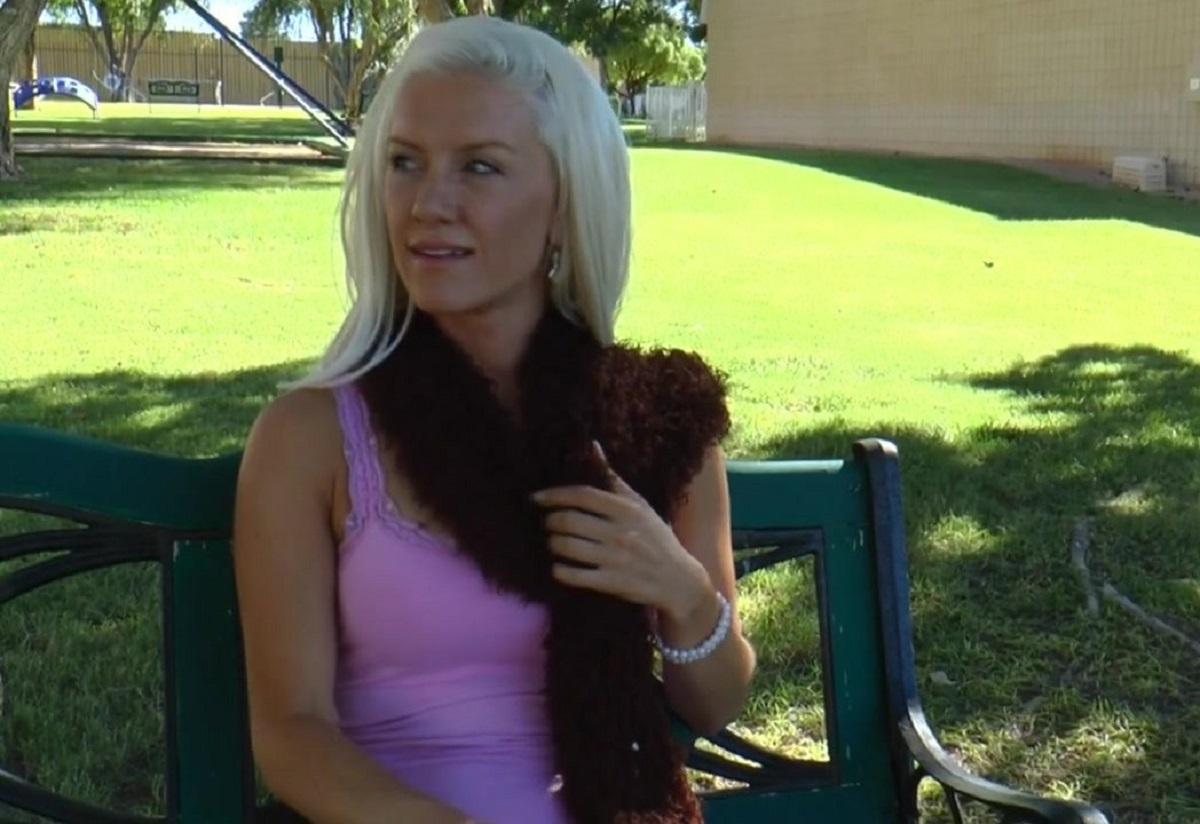 What you think you are in for is a ghost story film about messages from the beyond. Instead what we get is a work about a woman discovering her abilities as a medium. The film has no real plot – is just a series of scenes with Colie Knoke going around and asking people's opinion what she should do in between having visions, before the film comes to an abrupt end and she is killed.
It is clear that in the five decades he has been making films Ted V. Mikels has improved none in terms of quality – his films are technically better made but that is more due to the ease of shooting offered by digital equipment these days than it is in any improvement in skill. Mikels still makes a film as cheaply and shabbily as he did forty years earlier. He has no money for ADR so all the dialogue is performed in camera and often echoes with the ambient room noise.
Almost everybody in the cast is an unknown – Beverly Washburn as Josef Niznik's very senior mother once had a role in Star Trek (1966-9), while Drew Marvick, who plays the tv producer, is an up and rising director in his own right, in particular with the hilarious no-budget Pool Party Massacre (2017). In a good number of cases, the actors are amateurs who have been shanghaied into playing on camera and give poor and stiff performances – the worst offender being John G. Waites who plays one of the doctors that Colie Knoke consults.
There are the occasional amusements to be found – like a scene where Colie Knoke visits a seance and the channeler (Terri Lynn Hicks) is taken over by the spirit of a widower's wife who angrily berates him for looking at other women. There's also an hysterically over-the-top performance from Scott Blacksher as a medium brought in to consult at a Vegas costume shop.
Ted V. Mikels' other genre films include:- The Astro-Zombies (1968), The Corpse Grinders (1971), Blood Orgy of the She-Devils (1972), Dimensions in Fear (1998), The Corpse Grinders 2 (2000), Cauldron: Baptism of Blood (2004), Demon Haunt (2009), Mark of the Astro-Zombies (2010), Astro-Zombies M3: Cloned (2010) and Astro-Zombies M4: Invaders from Cyberspace (2012), as well as produced The Worm Eaters (1977).
---
---