---
Crew
Director – John Newland, Screenplay – Ernest Kinoy, Based on the Novel by Herbert Lieberman, Producer – Robert Buzzberger, Photography – Urs Furrer, Music – Jerry Goldsmith, Art Direction – Robert Gundlach. Production Company – Titus Productions.
Cast
Arthur Kennedy (Albert Graves), Teresa Wright (Alice Graves), Tom Happer (Richard Attley), Eugene Roche (Sheriff Emil Burge), Matthew Cowles (Dave Freeman), Dan Morgan (Mr Harlow)
---
Plot
Richard Attley comes to do a repair job at the home of aging Albert and Alice Graves and on inspiration she asks him to stay for dinner. Some days later, after hearing noises at night, Albert discovers a book he lent Richard and some other items in the crawlspace in the cellar. They discover that Richard has quit his job. Now homeless, he has taken refuge in the crawlspace. They start to welcome him, leaving food and clothing for him. Eventually, Richard accepts an invitation to Christmas Dinner and emerges. He soon becomes an indispensable part of the household doing odd jobs and they regard him as the son they never had. However, when they send him into town to buy groceries, a dispute ensues between Richard and the store clerk – Richard insisting that the clerk took his $20, the clerk that Richard started a fight. Someone then breaks in and vandalises the store. Albert lies to defend Richard, insisting that he could not have done such, although Richard later admits that he did. As local youths begin harassing Richard and he responds with violence, Albert and Alice decide they want him out. However, this serves to turn his violence against them.
---
Crawlspace – which should not be confused with the more well-known Empire film Crawlspace (1986) starring Klaus Kinski as an ex-Nazi landlord who peeps on and tortures his female tenants or the Australian lab experiment amok film Crawlspace (2012) – is an interestingly obscure tv movie from the early 1970s.
When you sit down to watch Crawlspace knowing in the back of the mind that it is a tv movie, you unconsciously build a set of expectations – the banality and tepidness of drama, the artificial timing built around commercial breaks, the focus on mawkish sentimentality rather than soul-baring drama. As one starts to watch Crawlspace, these expectations evaporate and prove not to be the case at all. If anything, Crawlspace has the feel of being construed as a theatrical film, or could conceivably even work as a play quite easily.
There are undeniable similarities to the early psycho film Beware, My Lovely (1952), which had Ida Lupino being imprisoned in her house by mentally unstable handyman Robert Ryan. You can also perhaps see some influences of Straw Dogs (1971), which had just come out before Crawlspace was made and featured a similar plot where Dustin Hoffman sheltered a man accused of a crime (who may also be guilty) from being persecuted by locals.
As the aging couple, Arthur Kennedy and Teresa Wright give two exceptional and completely convincing performances. The creepy effectiveness of Crawlspace comes in watching the banal normality of their response to the decided abnormality of Tom Happer taking refuge in their cellar. It is unnerving the way that Teresa Wright suddenly asks with complete normality if Arthur Kennedy can see if he can get a glance of Richard so that she can know how long to make the sweater she is knitting him; or her signing their Christmas cards 'from Albert, Alice and Richard'; and then Kennedy going down into the cellar, leaving a suit he has purchased for Richard and inviting him up to join them for Christmas Dinner: "I hope that you don't disappoint Mrs Graves. She's worked really hard on the Christmas Dinner." Director John Newland lets this take place with a detached nonchalance. As you watch the situation suddenly being regarded as perfectly normal by Arthur Kennedy and Teresa Wright, you realise that the film has entered into a fascinating territory where we have no idea at all where it is going to go.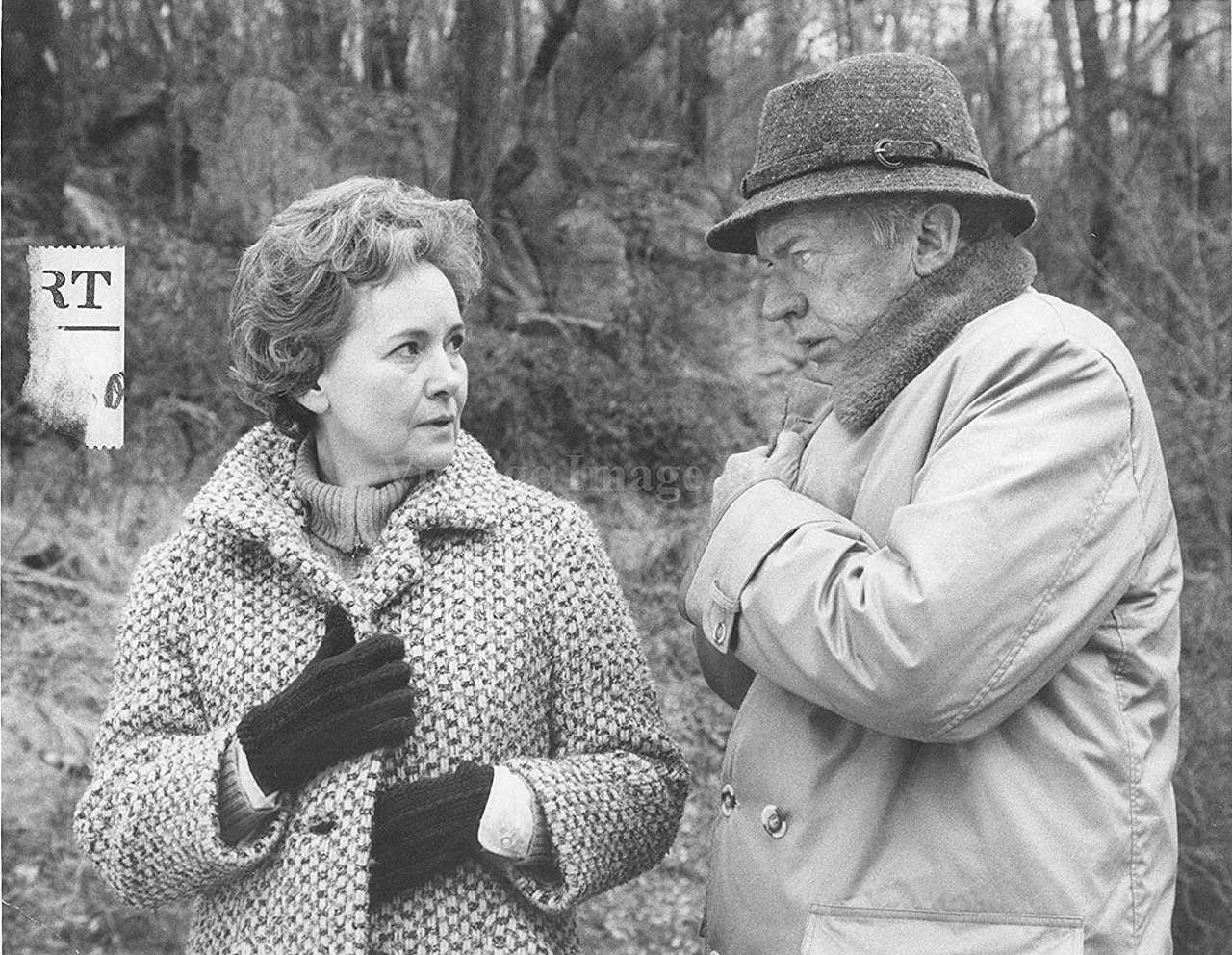 Director John Newland plays the film with a constant ambiguity and uncertainty. In the scene where Tom Happer and general store clerk Matthew Cowles have a dispute, Newland steadfastly refuses to tell us who is in the wrong, in effect placing us in the shoes of Arthur Kennedy in trying to determine the truth. All that we see of what happened is the lead-up with Tom Happer entering the store and placing his $20 on the counter, followed by Cowles deliberately ignoring him for another customer and then sideswiping him twice in passing. After this, the scene fades out and we cut to sheriff (Eugene Roche) telling two separate sides of the story – one where Happer became violent and unsociable, which we can easily believe to be true, and one where Cowles provoked Happer and stole the $20, which we can also believe to be true from what we have seen. Almost any other film would take a diagrammatic approach to letting us know what happened but instead Newland and screenwriter Ernest Kinoy choose to deliberately keep us in the dark.
The main fault with what is an otherwise excellent film is an anticlimactic ending. [PLOT SPOILERS]. After a fine and unpredictable build-up, this transpires exactly as one would expect it to and without any twists or surprises. Disappointingly, Crawlspace never goes where it seems to be leading towards – which is that of Richard threatening and/or holding the aged couple hostage. He just wrecks Teresa Wright's loom, shouts about them abandoning him and breaks down a door they nail shut but the film never builds to the siege climax that it keeps suggesting it is. Similarly, the script hints at disturbed things in Richard's background but in the end he is killed off and shown to be no more than a drifter of vague and unspecified mental instabilities.
Director John Newland was a veteran tv director. Within genre material, John Newland also made the Man from U.N.C.L.E. theatrical film The Spy With My Face (1965), the tv movies The Hunting Party (1971) about people being hunted during the midst of a forest fire and Don't Be Afraid of the Dark (1973) about a house haunted by goblins, as well as the fascinating theatrically released backwoods supernatural horror The Legend of Hillbilly John (1974).
---
---