---
Crew
Director/Producer – Rafal Zielinski, Screenplay/Based on the Play by James Bosley, Photography (colour + b&w) – Jens Sturup, Music – Marc Tschanz, Art Direction – Vally Mestroni. Production Company – Neo Modern Entertainment Group.
Cast
Renee Humphrey (Hillary), Alicia Witt (Bonnie), William R. Moses (John), Leslie Hope (Jane)
---
Plot
Despite the displeasure of psychologist Jane, who accuses him of sensationalism, John, a journalist for Tomorrow magazine, is granted an interview with two girls who have been convicted of the murder of an elderly woman. Together, he and Jane interview the girls, the cynical but fragile Hillary and the hyperkinetic Bonnie. Gradually, they piece the story of how the two met on a bus stop and became friends after sharing mutual stories of sexual abuse by family members. Bonnie then took Hillary on a trail of trouble-making, what she called 'fun', starting with knocking door-to-door and hurling abuse at those who answered, culminating in the murder of an old woman. Through the investigation, John and Jane debate whether the two girls are in love.
---
Fun falls into a category of what one might call the social psycho film, a genre that is not so much focused on individual psychopathology but on the social implications and sense of the moral decay of Western society that this holds. Examples might include The Boys Next Door (1986), River's Edge (1986), Natural Born Killers (1994), many of the films of Abel Ferrara and of course Fun. All of these see the psycho as a metaphor for contemporary social deterioration, in particular teen disaffectedness – that people kill out of an emptiness inside.
Thelma and Louise (1991) gave birth to a certain brand of social psycho film that celebrates the social defiance represented by the act of killing and grasped it as a metaphor for forbidden/transgressive relationships – the liberated women of Thelma and Louise and Baise-Moi (2000), and the gay lovers of The Living End (1992), Swoon (1992), Heavenly Creatures (1994) and Fun. Fun was the first in a peculiar fad of lesbian killer movies that came out in 1994-5. It was followed by Peter Jackson's overrated Heavenly Creatures, which it bears a good deal of resemblance to but it is a far better film than, and Michael Winterbottom's excellent Butterfly Kiss (1995).
The film is based on a stage play that was first produced in 1985. The change of mediums still brings out what makes the story work – that it is essentially a four-person ensemble. The four cast members are astonishingly good. Renee Humphrey's disaffected cynicism, which contains an innocence and desire to trust not far beneath, is particularly well achieved.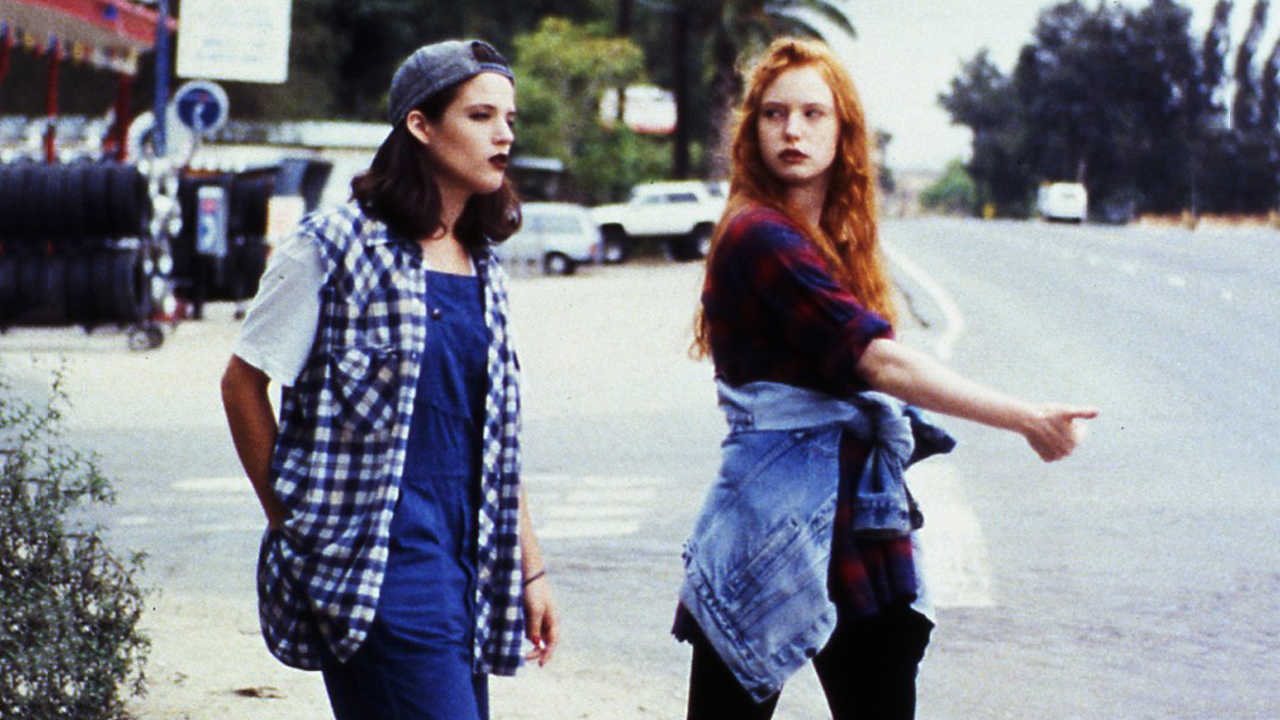 Alicia Witt – who played the role of Alia in Dune (1984) at the age of eight and subsequently went onto the tv sitcom Cybill (1995-8) and Urban Legend (1998) – gives an amazingly hyperkinetic performance – she never stops gyrating, leaping about or babbling a stream of inane chatter, something that initially becomes extremely irritating until the film also pulls back and shows the range of emotions inside her. Both Leslie Hope and William R. Moses give equally good support. Hope's cynical weariness is particularly convincing. Moses's cynical savvy but in the end his willingness to give the girls' more than Leslie Hope will, is well brought out too.
The effectiveness of the acting would be nothing without the enormously good script. The film's glimpse inside the mind of disaffected youth is chilling – it seeing that youth has become so morally devalued and aimless that its only joys come in the mindless pursuit of the titular 'fun', a state that encompasses anything from Guns'n'Roses to videogames to door-to-door insults to finally murder. Its characterisation and the hand of surprises it deals – the revelation of Alicia Witt's lies, the delicate question of whether the girl's relationship is lesbian – are very well done.
The only part in the film that does not work convincingly is the murder, which looks more like a dance than a stabbing. When the stabbing does occur, the knife hardly ever appears to touch the body. The film takes the unusual step of filming the prison scenes in grainy black-and-white blow-up using jerky handheld camerawork while the flashback scenes are in colour on clear frame stock and classically composed, a complete reversal of the way the two are usually used.
Canadian director Rafal (sometimes Rafael) Zielinski had previously directed several B-budget summer camp teen makeout comedies. Subsequently, Zielinski made a number of other films about youths on the margins of society with the likes of Jailbait (1994), Downtown: A Street Tale (2004) and Age of Kali (2006). Zielinski has made two other horror films with the reality tv horror Reality Check (2002) and the ghost story Hangman's Curse (2003).
(Nominee for Best Adapted Screenplay and Best Supporting Actress (Alicia Witt) at this site's Best of 1994 Awards).
---
---