---
Crew
Director – Frank De Felitta, Teleplay – J.D. Feigelson, Story – J.D. Feigelson & Butler Handcock, Producer – Bobbi Frank, Photography – Vincent Martinelli, Music – Glenn Paxton, Special Effects – Cliff Wenger, Art Direction – Charles M. Zacha, Jr.. Production Company – Wizan TV Productions.
Cast
Charles Durning (Otis Hazelrigg), Claude Earl Jones (Philby), Lane Smith (Harless Hocker), Robert F. Lyons (Skeeter Norris), Tonya Crowe (Marylee Williams), Larry Drake (Charles 'Bubba' Ritter), Jocelyn Brando (Mrs Ritter), Tom Taylor (District Attorney Sam Willock)
---
Plot
In a small rural town, the postman Otis Hazelrigg disapproves of the way that intellectually handicapped Bubba Ritter has befriended young Marylee Williams. Marylee then sneaks onto someone's property and is attacked by a dog. Bubba carries her wounded body back home. Otis uses this as an opportunity to draw three other friends together to form a lynch mob. Bubba's mother gets him to hide by dressing up as the scarecrow in the field but Otis and the mob see through the ruse and shoot him. In court, they are let off after claiming that Bubba attacked first. However, in the aftermath, each of the men sees a scarecrow and is then killed. They become fearful that Bubba has returned from the dead to exact revenge.
---
Frank De Felitta (1921-2016) is an interesting name that has floated around genre circles. De Felitta gained fame as a novelist and his books were adapted into the high-profile reincarnation film Audrey Rose (1977) and the ghost story The Entity (1982). He also wrote the script for the dystopian science-fiction film Z.P.G. (Zero Population Growth) (1971) and directed/wrote several works including the tv movie Trapped (1973) about a man hunted through a department store by dogs, the time travel fantasy tv movie The Two Worlds of Jennie Logan (1979) and the quite good psycho-thriller Scissors (1991) with Sharon Stone trapped inside an apartment.
The scarecrow has been a reasonable trope in horror over the years. See the likes of Scarecrows (1988), Night of the Scarecrow (1995), Psycho Scarecrow (1996), Scarecrow (2002), Dark Harvest (2004), Hallowed Ground (2007), Rise of the Scarecrows (2009), Husk (2011), Scarecrow (2013) and one of the Scary Stories to Tell in the Dark (2019). All of these feature scarecrows come to life and stalking people where they are frequently depicted as animated by spirits of the dead come back to exact vengeance. As such, the scarecrow is a reasonable figure in horror.
The problem with Dark Night of the Scarecrow is that Frank De Felitta lets all of the possibilities slip through his hands. First of all, his direction is bland and unimaginative – fairly much as was expected for most tv movies directors during this era where nothing could be too threatening and everything had to be padded out or dramatically built up to a cliffhanger around the commercial breaks.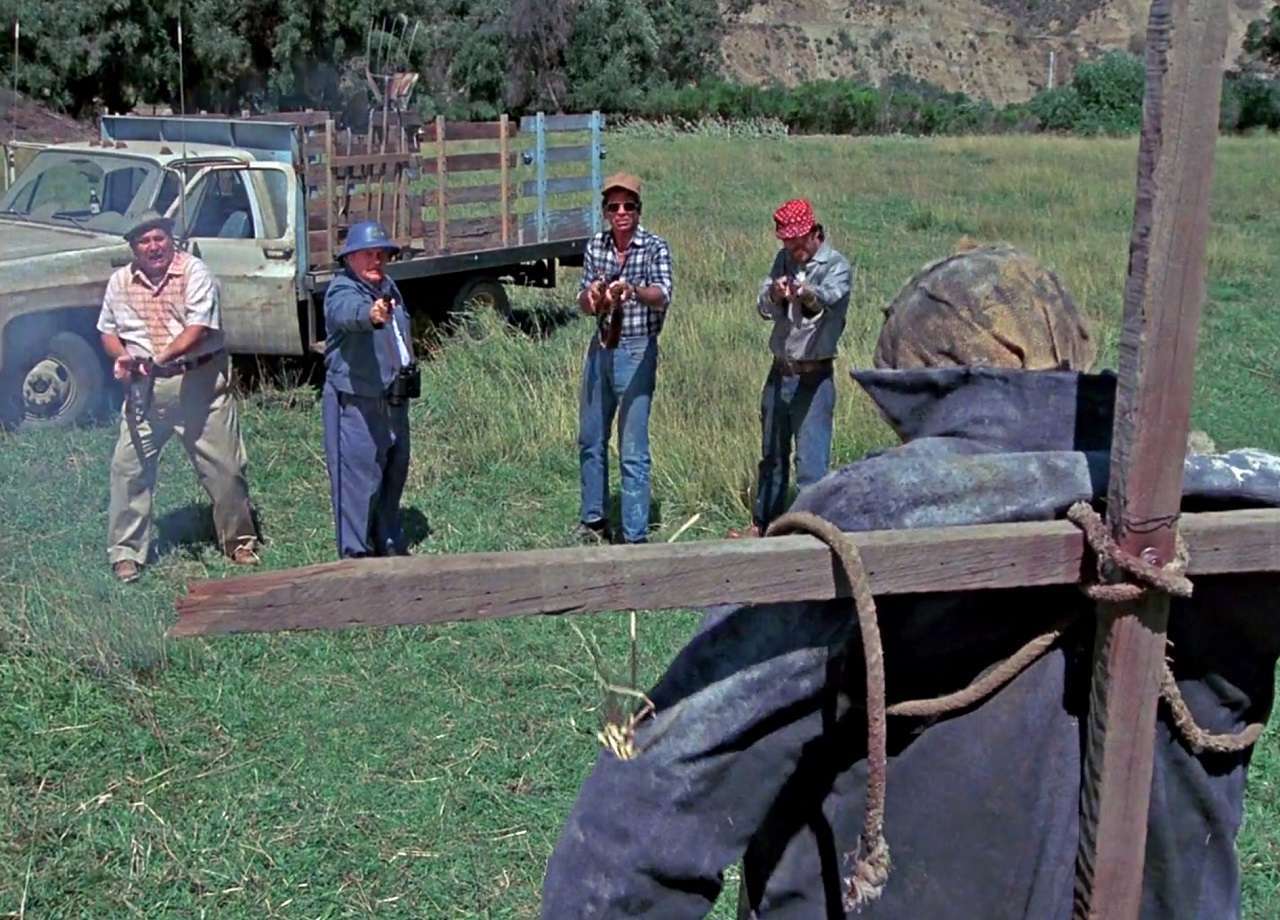 Even more so, De Fellitta fails to do anything with the idea of the scarecrow as revenant come to exact justice. All of the above-mentioned turn the scarecrow into a boogey man figure stalking victims and then despatching them. Here however, De Felitta has the scarecrow as no more than a figure that turns up in a field usually seen at a distance and is gone when others come to see it. It never actually does anything. All the actual deaths are not caused by the scarecrow but a la the Final Destination films where the victims are despatched by something they are associated with – Claude Earl Jones is buried inside his own grain silo; and in one of the more absurd scenes Lane Smith hangs onto an exploding lightshade and then falls down into an engine (before De Felitta cuts directly to red sauce being squirted onto a pancake).
De Felitta has Charles Durning in a surprisingly villainous role as the leader of the lynch mob, which he seems suited to rather well. (Durning's senior years had him cast as a lot of redneck southern sheriff/senator types). Also of interest is Larry Drake as the mentally handicapped Bubba who becomes the scarecrow. It is quite possible that the part here had Drake selected to play his breakout role as the intellectually handicapped Benny Stulwicz on tv's L.A. Law (1984-94) a few years later. Of course, in later years, Drake returned to the horror genre in a series of roles in films such as Darkman (1990), Dr Giggles (1992), Dark Asylum (2001) and Gyphon (2007).
---