---
Crew
Director – John Irvin, Screenplay – Lawrence D. Cohen, Based on the Novel by Peter Straub, Producer – Burt Weissbourd, Photography – Jack Cardiff, Music – Philippe Sarde, Visual Effects – Albert Whitlock, Special Effects – Henry Millar Jr, Makeup Effects – Dick Smith, Production Design – Norman Newberry. Production Company – Universal.
Cast
Craig Wasson (Don Wanderley/David Wanderley), Fred Astaire (Ricky Hawthorne), John Houseman (Sears James), Melvyn Douglas (Dr John Jaffrey), Douglas Fairbanks Jr (Edward Wanderley), Alice Krige (Eva Galli/Alma Mobley), Kurt Johnson (Young Edward Wanderley), Ken Olin (Young Sears James), Mark Chamberlin (Young John Jaffrey), Tim Choate (Young Ricky Hawthorne), Jacqueline Brooks (Milly Jaffrey), Patricia Neal (Stella Hawthorne), Miguel Fernandes (Gregory Bate)
---
Plot
In the town of Milburn, New England, four aging friends have formed the Chowder Society where they regularly meet to tell one another ghost stories. It is their way of quelling the guilt from fifty years ago where as young men they fell for the beautiful, sophisticated Eva Galli and killed her after she taunted them for their inexperience. Now the ghost of Eva Galli returns to lead them to their deaths and exact retribution on their children.
---
Peter Straub has been able to enjoy success as a horror writer simply by being around at the same time that Stephen King carried horror to a mainstream phenomenon. The two did collaborate on two novels The Talisman (1984) and Black House (2001) but their work remains at opposite ends of a spectrum. King's style and plots remain populist, while Straub pursues a much more intellectual agenda and often tends to vanish under the weight of its own pretensions.
Ghost Story (1979) was Peter Straub's first attempt to write a Stephen King-sized blockbuster and after five months on the best-sellers list, its film rights were inevitably snapped up. However, any attempt to condense a 700 page book to film length can only be called 'a disappointment'. Straub's novel is not a terribly interesting book, but then stripped to a single storyline, it doesn't make for a terribly interesting film either. The story threw in a Chinese box of ghost stories narrated by the Chowder Society whose fictions contrasted with the external horrors of a vengeful spirit force, werewolves and the like; the film reduces it to a disappointingly ordinary storyline about guilty secrets and supernatural retribution.
A great deal of money has been spent on the film – the production values are lavish, using the likes of veteran matte artist Albert Whitlock to create the haunted house and a pretty snowbound town. The aging cast give convincing performances of old frightened men, huddled in respectability and fear. Director John Irvin, the cinematographers, Philippe Sarde's musical score and the icy, snowbound locations certainly combine to create a feeling of unease. However, it is a big name studio – Universal – attempting to do A-budget horror and as such it constantly comes weighed under a sense of its own self-importance.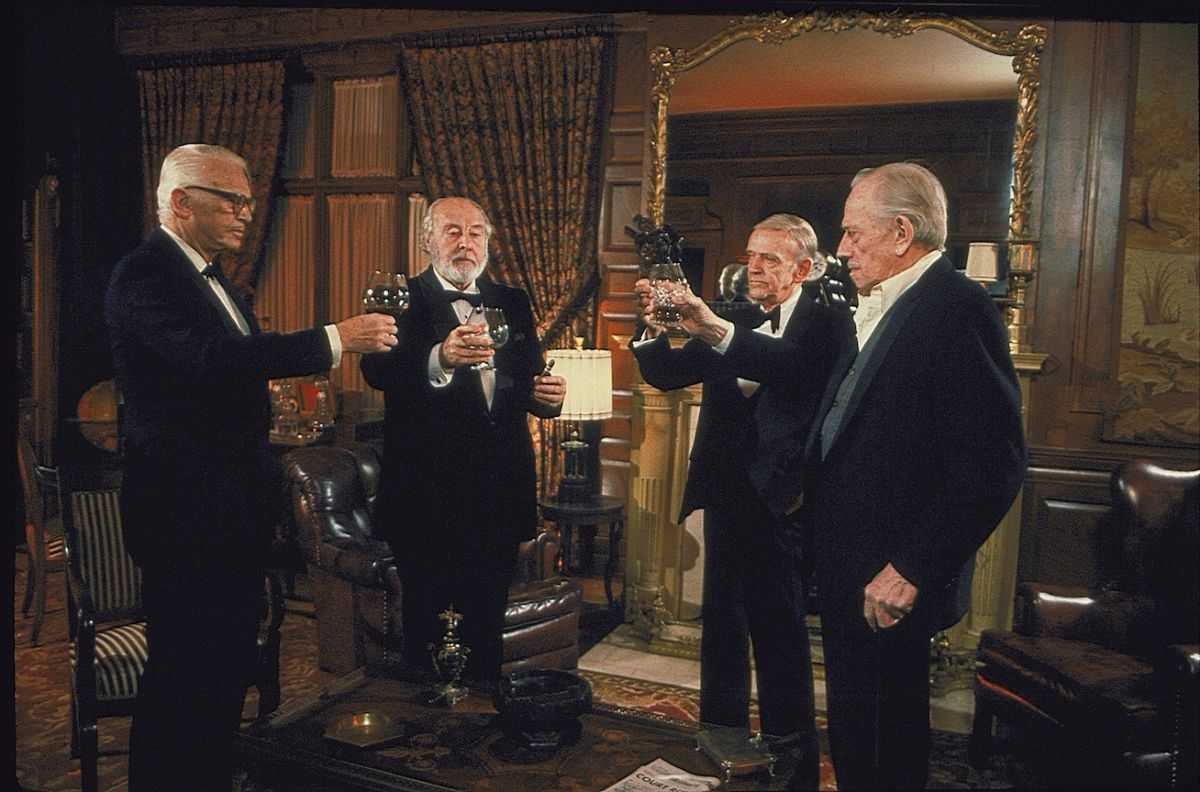 The film muddles about in trying to make the scares pay off – it is almost as if, being such a respectable film, it would not want to demean itself by scaring an audience. The climax with a ghostly Alice Krige taunting Craig Wasson with what it feels like to sleep with a corpse is good but then the film inexplicably tapers off at its climactic scene that consists of the door of the salvaged car being opened and a corpse collapsing in the sunlight – a greater washout of a climax one would have to look hard to find.
The only other Peter Straub work adapted to the screen has been Full Circle/The Haunting of Julia (1977), although The Talisman was toyed with as a potential project for a number of years ever since it was published.
British director John Irvin is known for works like The Dogs of War (1980), Hamburger Hill (1987), Next of Kin (1989), Robin Hood (1991) and the original mini-series version of Tinker, Tailor, Soldier, Spy (1979). His only other genre works have been the tv movie ghost story Haunted: The Ferryman (1974) and Dot.Kill (2005) about a serial killer who broadcasts his killings online. Screenwriter Lawrence D. Cohen had previously adapted Carrie (1976) as well as subsequently written the Stephen King tv mini-series It (1990) and The Tommyknockers (1993), as well as the remake of Carrie (2013).
---
---