---
Crew
Director/Teleplay – Frank De Felitta, Based on the Novel Second Sight by David Williams, Producer – Paul B. Radin, Photography – Al Francis, Music – Glenn Paxton, Makeup Effects – Stan Winston, Art Direction – Charles Zacha. Production Company – Joe Wizan Television/Fries Enterprises.
Cast
Lindsay Wagner (Jennie Logan), Marc Singer (David Reynolds), Alex Feinstein (Michael Logan), Linda Gray (Elizabeth Harrington), Henry Wilcoxon (Harrington), Joan Darling (Dr Erica Lauren), Irene Tedrow (Mrs Bates), Constance McCashin (Beverly)
---
Plot
Michael and Jennie Logan buy a large old house in the town of Chesapequa. Their marriage is undergoing difficulties due to the fact that Michael had an affair. Soon after moving in, Jennie discovers an old-fashioned white dress in the attic. After putting it on, she begins to have visions of people and the house in the 19th Century. During these, she keeps meeting a strange man who mistakes her for someone called Pamela. From the local historical society, she realises that the man is David Reynolds, an artist who owned the house in the 19th Century and married Pamela Harrington only for her to die soon after. David himself died in mysterious circumstances, believed to be a pistol duel with his stepfather, on December 31st, 1899. Increasingly choosing to spend her time in the past rather than the present, Jennie begins a romance with David, all the while trying to prevent the fate she knows awaits him.
---
Frank De Felitta (1921-2016) was an almost interesting name of several genre associations. De Felitta cut his teeth writing in radio and the early days of television. He co-wrote the screenplay for the dystopian future film Z.P.G. (Zero Population Growth) (1971) and directed several tv movies, beginning with Trapped (1973) in which James Brolin is hunted through a department store after hours by dogs. De Felitta wrote several novels and the greatest success he had was with Audrey Rose (1975), which was turned into a big-budget film Audrey Rose (1977) and gained some attention for taking reincarnation themes seriously. De Felitta went onto other works, including directing the tv movie Dark Night of the Scarecrow (1981); writing the interesting ghost story The Entity (1982) based on another of his novels; and directing/writing the worthwhile psycho-thriller Scissors (1991).
The Two World of Jennie Logan is a tv movie that had a classic reputation. Although to any genre fans, one would have to caution is that the film's classic statue almost entirely exists among those who are fans of romance novels rather than genre cinema. It delivers everything with a maximum of weepy romanticism – gauzed out photography; a nostalgic view of the past; a young Marc Singer walking about with shirt open or bare-chested. It is, if you like, the soap opera idea of what time travel should be. There are a great many similarities between The Two Worlds of Jennie Logan and the subsequent theatrically-released Christopher Reeve-Jane Seymour film Somewhere in Time (1980), which had a near-identical plot except that it was the guy travelling through time to romance a girl rather than vice versa here.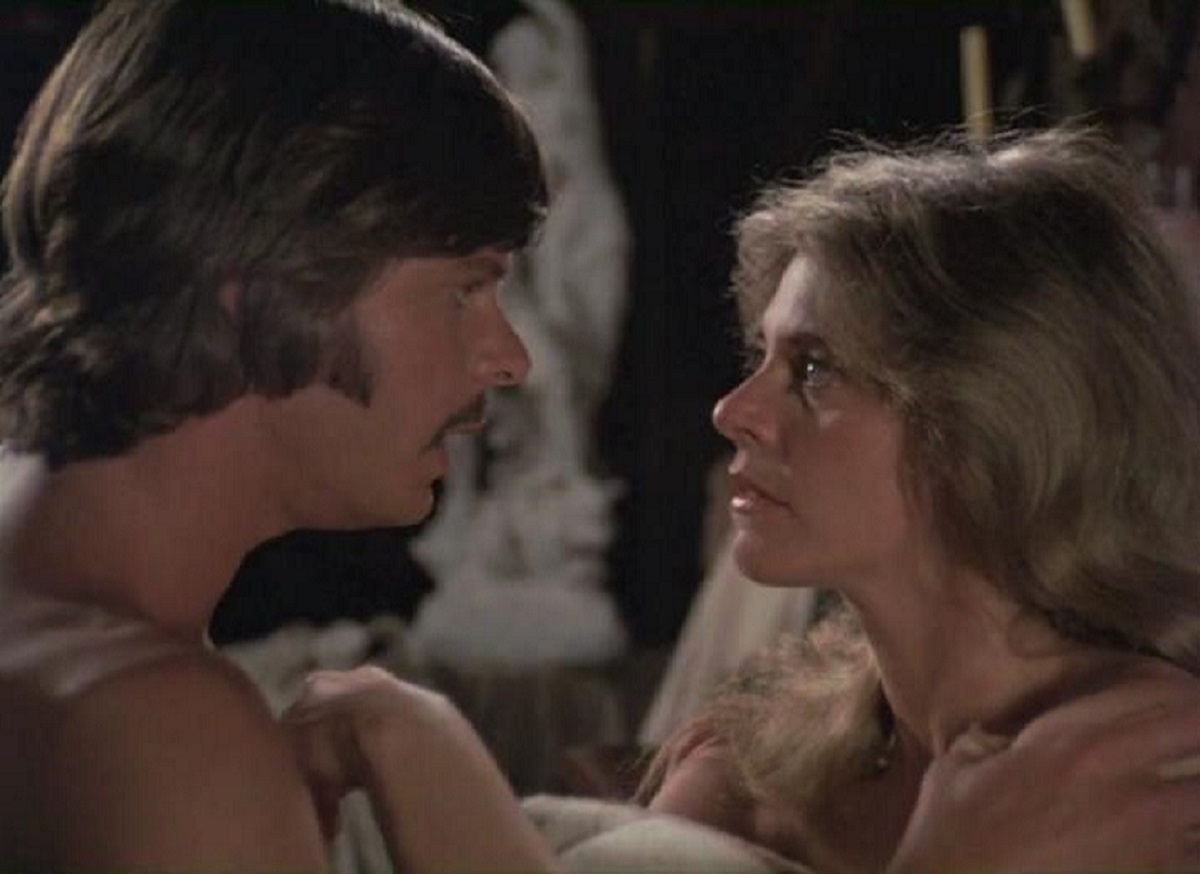 On the other hand, The Two World of Jennie Logan fails badly as a fantasy film. For one, it has no interest in its time travel theme beyond the basic premise of Lindsay Wagner falling in love with a man in the past and travelling back to him whenever she puts on a white dress. There is no cultural shock that she experiences, no scenes of him puzzling over her more advanced ways or speaking in terms he would be unfamiliar with. Even the happy ending where the two settle down together bubbles with untapped possibilities – would someone living in what they would regard as history have any desire to change things or even obtain personal gain using the foreknowledge of the future that she would have?
Frank De Felitta's pace is sedate. Everything that happens in the film is eminently predictable. The directorial set-ups, the faux dramas, the music – everything feels like it has been copied from soap operas. The only real drama in the film is waiting to see how Lindsay Wagner is going to prevent Marc Singer from meeting the fateful pistol duel near the hour of the turn of the century.
At the time that the film was made, Lindsay Wagner had been a breakout star as Lee Majors' girlfriend Jamie Sommers the double-episode The Bionic Woman (1975) of tv's The Six Million Dollar Man (1973-8) where the tragic end she had met made it one of the most popular episodes. She was quickly revived and then spun off in her own series with The Bionic Woman (1976-8) and became an indispensable fixture of 1970s pop culture. The Two Worlds of Jennie Logan was made just after the end of that The Bionic Woman's run. Marc Singer was a Canadian-born actor who had been in several tv guest roles before this and shortly afterwards had his breakout success as the lead in the film The Beastmaster (1982), followed by the tv series V (1983-6). The other interesting name is that of Linda Gray, who had her big break the year before as J.R. Ewing's wife Sue Ellen in the hit primetime soap opera Dallas (1978-91), and appears here as the sister-in-law who develops an attraction to Marc Singer.
---
---