---
USA. 1988.
/div>
Crew
Director – Buddy Van Horn, Screenplay – Steve Sharon, Story – Sharon, Dirk Pearson & Sandy Shaw, Producer – David Valdes, Photography – Jack N. Green, Music – Lalo Schifrin, Production Design – Edward R. Carfagno. Production Company – Malpaso.
Cast
Clint Eastwood (Dirty Harry Callahan), Patricia Clarkson (Samantha Walker), Liam Neeson (Peter Swan), Evan C. Kim (Al Quan), David Hunt (Harlan Rook), Michael Currie (Captain Donnelly)
---
Plot
A series of killings leads detective Dirty Harry Callahan to 'The Dead Pool', a seemingly harmless game played between a horror movie director and friends in which bets are placed on a list of celebrities as to how many will die before a certain date. The game is given a sudden twist when a killer starts arranging the deaths of the people on the director's list. As Harry tries to track down the killer, he discovers that the list contains his own name and that this marks him as a victim.
---
The Dead Pool was the fifth and final of the Dirty Harry films and comes as a decided disappointment. The first film, Dirty Harry (1971), was a classic and forever associated Clint Eastwood with the character of the sneering, rule-bending cop who takes the law into his own hands when lily-livered bureaucrats fail to take the tough stance that needs to be taken. This was followed by Magnum Force (1973), The Enforcer (1976) and Sudden Impact (1983).
A decade-and-a-half and four films in the series later, Clint Eastwood has turned himself into a caricature. There is no longer any of the anti-heroic, neo-fascist ass-kicking that made the earlier films so much fun. In fact, in his old age – Eastwood was 58 when he made The Dead Pool – he seems to have become liberal defender of the people he so quickly blew away in the early films. Here he takes on a minority racial group partner, heroically saves a scumball girlfriend from ravening press hordes and not even once manages to tell the up-himself film director what an asshole he is. In fact, Dirty Harry even manages to express disgust when a lunatic accidentally sets himself on fire – compare this to the scene where he deals with the suicide in the first film.
After "Go ahead – make my day" from the previous Dirty Harry outing Sudden Impact (1983) became the catch-phrase that Clint Eastwood will forever be associated with, even by people who never saw that particular film, The Dead Pool has become all posturing and going for the one-liners. And by this point, Dirty Harry has become a cartoon caricature of his former self – stopping, moving into a snarl, tossing off a one-liner through slit mouth.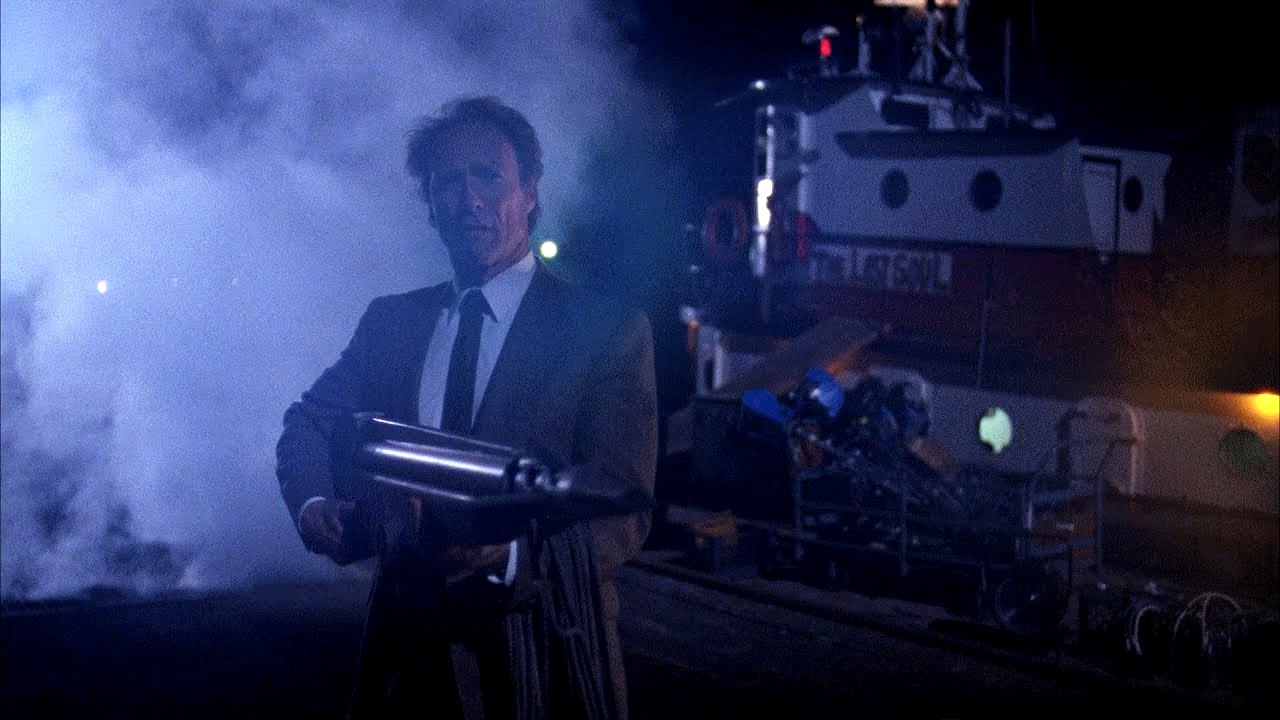 The Dead Pool was directed by Buddy Van Horn, who is usually employed in the industry as a stuntman, having worked as stunt coordinator on all of Clint Eastwood's films since 1971. Van Horn's directorial output had only consisted of making three of Clint Eastwood's worst films, The Dead Pool, Any Which Way You Can (1980) and Pink Cadillac (1989).
Van Horn seems unsure of himself and only ends up pastiching other genres – the slasher, the kung fu film. There is a silly climactic moment where Clint Eastwood goes into action with a giant gun that seems a contrived attempt to outdo Stallone and Rambo: First Blood Part II (1985) – and is a point that the film topples into self-parody.
The concept of the Dead Pool is a lame one – although an internet version of it has surfaced in recent years – a look at headlines would reveal that celebrities do not drop like flies with the regularity that the film seems to think they do.
---
---