aka Saw VII
---
USA. 2010.
Crew
Director – Kevin Greutert, Screenplay – Marcus Dunstan & Patrick Melton, Producers – Mark Burg, Greg Hoffman & Oren Koules, Photography (3D) – Brian Gedge, Music – Charlie Clouser, Visual Effects – Switchback VFX (Supervisor – Jon Campfens), Additional Visual Effects – Rocket Science VFX (Supervisor – Tom Turnbull) & String Theory VFX (Supervisor – Wendy Whaley), Special Effects Supervisor – Rob Sanderson, Prosthetic Effects – Francois Dagenais, Production Design – Anthony A. Ianni. Production Company – Twisted Pictures/A Bigger Boat/Serendipity Productions.
Cast
Sean Patrick Flanery (Bobby Dagen), Costas Mandylor (Detective-Lieutenant Mark Hoffman), Chad Donella (Detective Matt Gibson), Betsy Russell (Jill Tuck), Tobin Bell (John Kramer), Cary Elwes (Dr Lawrence Gordon), Gina Holden (Joyce Dagen), Laurence Anthony (Detective Rogers), Dean Armstrong (Cale), Chester Bennington (Evan), Naomi Snieckus (Nina), Rebecca Marshall (Suzanne), Tanedra Howard (Simone), Gabrielle D. West (Kara)
---
Plot
Mark Hoffman breaks free from the Jigsaw trap that Jill Tuck places him in and comes after her. She seeks police custody where she offers up Hoffman's name to Detective Matt Gibson in return for immunity. Even though she is placed in protective custody, Hoffman continues to find where she is and leaves messages for Gibson at the scene of the latest Jigsaw killing. Meanwhile, Bobby Dagen has had great success on the talkshow circuit with his book 'S.U.R.V.I.V.E.' where he tells how he survived a Jigsaw trap and how doing so became a life-changing experience. He is then abducted by Hoffman who knows that he has fabricated his entire story. Hoffman places Bobby in a labyrinth of traps where he must makes ruthless decisions in order to save the lives of those who have been complicit in his deception.
---
By any other name, Saw 3D would be Saw VII, the seventh entry in the highly successful Torture Porn series begun with Saw (2004) and following through the likes of Saw II (2005), Saw III (2006), Saw IV (2007), Saw V (2008) and Saw VI (2009). The original film was a gripping psychological thriller but the sequels progressively became about pushing the envelope in terms of extreme scenes of torture and dismemberment depicted on screen. The series gained a cult following.
The reason that Saw 3D has not been released as Saw VII is due to its jumping on board the 2009-2010 fad for 3D movies, the tide of which became tediously ubiquitous following the massive success of James Cameron's Avatar (2009). Immediately after, the 3D fad rapidly became co-opted by a host of lame films trying to use the novelty to squeeze extra dollars from audiences – even the post-production creation of fake 3D films that had not been intended as 3D when they were shot. In fact, 3D has become a cynical process whereby a flagging series can revive its box-office chances by churning out another sequel and slapping the 3D label on itself – see the likes of The Final Destination (2009), Ice Age 3: Dawn of the Dinosaurs (2009), Cats & Dogs: The Revenge of Kitty Galore (2010), Jackass 3D (2010), Resident Evil: Afterlife (2010), Shrek Forever After (2010) and Step Up 3D (2010), as well as earlier efforts like Friday the 13th Part III in 3D (1982), Amityville 3D (1983), Jaws 3D (1983), Freddy's Dead: The Final Nightmare (1991) and Spy Kids 3-D: Game Over (2003).
The extra dimension serves to turn Saw 3D from a series that was about nastily prolonged and exceedingly grisly despatch into something approaching cheesily cartoonish Grand Guignol as we are constantly watching body parts, intestines and torture implements being shoved out of the screen into audience's faces. Though it is actually shot in 3D rather than converted in post-production, Saw 3D also emerges as one of the shoddier of the current spate of 3D films. In its hurry to join the 3D fad, the film seems rushed and the gore far more fake than it ever did in any of the 2D Saw films.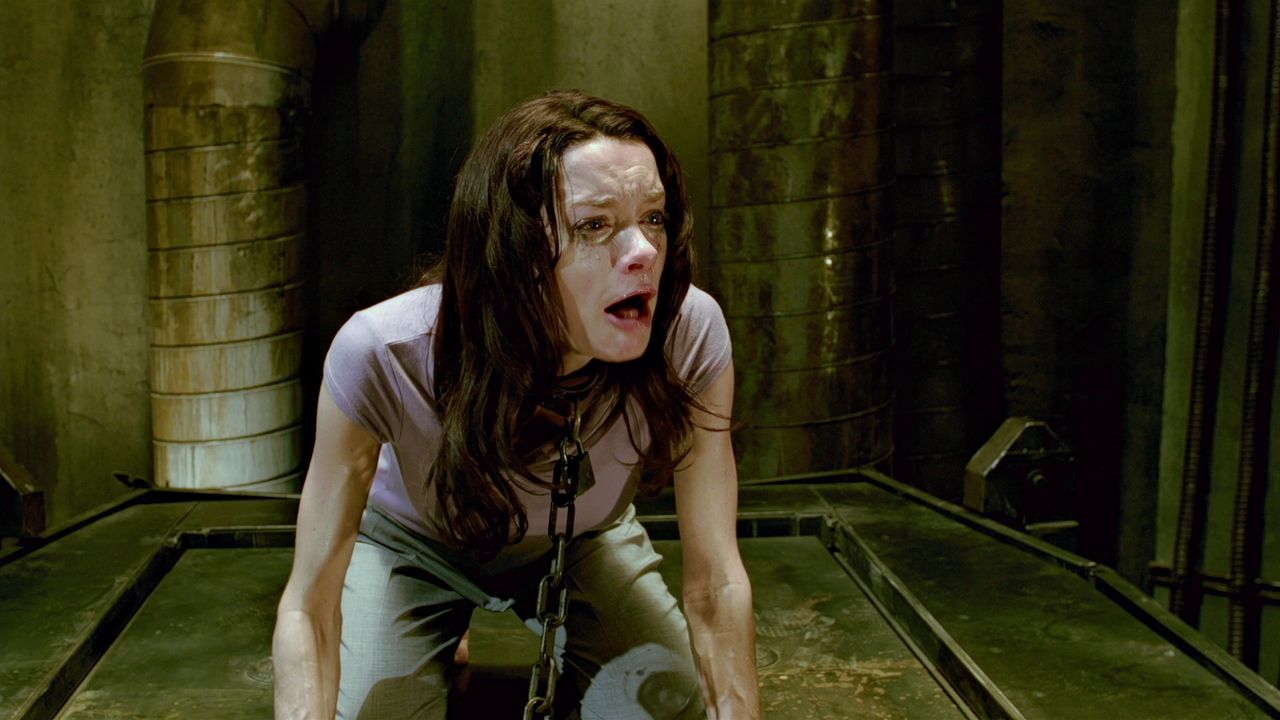 There also seems much less care placed into the film in terms of direction or the actors' performances. Nor do many of the gore scenes stand out – these have now entered a passe tedium where you can see the punchline coming and are so predictable as to no longer be stomach churning. A surprising number of these set-pieces seem cheap and unconvincing – the dream attack on Betsy Russell by Costas Mandylor in a machine shop, the opening scene with a girl hung above a buzzsaw device in a storefront window, the scene where a redneck is tied up in his car and gets to tear apart his friends unless he unglues his skin from the seat.
Even the backstory of the series, which often flipped back and forward between past and present, is quickly wound up in what was announced as the final entry in the series. We get appearances from Costas Mandylor, Betsy Russell, a couple of scenes with Tobin Bell who died four films ago, even a surprise return by Cary Elwes, as well as cameos from other cast members in the series, although most of these do not turn up until later in the show.
The majority of the film is focused around Sean Patrick Flanery who plays a new potentially interesting character who has made a celebrity of himself as a Jigsaw victim and is predictably forced, a la Angus MacFayden in Saw III or Peter Outerbridge in Saw VI, to go through a labyrinth and save the lives of people around him. There seems something perfunctory about this quest as it rapidly becomes apparent that it has been staged with the sole intent of showing people fiendishly torn apart by torture devices for our delectation rather than engaging in any suspense about saving their lives. Even the phrases painted around the labyrinth seem obligatory and without any meaning. There is less care gone into the story this time – where the earlier traps often had a clever sting to them, here it is preposterously revealed that the entire scenario involving Sean Patrick Flanery has been set up for the sole reason of distracting the cops so that Costas Mandylor can sneak into the abandoned police station and take revenge on Betsy Russell.
The final chapter of the Saw saga? Probably not. Never forget that most other horror series – A Nightmare on Elm Street, Godzilla, Children of the Corn and Friday the 13th – announced the death of their protagonist or their final chapter, only to rescind this with subsequent entries (the Friday the 13th series even doing so twice). Somehow methinks, Saw VIII will dutifully be back there on screens in the not too distant future. Indeed, this came to pass seven years later with Jigsaw (2017), followed a few years later by Spiral: From the Book of Saw (2021) and Saw X (2023).
Kevin Greutert, previously an editor on all the other films in the series, made his directorial debut with the previous entry Saw VI and later returned to make Saw X. Greutert next went on to direct the original horror films Jessabelle (2014), Visions (2015) and Jackals (2017).
---
---