aka Stepfather III: Make Room for Daddy
---
Crew
Director – Guy Magar, Screenplay – Marc B. Kay & Guy Magar, Producers – Guy Magar & Paul Moen, Photography – Alan Caso, Music – Patrick C. Regan, Special Effects Supervisor – Andre Ellingson, Production Design – Richard B. Lewis. Production Company – ITC Entertainment Group.
Cast
Robert Wightman (Keith Grant), Priscilla Barnes (Christine Davis), David Tom (Andy Davis), Season Hubley (Jennifer Ashley), John Ingle (Father Edward Brennan), Dennis Paladino (Mr Thompson), Stephen Mendel (Mark Wraynal), Jay Acovone (Steve Davis), Mario Roccuzzo (Plastic Surgeon)
---
Plot
The Stepfather has escaped from custody again. This time he uses a backstreet plastic surgeon to alter his appearance. He then moves to Deer View, California, which has been called the safest town in America. There he sets up a new identity as Keith Grant and obtains a job at a garden centre. He meets and is attracted to divorced schoolteacher Christine Davis. They duly marry but her son Andy, who has been psychosomatically wheelchair-ridden since an accident, is suspicious of Keith. Andy is an amateur crime sleuth and starts to pry into the claims that Keith makes about his past. When Andy makes the decision to go and stay with his father, Keith starts to fall apart. He then meets Jennifer Ashley, a solo mother who takes over the lease of his old house, and starts making plans to kill off Christine and marry her.
---
Stepfather III – titled Stepfather III: Make Room for Daddy on the videocovers but not the actual credits of the film – is the third film in the series that began with The Stepfather (1987). Spearheaded by a superb performance from Terry O'Quinn in the title role, The Stepfather was one of the most incisive psycho-thrillers of the 1980s, containing an undertow that savagely dug into the notion of family values. Terry O'Quinn returned to reprise the role in Stepfather II (1989). However, by the time of Stepfather III, O'Quinn has departed and been replaced by Robert Wightman. The change of actor is ingeniously explained away as the fugitive Stepfather using plastic surgery to avoid authorities.
The new director this time is Guy Magar, an Egyptian-born director who emerged out of tv with the horror film Retribution (1987) and has only ever made one film subsequently with Children of the Corn: Revelation (2001). While The Stepfather was made with an intelligence of writing and carried by both Joseph Ruben's direction and Terry O'Quinn's performance, Stepfather III slips down to being no more than a cheap B movie.
Robert Wightman, an actor who has never done anything of distinction before or since, is bland in the role. Indeed, in Wightman's nervously hesitant playing, there is nothing of the dangerous sharpness that there was in Terry O'Quinn's performance – the performances are so far apart that it is impossible to believe that the two actors are playing someone who is supposed to be the same person.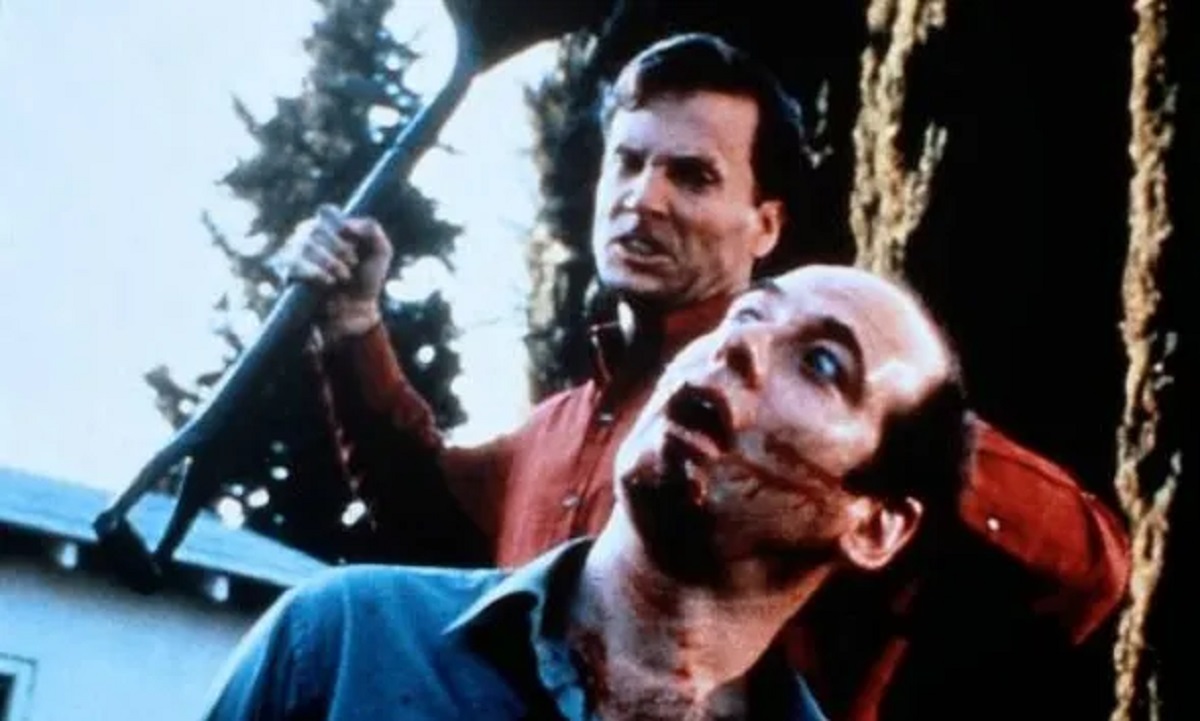 On the other hand, even had Stepfather III come with Terry O'Quinn in the central role again, it is far too poorly written and directed to be anything more than cheap hackwork. Guy Magar pushes everything towards being more of a slasher film, featuring a series of gory set-piece despatches – Dennis Paladino gets a rake impaled in his face, Stephen Mendel a shovel in the stomach and so on.
Certainly, on one level it is possible to believe that there were the elements of potential in the script – at times, Stepfather III heads back in the direction of the first film far more than Stepfather II did. There are some decent twists in the script like having Robert Wightman thinking all is turning to custard when the son wants to go and stay with his adopted father and starting to groom another divorcee after she rents his home, which gets turned on its head when the two women meet up. On the other hand, there are some extremely shabby pieces of writing – like the enormous cliche of the kid who is psychosomatically crippled and regains his feet at the crucial climactic moment.
Stepfather III proved to be the end of the Stepfather franchise. The original was later poorly remade as The Stepfather (2009).
---
---