---
Crew
Director – Robert Butler, Screenplay – Jonathan Brett, Producers – Martin Ransohoff & David Valdes, Photography – Lloyd Ahern II, Music – Shirley Walker, Visual Effects – Boss Studio (Supervisor – David M. Jones), CIS Hollywood & Pacific Title and Digital, Production Design – Mayling Cheng. Production Company – Rysher Entertainment.
Cast
Lauren Holly (Teri Halloran), Ray Liotta (Ryan Weaver), Hector Elizondo (Lieutenant Aldo Hines), Catherine Hicks (Maggie), Rachel Ticotin (Rachel Taper), Ben Cross (Captain Samuel Bowen), Michael Harney (Marty Douglas), Brendan Gleeson (Stubbs), John Finn (Agent Frank Sinclair)
---
Plot
After much painstaking personal effort, Detective Aldo Hines succeeds in capturing Ryan Weaver, a serial killer who has been nicknamed The Lonely Hearts Killer. Weaver is taken aboard a TCA flight for transfer back to Los Angeles in the custody of Federal Marshals. Once the plane is in the air, Weaver manages to kill both the marshals, as well as the pilot and co-pilot. He then announces that he is intending to crash the plane into LAX. Flight attendant Teri Halloran is the only crew member aboard the plane still either alive or free. As Weaver plays psychological cat and mouse games and tries to kill her, Teri must single-handedly take control of the plane and bring it down to a safe landing.
---
With the recent Snakes on a Plane (2006), three screenwriters came up with the title concept in an effort to conceive the silliest film pitch they could think of. Surprisingly, the pitch sold, which may well say something either about Hollywood intelligence or industry cynicism. Snakes on a Plane at least sold itself as a deliberate B movie that had its tongue clearly planted in cheek. Such could not be said for Turbulence, which seems to have been similarly conceived as Serial Killer on a Plane.
Unlike Snakes on a Plane, everybody involved in Turbulence gives the appearance of having treated the film as a serious exercise. The clear inspiration for Turbulence appeared to be an attempt to conduct an airborne variant on the then-recent hit of Speed (1994). The pitch for Turbulence must have gone something along the lines of trying to fuse Speed with the serial killer film, which was at the height of its fad around the same time following the success of The Silence of the Lambs (1991).
Had Turbulence been made with the same tongue-in-cheek attitude that Snakes on a Plane was, it could well have been an even more hysterical film. Turbulence was quickly labelled a latter-day Golden Turkey, although in perspective it is probably no better or worse than the various Airport films of the 1970s. That said, the image of the plane coming in for a landing with a pickup truck attached to its landing gear is something that can be guaranteed to reduce an audience to hysterics.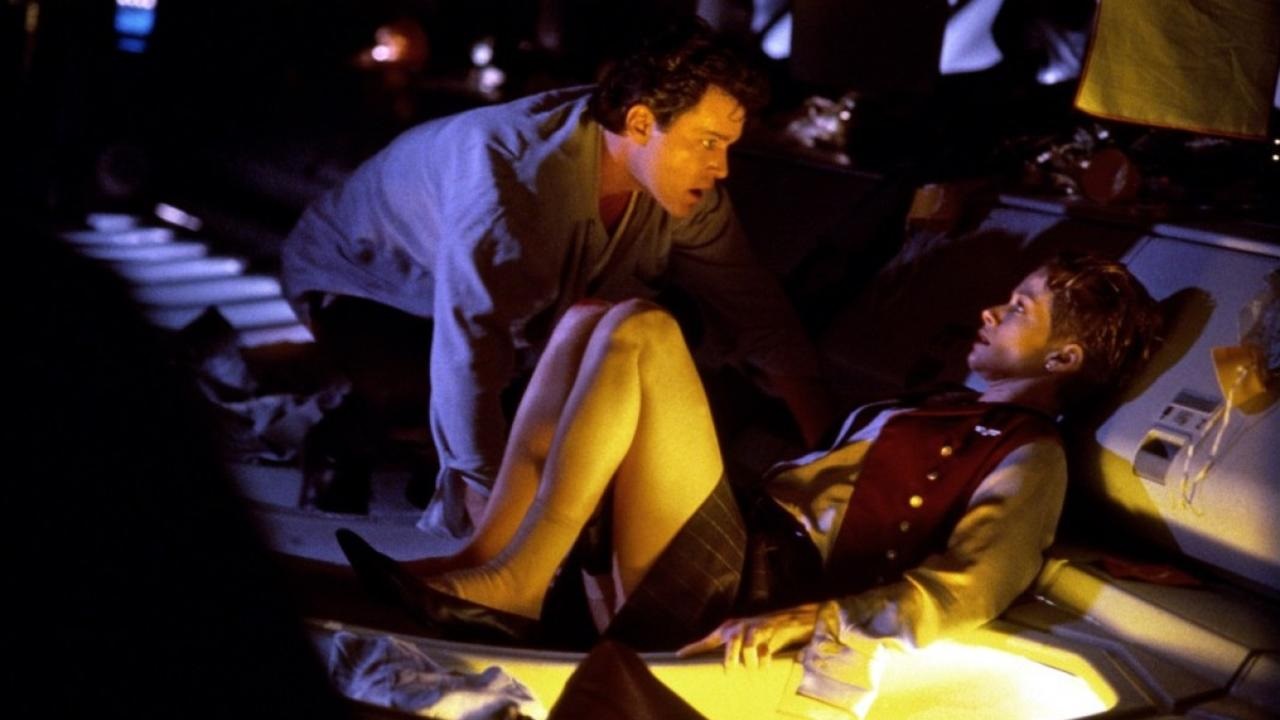 Turbulence tried to make a star out of Lauren Holly. Lauren Holly was bubbling under the radar at the time with roles in tv's Picket Fences (1992-6) and films such as Dragon: The Bruce Lee Story (1993), Dumb and Dumber (1994) and Down Periscope (1996), although her larger celebrity back then was more due to her relationship with Jim Carrey. After the split-up with Carrey came, Holly's career disappeared into the hinterlands of tv movies. Turbulence could not exactly have helped Holly's embryonic career. She was good in Picket Fences but her other roles have been undistinguished.
Here she is saddled with a character that is written as a remarkably wimpy dimwit – she falls for some of the most appallingly obvious lines that Ray Liotta's psycho spins; she gets caught up thinking him a nice guy when everybody else warns her that he is playing with her; she is unable to even pull the trigger of a gun when he is threatening her life; and moreover gets concerned when she hurts him and goes to his aid with predictable results.
There are some okay scenes with Ray Liotta threatening Lauren Holly – in particular, one scene where the plane flies through the middle of a storm where he psychologically dominates her, trying to find out her favourite book and film. However, Ray Liotta's threat tends to waver between menacing charm and total silliness. The early scenes where Liotta takes charge are not too bad but as the film goes on, the scenes with him getting drunk and wildly ranting down the phone to Hector Elizondo become ridiculously over the top. Moreover, the film makes the mistake of building Ray Liotta up as a threat throughout, however when it comes to the climax he is sidelined and the drama of landing the plane allowed to take over.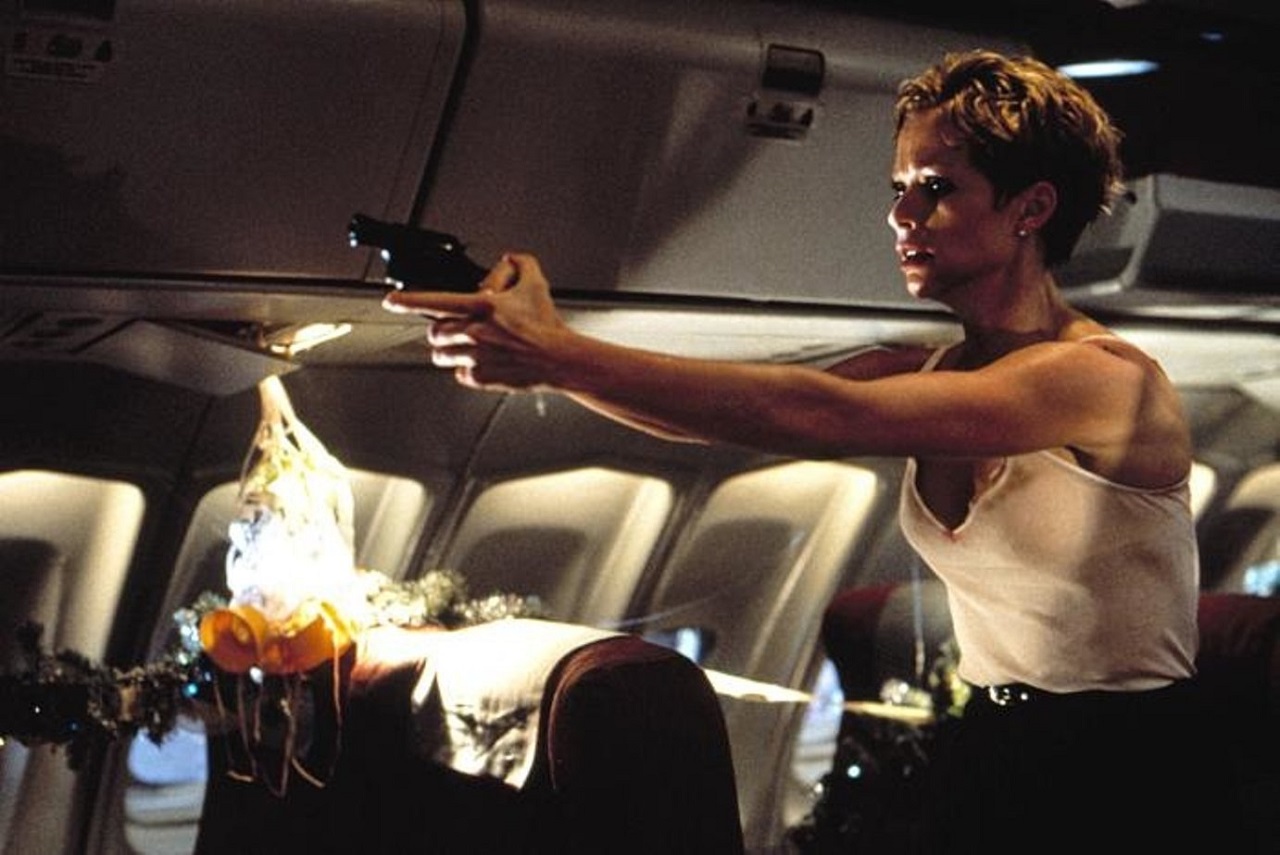 There were two sequels, linked only by various disasters occurring in a plane and each with even more absurdly far-fetched premises. These were:– Turbulence 2: Fear of Flying (2000) where a group of aviatophobics have to deal with terrorists that have chemical weapons aboard the plane, and Turbulence 3: Heavy Metal (2001) where Satanists hijack a plane aboard which a Marilyn Manson-lookalike is performing a rock concert.
Director Robert Butler had worked in tv since the early days, making episodes of The Twilight Zone (1959-63), The Untouchables (1959-63), including the Star Trek pilot The Cage (1966) and the genre tv movies Death Takes a Holiday (1971) and Strange New World (1975), among a good many other shows. He made several Disney films with The Computer Wore Tennis Shoes (1969), The Barefoot Executive (1971) and Now You See Him, Now You Don't (1972).
---
---