---
Crew
Director – Wes Craven, Screenplay – Wes Craven, Matthew Barr & Glenn M. Benest, Producers – Pat Herskovic, Max Keller & Micheline Keller, Photography – Robert Jessup, Music – James Horner, Special Effects – Everett Alson, Ira Anderson & Jack Bennett, Production Design – Jack Marly. Production Company – Interplanetary.
Cast
Maren Jensen (Martha Schmidt), Susan Buckner (Vicky Anderson), Sharon Stone (Lana Marcus), Jeff East (John Schmidt), Ernest Borgnine (Isaiah), Michael Berryman (William Gluntz), Lisa Hartman (Faith), Colleen Riley (Melissa), Lois Nettleton (Louisa), Doug Barr (Jim Schmidt)
---
Plot
In a small Pennsylvania farming community, John Schmidt, a former member of the local religious community The Hittites, who reject all modern ways of life, has married an outside girl Martha and left the church. John is then killed when someone starts his tractor and runs him over. His widow Martha, whom the Hittites call an incubus for having seduced one of their own away, is joined by two old college girlfriends come to console her. Soon someone, or something, starts trying to kill them too.
---
At the time of Deadly Blessing, director Wes Craven had emerged through two acclaimed independent hits The Last House on the Left (1972) and The Hills Have Eyes (1977), which had taken audiences aback with their uncompromising ferocity. Craven then made the cinematically released tv movie Summer of Fear/Stranger in Our House (1978), which can be seen playing in the background at the local cinema here at one point. Then came Deadly Blessing, which was Wes Craven's first brush with mainstream (as opposed to independent) filmmaking. Still ahead for Craven would be hits like A Nightmare on Elm Street (1984) and Scream (1996). (A list of Wes Craven's other films is at the bottom of the page).
Deadly Blessing is a well made but somewhat variable effort. On the plus side, it contains some of Wes Craven's best directorial work. The film is beautifully photographed, shot in faded autumnal off-colourings and the colour tinted a monochrome sepia-tone. Craven sets up a number of terrifying set-pieces – like the scene with the petrol-doused car trying to back away from a trail of burning fuel; or where Maren Jensen finds a poisonous snake in her bathtub (although this scene has gone onto to become a classic among goof spotters as Jensen is clearly visible wearing a pair of black panties beneath the soap suds); or the sequence with Sharon Stone – well over a decade before Basic Instinct (1992) – trapped in a barn being slammed by seemingly supernatural forces of incredible power.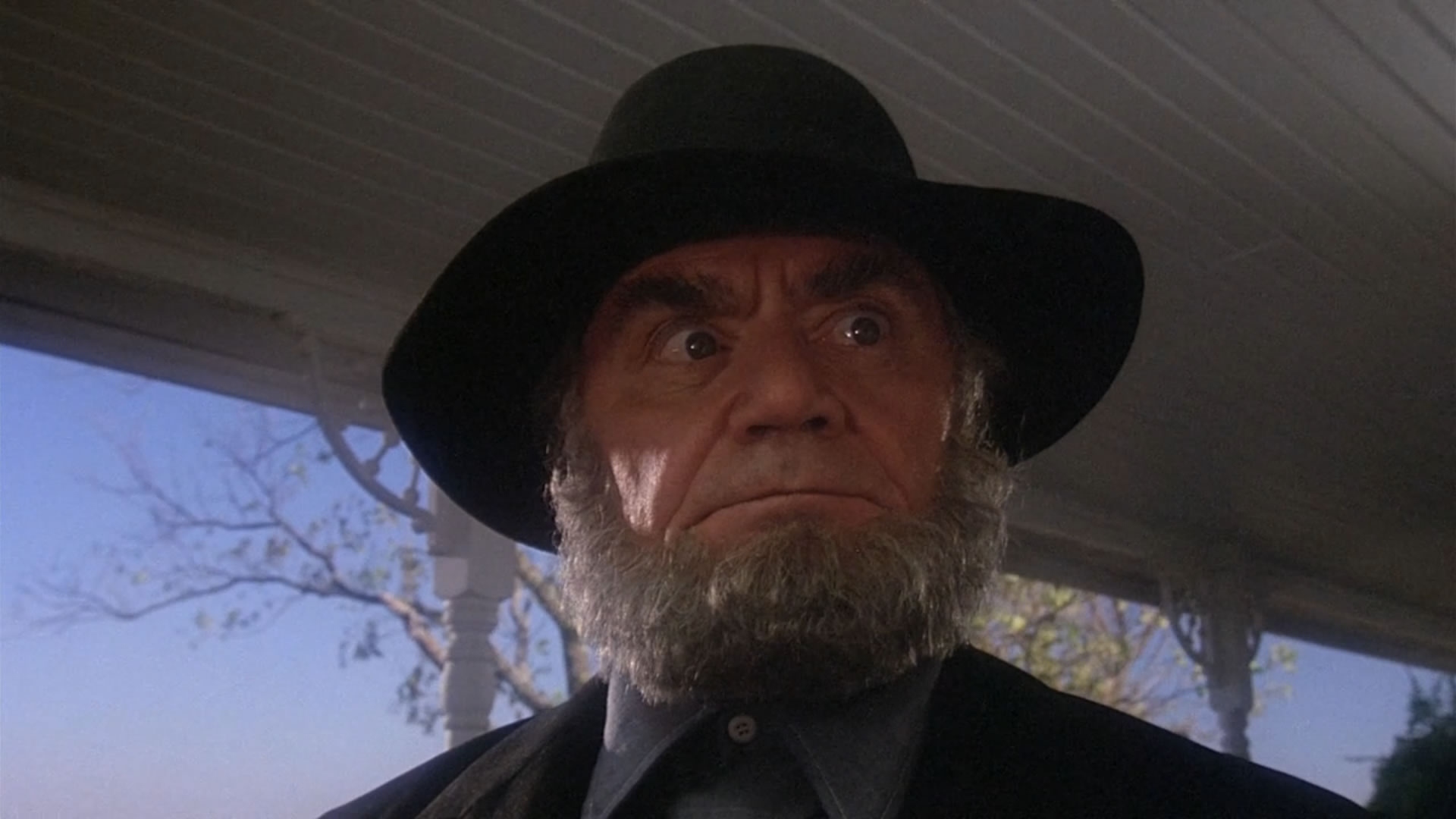 There is one dream sequence where Wes Craven's ongoing preoccupation with oneirism and reality reaches a particularly beautiful and surreal height in a scene where two clawed hands reach out to a dreaming Sharon Stone as an unseen voice whispers, beckoning her to open her mouth whereupon a spider dangles down on a strand of thread and drops between her open lips.
However, Deadly Blessing also has a script that is tied in an unruly knot. There are too many suspects and victims – Hittites and unbelievers alike are butchered indiscriminately. The mixing of supernatural and mundane psychological attacks fails to work with neither being brought to a satisfying conclusion. The Hittites are built up as villains of the piece but this prove to be a red herring, while the dream sequences ultimately amount to nothing at all.
The fact that the film had two endings – in international prints, the killer is mundanely revealed to be an ordinary individual, while in many American versions of the film a demon figure bursts up from under the floorboard to snatch Maren Jensen down to Hell – is indicative of the haphazard nature with which the plot was slung together.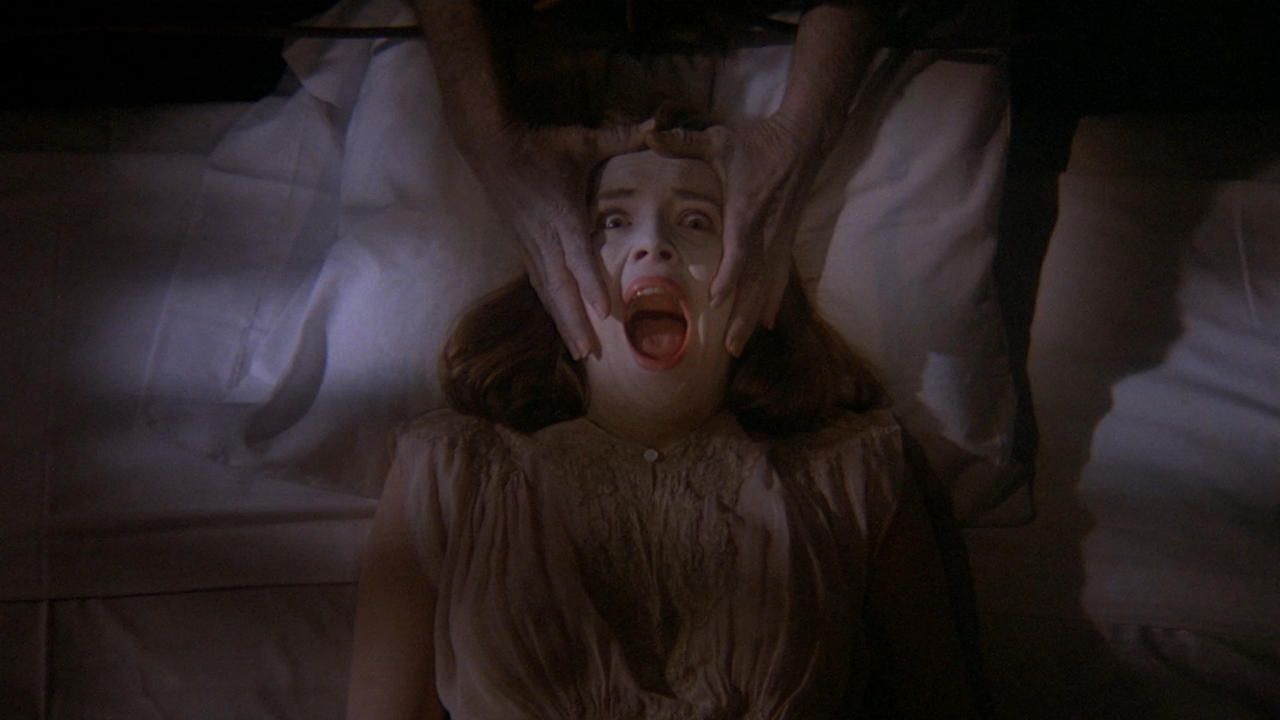 Wes Craven's other films are:- The Last House on the Left (1972), Summer of Fear/Stranger in Our House (1978), Swamp Thing (1982), Invitation to Hell (tv movie, 1984), A Nightmare on Elm Street (1984), Chiller (tv movie, 1985), Deadly Friend (1986), The Serpent and the Rainbow (1988), Shocker (1989), Night Visions (tv movie, 1990), The People Under the Stairs (1991), Wes Craven's New Nightmare (1994), Vampire in Brooklyn (1995), Scream (1996) Scream 2 (1997), Scream 3 (2000), Cursed (2005), My Soul to Take (2010) and Scre4m/Scream 4 (2011). Wes Craven has also written the scripts for A Nightmare on Elm Street III: The Dream Warriors (1987), Pulse (2006) and The Hills Have Eyes II (2007), and produced Mind Ripper (1995), Wishmaster (1997), Carnival of Souls (1998), Don't Look Down (1998), Dracula 2000 (2000), Feast (2006), The Breed (2006), The Hills Have Eyes (2006), The Last House on the Left (2009), The Girl in the Photographs (2015) and the tv series Scream: The Series (2015-9). He also created the tv series The People Next Door (1989) and Nightmare Cafe (1992).
---
---