---
Crew
Director – Philip Adrian Booth, Screenplay – Christopher Saint Booth, Philip Adrian Booth & Shane Dax Taylor, Producers – Christopher Saint Booth & Shane Dax Taylor, Photography – Philip Adrian Booth & Marcel Cabrera, Music/Production Design – Christopher Saint, Special Effects – Monster FX (Supervisor – Mark Villalobos), Makeup Effects – Ron Karkoska. Production Company – Dax Productions/Twintalk Entertainment.
Cast
Steffany Huckabee (Heather), Kristin Novak (Ashley), Jason Lasater (Richie), Annie Burgstede (Tori), Yolanda Pecoraro (Elizabeth), Melanie Lewis (Devon), Brian Dyer (Dr Richard Vanguard)
---
Plot
Heather is persuaded by her three sorority sisters to attend a party being held at the Vangard Sanatorium. There the girls are selected to attend a private party. They wake up in a series of dank, abandoned tunnels beneath the hospital. The tunnels are where the unethical Dr Richard Vangard used to store the corpses of the dead infected by the White Death epidemic that swept Kentucky in the previous century. The girls try to survive as they uncover the secrets of the facility and face the ghosts of the dead.
---
Death Tunnel came out not long after Saw (2004). It may have been made as an effort about a haunted abandoned hospital before Saw became a major hit. Or it may simply be that that Death Tunnel was conceived as a Saw copycat right from the outset.
The main problem with the film is that director Philip Adrian Booth spends all his time engaged in horror effects – dank and dripping walls, debris-strewn hallways, flickering video screens and video cameras looking on everywhere (we see people watching on monitors and installing them but it is never made clear who they are), and lots of flash editing. It feels like a bad Halloween haunted house attraction – all posturing pop-up shock effects, atmosphere and visuals for their own sake.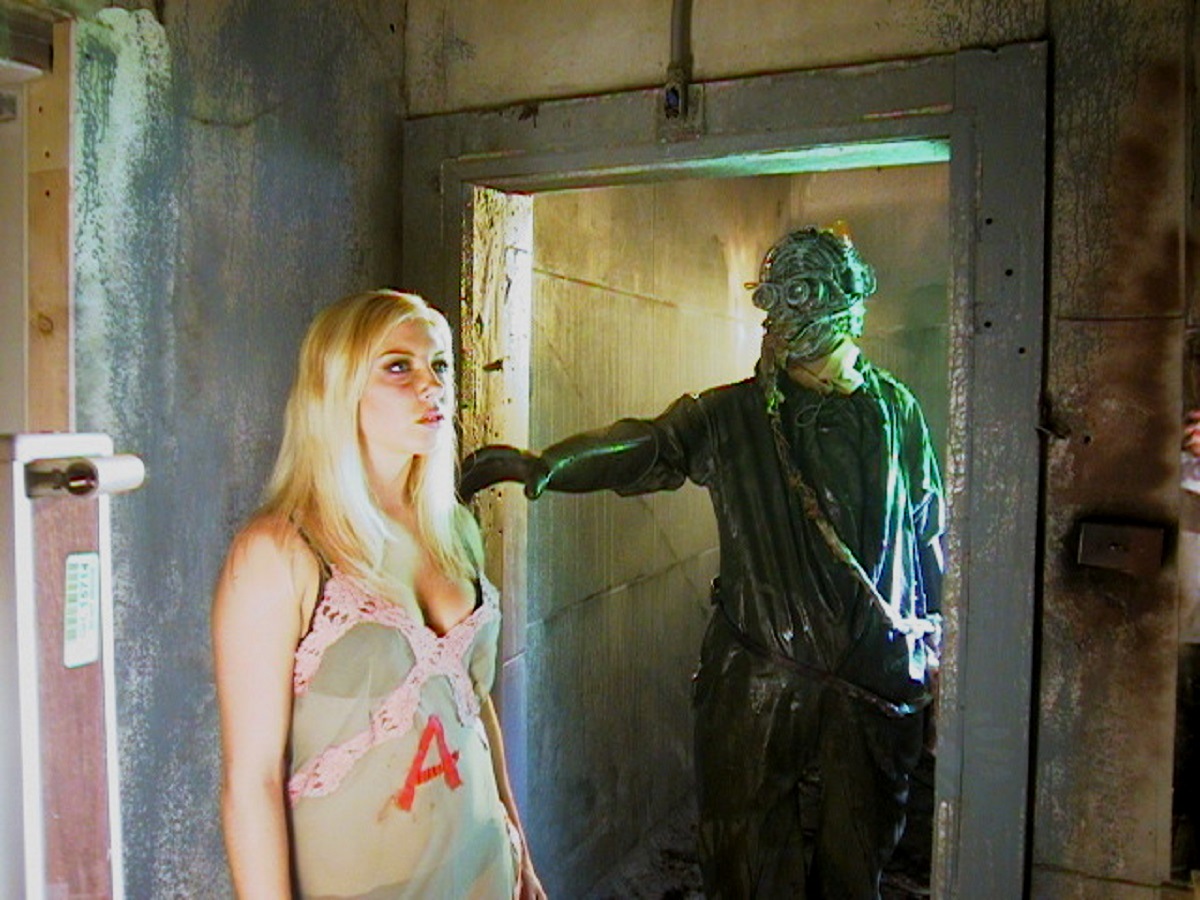 Crucially, none of it makes any real sense. It is all effects without the benefit of any plot throughline. You keep wanting to know why things are happening. It is not even clear for much of the film whether the abandoned hospital is haunted or some kind of set-up created by Jason Lasater or the people watching everything on the tv monitors. The ending does eventually come to some kind of muddled explanation involving everybody being descendants of the original staff who worked at the hospital who have been brought together for some kind of cross-generational revenge. The trailer makes the unsubstantiated claim the film is based on a true story,
Philip Adrian Booth is a director who started out making adult SF films with Cabaret Sin (1987) and Droid (1988) and has written quite a number of scripts for softcore adult films. He then moved onto making various horror films with Shadowbox (2005), Dark Place (2007), Dead Still (2014) and The Exorcist File (2014), and a host of documentaries based on horror-themed urban legends with Children of the Grave (2007), The Possessed (2009), The Haunted Boy: The Secret Diary of The Exorcist (2010) and Soul Catcher (2011),
---
Trailer here
---