(Chakusin Ari 2)
---
Japan. 2005.
Crew
Director – Renpei Tsukamoto, Screenplay – Minako Daira, Producers – Yoichi Arishige & Naoki Sato, Photography – Tokusho Kikimura, Music – Soichi Ueno. Production Company – Hakuhodo DY Media Partners/Japan Film Fund/Kadokawa Pictures/Nippon Television Network (NTV)/Toho Company.
Cast
Mimura (Kyoko Okudera), Yu Yoshizawa (Naoto Sakurai), Renji Ishibashi (Detective Yusaka Motomiya), Karen Oshima (Mimiko Mizunuma), Peter Ho (Chen Yuting), Asaka Seto (Takako Nozoe), Chisun (Madoka Uchiyama), Hakobu Okubo (Wang Jianfeng), Toshie Kobayashi (Gao Shumei), Shadow Liu (Wang Mei-feng), Nana Koizumi (Li Li)
---
Plot
Schoolteacher Kyoko Okudera's friends begin to receive a series of cellphone calls that appear to be sent by themselves in the future. As the time that each call was sent arrives, they are then killed after which the numbers on their phone's contacts list are dialled and those people receive calls from the future too. Detective Motomiya tries to find connection to the identical series of calls that occurred one year earlier in which one victim was killed on live television. The trail takes them to Taiwan in search of Li Li, a young girl who was able to predict people's deaths and was abandoned in a mine with her lips sewn shut after cursing the town. Now, her restless spirit reaches out from the mine and affects people via the phone calls.
---
Takashi Miike's One Missed Call (2003) was a modest hit among the early 2000s spate of J-horror films. I wasn't a huge fan of the film – though Miike has a reputation for outlandish, taboo-defying weirdness, it was one of his more mainstream-friendly films and had been clearly intended as a copy of Ring (1998), merely substituting haunted tv broadcasts for haunted cellphone calls. It did however produce a number of spinoffs beginning with this sequel and followed by a third film One Missed Call: Final (2006), a ten-episode tv series One Missed Call (2005) and then the inevitable English-language remake One Missed Call (2008), which was universally disliked.
The first film had its moments but One Missed Call 2 remains unexceptional in every regard. Previously, director Renpei Tsukamoto has mostly worked in television, although he did make the horror film Ghost Shout (2004). Alas, Tsukamoto seems to lack any aptitude for the material – the film is prosaic and lacking in any of the spooky atmosphere that even the more desultory J-horror films manage to conjure.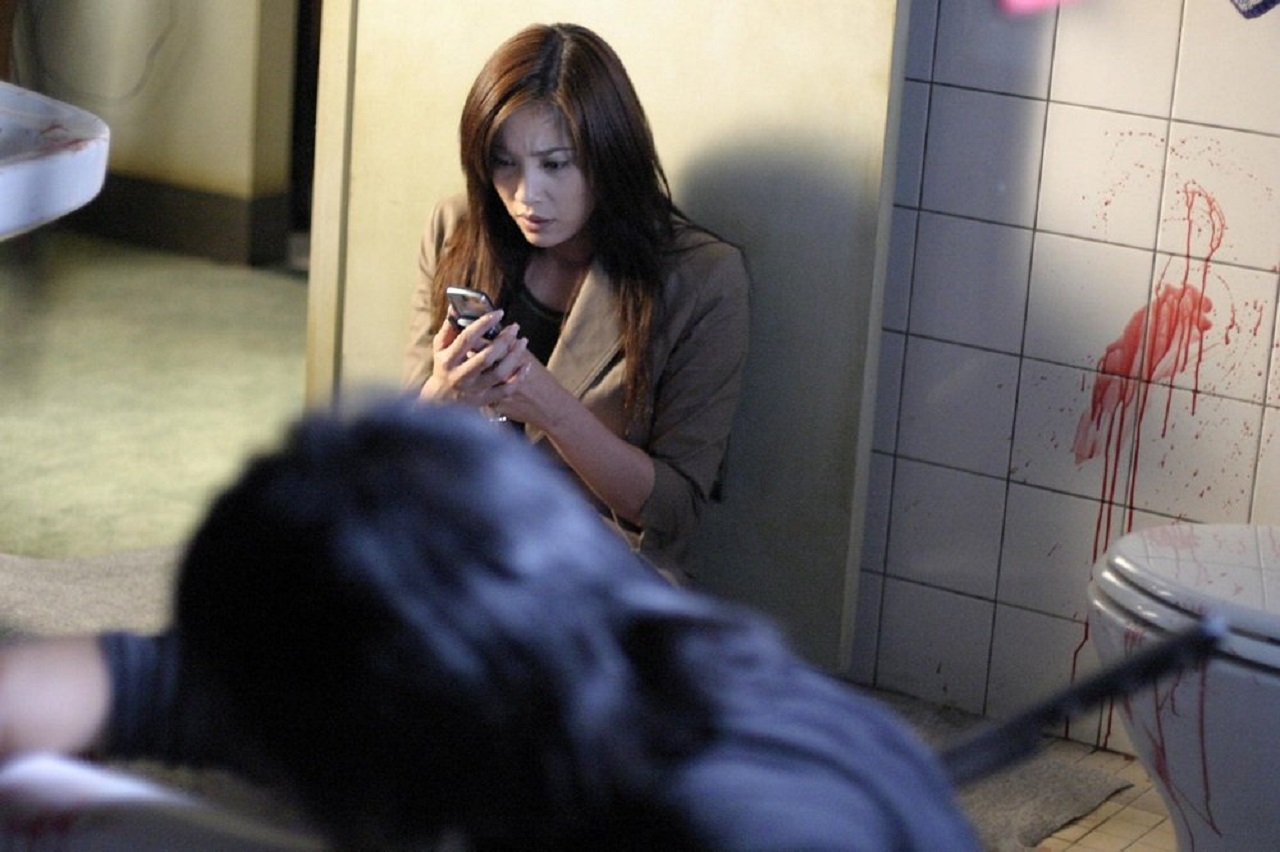 There seems no particular drive for much of the film – though the various characters have received notice of their impending deaths, there rarely seems much urgency about the situation. The story seems to doggedly plod from one scene to the next and there is no fascination to the piecing together of the mystery. The film does perk up only slightly when it arrives in Taiwan where there comes the odd jump during the scenes of people investigating the mine and the ghost of Li Li coming after them.
The other major problem seems to be a confused and unfocused plot. The main theme from the first film about the haunted/cursed phone calls seems of less importance to what is going on here – the bulk of the story takes place in Taiwan and the film only occasionally remembers to get back to a few people touched by the curse on the Japanese mainland. The scenes where we find that the origin of the curse was Li Li who predicted people's deaths and was sealed up in a mine with her lips sewn shut after placing a curse on the village takes the film even closer to the character of Sadako in the Ring films. The film also reaches an ending that left me completely confused – one where we are not sure why some people die and others are spared, while added confusion is created involving revelations about twins and stopped watches.
---
---