---
Crew
Director – James Wan, Screenplay – Leigh Whannell, Story – James Wan & Leigh Whannell, Producers – Mark Burg, Greg Hoffman & Oren Koules, Photography – David A. Armstrong, Music – Charlie Clouser, Visual Effects – Title House Digital (Supervisor – Bob Pabon), Special Effects Supervisor – Tom Bellissimo, Makeup Effects – Rocky Faulkner, Production Design – Julie Berghoff. Production Company – Saw Productions.
Cast
Cary Elwes (Dr Lawrence Gordon), Leigh Whannell (Adam), Danny Glover (Detective Tapp), Michael Emerson (Zep Hindle), Monica Potter (Alison Gordon), Makenzie Vega (Diana Gordon), Ken Leung (Detective Sing), Shawnee Smith (Amanda), Dina Meyer (Kerry), Alexandra Chun (Carla)
---
Plot
A photographer Adam comes around to find himself chained to a pipe in a basement. Chained to the opposite wall is surgeon Lawrence Gordon and lying in the centre of the room is the body of a man who has shot himself. They discover various items hidden on their person or nearby – a bullet, a key (although this does not open either of their cuffs) and two saws. They realise they are meant to use the saws not to cut through their cuffs but to saw through their feet in order to free themselves. Gordon also finds a note telling him that his wife and daughter will be killed unless he kills Adam before 6 o'clock. Gordon realises that they are prisoners of a serial killer known as The Jigsaw Killer. The Jigsaw Killer abducts various people and places them inside fiendishly clever traps where they must make a ruthless choice in order to get free or else die. Gordon knows because the police interrogated him as a suspect in one of the killings. At the same time Tapp, the investigating detective on the case, who became a burnout after his partner was killed in a booby trap when they entered the Jigsaw Killer's lair, has staked out Gordon's apartment and believes that he has seen the killer in the window.
---
One is a little cautious about bandying phrases like 'masterpiece'. However, Saw has to be one of the most brilliant horror films that one has seen in some time. It is a genuinely a film that pushes all boundaries and refuses to hold back at going into areas that would have made other filmmakers balk. The only other film in recent memory that has such a captivating and boundary-defying sense of unease to it was Takashi Miike's Audition (1999) and before that Se7en (1995).
Saw was made by James Wan and Leigh Whannell, two friends from Melbourne, Australia, both aged 27. The two met on a filmmaking course at the Royal Melbourne Institute of Technology. Subsequent to graduating, Leigh Whannell had worked as a journalist on tv entertainment shows and had a small acting part in The Matrix Reloaded (2003), while James Wan was working in advertising and trying to get a job directing. After trying to obtain funding for Saw in Australia, both decided to throw all they had ($5000 Australian) into making an 8 minute short film, which consisted of the climactic scene. This proved sufficient for them to get funding from the US to expand the film to feature-length and employ several name stars, as well have Saw granted a major theatrical release.
It is always an amazing experience when you discover new talent flowering – Saw is one such occasion. It is an utterly gripping film that has one sitting bolt upright captivated from the opening scene where the lights are turned on and Leigh Whannell (who also plays the role of the photographer Adam) finds himself chained up in the basement. Wan and Whannell keep the majority of the film contained in this single location but keep feeding us twists and surprises – the discovery of the notes and then the saws, the revelation that these are not there to saw through the cuffs but sever their feet, the escalating twists concerning the photo in the wallet, the hidden X and so on.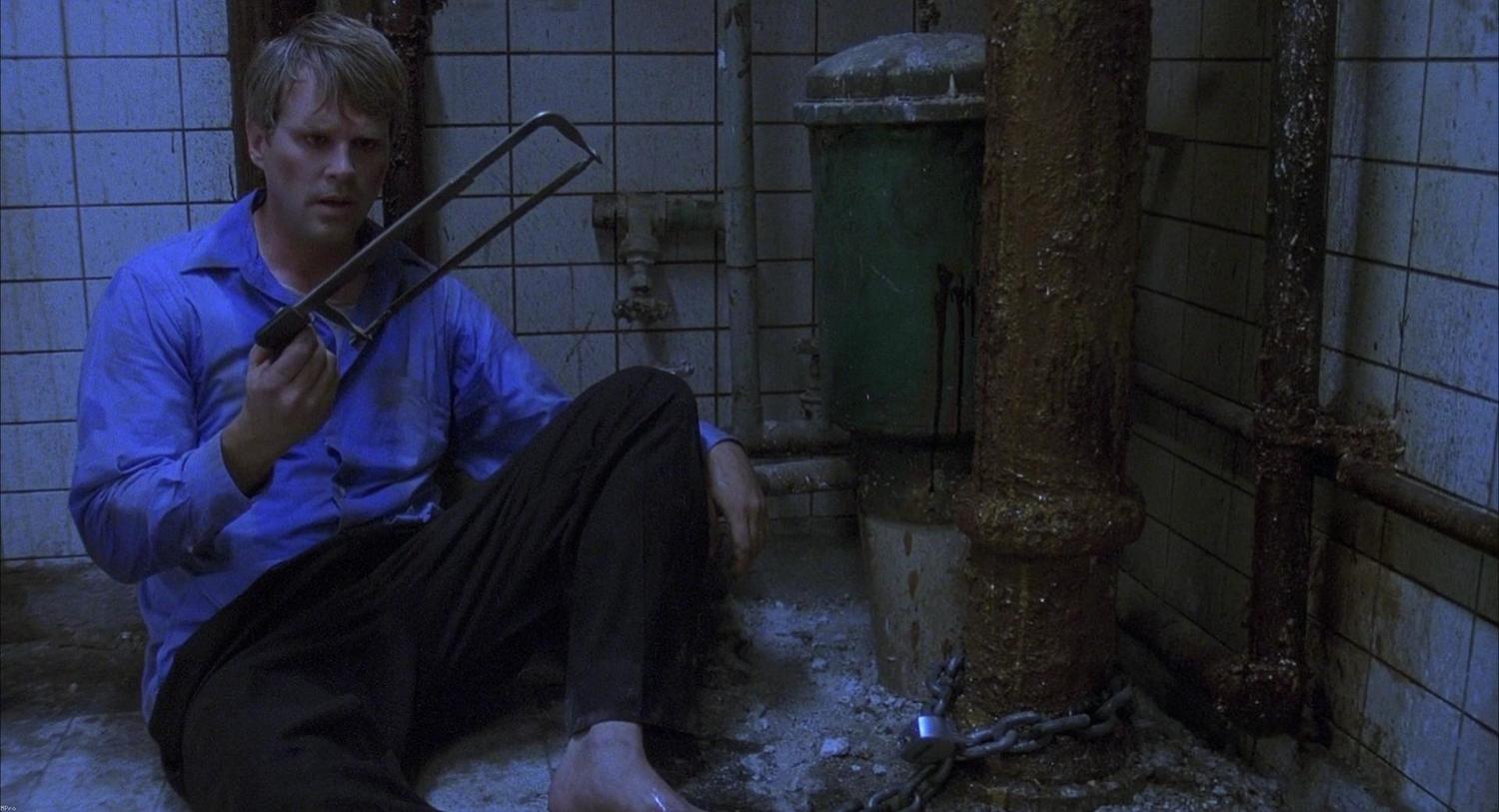 There is an extraordinary ingenuity to some of the traps – the victim in a cage of razor wire that they must claw their way through to get to safety; a girl coming around to find a booby-trapped headpiece placed on her and to realise that she must cut open the stomach of a semi-conscious victim to obtain the key before the headpiece detonates; the man locked in a basement covered with a flammable grease and told that the combination to the safe that will free him is one of hundreds written on the walls but he only given a candle to read the numbers with.
Most of all, Saw is filled with a genuinely suspenseful dread in not knowing at any point what way it is going to turn or where it is going to end up. It is a film that goes all the way in terms of conceiving the inconceivable – in its preparedness to kill off the good guys, in allowing us to wonder whether Cary Elwes and Leigh Whannell's characters will cut off their feet or whether Elwes will kill Whannell – and with Wan and Whannell daring us to see whether they will let this happen or not.
The marshalling of twists and surprises is orchestrated with an extraordinarily dexterity. Wan and Whannell arrange the flashbacks and the amount of information that is given to us in an ambiguous way to make it seem that what we think is going on is something different altogether or leave us with hints that the killer might be Elwes, Whannell or Danny Glover's detective. The climactic scenes where all of these things come to a head at once and where the various other elements involving Danny Glover and in particular what Cary Elwes is thinking he is hearing going on on the other end of the phone with his wife and daughter all start to go disastrously wrong – not to mention the beautifully nasty series of final surprises – are utterly gripping.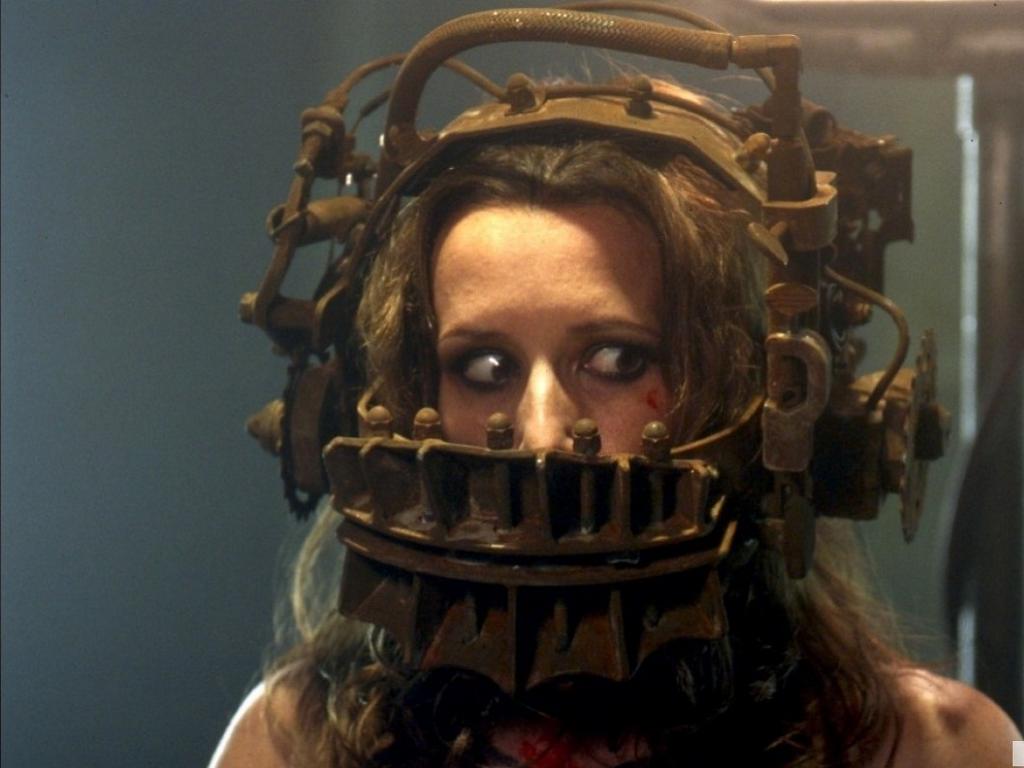 In an industry that values moneymaking and commercial givens over talent and originality, full kudos must go out to the producers behind Saw for banking their money on two complete unknowns. It has paid off in aces. James Wan next went on within genre material to direct the vigilante film Death Sentence (2007), the ventriloquist's dummy horror Dead Silence (2007), the haunting film Insidious (2010), the supposedly true-life haunting and possession The Conjuring (2013), Insidious Chapter 2 (2013), The Conjuring 2 (2016), the DC Comics adaptation Aquaman (2018) and Malignant (2021). Wan has also produced all of the Saw sequels, Annabelle (2014), Demonic (2015), Insidious Chapter 3 (2015), Lights Out (2016), Annabelle: Creation (2017), Insidious: The Last Key (2018), The Nun (2018), Annabelle Comes Home (2019), The Curse of La Llorona (2019), the tv series Swamp Thing (2019), The Conjuring: The Devil Made Me Do It (2021), Mortal Kombat (2021), the tv series Archive 81 (2022- ), M3gan (2022) and Insidious: The Red Door (2023).
Leigh Whannell wrote the screenplays for Dead Silence and the Insidious films, while also playing the role of a paranormal investigator in the latter two, as well as wrote Cooties (2014) and The Mule (2014), and then made his debut as director with Insidious Chapter 3 (2015), followed by the A.I. film Upgrade (2018) and The Invisible Man (2020).
The success of Saw was spun out into a series of sequels, Saw II (2005), Saw III (2006), Saw IV (2007), Saw V (2008), Saw VI (2009), Saw 3D (2010), Jigsaw (2017) and Spiral: From the Book of Saw (2021), none of which contained the superb tension of the original. Instead, these push the sadism and torture scenes to a gore-drenched extreme for the genre. Saw was also parodied in Scary Movie 4 (2006).
(Winner in this site's Top 10 Films of 2004 list. Winner for Best Director (James Wan), Nominee for Best Original Screenplay at this site's Best of 2004 Awards).
---
---