---
Crew
Director – Mike Mendez, Screenplay – Chaton Anderson, Producer – Jed Nolan, Photography – Jason Lowe, Music – Joey Bishara, Visual Effects Supervisor – Robert Chapin, Special Effects – Phillips EFX Team (Supervisor – George Phillips), Makeup Effects Supervisor – Dean C. Jones, Production Design – Robert Hammond. Production Company – Alpine Pictures Inc.
Cast
Joanna Caton (Clarissa), Adrienne Barbeau (Christine O'Malley), Richard Trapp (Frijole), Liam Kyle Sullivan (Brant), Megahn Perry (Mo), Kelly Mantle (Dickie), David Gunn (Saul), Jim Golden (Biff), Dax Miller (Chad), Renee Graham (Kaitlin), Coolio (Officer Starkey), Bill Moseley (Officer Ray), Chaton Itae [Anderson] (Sapphira)
---
Plot
Clarissa joins her boyfriend and a group of fraternity jocks who are going to party in a disused convent. In 1960, a girl went crazy at the convent and blew away the nuns and priest with a shotgun. While they are there, Clarissa's friend, the Goth Mo, is stabbed in a ceremony by a group of Satanist poseurs. Mo is a virgin and this causes her body to become possessed. She starts killing the others and their bodies become zombies inhabited by the spirits of the nuns and priest. As her younger brother is about to become used as another virgin sacrifice, Clarissa calls upon the help of Christine O'Malley, the girl who started it all forty years ago.
---
The Convent starts out as a standard Friday the 13th hackfest located in a haunted house, not unakin to something along the lines of Hell Night (1981). However, the film quickly abandons any straight reading and plunges into campy splatter territory to come out sort of like an early Peter Jackson film, such as Bad Taste (1988) and especially Braindead/Deadalive (1992). Here blood is not red but comes in iridescent greens, yellows and purples. The film is filled with wonderfully silly images – like the flashbacks with the nuns going crazy, dragging people behind motorcycles, wielding spiked paddles and projectile vomiting on students.
Of course, The Convent is made in a post-Scream (1996) era and has a great deal of fun sarcastically puncturing genre cliches – the ceremony that causes the spirits to rise is now conducted by an inept Satanic poseur (an hilarious performance from Richard Trapp). Especially amusing is the climactic moment where the fey Satanist acolyte suggests to the heroine's brother that they escape their fate as virgin sacrifices by having sex with one another.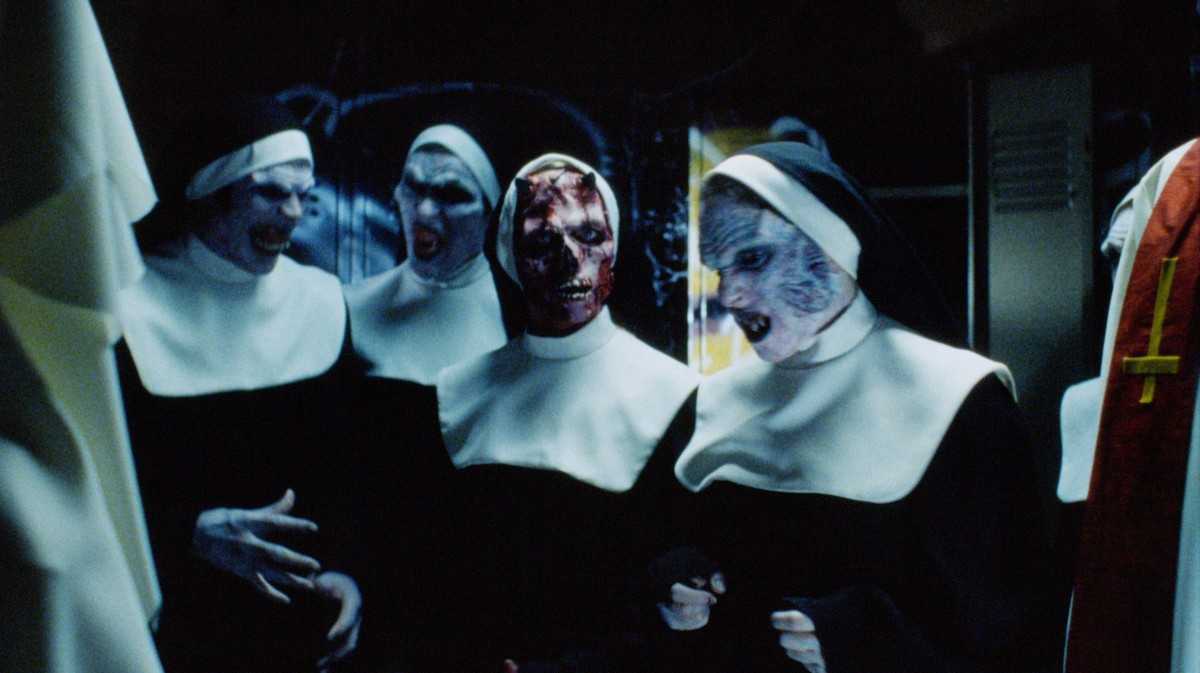 Although starting to show her 55 years, Adrienne Barbeau gives a highly amusing performance as a shotgun-toting, kickass biker chick, while rapper Coolio, although no actor, has a couple of amusing scenes as a cop. The film comes with just the right degree of outright silliness and unpretentious amusement to be rather entertaining. In fact, it's the film that the awful Night of the Demons 2 (1994) should have been.
Director Mike Mendez has made several other genre films with the likes of Killers (1996), Bimbo Movie Bash (1997), The Gravedancers (2006), Big Ass Spider! (2013), Lavalantula (2015), Don't Kill It (2016) and The Last Heist (2016), as well as producing the horror anthologies Tales of Halloween (2015) and Satanic Hispanics (2022) and directing various episodes, plus producing Unnatural (2016), Against the Night (2017), Snake Outta Compton (2018) and The Shed (2019).
---
---