aka Lured
---
USA. 1947.
Crew
Director – Douglas Sirk, Screenplay – Leo Rosten, Story – Jacques Companeez, Simon Gantillon & Ernest Neuville, Producer – James Nasser, Photography (b&w) – William Daniels, Music – Michel Michelet, Production Design/Art Direction – Nicolai Remisoff. Production Company – Hunt Stromberg Pictures/Oakmont.
Cast
Lucille Ball (Sandra Carpenter), George Sanders (Robert Fleming), Charles Coburn (Harvey Temple), Sir Cedric Hardwicke (Julian Wild), George Zucco (H.R. Barrett), Boris Karloff (Charles Van Dreuten)
---
Plot
Scotland Yard detectives try to find a suspected killer who meets girls through the newspaper personal columns and then abducts them, he always sending them letters filled with the poetry of Charles Beaudelaire beforehand. American Sandra Carpenter is working as a showgirl when her best friend becomes the latest girl to be abducted. Detectives recruit Sandra as a decoy and set her up with various dates from the personal column. The mystery seems to be solved when she uncovers a white slavery ring that is abducting girls and selling them in South America. Grateful to the help offered by handsome theatrical entrepreneur Robert Fleming, she agrees to marry him. However, as the wedding date nears, the white slavery ring theory begins to appear shaky and evidence seems to point to Fleming being the real killer.
---
This is an interesting thriller from the heyday of film noir. It was one of the earliest American films from émigré German director Douglas Sirk, who went onto develop a distinctively lush colour style and make classic Hollywood melodramas such as Magnificent Obsession (1954), All That Heaven Allows (1956) and Imitation of Life (1959). The film also proves a considerable oddity in seeing the Queen of 1950s sitcomedy Lucille Ball cast as a standard blonde girl in peril, a role where she seems to be having to suppress her natural bubbliness.
The plot has a considerable predictability – the red herring emphasis that comes in the accusations of fiancée George Sanders and then his not being the suspect are all obvious from the outset. The amazingly nonchalant way in which the police recruit Lucille Ball's showgirl is frankly unbelievable.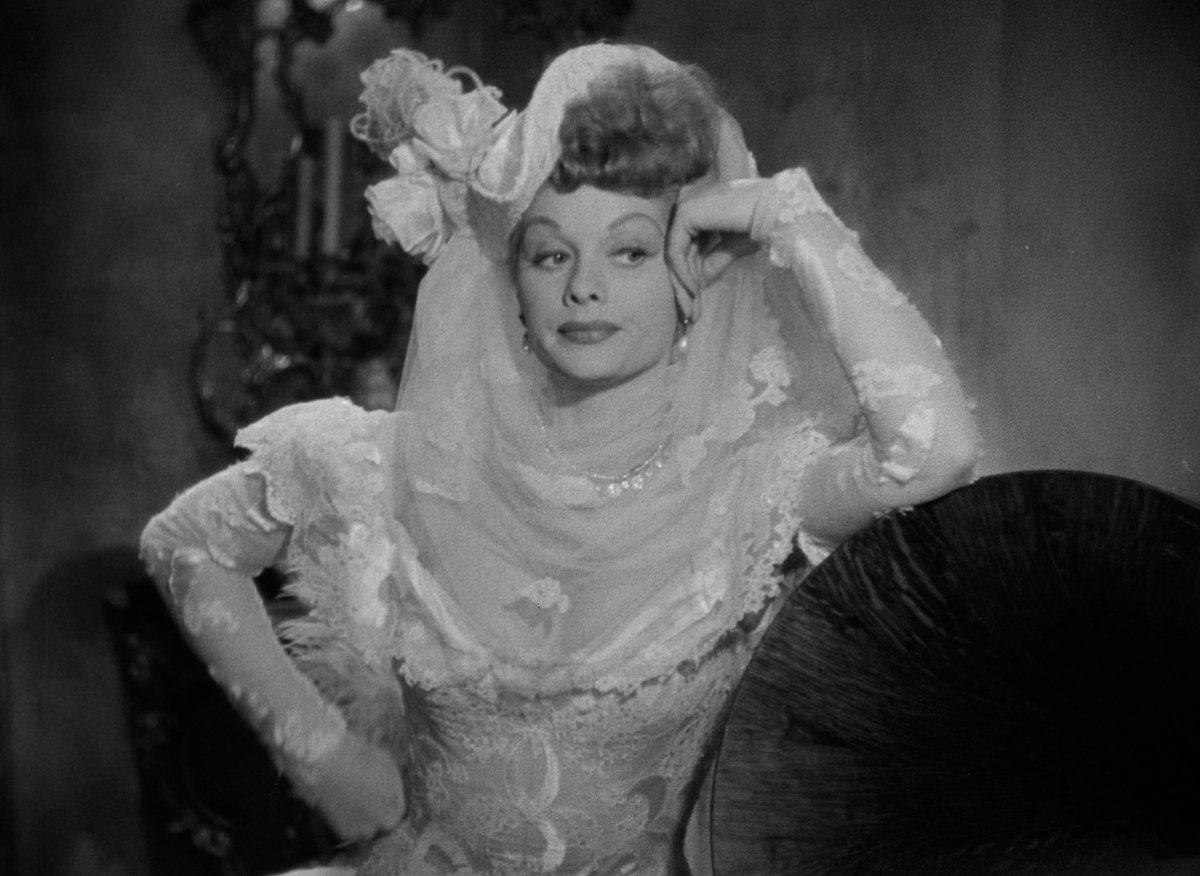 Despite its predictability, the film retains enough drama to divert interest. There is quite a degree of droll humour to the film. The emergence of Charles Coburn's stoically plodding detective at the end, pressing and trapping George Sanders, and the series of cat-and-mouse games played with the killer, is good.
It is a well cast film – the smoothly charming George Sanders plays with urbane aplomb and George Zucco's Cockney detective provides some touches of humour. Even Boris Karloff turns up in a cameo as a potty dress designer. However, the best performance is from Cedric Hardwicke, full of prissy little mannerisms that in no unclear way suggest what this man's sexual preferences are and which make for an effectively disturbing change at the end.
---
Trailer here
---