---
Crew
Director – Eduardo Sanchez, Screenplay – Jamie Nash, Producers – Robin Cowie, Jane Fleming, J. Andrew Jenkins & Mark Ordesky, Photography – John W. Rutland, Music – Nima Fakhara, Visual Effects – Rocket Lab Creative (Supervisor – Justin Puda), Special Effects Supervisor – Everett E. Byrom, III, Creatures/Makeup Effects – Spectral Motion (Designer – Mike Elizalde), Production Design – Andrew C. White. Production Company – Lionsgate/Haxan Films/Court Five/Miscellaneous Entertainment.
Cast
Chris Osborn (Brian Tovar), Roger Edwards (Todd), Dora Madison Burge (Dora), Samuel Davis (Matt Tovar), Denise Williamson (Elizabeth)
---
Plot
A group of friends head out into the woods where Brian has taken the key to his uncle's cabin. Brian is an amateur videographer and has brought his cameras and is filming everything. Along the road, they hit an animal that they assume to be a deer. Soon after, they think they spot a Bigfoot around the area. It then starts attacking the cabin. The attacks become increasingly more violent in nature and their vehicle is trashed. The group are trapped in the cabin at siege from a terrifying assault and are then pursued through the forest.
---
Eduardo Sanchez will always have the credit 'co-director of The Blair Witch Project (1999)' to his name. Sanchez has never produced anything else that has had such a high-profile as Blair Witch, nevertheless has made a steady stream of well-above-average films. These include fascinatingly weird alien prisoner film Altered (2006) and the horror films Seventh Moon (2008), ParaAbnormal (2009), Lovely Molly (2011), the A Ride in the Park episode of V/H/S/2 (2013) and Satanic Hispanics (2021), as well as produced Blair Witch (2016).
Exists is a Found Footage Bigfoot film. This has a certain sense of synchronicity in Sanchez choosing this as subject matter – it is the co-creator of the modern Found Footage genre making a film in which the subject matter that he takes up is that of what is arguably the world's first Found Footage film – the Gimlin-Patterson film of 1967, a 53-second long piece of footage that supposedly showed a Bigfoot walking through the wilderness, which caused a sensation back in the day. Certainly, we have had Found Footage Bigfoot films before – The Sasquatch Hunters (1997), Hair of the Sasquatch (2008), No Burgers for Bigfoot (2008), Sawtooth (2009), Bigfoot: The Lost Coast Tapes (2012) and The Bigfoot Project (2017). Indeed, there is quite a degree of similarity between what Eduardo Sanchez does with Exists and Bobcat Goldthwait's Willow Creek (2013). (For a more detailed overview see Bigfoot Films).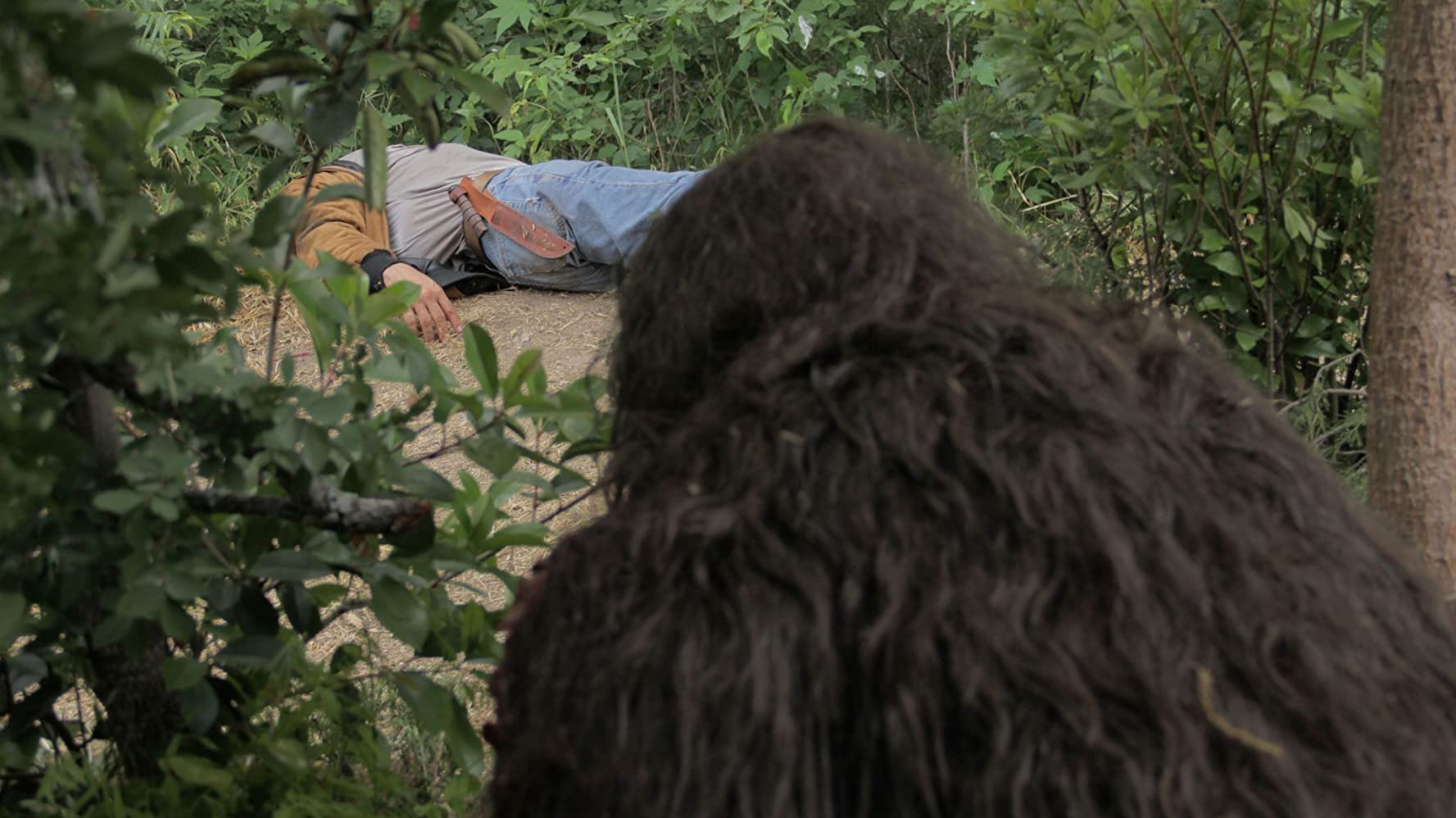 The expectation that Exists gives us is firstly in Eduardo Sanchez returning to the Found Footage film and secondly in his making a Found Footage Bigfoot film is that he is going to do something amazing with either and/or reinvent the respective genres. The disappointment of Exists is that he does neither, merely makes an efficient Found Footage Bigfoot film. You might want to compare Exists to Willow Creek where Goldthwait seemed more interested in the cultural phenomena of Bigfoot and spends some time in the town interviewing locals before segueing into a horror film; by contrast, Eduardo Sanchez is not interested in anything else and cuts to the chase fairly soon into the show.
Certainly, once he gets there, Sanchez delivers a solid effort. There is considerable tension when he gets his cast of unknowns at siege in the cabin from a largely unseen Bigfoot battering in through the door, tearing apart the interior of the cabin and coming after them in the cellar, overturning a caravan they take refuge in, or pursuing them through the woods in the dark. Perhaps the disappointment is that Sanchez never does anything particularly original with the material other than creating a monster movie. I mean, effective and all as Exists is, there is very little here that is not familiar from the last 238 Found Footage films that this site has had to review. That said, the film does arrive at a reasonable surprise ending that reveals the reasons for the attack.
---
---