---
Crew
Director – Gregory Levasseur, Screenplay – Daniel Meersand & Nick Simon, Producers – Alexandra Aja, Mark Canton, Chdy Eli Mattar & Scott G. Silver, Photography – Laurent Tangy, Music – Nima Fakhara, Visual Effects Supervisor – Derek Wentworth, Visual Effects – Cliche (Supervisor – Oliver Ojeil) & Newbreed (Supervisor – Hubert Maston), Additional Visual Effects – Tippett Studio (Supervisors – Matt Jacobs & Chris Morley), Special Effects Supervisor – Stefano Corridori, Makeup Effects – CLSFX-Atelier 69 & Cyril Hipaux, Production Design – Marco Trentini. Production Company – Fox International/Silvatar Media/Mark Canton/Aja-Levasseur Productions.
Cast
Ashley Hinshaw (Nora Holden), Denis O'Hare (Dr Miles Holden), Christa-Marie Nicola (Sunni Morish), James Buckley (Terry 'Fitzie' Fitzsimmons), Amir K (Michael Zahir), Faycal Attougui (Corporal Shahid)
---
Plot
A documentary crew join a team headed by archaeologist Miles Holden and his daughter Nora as they uncover a unique three-sided pyramid in Egypt. Just as they break through into the tomb, news comes that all foreign nationals must be evacuated from the country immediately due to the revolution. At the same time, a camera-mounted robotic probe on loan from NASA is abruptly destroyed as it starts searching the pyramid. They are obliged to retrieve NASA's expensive hardware and so with twenty-four hours before they are being forced to leave by the Egyptian military, Nora persuades her father, accompanied by the documentary crew, to enter the pyramid. Only, once they are there, they find that a deadly presence thousands of years old buried inside the tomb has been awakened.
---
The Pyramid was the directorial debut of Gregory Levasseur. The French-born Levasseur has been co-writer on almost all of Alexanda Aja's films since Furia (1999) through High Tension (2003), The Hills Have Eyes (2006), P2 (2007), Mirrors (2008) and Maniac (2012), while also serving as art director on some of his earlier films and producer on others. Aja likewise acts as producer for Levasseur's inaugural entry here.
At heart, The Pyramid is not too different from the monster-stalks-people-in-the-dark storyline that was patented by Alien (1979). The only major difference is that we have the novelty of a monster movie that draws on Ancient Egyptian mythology. The central locale becomes a pyramid rather than an alien spaceship or a laboratory facility. The other novelty is the eventual revelation of what the monster is – [PLOT SPOILERS] – none other than the Egyptian god Anubis stalking about the tomb. (That said, in fairly much all regards, Anubis proves to be little variation on the monsters that regularly inhabit these films).
The Egyptian tomb raider story has been done before – in fact, The Pyramid plays out as a much better version of the recent Prisoners of the Lost Sun (2013), which collapsed into hoary cliche. (The one thing you have to commend The Pyramid for is that it never reaches for Erich von Daniken cliches and has the pyramids created by alien astronauts. Equally, it sidesteps venturing into any of the creaky old revived mummy stories).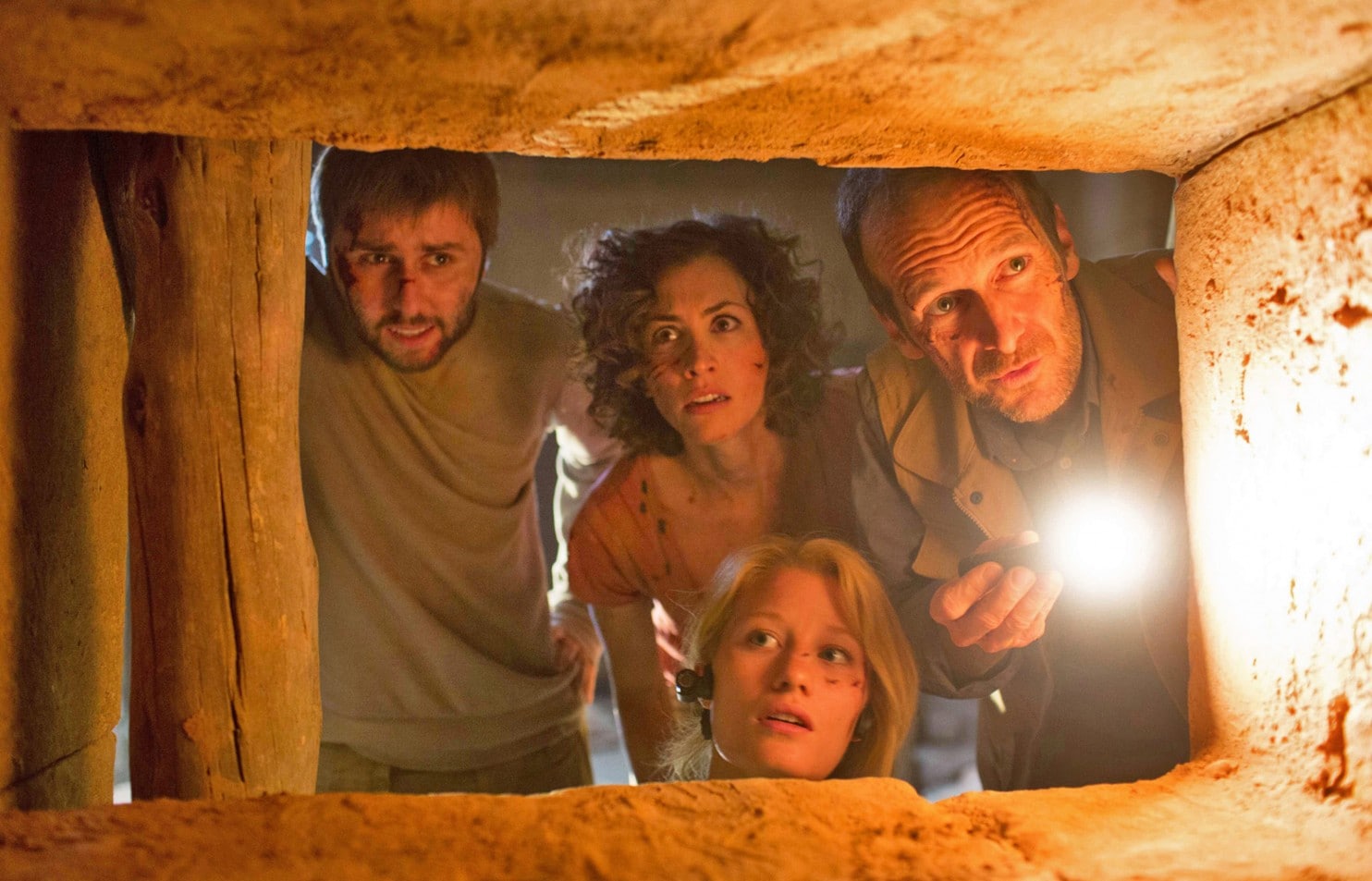 The Pyramid is too conceptually slim and uses too little of its rich mythological background to ever operate as much more than a monster movie. That said, it does some of this not too badly. Gregory Levasseur sets up the mystery and entrance into the pyramid well. The film is stripped to a minimum and operates with a cast of six and a limited range of sets. Levasseur doesn't go for too many in the way of cliche set-ups. He does however provide a number of effective jumps – the jolt surprise when a large chunk of masonry falls onto Amir K, the unexpectedness of seeing Faycal Attougui snatched through a small tunnel with his body bent backwards. The appearance of the full body Anubis we get at the end is also rather effective.
Gregory Levasseur shoots some of the film as Found Footage from the perspective of the documentary crew accompanying the archaeologists. You are often given cause to wonder who exactly is holding the camera as the point-of-view seems to change within a scene. Frequently this is also abandoned – like having shots that are filmed from inside the tombs as they are opened where, unless the Ancient Egyptians managed to create video-cameras several thousands of years earlier (and ones with a realllllly long battery life), this is surely cheating on the format.
---
---