---
Crew
Director – Mario Mancini, Screenplay – Ferdinando De Leone & Mario Mancini, Producer – Benadetto Graziani, Photography – Emilio Varriano, Music – Daniela Patucchi, Special Effects – Carlo Rambaldi. Production Company – M.G.D. Film.
Cast
John Richardson (Karl Schein), Gordon Mitchell (Dr Otto Frankenstein), Renato Romano (Inspector Schneider), Xiro Papas (Mosaic), Dalila Parker [Dalila Di Lazzaro] (Sonia), Bob Fiz (Professor Rudolph Schwarz)
---
Plot
In Berlin, top surgeon Professor Schwarz is about to perform the transplant to save the life of reporter Karl Schein's ill sister's. Schwarz then discovers that someone has stolen his only jar of experimental anti-lymphocytic serum, which prevents tissue rejection. Without it, Karl's sister dies. The thief is fellow doctor Otto Frankenstein who, working from a secret laboratory in the hospital, has built Mosaic, a creature sewn together from different body parts taken from the morgue. The brutish Mosaic has also been escaping and going out to kill women. Karl, investigating the theft of the serum, and the police in investigating the murders soon converge in the hunt for the amok Mosaic.
---
This Italian-made effort was one of the first films that started to come out modernising the Frankenstein film. Over the next few years we would see the likes of Dr Franken (tv movie, 1981), Frankenstein's Baby (tv movie, 1990), Mr. Stitch (1995), the Dean Koontz Frankenstein (tv movie, 2004), Frankenstein Reborn (2005), Frankenstein's Bloody Nightmare (2006), Frankenstein (tv mini-series, 2007), The Frankenstein Syndrome/The Prometheus Project (2010), Closer to God (2014), Frankenstein (2015) and Depraved (2019). Indeed, beginning with the earlier Frankenstein 1970 (1958), we started to see a number of Frankenstein films that claimed the decade ahead as part of their title, presumably in order to suggest they were updating the story from the 19th Century to the modern era. Frankenstein '80 was followed by Frankenstein 90 (1984) and Frankenstein 2000 (1992), although the practice appears to have stopped after that.
Frankenstein '80 disappointingly fails to offer any interesting take on the idea of an updated Frankenstein film. Frankenstein conducts his experiments in a secret lab inside a modern hospital and that is about it. The film was made not long after Christiaan Barnard conducted the world's first heart transplant operation (in 1967) and became a worldwide celebrity. Thus we get a Frankenstein who is less concerned with resurrecting the dead (which we never see happen) but transplanting organs from cadavers into his patchwork creation.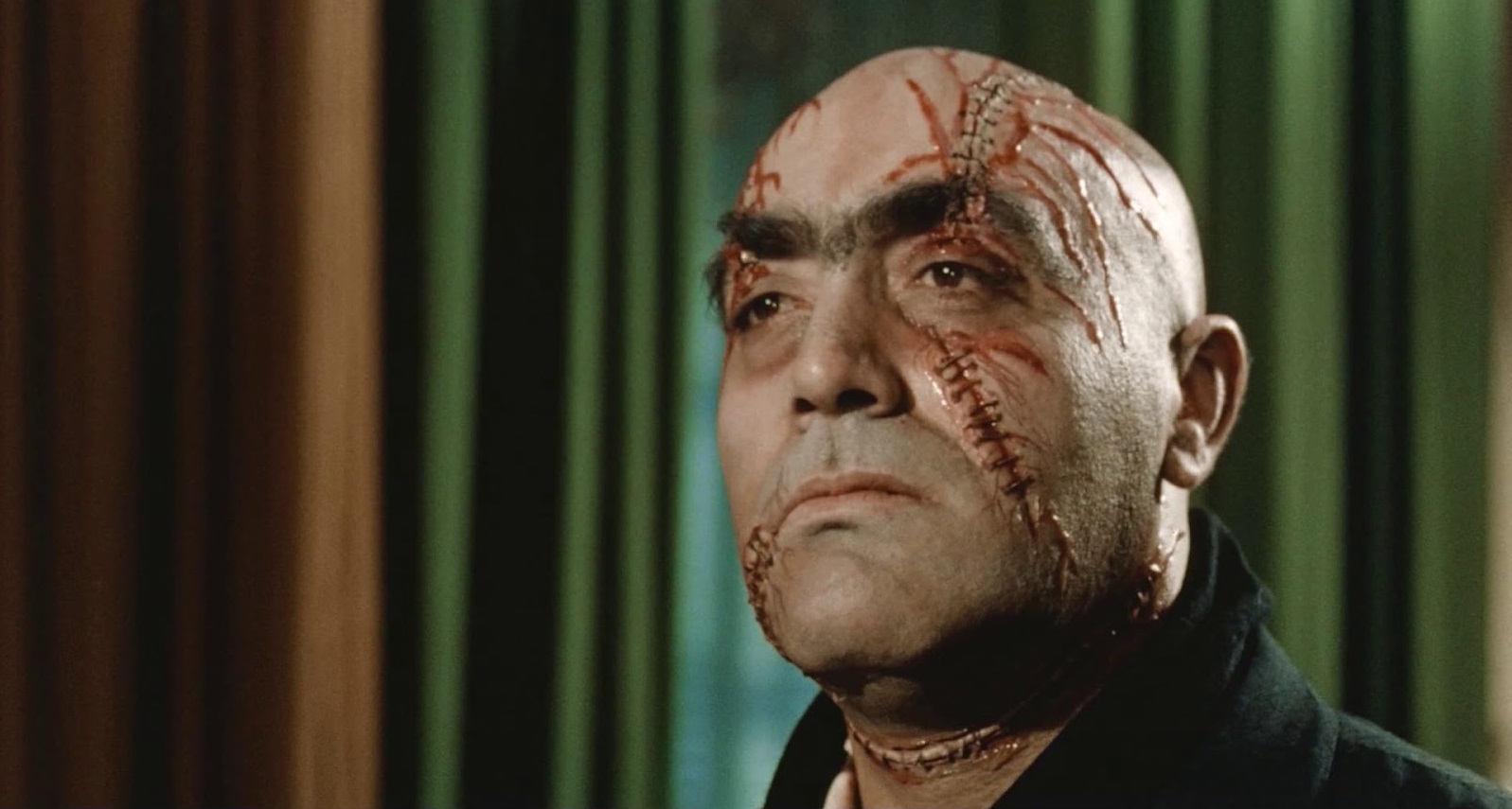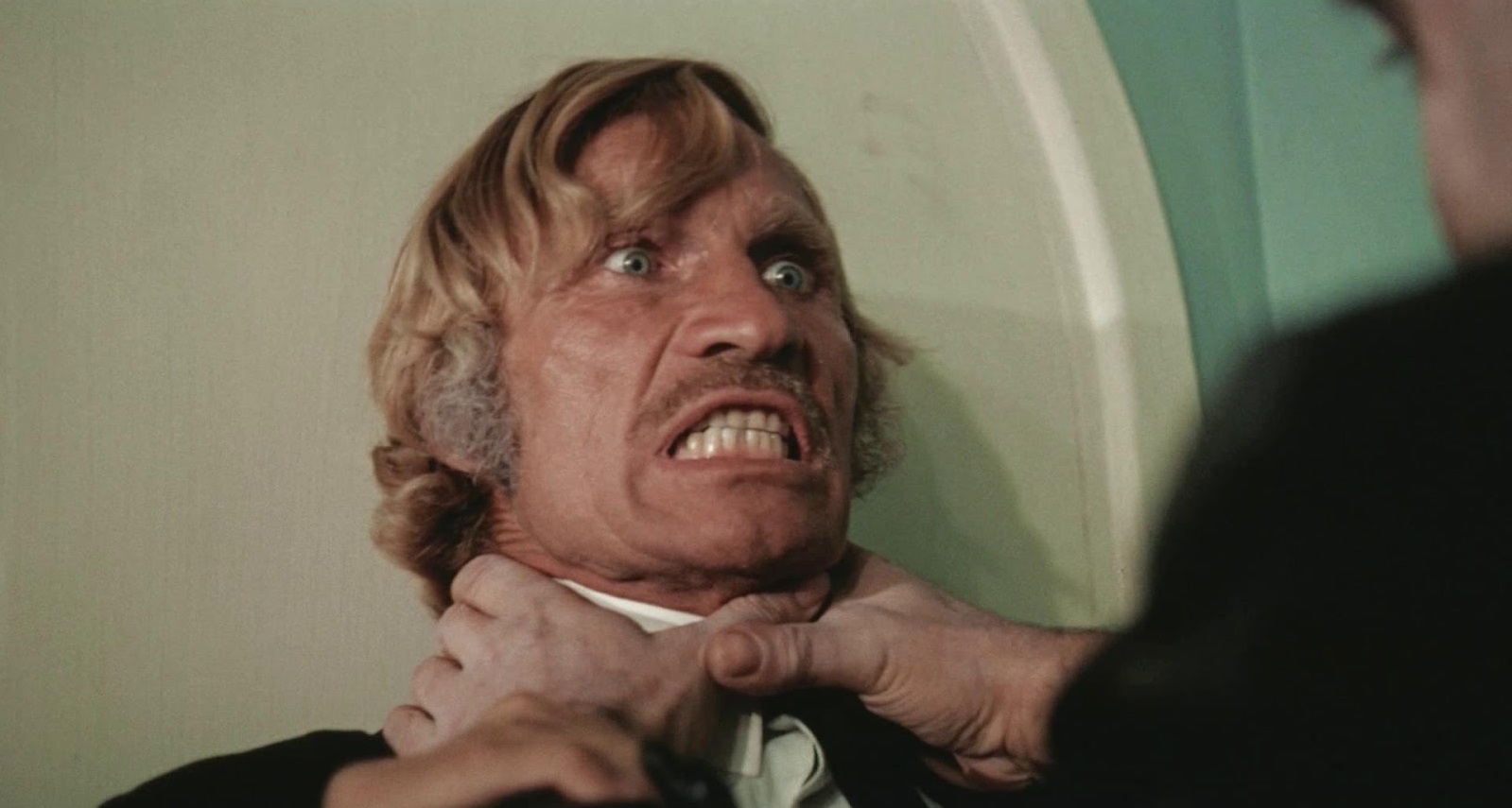 There is also the appeal to the 1970s grindsploitation market with the insertion of a number of naked bodies, although perversely almost all of them are women either being attacked by the monster or are dead. Beyond this, Mario Mancini fails to direct in any interesting way and Frankenstein '80 is dreary. The film is further crippled by the terrible and inarticulate dubbing of most continental films of this era.
John Richardson is an adequate leading man. Richardson was a British actor who appeared in a couple of Hammer Films with She (1965) and One Million Years B.C. (1966) but mostly worked in Italy, in particular appearing in the influential Black Sunday (1960). The more unusual piece of casting is Gordon Mitchell as Dr Frankenstein. Mitchell was a former US bodybuilder who gained a fame in various Italian peplum films of the 1960s. Seeing him here with tall, bony beanpole figure, looking about sixty years of age and with long curly blonde hair and piercingly intense eyes, he looks a very different Frankenstein – certainly, you would never peg him as being a former Hercules.
---
Trailer here
---