(Terrore! Il Castello delle Donne Maldette)
---
Crew
Director/Producer – Robert H. Oliver [Dick Randall], Screenplay – William Rose, Mark Smith & Roberto Spano, Photography – Mario Mancini, Music – Marcello Gigante, Makeup – John Amadei, Art Direction – Mario Ciccarella. Production Company – Classic Films International.
Cast
Rosanno Brazzi (Count Frankenstein), Michael Dunn (Genz), Christiane Royce (Krista Lauder), Edmund Purdom (Inspector), Simon Blondell (Maria Frankenstein), Loren Ewing (Goliath), Alan Collins (Hans), Boris Lugosi (Ook), Xiro Papas (Kreegin), Gordon Mitchell (Igor), Robert Marx (Koerner), Eric Mann (Eric), Laura De Benedittis (Valda)
---
Plot
Count Frankenstein has taken the body of a Neanderthal killed by a mob of villagers and is trying to revive it in his laboratory. However, Frankenstein's grave robbing activities have attracted the attention of the local inspector. Suspicion falls on Frankenstein after the footprint of his dwarf servant Genz is discovered near a disturbed grave. Meanwhile, Frankenstein's daughter Maria returns from university with her friend Krista. Frankenstein is attracted to Krista after he finds she has an interest in the same fields he does. The depraved Genz is driven out of by Frankenstein and falls in with another caveman that he names Ook. Together the two of the abduct women from the village and take them to their cave.
---
In the 1970s, the Frankenstein film had been enjoying a considerable resurgence in popularity thanks to the efforts of Hammer Films and their string of Frankenstein films that had begun with The Curse of Frankenstein (1957). From 1969 onwards, there was a loosening of censorship standards around the world. During the early 1970s, a good many horror films began to develop much more explicitly R-rated content. So it should be no particular surprise among this that we had a bunch of Frankenstein films, usually continentally made, that were much more 'adult' in focus – see the likes of Lady Frankenstein (1971), Frankenstein '80 (1972), Andy Warhol's Frankenstein (1973), The Erotic Adventures of Frankenstein (1975) and Frankenstein – Italian Style (1977). Frankenstein's Castle of Freaks is another of these.
This is a film that feels as though it has been put together to exploit a fad rather than with any script. While Frankenstein engages in a series of experiments, the film seems to have taken what he does so much for granted that there is no actual scene where he revives his creation from the dead. And while we do get grave robbing scenes, there are no scenes with Frankenstein making a patchwork creation as he does in almost any other Frankenstein film. This also must be a first for a Frankenstein film in which the monster is a Neanderthal that lives in a nearby caves and is resurrected after being killed by a mob of villagers. All of this is interspersed with numerous interludes where the various girls of the show are seen in a state of undress.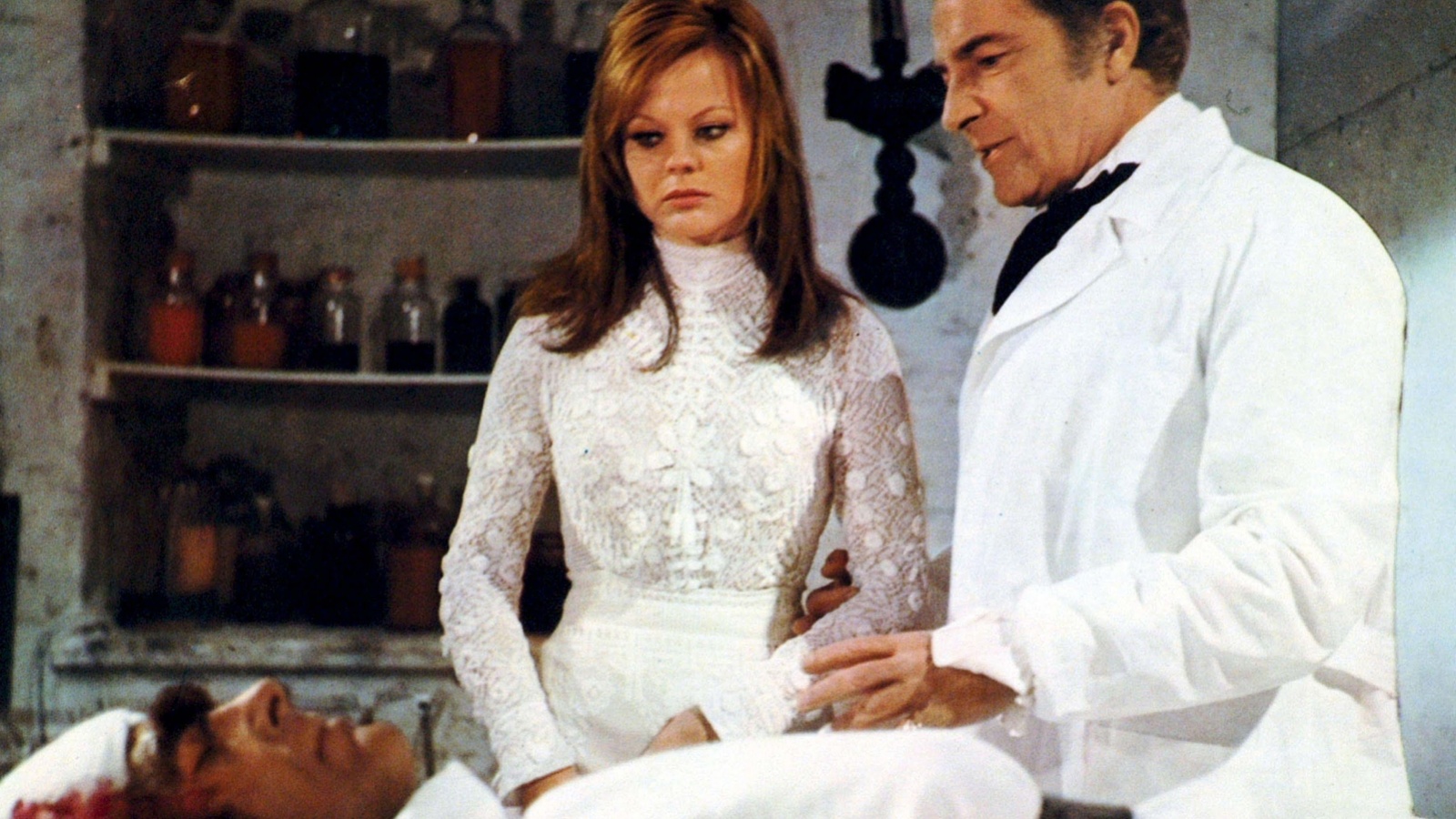 Much of the show is slow. A lot of it is taken up by Rosanno Brazzi's Frankenstein wooing his daughter's fiend Christiane Royce and seeing her as someone like-minded. Another quite substantial section of the film is taken up by the dwarf Michael Dunn who is booted out of the castle and befriends a caveman, which he names Ook (the entertainingly named Boris Lugosi) and the two begin abducting girls – the scenes with Lugosi menacing captives leaves the film resembling something of the bad movie caveman classic Eegah (1962). There is a reasonable amount of time given over to the servants who appear to have been cast with evident non-native English speakers.
The cast includes Italian actor Rossano Brazzi, known for numerous parts in Italian and English-language films ranging from The Barefoot Contessa (1954) to The Italian Job (1969) and The Final Conflict (1981), as Frankenstein; dwarf actor Michael Dunn who had appeared as Miguel Loveless in tv's The Wild, Wild West (1965-9) and films such as Murders in the Rue Morgue (1971) and The Mutations (1974) who actually died before the film was released; British actor Edmund Purdom who appeared in a lot of continental B exploitation fare from the 1970s to the 1990s and even directed the slasher film Don't Open Till Christmas (1984) as the police inspector; and Gordon Mitchell, an American bodybuilder who had appeared as Hercules and Maciste in various of the Italian peplum films of the 1960s.
Frankenstein's Castle of Freaks was the sole directorial outing of Dick Randall, hiding behind the pseudonym of Robert H. Oliver. Between the 1960s and 1990s, the American-born Randall produced a number of low budget films around the world in numerous exploitation genres (from softcore to action, martial arts and horror). As producer, Randall's other genre works include:- Eve the Wild Woman (1968), The Mad Butcher (1972), The Demon Lover (1972), The French Sex Murders (1972), Crocodile (1978), Death Dimension (1978), Supersonic Man (1979), The Clones of Bruce Lee (1980), Invaders of the Lost Gold (1982), The Return of E.T. (1983), Spasms (1983), Don't Open Till Christmas (1984), Space Warriors 2000 (1985), Slaughter High (1987), The Urge to Kill (1989) and Living Doll (1990).
---
---