---
Crew
Director – Richard Cunha, Screenplay – H.E. Barrie, Producer – Marc Frederic, Photography (b&w) – Meredith Nicholson, Music – Nicholas Carras, Special Effects – Ira Anderson, Makeup – Harry Thomas. Production Company – Layton Film Productions, Inc.
Cast
Donald Murphy (Oliver Frank/Frankenstein), Sandra Knight (Trudy Morton), Felix Locher (Carter Morton), John Ashley (Johnny Bruder), John Zaremba (Lieutenant Boyle), Wolfe Barzell (Elsu), Sally Todd (Suzie Lawler), Harold Lloyd Jr (Don), Robert Dix (Detective Dillon)
---
Plot
Trudy Morton finds that both she and a friend are having identical dreams about a hideous female monster. Trudy's uncle Carter is a scientist and has employed the mysterious Oliver Frank as his assistant. Oliver is in fact a descendent of the Frankenstein family. Oliver pushes Carter to conduct a series of break-ins to obtain the degenerol he needs for his research. While Carter is gone, Oliver gives Trudy a drink that transforms her into the very monster that she sees in her dreams. Oliver, with the aid of the gardener Elzu, a faithful retainer of the Frankenstein family, kills a woman. He then places her brain in a body and resurrects it, the first time a Frankenstein has brought a female creation to life.
---
Frankenstein's Daughter came out in the late 1950s. This was the era when the initial rush of films created by Universal's Frankenstein (1931) had dissipated into various half-hearted monster team-ups in the 1940s. Hammer Films had sparked off huge renewed interest with their remake of The Curse of Frankenstein (1957), which in turn led to a series of sequels.
Clearly, interest was still high in the Frankenstein series and throughout the 1950s and 60s, other filmmakers began to produce various distaff Frankenstein films with the likes of I Was a Teenage Frankenstein (1957), Frankenstein 1970 (1958), Jesse James Meets Frankenstein's Daughter (1966), Frankenstein Conquers the World (1966), Frankenstein on Campus (1969), Dracula vs. Frankenstein (1971) and Lady Frankenstein (1971), while the monster made appearances in the ring with Santo in several Mexican wrestling films and had his appearance borrowed by the patriarch of the family in tv's The Munsters (1964-6). The fact that the Mary Shelley novel was in public domain meant that filmmakers were free to borrow without any concern for violating the copyright of the Universal or Hammer films.
Frankenstein's Daughter is often held to be a Golden Turkey classic and has been nominated as the Worst Film to Ever Bear the Frankenstein Name (although to be fair, there are a substantial number of other contenders for that role). In most regards, Frankenstein's Daughter is a typical cheapie that was being produced in this era and is about average for a Z-budget film of the day.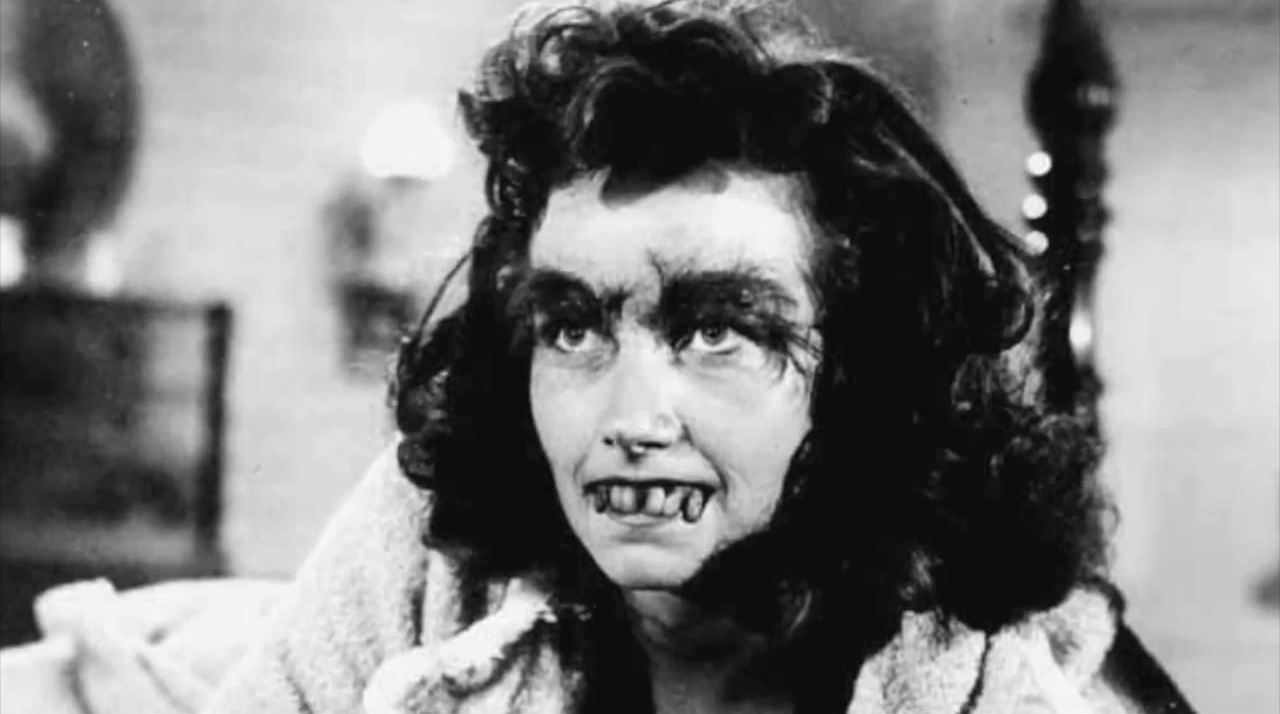 The female monster looks surprisingly similar to the vampire monster that turned up in Herman Cohen's Blood of Dracula (1957) the year before. Its pasty, gnarly face and laughable fried egg eyes produce laughter when it turns up on screen – apparently the makeup man was not even aware that it was meant to be a female monster when designing it. On the plus side, at least the Frankenstein monster, when seen, comes with some suitably hideous makeup. Donald Murphy also plays with a ruthless charisma as the Frankenstein descendent that is undeniably effective.
The film is notable for some of its dialogue howlers. At one point, the monster is described as "a terrible looking creature in a bathing suit." Donald Murphy's Frankenstein is much more of a sexual animal than previous characterisations – he makes crude advances on the heroine (Sandra Knight), while he kills Sally Todd after she agrees to go "parking" with him (but no more than that). He gets wonderfully arrogant lines like: "From here on, I decide what is evil," or announcing to Sandra Knight "You've always treated me like a monster, Trudy. Now you're going to be one."
Frankenstein's Daughter also follows on in the vein of monster movies that adopted a youth focus beginning with I Was a Teenage Werewolf (1957) and the aforementioned I Was a Teenage Frankenstein and features young leads and seemingly requisite scenes featuring a rock'n'roll band. In this regard, John Ashley, a teen star, later famous in the Beach Blanket films and a series of Filipino horror films, is top-billed but only has a minor role. Heroine Sandra Knight never went onto much of an acting career and her footnote in history is largely that of marrying Jack Nicholson a few years later.
Frankenstein's Daughter is one of the films in the career of low-budget director Richard [E.] Cunha. Cunha also made She Demons (1958) about a monster-making Nazi mad scientist; Giant from the Unknown (1958) about a giant Conquistador revived in the present-day; and Missile to the Moon (1959) about an expedition to the Moon encountering an all-female Lunar society.
---
Trailer here
Full film available online here:-
---