---
Crew
Director/Screenplay – Tom Holland, Producer – Herb Jaffe, Photography – Jan Kiesser, Music – Brad Fiedel, Visual Effects – Entertainment Effects Group (Supervisor – Richard Edlund, Creature Design – Randall William Cook & Steve Johnson), Special Effects Supervisor – Albert Lannutti, Michael Lantieri, Clayton Pinney & Darrell Pritchett, Production Design – John De Cuir Jr. Production Company – Columbia
Cast
William Ragsdale (Charlie Brewster), Chris Sarandon (Jerry Dandridge), Roddy McDowall (Peter Vincent), Amanda Bearse (Amy Petersen), Steven Geoffreys (Ed 'Evil' Thompson), Jonathan Stark (Billy Cole), Dorothy Fielding (Judy Brewster), Art J. Evans (Detective Lennox)
---
Plot
Teenager Charlie Brewster is a horror movie fan. He becomes suspicious when he sees the new next-door neighbour Jerry Dandridge moving a coffin into his basement. Later he sees Dandridge biting the neck of a woman. When the woman is found decapitated a few days later, Charlie becomes convinced that Dandridge is a vampire. He is treated with ridicule when he brings the police around, but at night Dandridge enters his room and threatens him. Terrified, Charlie goes to famous horror actor Peter Vincent, host of the tv horror show 'Fright Night', to ask his help but Vincent thinks he is crazy. Charlie's friends convince Vincent and Dandridge to a set-up where Vincent will throw tap water disguised as holy water over Dandridge and show Charlie that it is all a delusion. It works, only Vincent sees that Dandridge casts no reflection in his cigarette case mirror and becomes terrified. As Dandridge seduces Charlie's girlfriend Amy over onto his side, Charlie tries to convince Vincent to overcome his cowardice and help him destroy Dandridge before Amy is forever lost to him.
---
Around the time that An American Werewolf in London (1981) came out, I wondered how long it would take for someone to do for the vampire movie what American Werewolf had done with the werewolf genre – that of showing a man transforming into a wolf with top-drawer air-bladder makeup effects. Seemingly taking American Werewolf as its inspiration, Fright Night does just that – offering a mind-boggling array of state of the art man-transforming-into-bat transformation trickery. (Not to mention wolf-to-man dissolutions, prosthetic bat creatures and sundry melting). Like American Werewolf, Fright Night also offers a modern redefining of the vampire by placing it into contemporary surroundings.
In the 1980s, both American Werewolf and Fright Night came at the forefront of a new wave of horror movie rewrites that also included the likes of The Howling (1981), The Hunger (1983), Vamp (1986), The Lost Boys (1987), Near Dark (1987), Innocent Blood (1992) and Buffy the Vampire Slayer (1992). These were postmodern monster movies that integrated the classic monsters into the modern world.
The vampires here seems much more at home with the modern world than they did in the tentative modernisations that came in the late 60s/early 70s, seeming to have adeptly slotted into and made American suburbia their hunting ground. Yet these modernisations also recognise and directly responded to their predecessors as cinematic models, creating a sense of 'real monsters' that exist beneath the cinematic mythology. In Fright Night, it is a horror movie fan and a horror movie actor who are forced to confront a real vampire, an idea that seems a logical extension of American Werewolf where the central character was suddenly forced to confront the cinematic idea as something real.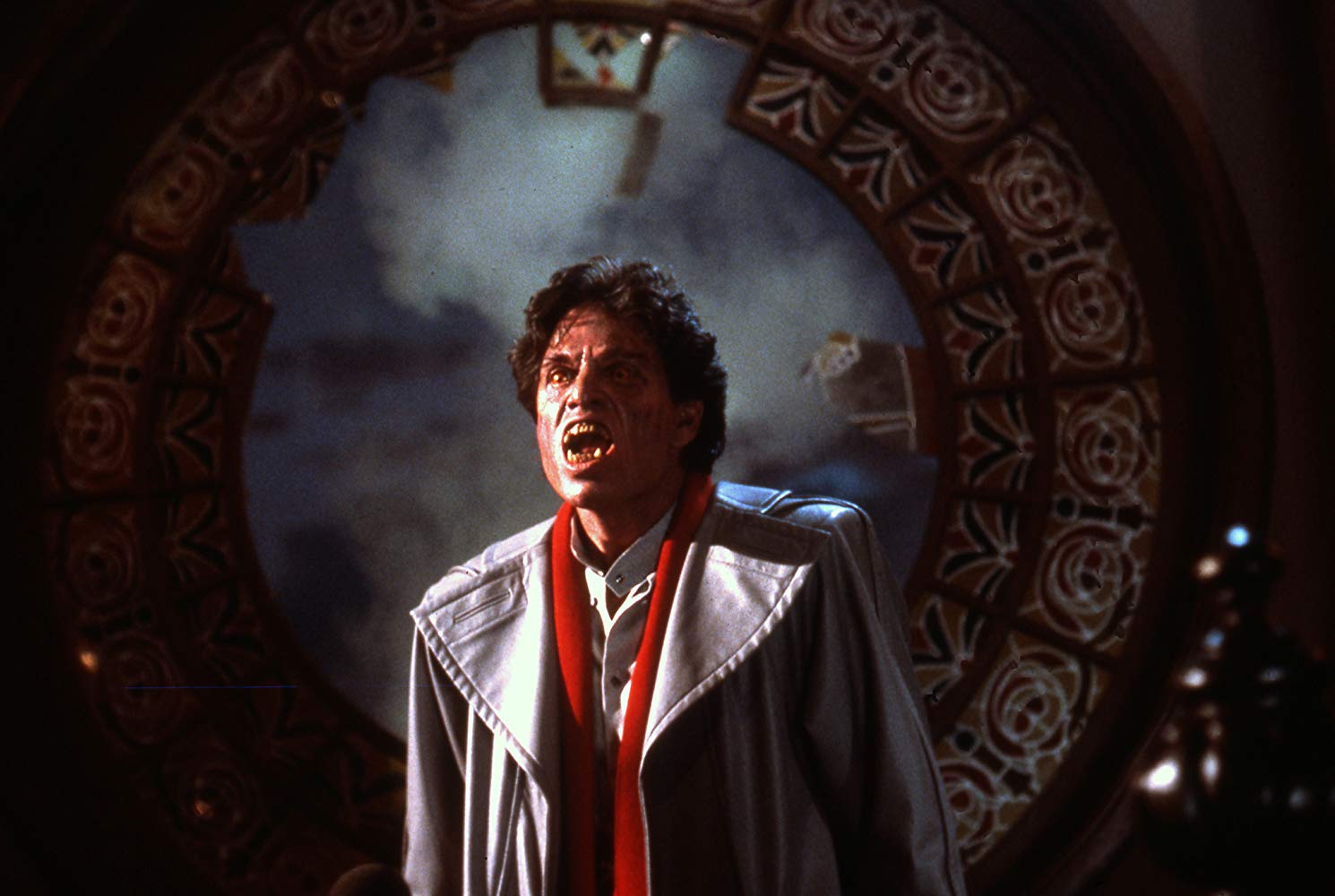 Fright Night is a commercially calculated film. Tom Holland's direction comes slick and measured, accompanied by a sometimes effective, other times intrusive rock score. This was borne out at the box-office where Fright Night was a big success. At heart though, Fright Night is a bland film. It is a horror film aimed at teen audiences, wrapped up in a slick package of then top-drawer effects. In the latter half, the effects almost entirely take over – strip these away and most of what happens in terms of plot in this time could be condensed into about quarter-of-an-hour's running time.
The film also strains to be hip, of which the casting of Chris Sarandon (the former husband of Susan whose surname she still retains) is particularly symptomatic – all handsome mocking charm and postured lip-curling taunts. Indeed, Chris Sarandon seems pretty, pouty and vaguely amused more than he does a significant threat.
Elsewhere, Roddy McDowall sets loose with undue regard the hamminess that besets most of his performances – the character was named Peter Vincent in homage to Peter Cushing and Vincent Price, but, with the exception of It! (1966) and The Legend of Hell House (1973), McDowall has no background in the horror genre and the casting lacks the resonance it would have had they cast one of the genre legends.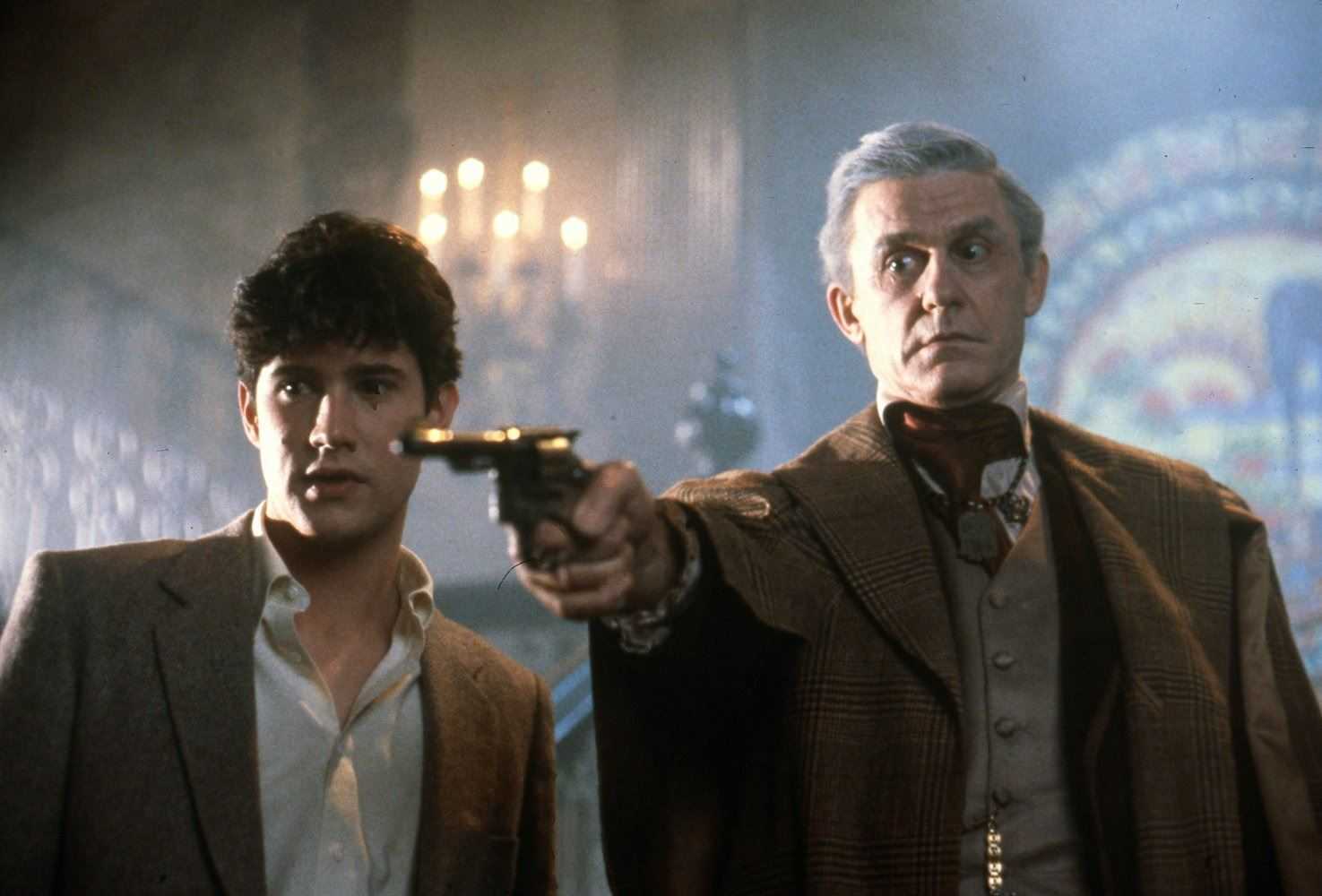 Steven Geoffreys' cackling, eye-rolling turn as Evil only impresses by the awfulness of the performance. The virginal innocent heroine was played by Amanda Bearse who a few years later became a regular on tv's Married with Children (1987-97) and then one of the few openly Out actresses in Hollywood.
There was an okay sequel Fright Night Part 2 (1989), also featuring Roddy McDowall and William Ragsdale. There was a remake with Fright Night (2011) featuring Colin Farrell as Jerry Dandridge, David Tennant as Peter Vincent and Anton Yelchin as Charlie. This in turn led to a cheaper sequel (in actuality more of another remake) Fright Night 2 (2013) with Jaime Murray as a female vampire named Gerri Dandridge.
Fright Night was the directorial debut of screenwriter Tom Holland who had previously written The Initiation of Sarah (1978), Class of 1984 (1982), The Beast Within (1982), Psycho II (1983), Scream for Help (1984) and Cloak and Dagger (1984). Holland subsequently went onto direct Child's Play (1988), which started off the Chucky franchise; the psycho secretary tale The Temp (1993); and the Stephen King adaptations The Langoliers (mini-series, 1995), Thinner (1996) and Rock, Paper, Scissors (2017).
---
---