---
Crew
Director – Jordan Rubin, Screenplay – Al Kaplan, Jon Kaplan & Jordan Rubin, Producers – Evan Astrowsky, Chris Bender, Chris Lemole, J.C. Spink, Jake Weiner & Tim Zajaros, Photography – Jonathan Hall, Music – Al Kaplan & John Kaplan, Visual Effects – HOAX Films (Supervisor – Rick Sander), Opening Titles Animation – Ana Maria Alvarado, Special Effects Supervisor – Lou Carlucci, Zombeaver Puppets & Effects – Creature Effects, Inc. (Supervisor – Mark Rappaport), Makeup Effects Supervisor – Greg Soloman, Production Design – Frederick Waff. Production Company – Armory Films/Benderspink/Hypotenuse Pictures.
Cast
Rachel Melvin (Mary Dougherty), Cortney Palm (Zoe), Lexi Atkins (Jenn), Hutch Dano (Sam), Jake Weary (Tommy), Peter Gilroy (Buck), Rex Linn (Smyth), Phyllis Katz (Myrna Gregerson), John Mayer (Luke), Bill Burr (Joseph), Brent Briscoe (Winston Gregerson)
---
Plot
Two drivers of a toxic waste clean-up vehicle hit a deer on the road and, unseen by them, a canister of waste falls off the back of the truck into the river. Mary head up to the family cabin in Ashwood with Zoe and Jenn, two friends from university, for a girl's weekend to help Jenn get over the upset of discovering a picture of her boyfriend Sam with another girl that was posted on social media. They are interrupted as their three boyfriends, including Sam, turn up and are determined to turn everything into a party. Jenn is then attacked in the bathroom by a mutant beaver. Even though she kills it, it returns to life. While swimming at the lake the next morning, they are attacked by other mutant beavers and Tommy has his foot bitten off. As the beavers mass outside, they barricade themselves in the cabin, trying to figure a way to get Tommy to hospital. However, the beavers start to burrow up through the floorboards and then those bitten transform into zombified beaver hybrids.
---
The tongue-in-cheek animal attack/monster movie has taken off in the late 2000s where works such as Mega Shark vs Giant Octopus (2009), Piranha (2010) and Sharknado (2013) have precipitated a great many absurd and wilfully ridiculous films. Equally, Shaun of the Dead (2004) led the way towards an increasingly more ridiculously titled or conceptually mashed-up zombie film with the likes of Zombie Strippers! (2008), Attack of the Vegan Zombies! (2009), Romeo and Juliet vs the Living Dead (2009), Big Tits Zombie (2010) and Santa Claus vs. the Zombies (2010) to name but a sample handful. It is probably inevitable that the two meet and Zombeavers would appear to be that occasion.
The characters in Zombeavers set in with an appealingly sarcastic bite. Director Jordan Rubin, previously a gag writer for Carson Daly and Craig Kilborn, gets a mocking realism to the scenes of them getting drunk and partying – lines like: "We need to have a safety orgy. You know, like in the Old West." Even though the menace itself looks rather ridiculous in the early sections, Rubin generates fair tension – like with Lexi Atkins being attacked on top of the kitchen island by a beaver that has been cut in half; and especially the scene where Peter Gilroy is goofing around in the water and starts yelling where you expect he is still pranking only to be pulled out of the water with his foot bitten off. What we have is a gonzo monster movie that is quite a bit better directed and acted than the usual piece of hackwork designed to end up on the Syfy Channel.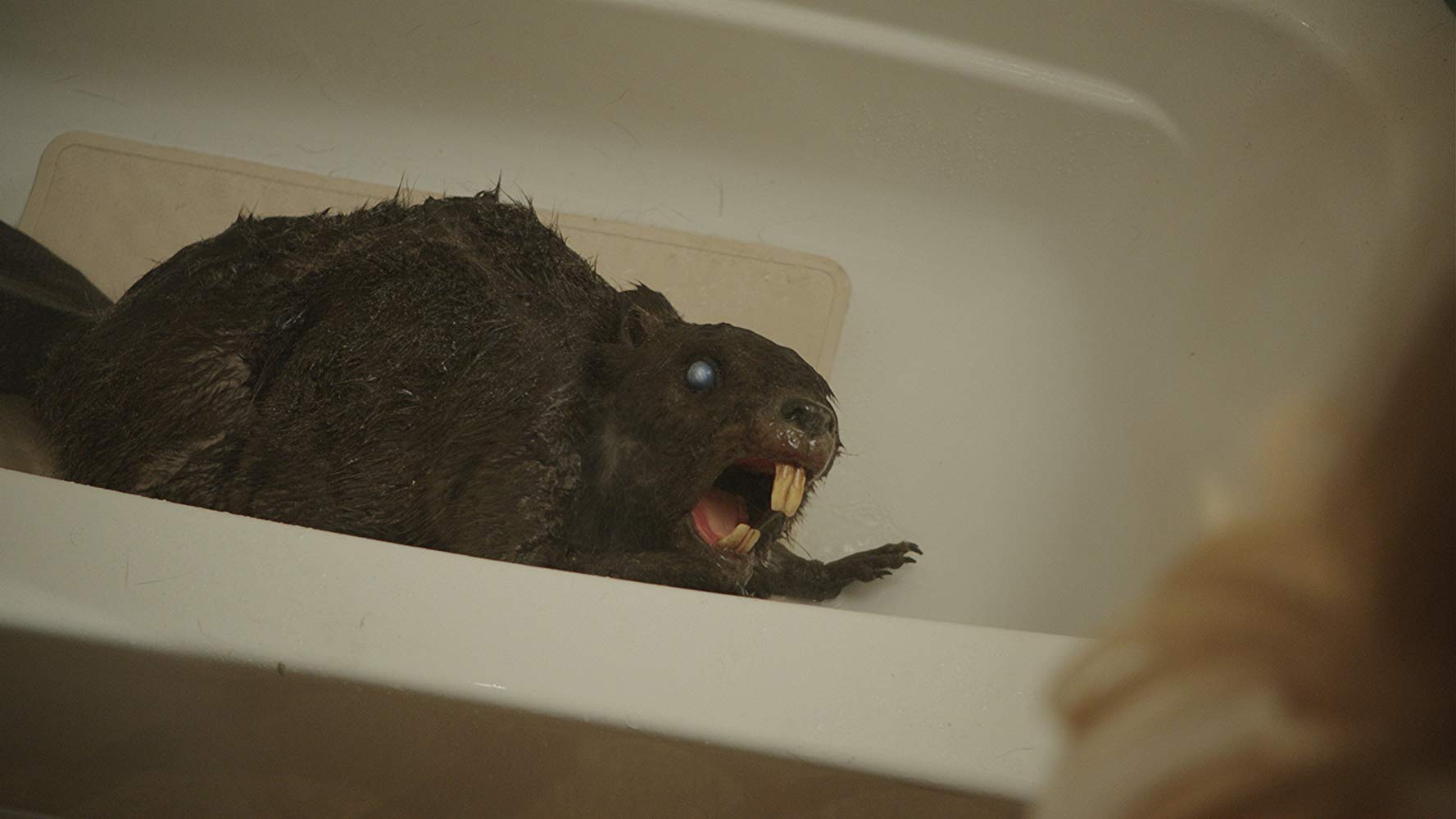 It is in the latter half that Zombeavers hits its stride. The beaver effects are variably convincing. However, it is the scenes with people transformed into zombeavers that prove sidesplitting. There is the deliriously absurd image of the affected Lexi Atkins in a bikini squatting outside the door with her paddle thumping the floor, or jumping up through the bathroom floorboards to bite off boyfriend Hutch Dano's dick as he makes out with Rachel Dougherty. Elsewhere we get wonderfully nonsensical images with the group playing Whack a Mole as the beavers pop up and down through the floorboards, or with humans and mutant beavers chewing through trees together.
The only downside is that the film runs to a mere 75 minutes – the IMDB lists a running time of 85 minutes so maybe there is a much longer and/or unrated cut out there somewhere. Even then, this is padded with several minutes of bloopers at the end.
Jordan Rubin subsequently went on to direct The Drone (2019) about a killer drone and the tv series Critters: A New Binge (2019).
---
---