---
Crew
Director/Screenplay – Jeff Baena, Producers – Elizabeth Destro & Michael Zakin, Photography – Jay Hunter, Music – BRMC, Visual Effects Supervisor – Matthew Merkovich, Special Effects Supervisor – Jeff Elliott, Production Design – Michael Grasley. Production Company – American Zoetrope/Abbolita Productions/Starstream Entertainment/XYZ Films.
Cast
Dane DeHaan (Zach Orfman), Aubrey Plaza (Beth Slocum), John C. Reilly (Maury Slocum), Matthew Gray Gubler (Kyle Orfman), Molly Shannon (Geenie Slocum), Paul Reiser (Noah Orfman), Cheryl Hines (Judy Orfman), Anna Kendrick (Erica Wexler)
---
Plot
Zach Orfman is depressed following his girlfriend Beth Slocum's death as a result of a snakebite. He spends his time with Beth's parents only for them to abruptly seem to be avoiding him. He then thinks he sees Beth inside their house and becomes obsessed with trying to get to her. Forcing his way in, he finds Beth alive again and seemingly unaware that she was dead. They resume their relationship but Beth's parents seem very anxious not to let her go outside. Zach starts to find Beth's behaviour increasingly erratic, she prone to violent fits, her body starting to decay. As he and the Slocums try to cling to a sense of normalcy with Beth, society starts to collapse as the dead everywhere come back to life.
---
During the latter half of the 2000s, the zombie film has enjoyed a popularity unlike it ever has before. The success of films like 28 Days Later (2002), Dawn of the Dead (2004) and Shaun of the Dead (2004), has produced a vast horde of imitators. Most of these disappeared into a morass of cheap, independently produced gore fests where the genre soon showed that it had an extremely limited number of plots and fresh ideas available to it. The genre recovered from this by branching out into a series of wilfully bizarre and incongruous genre crosshatches and mash-ups – see titles such as Poultrygeist: Night of the Chicken Dead (2006), Zombie Cheerleader Camp (2007), Zombie Strippers! (2008), Santa Claus vs. the Zombies (2010), Bong of the Dead (2011) and Cockneys vs Zombies (2012), among others.
Beyond the gonzo mash-up, the zombie film of the 2010s seems to have been searching for new directions. One of these has been that it has alighted on the idea of the zombie relationship drama. We have seen several offerings in this vein with the comedic A Little Bit Zombie (2012) and Burying the Ex (2014) and the more serious Zombie Honeymoon (2004), Make-Out With Violence (2008) and the quite amazing Nina Forever (2015), as well as the earlier comedy in a very similar vein My Boyfriend's Back (1993). The big hit for the genre was the big Young Adult zombie romance Warm Bodies (2013).
Life After Beth calls itself a 'zom-rom-com'. It approaches the same general territory to both A Little Bit Zombie and Warm Bodies. The main difference in comparison to Warm Bodies is that that film was a mainstream effort pitched to Young Adult audiences whereas Life After Beth comes with far more of an indie film sensibility – indeed, this is a film that prominently comes co-produced by American Zoetrope, the production company of no less than Francis Ford Coppola.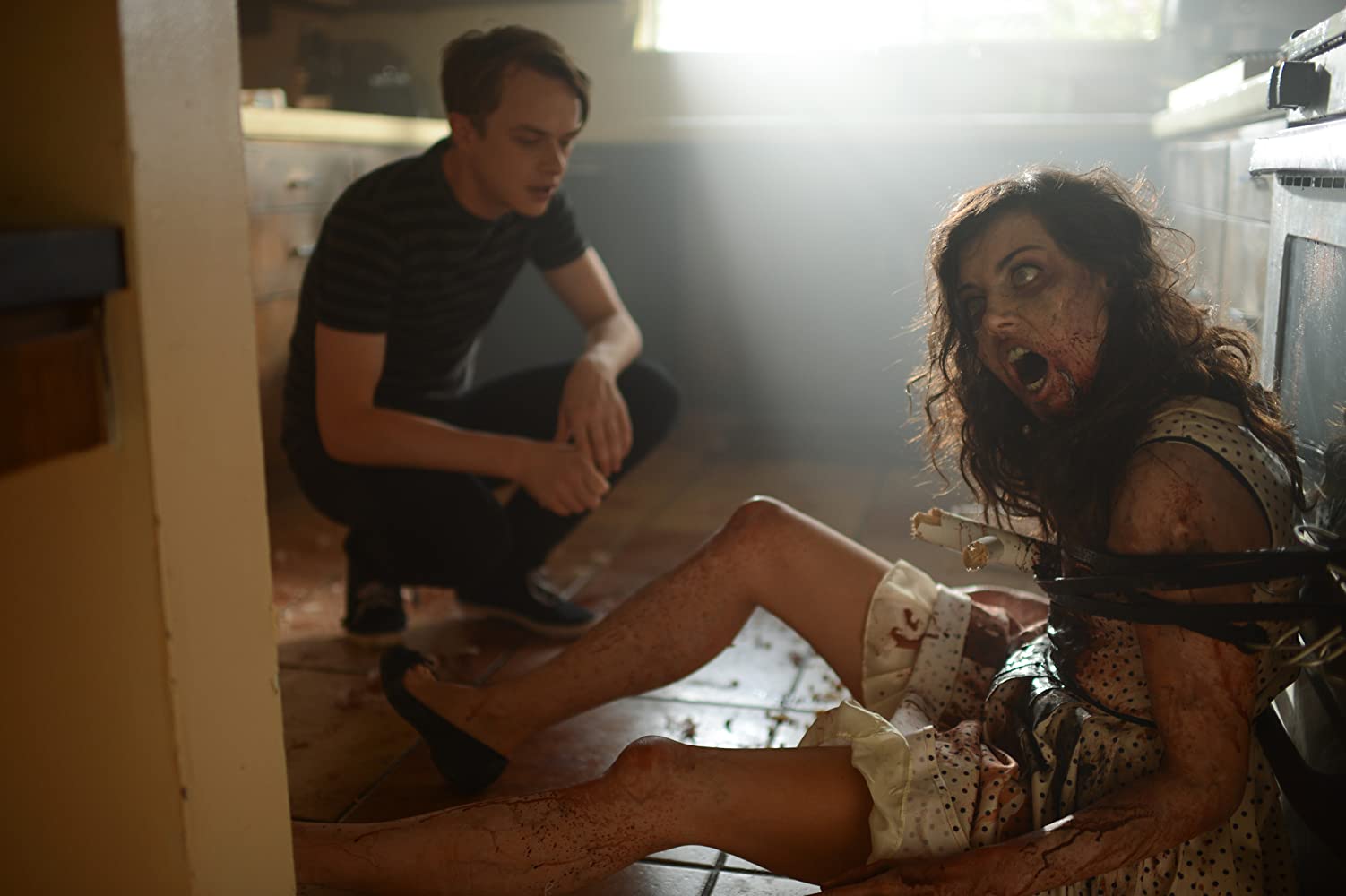 Life After Beth sets in with an appealing wackiness. Dane DeHaan's gloom and depression alternates with the increasing absurdity of him trying to deal with girlfriend Audrey Plaza's return from the dead – he keeps nervously asking "is she going to eat me?" The zombies are non-traditional, far more in control of their faculties – perhaps the nearest resemblance is to the returned dead in They Came Back (2004) who seem to be just slightly confused normal people going through the motions, more akin to people suffering brain damage than ravenous flesh-eating Romero-modelled zombies.
Rather than hunt the living, the zombies here seem to do the most natural things and just want to return home and go about their familiar lives – sort of like Bub from Day of the Dead (1985) but with far more of their wits about them. The zombie apocalypse occurs here but it seems more comic than it ever does fully horrific. The film arrives at the quirkily surreal final image of a fully zombified Aubrey Plaza staggering about with a stove chained to her back. On the other hand, you feel that Life After Beth is not quite as funny as it promises to be, while the ending it arrives is never one that feels particularly satisfying.
Aubrey Plaza, who is first billed, was one of the appealing leads of Safety Not Guaranteed (2012) and a regular on tv's Parks and Recreation (2009-15). She is the girlfriend of the film's director/writer Jeff Baena, whose sole previous screen credit was the screenplay for I Heart Huckabees (2004), and he has clearly fashioned Life After Beth as a screen vehicle for her. Here she shucks off her quirky hipster poster child image and plays maybe the world's most annoying girlfriend ever. This has its amusements but one feels that the better works are ones that employ Plaza in wryly ironic mode.
Opposite her is Dane DeHaan, who first came to attention as the troubled teen with super-powers in Chronicle (2012) and then became the new Green Goblin in The Amazing Spider-Man 2 (2014). He is well suited to playing a preppie kid, although with DeHaan's piercing blue eyes, the character emerges as somewhere between potential serial killer and moody good kid having a bad week.
---
---