---
UK. 2001.
Crew
Director – Nick Hamm, Screenplay – Ben Court & Caroline Ip, Based on the Novel After the Hole by Guy Burt, Producers – Jeremy Bolt, Lisa Boyer & Pippa Cross, Photography – Dennis Crossan, Music – Clint Hansell, Music Supervisor – Liz Gallacher, Special Effects Supervisor – Graham Longquist, Makeup Design – Sarah Monzani, Production Design – Eve Stewart. Production Company – Cowboy Films/Granada Films/Impact Pictures.
Cast
Thora Birch (Liz Dunn), Desmond Harrington (Mike Steel), Daniel Brocklebank (Martin Taylor), Laurence Fox (Geoff Bingham), Keira Knightley (Frankie Alton Smith), Embeth Davidtz (Dr Phillippa Horwood), Steven Waddington (DCS Tom Howard)
---
Plot
Liz Dunn staggers back to the exclusive English boarding school from where she and three others have been missing for several days. She appears to be suffering from traumatic shock and remains silent about what happened. Psychologist Phillippa Horwood attempts to get through to her. Liz tells Phillippa her story. Martin Taylor, a fixer around the school, came up with a plan for her to spend time with Mike Steel, the guy she had a crush on. Over a holiday weekend, she and the others fooled the school into believing they had gone home, while at the same time telling their parents that they were on a field trip. Martin then locked them in an old abandoned bunker in the woods. However, at the end of the three days, Martin failed to return and they realised that he was playing a deadly game with them. Martin is now arrested but assiduously denies doing anything. As Phillippa tries to ascertain the truth, she pushes Liz to remember how the others died and realises that there is a side of the story that Liz is not telling her.
---
This British film is a modest stab at a psycho-thriller. It was highly acclaimed in some places – at least according to the videocassette cover (I admit I was fooled by the prominently displayed legend "pitch black horror"). It has imported Thora Birch from American Beauty (1999) in the central role (affecting a wavering British accent) and Embeth Davidtz in a minor part as a psychologist for international marquee value. Also present, playing one of the girls, is Keira Knightley, just before she burst onto the scene as a major new discovery.
The Hole has an interesting premise – the pressure cooker situation of people imprisoned in a bunker. The script tells it in interesting ways – rather than a straight study of the psychology of the situation, it tells the story one way and then does a Rashomon (1950)-like subjective flip and doubles over to tell a more sinister alternate version of events. There is a certain deftness in doing so – especially in Thora Birch's performance, which changes from a physical wallflower in the first story to someone more worldwise and calculating in the second. It all arrives at a modestly effective downbeat ending.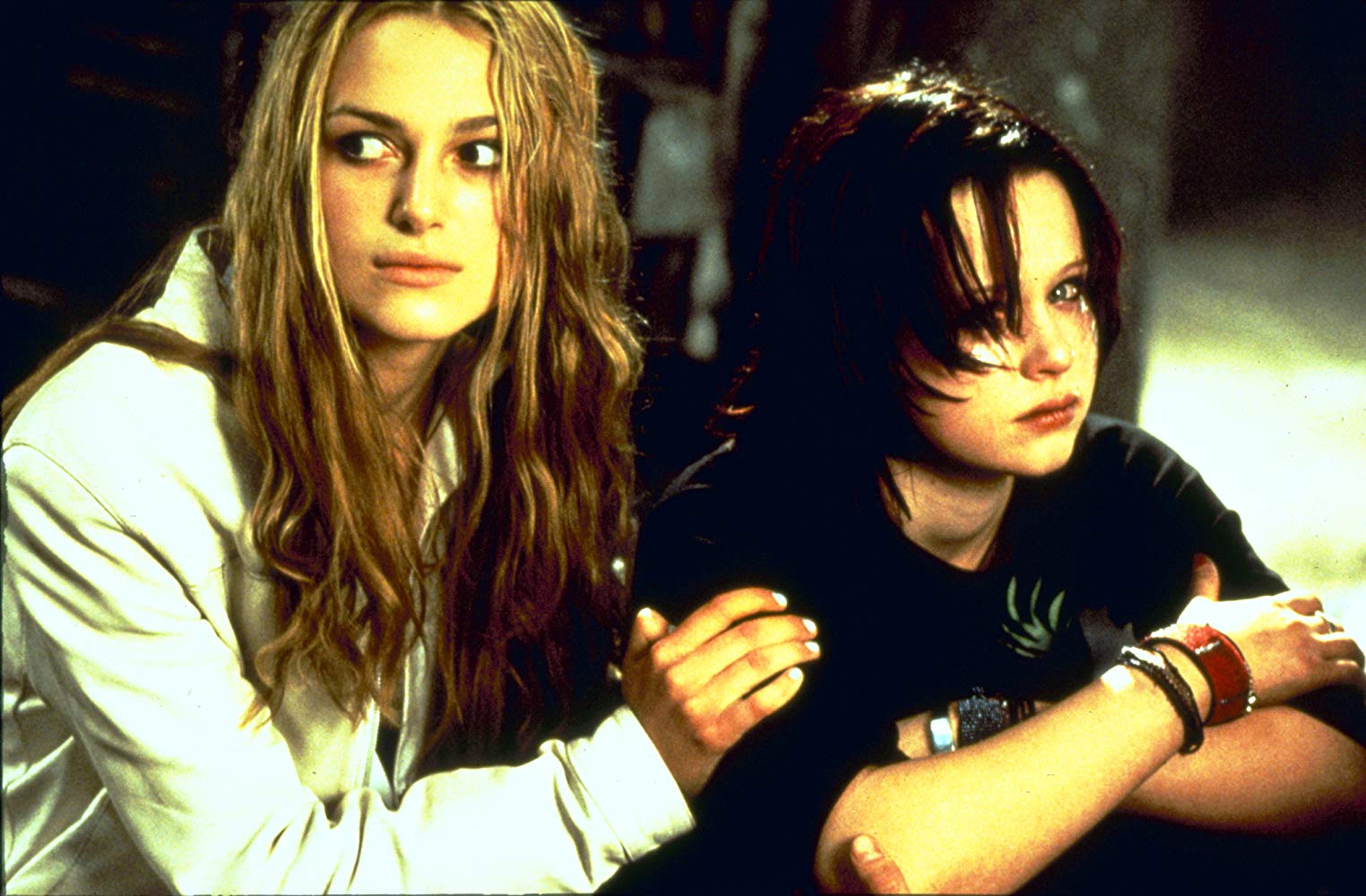 At the same time, the film is rather bland. The script touches the necessary dark places, but none of it ever seems to be there in Nick Hamm's direction. Certainly the killings, when they come, seem melodramatically contrived.
Director Nick Hamm was later brought to the US to make the cloning horror story Godsend (2004) and subsequently made the non-genre Killing Bono (2011) and The Journey (2016).
---
Trailer here
---