---
Crew
Director – Steve Beck, Screenplay – Richard D'Ovidio & Neal Marshall Stephens, Based on the 1960 Film 13 Ghosts Written by Robb White, Producers – Gilbert Adler, Joel Silver & Robert Zemeckis, Photography – Gale Tattersall, Music – John Frizzell, Visual Effects Supervisor – Dan Glass, Visual Effects/Animation – Cinesite (Supervisor – Michael Fink), Special Effects Supervisors – Charlie Belardinelli & Terry Senderhoff, Makeup Effects – Kurtzman Nicotero Berger EFX Group Inc (Supervisors – Howard Berger, Robert Kurtzman & Greg Nicotero), Production Design – Sean Hargreaves. Production Company – Dark Castle Entertainment.
Cast
Tony Shalhoub (Arthur Kriticos), Matthew Lillard (Dennis Rafkin), Embeth Davidtz (Kalina Aretsia), Shannon Elizabeth (Kathy Kriticos), Rah Digga (Maggie), F. Murray Abraham (Cyrus Kriticos), Alec Roberts (Bobby Kriticos), J.R. Bourne (Ben Moss)
---
Plot
Math teacher Arthur Kriticos is struggling to make ends meet and support his two children amid a host of bills, following the death of his wife. He then learns that he has just inherited a house in his late uncle Cyrus's will. The house proves to be an amazing construction of glass and clockwork and the solution to all their financial worries. Once there they encounter psychic Dennis Rafkin who tells them how Cyrus captured twelve ghosts and imprisoned them in the house. However, the house then comes to life, locking them in and releasing the ghosts.
---
Two years before making Thir13en Ghosts, Gilbert Adler, the producer of the Tales from the Crypt cable anthology series (1989-96) and director of Tales from the Crypt Presents Bordello of Blood (1996), along with producer Joel Silver, best known for The Matrix (1999) and various action films, and Robert Zemeckis, director of Back to the Future (1985) and Forrest Gump (1994), came together under the production banner of Dark Castle Entertainment to produce House on Haunted Hill (1999). House on Haunted Hill was a remake of legendary schlockmeister William Castle's House on Haunted Hill (1959). The three then returned to William Castle again under the Dark Castle banner with Thir13en Ghosts, which is a remake of Castle's 13 Ghosts (1960).
William Castle earned the nickname 'King of the Gimmicks' for his sensationalistic promotional gimmicks, which included winching skeletons across theatres and insuring audiences against dying of fright. In 13 Ghosts, he came up with a process called 'Illuso' where audiences could put on 3D glasses and see the ghosts. Most of William Castle's films were cheap and routinely made. Were Castle alive today, it would no doubt be of some surprise to him to see the films that he clearly regarded as disposable fodder being given a multi-million dollar overhaul.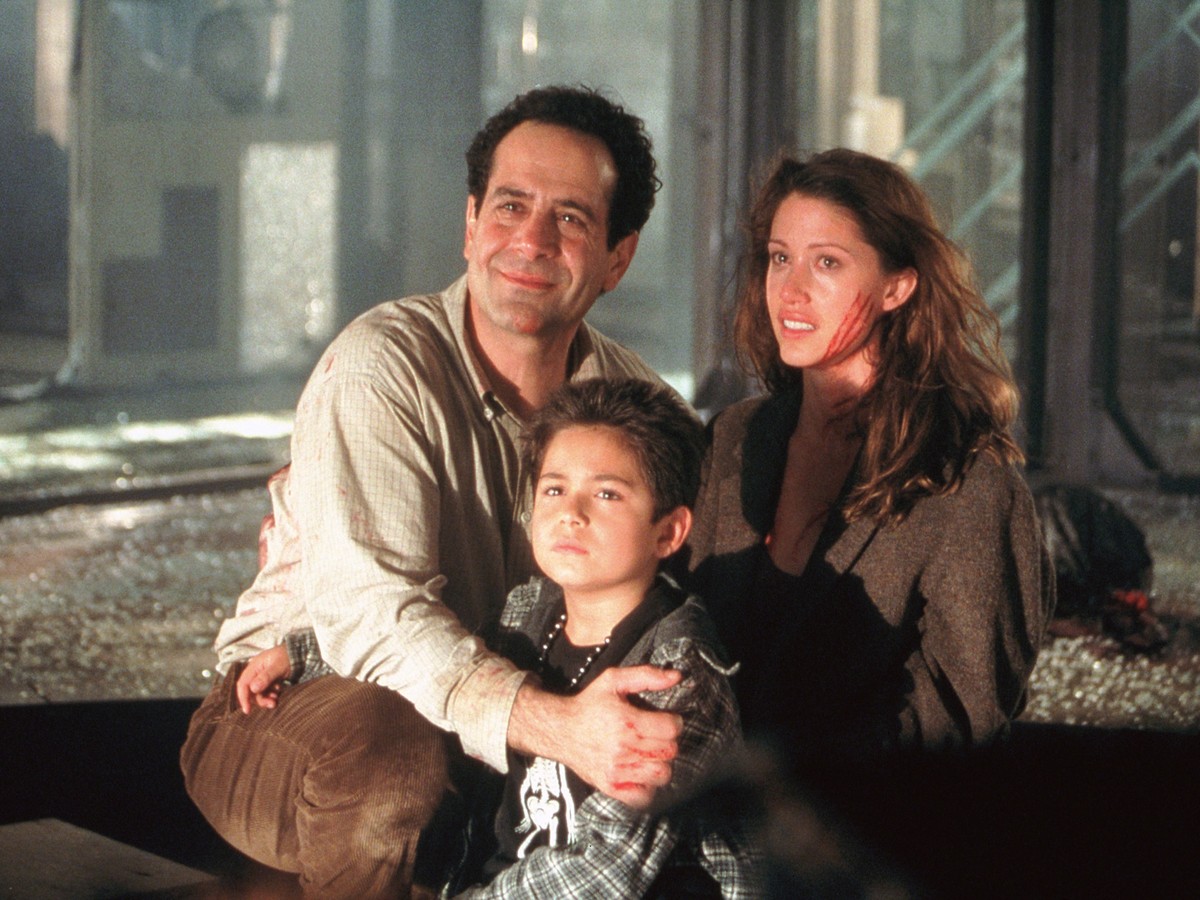 13 Ghosts was one of the most routine of William Castle's films, so the remake not being faithful to it could actually be regarded as an advantage. Certainly, the script touches bases with many of the essentials of the original and follows the basic plot set-up of the family fallen upon impoverished circumstances being offered their uncle's haunted house.
Welcomely the remake steers away from the dreary second half of 13 Ghosts, which turned from a haunted house film into a mundane thriller about a greedy lawyer hunting for money hidden in the house. The greedy lawyer does turn up but is killed off fairly early in the show. Thereafter, Thir13en Ghosts does exactly what the House on Haunted Hill remake did – it substitutes William Castle's unatmospheric spook show for a full arsenal of top Hollywood creature effects. The remake even manages to wind in Castle's ghost viewer gimmick.
Thir13en Ghosts was made by Steve Beck, a former Industrial Light and Magic visual effects art director who made his directorial debut with the film. Steve Beck does a fair job of wielding the arsenal of effects and shocks to make the film an enjoyable enough haunted house ride. The most amazing effect is the house itself, which has been created unlike any haunted house ever seen on screen before, built entirely with glass walls painted and sometimes glowing with cabbalistic symbols and ominously ticking clockwork pieces.
The best scenes occur early on when the ghosts are just starting to get loose – a scene where Shannon Elizabeth preens in a bathroom unable to see without her ghost viewer that the entire room is drenched in blood and a ghost girl is waiting in the tub; and the wonderfully ick effect of seeing a body being sliced in two by a glass door. K.N.B.'s ghost effects vary between the quite good and those that merely look like cast-off rubber Rob Zombie and Hellraiser (1987) copies.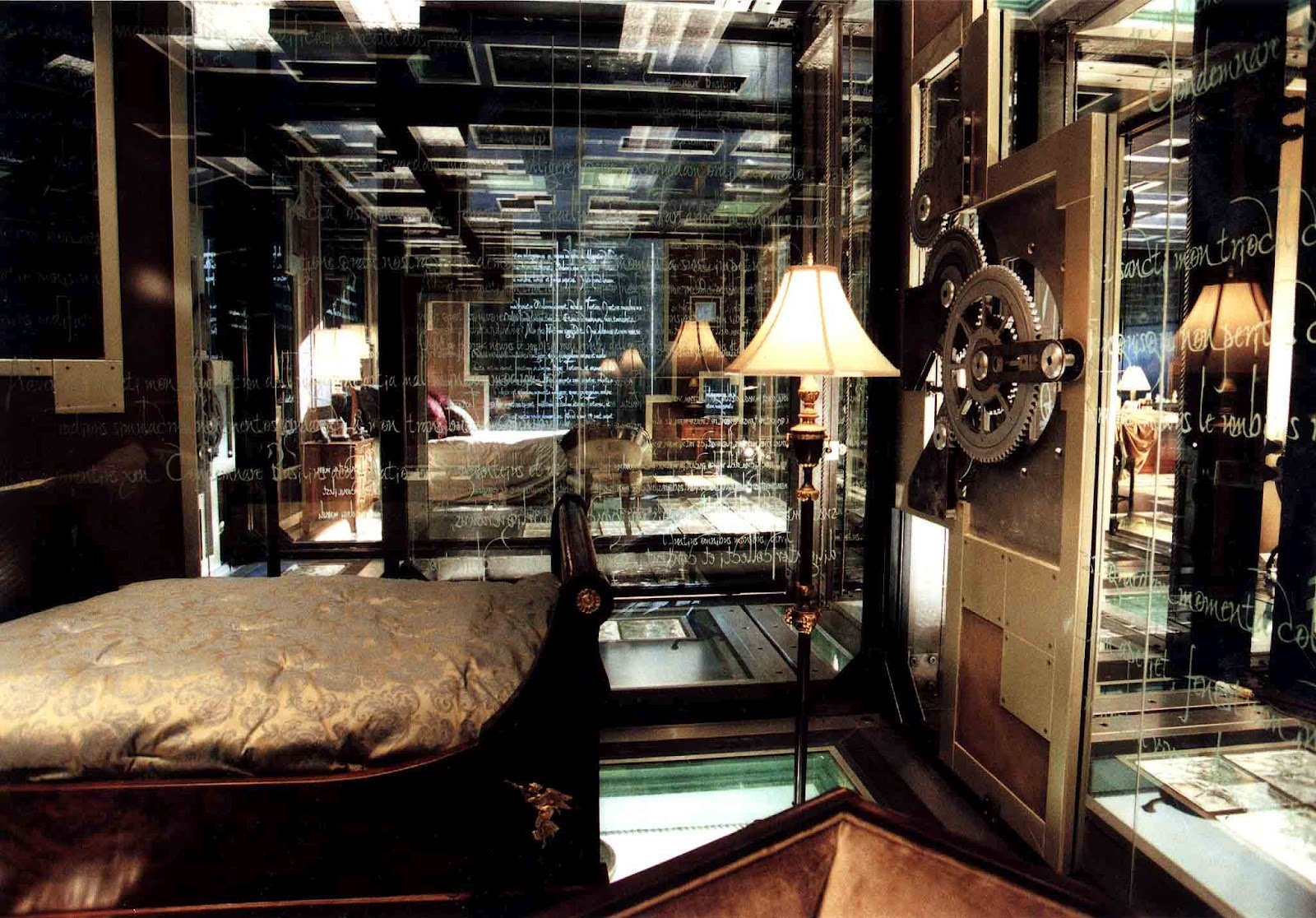 Unfortunately, once the ghosts get loose, the second half of the film becomes repetitive with Steve Beck dragging the show out with so much running around and so many slam bangs, explosions and ghost pop-up effects that it all tends to blur into much of a sameness.
In the end, Thir13en Ghosts delivers an amiable Halloween junkfood ride of pleasant flavour but little lasting substance. Hopefully Adler, Silver, Zemeckis and Dark Castle will continue on and remake other William Castle films. Fingers crossed, we may yet be treated to a big-budget remake of Castle's all-time classic The Tingler (1959).
Thirteen Erotic Ghosts (2002) was a copycat adult film released around the same time.
Next up for the Dark Castle team, along with director Steve Beck, was Ghost Ship (2002). Dark Castle, without Beck, then went onto Gothika (2003), House of Wax (2005), The Reaping (2007), Return to House on Haunted Hill (2007), The Hills Run Red (2009), Ninja Assassin (2009), Orphan (2009), Splice (2010), The Apparition (2012), The Factory (2012) and Seance (2021).
(Nominee for Best Production Design at this site's Best of 2001 Awards).
---
---