---
Ireland/UK/Sweden. 2011.
Crew
Director – David Keating, Screenplay – David Keating & Brendan McCarthy, Story – Brendan McCarthy, Producers – Brendan McCarthy & John McDonnell, Photography – Chris Maris, Music – Michael Convertino, Special Effects Supervisor – Gerry Johnston, Makeup Supervisor – Kaj Grönberg, Production Design – John Hand. Production Company – Hammer Films/Vertigo Films/Bord Scannan na Heireann (The Irish Film Board)/Exclusive Film Distribution/Swedish Film Institute/Film I Skane/RTE.
Cast
Aidan Gillen (Patrick Daley), Eva Birthistle (Louise Daley), Ella Connolly (Alice Daley), Timothy Spall (Arthur), Ruth McCabe (Peggy O'Shea), Amelia Crowley (Mary Brogan), Aoife Meagher (Deirdre Brogan), Briain Gleeson (Martin O'Shea), Dan Gordon (Mick O'Shea)
---
Plot
Patrick and Louise Daley have moved to the sleepy Irish country village of Wakewood following the death of their daughter Alice in a dog attack a year ago. Louise in particular is unable to get over the loss. When their car breaks down, they go to the nearby farm of Patrick's superior Arthur where Louise witnesses the locals conducting a strange ceremony. Afterwards, Arthur comes to them and tells them that he can raise Alice from the dead – although this can only happen for three days and afterwards they must pledge to remain in Wakewood. They agree to undergo the ceremony. This involves asking permission to use the body of a recently deceased man. The body is mutilated in a ritual before being burned and then cut open whereupon Alice is dragged out from the inside. They set about enjoying the three days they have with Alice. However, they have kept a secret from Arthur – and this is something that has caused Alice to come back not quite right.
---
In the 2010s, Hammer Films, once the staple of the English horror genre, has ridden the comeback trail and gained a good deal of interest with a spate of new horror films that have included Let Me In (2010), The Resident (2011), The Woman in Black (2012), The Quiet Ones (2014) and The Lodge (2019). Wake Wood is another of these Hammer releases. The stipulation that should be made is that Wake Wood is only a film being released under the Hammer banner in 2011 – in fact, it was produced in 2008 by various Irish production companies, with the aid of some Swedish financing, and Hammer's only involvement was as distributor after it was completed.
Irish director David Keating, who appears to have mostly made documentaries beforehand, does a rather good job. Unlike most contemporary Hollywood horror directors, Keating instinctively gets that effective horror is more about developing mood and drawing us inside a darkness than bombarding us with shock effects. Not that Keating fails to provide shock effects either – the opening moments contain a gruesome scene where Aidan Gillen must perform a caesarean section on a cow.
In no time, Wake Wood travels into a dark and disturbing space as David Keating takes us through the scenes where Timothy Spall with perfectly calm and ineffectual manneredness lays out the rules of the resurrection and then calmly asks them questions while making calculations on a strange abacus device. This is followed by Aidan Gillen and Eva Birthistle approaching Ruth McCabe at her husband's funeral to ask about using his corpse in the resurrection ceremony and then digging up their daughter's coffin in the middle of the night and breaking the fingers of the corpse to get back a personal item for use in the ceremony.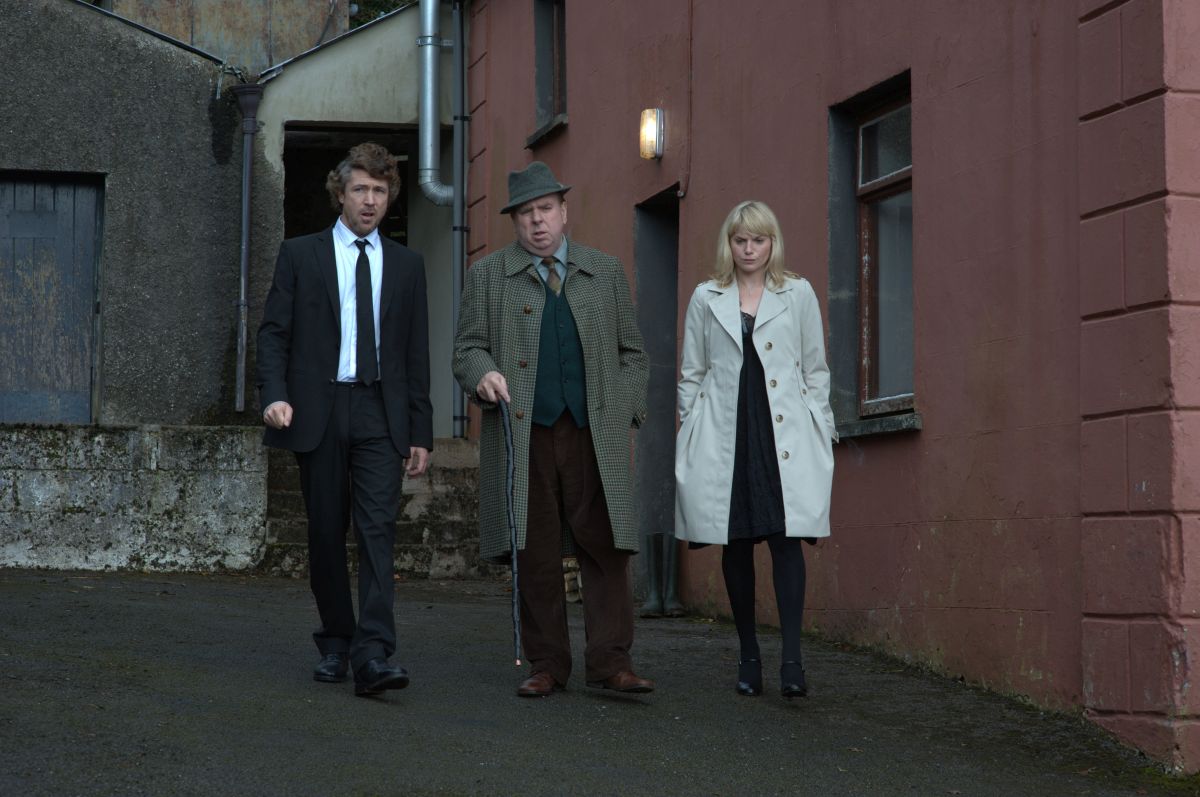 The ceremony itself has a compulsive fascination in its bizarreness – as we first see the dead man's body being carted in on the end of a forklift, which is then used to crush the body's thorax, followed by Aidan Gillen having to cut open and tear out the spinal column before breaking the jaw to place the personal item in the mouth, after which the body is covered in mud (or maybe even excrement), set alight and then cut open so that the resurrected Ella Connolly can be dragged out.
Of course, after the film has Ella Connolly resurrected, things proceed to get more horrifying. The script cannily keeps the secret that Aidan Gillen and Eva Birthistle are keeping from Timothy Spall and the others to itself, all the time giving us ominous hints of what it might be with scenes of Ruth McCabe saying that she feels something is not right and trying to sneak Ella Connolly away and ask her questions using an abacus. Very effectively, the film then shows the skinned dogs and slaughtered cattle, and then the smiling and innocent Ella Connolly attacking a roomful of old men with tools and impaling a poker through Ruth McCabe's head. Here Wake Wood has undeniable similarities to the Stephen King adaptation Pet Sematary (1989) – although in one's opinion Wake Wood does a far better job of contrasting the child's innocence with the business of it having returned from the grave with something not right.
The film goes out on a particularly chill ending [PLOT SPOILERS] where Aidan Gillen undergoes the ceremony to resurrect Eva Birthistle and takes her home clearly pregnant and, as she showers and appears confused about what has happened, we see he has laid out the clutch and a bunch of surgical tools with the implication that he is planning to remove the child from her body.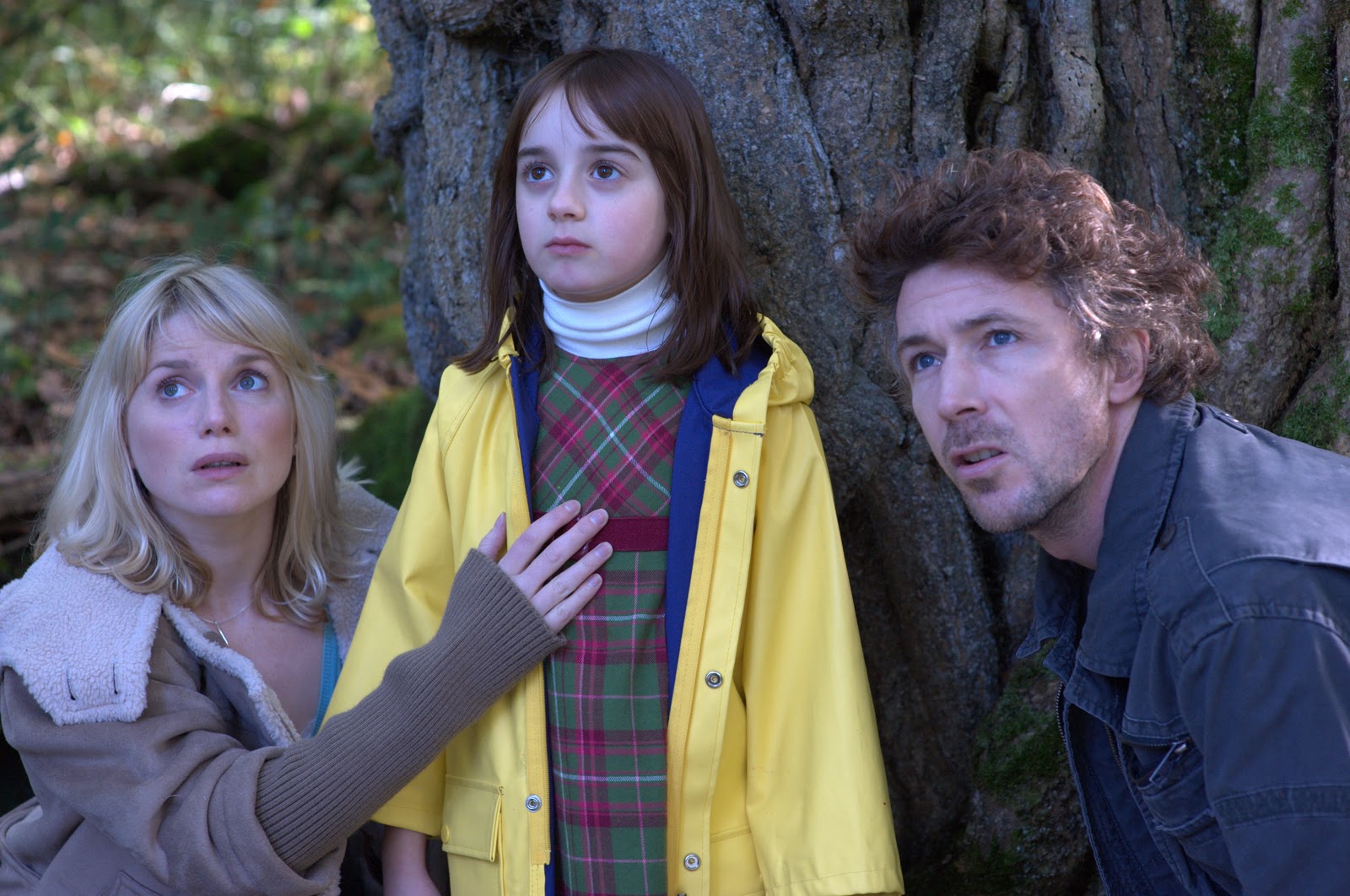 The cast all give fine performances. Aidan Gillen first came to attention sporting an American accent as the mayor in tv's The Wire (2002-8) and subsequent ongoing role in Game of Thrones (2011-9) – it is interesting to see him in his natural voice here. Timothy Spall is an actor who has been largely typecast in roles that require him to be a weak lump of jelly from tv's Auf Weidersehen, Pet (1983-6) onwards through Secrets and Lies (1996) and the Harry Potter films. It is nice to see him here in a role that allows him to do something different where he plays the part of the squire of the community with a relaxed strength, undercutting the wild talk of resurrection ceremonies with a genially relaxed offhandedness.
Wake Wood was the second fiction film film for director David Keating. He and screenwriter Brendan McCarthy returned with the Irish-set occult horror film Cherry Tree (2015).
---
---