---
Crew
Director – Johannes Roberts, Screenplay – Ernest Rivera & Johannes Roberts, Producers – James Harris, Robert Jones & Mark Lane, Photography – Mark Silk, Music – tomandandy, Visual Effects Supervisor – David Sadler-Coppard, Visual Effects – Outpost VFX, Production Design – David Bryan. Production Company – The Fyzz Pictures.
Cast
Sophie Nelisse (Mia), Corinne Foxx (Sasha), Brianne Tju (Alexa), Sistine Stallone (Nicole), John Corbett (Grant), Nia Long (Jennifer), Brec Bassinger (Catherine), Dean Santos (Ben), Khylan Rambo (Carl)
---
Plot
Mia and her stepsister Sasha are at school in Mexico while Mia's father Grant, an archaeologist, works on uncovering the ruins of a sunken city. Sasha regards Mia as nerdy and is resentful when Grant sends them off on a glass bottom boat cruise together. Sasha's two friends Alexa and Nicole suggest they skip the cruise and go up to a lake near the dig site. There they decide to take scuba gear left there and dive to explore the ruins. Once inside, they are startled by the appearance of a shark – only for the shark to cause statues to topple and block the entrance. Trapped underwater and with only a limited supply of air, the four girls try to navigate their way through the caves to find an exit while avoiding the lurking sharks.
---
Johannes Roberts is a British director who started out in the B-budget horror arena. For several years, he made the likes of Sanitarium (2001), Alice (2002), Darkhunters (2004), Hellbreeder (2004), Forest of the Damned (2005), F (2010), Roadkill (2011) and Storage 24 (2012). he gained wider exposure with The Other Side of the Door (2016), The Strangers: Prey at Night (2018) and Resident Evil: Welcome to Raccoon City (2021), as well as the standout Suicide Bid episode of V/H/S/99 (2022). He had a reasonable success with 47 Meters Down (2017), a modestly effective film about two sisters trapped underwater in a shark cage with a failing oxygen supply and surrounded by sharks.
The first 47 Meters Down felt like a film that had a perfectly ordinary place as a B movie but that it had accidentally strayed beyond its natural realm and onto the big screen. It did however earn some $60 million worldwide. It was certainly not a film that felt like it mandated a sequel – especially given that it ends with both of the central characters dead. Nevertheless, a sequel is what we get here.
With the original lacking much in the way of expandability of its premise, the sequel opts for simply a rehash of the basic set-up with two different sisters trapped underwater with a limited oxygen supply and surrounded by sharks. The locale has changed from a shark cage to a set of underwater ruins in Mexico that have sharks improbably prowling through the tunnels of a sunken city. There are also now others added to the group of divers (which include among their complement the daughters of Sylvester Stallone and Jamie Foxx).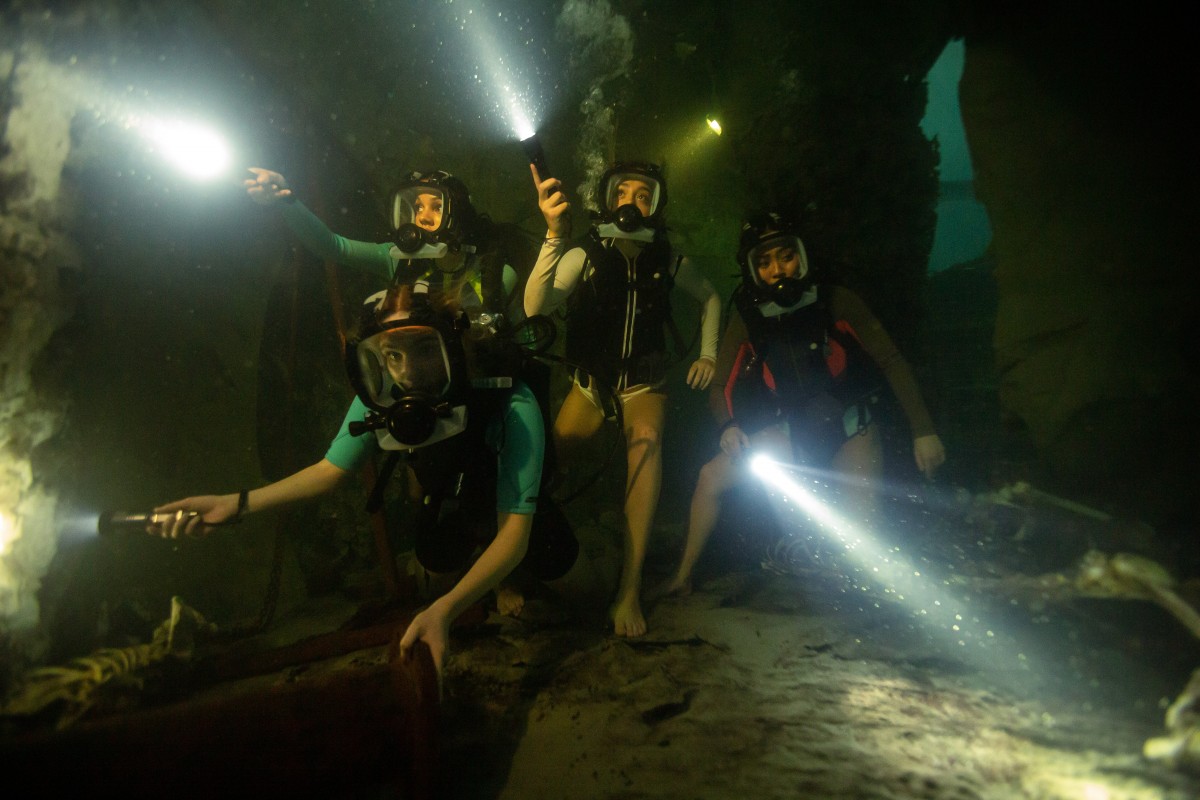 The moderate success of the original has meant that the sequel has been able to expand with a bigger budget. Thus the entire underwater city has been built at the Pinewood Studios water filming lot in the Dominican Republic and the film has been outfitted with an impressive range of CGI sharks.
On the other hand, a bigger 47 Meters Down also means a film that goes from the tight and claustrophobic tension of the original to a film that seems to be constantly demanding our attention rather than actually sustaining suspense. I waited through the lead-in but sank into my seat from about the point that we get a blind fish lunging at the girls while shrieking like a cat – an absurd effect that has been inserted solely to get a jump out of the audience. The first film had none of these cheap effects.
Thereafter the film gains a certain tension from the appearances of the various sharks. Essentially though, it feels like a film that has been mechanically set around a series of different locales within the underground realm where the group are trapped and then menaced by pop-up appearances from a shark. Not as much is made out of the claustrophobia of the group trapped in a confined space – there is a sole scene near the end with them struggling to get up through a narrow defile where their oxygen tanks keep hooking on the rock. A similar underground-set film like The Descent (2005) leaves you feeling far more tense and uneasy about confined spaces, whereas Johannes Roberts does at most a perfunctory job here.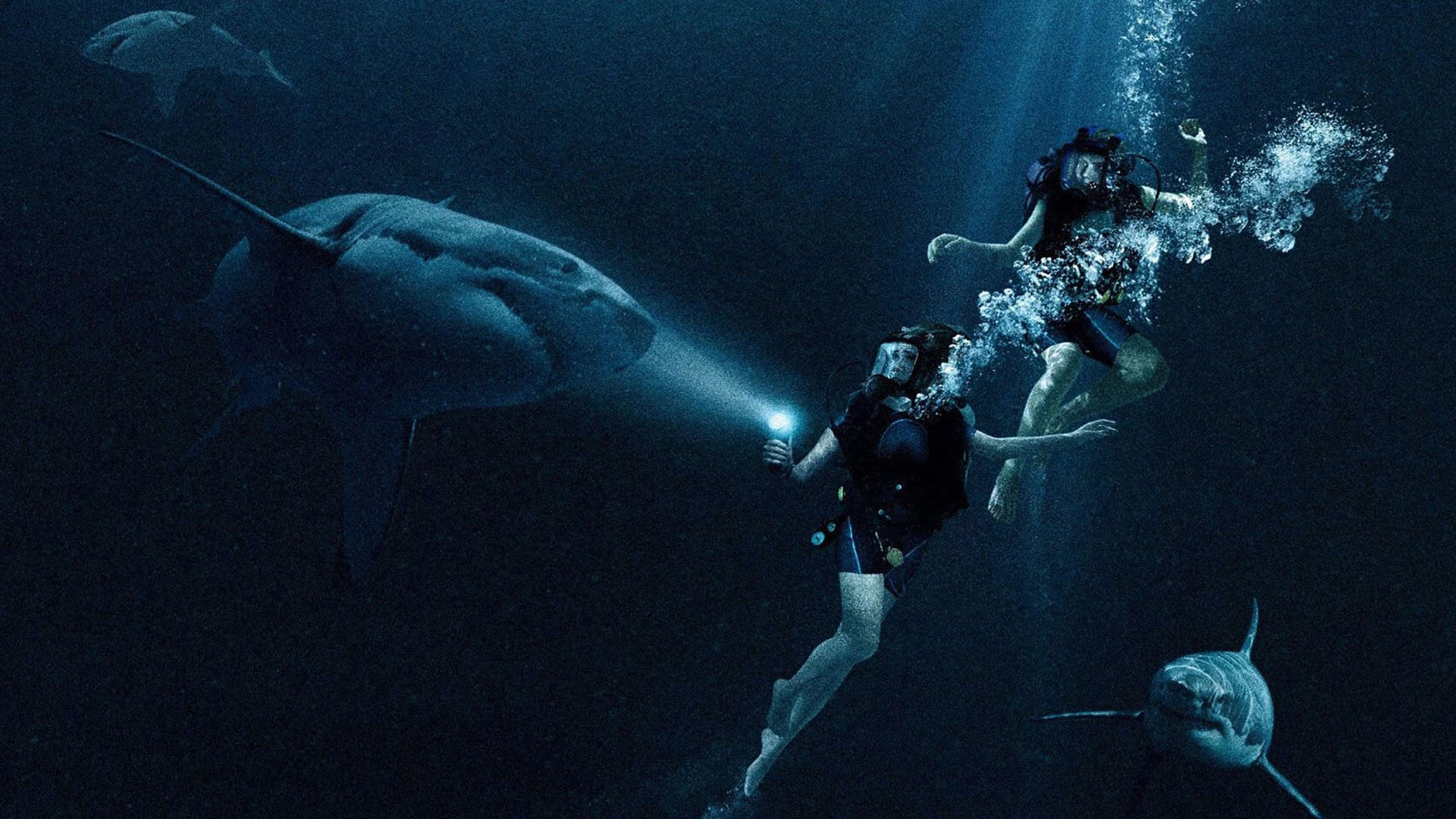 The pop-up shark appearances become tedious. The most ludicrous of these is at the climax as the two sisters race to get to the glass bottom boat. The sequence becomes an absurd series of slow-motion lungeshocks as sharks jump out of the water to grab them back just as they are about to get free and equally absurd hyper-stylised slow-motion action moves with them shooting flare guns and using the shark's tooth as a knife while trapped in its jaws.
The other ridiculous thing I found was that they are supposed to be in a labyrinth of tunnels and yet everywhere they go underwater the group keep encountering people they know – three times in fact – and finally even emerge to find themselves only a few dozen yards away from the tour boat ride they were originally meant to join as though they were not in a labyrinth of caves but a friendly neighbourhood and were constantly bumping into acquaintances on every street corner.
(Nominee for Best Cinematography at this site's Best of 2019 Awards).
---
---