---
Crew
Director – Rob Lowe, Teleplay – Barbara Marshall, Based on the Play by Maxwell Anderson & Novel by William March, Producers – Justis Greene & Harvey Kahn, Photography – Peter Menzies Jr., Music – Leanna Primiani, Visual Effects Supervisors – Barry Liu & Bruce Turner, Special Effects Supervisor – Darcy Davis, Production Design – Tink. Production Company – Lifetime Pictures/Lowerprofile/Wolper Organization.
Cast
Rob Lowe (David Grossman), McKenna Grace (Emma Grossman), Sarah Dugdale (Chloe), Cara Buono (Angela), Patty McCormack (Dr March), Lorne Cardinal (Brian), Shauna Johannesen (Maggie Curtis), Luke Roessler (Milo Curtis)
---
Plot
Architect David Grossman is a widower who raises his nine-year-old daughter Emma on his own. Emma is upset when the school's Citizenship Medal is awarded to Milo Curtis when she was expecting to win it. After the ceremony, Emma takes Milo for a walk along the clifftop. However, Milo fails to return and his dead body is then found at the bottom of the cliff. Afterwards, David hires new babysitter Chloe who taunts Emma that she was responsible for Milo's death. As the school and police investigate Milo's death, Emma starts to kill further people.
---
The Bad Seed (1956) is the classic evil child film – in fact, is the film that invented the trope. Based on a 1954 novel by William March, this was adapted to a successful Broadway play in 1955, shortly after publication, and then made into a film. The film was a success that won Oscar nominations for Patty McCormack as Rhoda the evil child, Nancy Kelly as the mother and Eileen Heckart. The film was remade as The Bad Seed (1985), an okay tv movie starring Carrie Wells as Rhoda, Blair Brown as the mother and David Carradine as Leroy the gardener.
This is a further remake made for Lifetime, a US tv channel devoted to women's programming. Lifetime has become a home for psycho-thrillers and assorted true crime films in recent years, including a string of Virginia Andrews adaptations beginning with Flowers in the Attic (2014), even Stephen King adaptations with Big Driver (2014)
The sixty-two years difference between this and the 1956 film has forced a number of changes on the remake. Most notedly, the single mother of the original is rewritten as Rob Lowe, a widower trying to cope in the aftermath of the death of his wife, whereas the idea of a man raising a child would have been looked down on in the 1950s. The character of the handyman Leroy is smartly rewritten as the babysitter Chloe (Sarah Dugdale giving a performance of charming flirtatiousness and deviousness that takes you aback).
One of the more notable changes is that the idea of 'the bad seed' ie. bad genetics no longer exists or has any reference. Rather we have a scene where Rob Lowe does an internet search on psychopathic behaviour and gets back modern buzzword answers like 'lacking empathy' and 'narcissistic personality type'. The original's ending where Rhoda is dispatched by a divine lightning bolt is swapped for more downbeat end where [PLOT SPOILERS] McKenna Grace SWATs father Rob Lowe.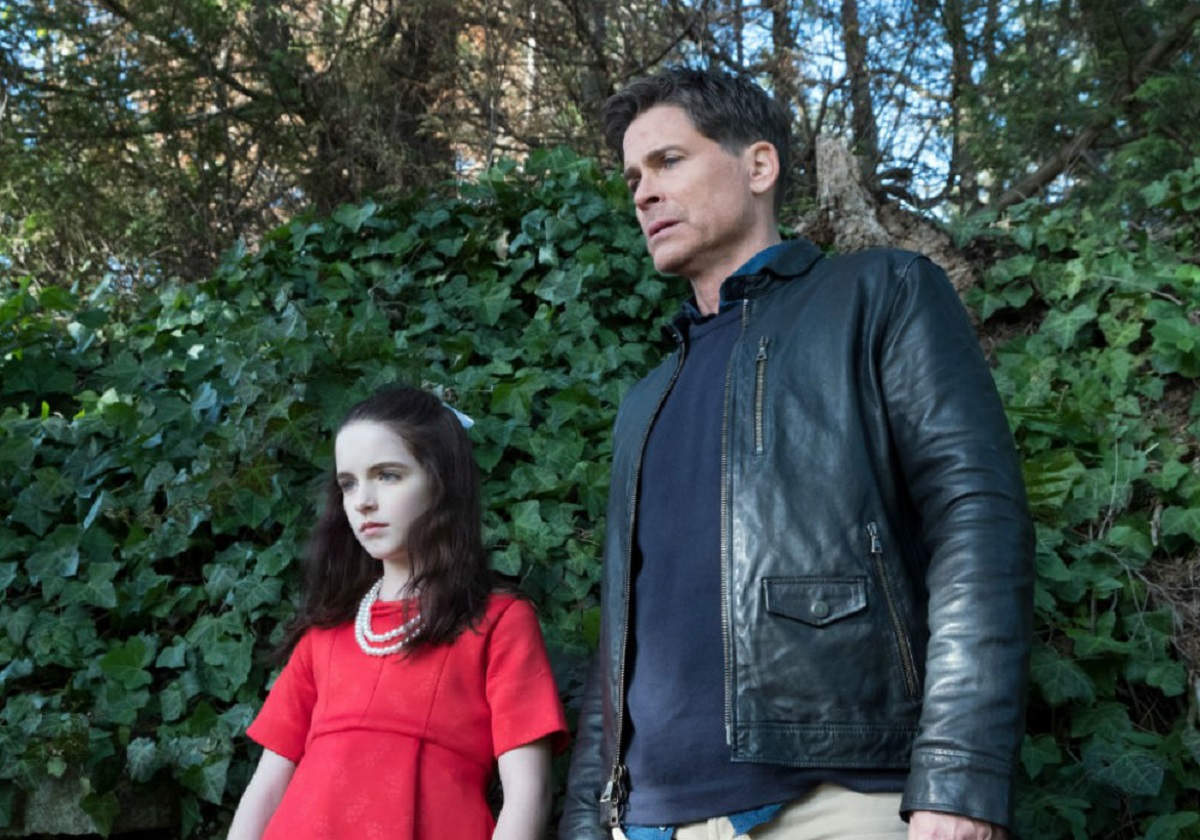 What makes the film fail to work as well as it might is Rob Lowe's direction. An actor with a long line of credits – he even played a psycho role himself (and rather well) in Bad Influence (1990) – Lowe makes his directorial debut here. He demonstrates a bad habit of signposting all his suspense set-pieces well in advance – the medal hanging under the bed or placed on the lamp, cuts away to the beehive in the architrave. The inclusion of a couple of dream horror scenes is also something that badly signals a newbie director trying to get jumps from an audience.
The film's saving grace is twelve-year-old McKenna Grace, McKenna has been acting since she was six and has had roles in works like The Haunting of Hill House (2018), Ready Player One (2018), Annabelle Comes Home (2019) and Captain Marvel (2019) to playing the young Tonya in I, Tonya (2017). McKenna has a cold presence and a series of piercing glares and icily autocratic commands that is perfect for the role. There is a wonderfully chill scene where she loses her cool and angrily admits to the killings in front of Rob Lowe.
This version does come with a cameo from a 72 year-old Patty McCormack, the original Rhoda in the 1956 film, as the psychologist Rob Lowe takes McKenna Grace to see. This comes with meaning-laden dialogue where McCormack gets lines like "I did the same things as you at your age … I told her she reminds me of myself."
(Nominee for Best Actress (McKenna Grace) at this site's Best of 2018 Awards).
---
---