---
Crew
Director – Joe Wright, Screenplay – Tracy Letts, Based on the Novel by A.J. Finn [Daniel Mallory], Producers – Eli Bush, Anthony Katagas & Scott Rudin, Photography – Bruno Delbonnel, Music – Danny Elfman, Visual Effects – Brainstorm Digital (Supervisor – Eran Dinur) & Crafty Apes (Supervisor – Ruben Dodas), Special Effects Supervisor – Mark Bero, Production Design – Kevin Thompson. Production Company – Fox 2000 Pictures/TSG Entertainment.
Cast
Amy Adams (Anna Fox), Fred Hechinger (Ethan Russell), Gary Oldman (Alistair Russell), Julianne Moore (Jane Russell 1/Katie), Wyatt Russell (David Winters), Jennifer Jason Leigh (Jane Russell 2), Brian Tyree Henry (Detective Little), Jeanine Serralles (Detective Norelli), [uncredited] Tracy Letts (Dr Landy), Anthony Mackie (Ed), Mariah Bozeman (Olivia)
---
Plot
Child psychologist Anna Fox suffers from an extreme case of agoraphobia and has not gone out of her Manhattan apartment for the last nine months. She entertains herself by spying on the lives of the people in the apartment building opposite. She takes an interest in the newly arrived Russell family. The Russell's fifteen year-old son Ethan comes over with a gift. Anna later receives a visit from the mother Jane and they enjoy a bottle of wine. Anna comes to believe that Ethan is being abused by the father Alistair. Looking through the window, Anna then sees Jane being stabbed. However, when she calls the police they can find no evidence of this and an entirely different woman turns up, claiming to be Jane. The police dismiss what Anna says she saw as an hallucination caused by her mix of alcohol and prescription pills. At the same time, Anna thinks someone may be inside her apartment and/or that David, the tenant in her basement, might be up to no good.
---
The Woman in the Window (2018) was a debut novel for A.J. Finn. After a bidding war for the rights, The Woman in the Window in quick course became the No 1 seller on the New York Times best-seller lists. That was when things started to get interesting. Finn was revealed to be pseudonym for Daniel Mallory who had worked as an assistant at publishing houses in both the UK and the USA, including the company that published his book. The film rights were snapped up and shooting began on the film only a matter of months after the book came out.
What came next was an eye-opener. In February 2019, The New Yorker published an article A Suspense Novelist's Trail of Deceptions. This listed Daniel Mallory's extensive history of deceptions, making self-aggrandising claims and telling manipulative stories about himself. These include claims of non-existent doctoral degrees, exaggerated influence in the publishing industry, stories about deaths of his mother due to cancer and an elaborate ruse that he was undergoing cancer treatments. And then after exposure of these stories, Mallory began to claim that he had severe bipolar disorder. The article also asserts that much of what is written in The Woman in the Window is plagiaristic and is a mirror of Mallory's personality.
The film feels like an innocent party having been caught up in this backstage drama. It had completed shooting before the New Yorker article came out. After filming, there were a number of production problems. Shooting competed at the end of 2018 but the film then underwent rewrites and reshoots after audiences at previews found it confusing. The film was originally slated for release in 2019 but was held up two years and then dumped direct to streaming release on Netflix in May 2021. A large part of the delay is because it has been produced under the banner of Fox 2000, a subsidiary of 20th Century Fox. In 2019, 20th Century Fox was brought out by Disney who subsequently dumped most the unreleased films remaining on the Fox slate without much interest. (Notedly, the opening credits list Fox as only 20th Century Studios due to Disney's desire to distance themselves from the toxicity of the Fox News brand).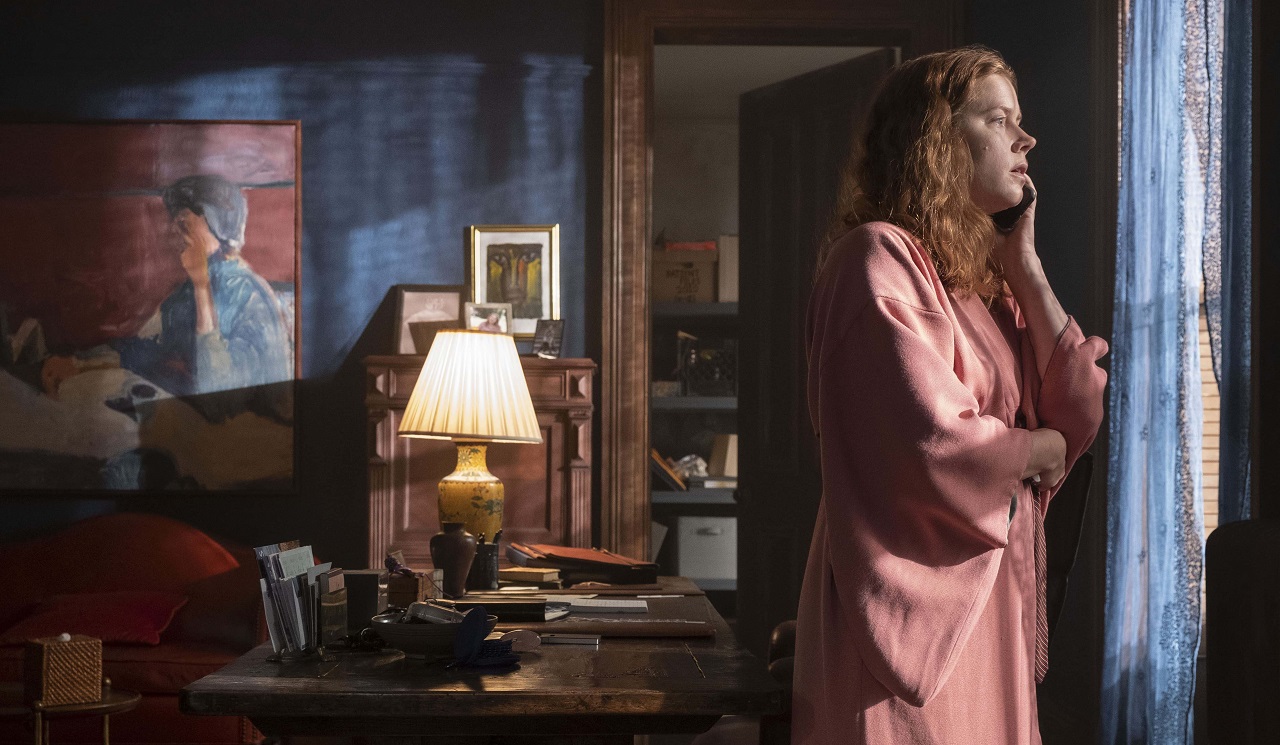 I read A.J. Finn's book a couple of years ago – largely because I became intrigued after reading the New Yorker article. What seems evident on the page becomes even more of an issue in the way it is presented on the screen is that Finn has constructed the book as a mix-and-match of thriller tropes. The most obvious influence – and one that Finn/Mallory openly admits – is of one of Alfred Hitchcock's greatest films Rear Window (1954), which had wheelchair-ridden photographer James Stewart using a camera to spy on the neighbours in his apartment complex only to accidentally witness a murder. The other is the central character of the woman psychologist suffering from extreme agoraphobia, which is very similar to the serial killer thriller Copycat (1995) that starred Sigourney Weaver as a psychologist who remained trapped in her apartment since a traumatic incident only to be targeted by a killer. Steven Soderbergh did a much better variant on the plot not long after with Kimi (2022) starring Zoe Kravitz.
The Woman in the Window falls into a genre that has almost entirely disappeared these days – that of the Psycho-Thriller. Since around 2010, the psycho-thriller, along with the detective story thriller, has almost entirely vanished from theatrically-released films. The last I can recall was modest hit of the non-genre Gone Girl (2014).
At the helm of the show is British director Joe Wright. Wright emerged out of British tv in the early 2000s with prestige dramas like Pride & Prejudice (2005), Atonement (2007), The Soloist (2009), Anna Karenina (2012) and Darkest Hour (2017). Wright dipped his toes into genre-material a couple of times with Hanna (2011), a thriller with Saorise Ronan as a teenage assassin (which later became the basis of a tv series), and the overblown Peter Pan prequel Pan (2015), as well as produced the disturbed psychology film Swallow (2019). The film certainly comes with a very impressive cast line-up. There's also a script from Tracy Letts, a playwright known for works that were adapted into films like Killer Joe (2011) and August: Osage County (2013). Letts can also be seen on screen in the uncredited role of Amy Adams' psychologist.
The Woman in the Window appeared to negative reviews. The question for me was how much of this can be put down to negative advance press about the delays, reshoots and controversies about A.J. Finn, things that always have a bad habit of influencing viewers before they watch. The amusing thing that you cannot help but be taken by as the film opens is that what must have been a novel character facet when the film was made – someone suffering from severe agoraphobia and staying indoors – has by the time the film was released in the midst of the ongoing Corona Virus lockdown become a normal way of life.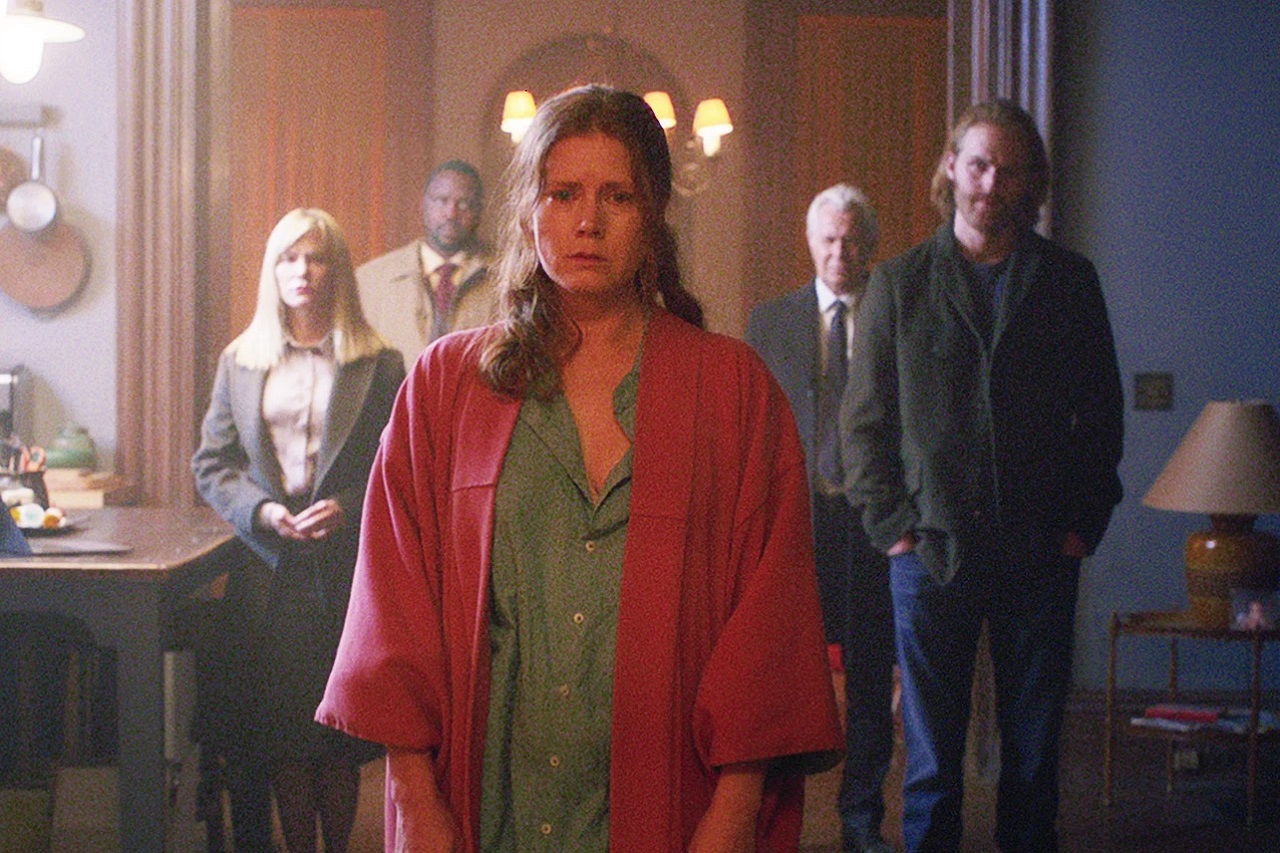 I was willing to give the film some rope. The book had a page-turning readbility to it – it almost felt like it was pre-written for easy screen adaptation. The film does follow the book closely despite the script having undergone rewrites, although it drops most of Anna's online interactions. There was Joe Wright in the director's seat and I had been highly impressed by the work he had done on Atonement and Darkest Hour in particular. And then there is Amy Adams, an actress I am prepared to fairly much watch in anything she appears – not to mention quite an A-list cast line-up in the supporting roles.
I went into The Woman in the Window with an open mind, determined to assess the film on how it works as a thriller without any of the attendant baggage. Joe Wright sets up everything in a solidly effective way. He has undeniable style and produces tension on a number of occasions. With the screenplay being so faithful to the book on most counts, it hits all the major twists and turns that the book does. There comes a particularly bewildering jolt when Amy Adams finds there is another Jane Russell and it is not the person she thought it was.
On the other hand, the contrived plausibility of the film's scenario started to collapse for me about the scene where [PLOT SPOILERS] the detectives point out that Amy's family are all dead and she has been living in a fugue state having blocked out all memory of them (even if Any Adams gives the playing of the scene her all). It's the sort of Conceptual Reversal Twist that has been conducted by far too many M. Night Shyamalan wannabes throughout the 2000s/10s to hold any kind of effect anymore and is not wielded with enough subtly or shock to work again.
---
Trailer here
---