---
Crew
Director – Karyn Kusama, Screenplay – Phil Hay & Matt Manfredi, Producers – Martha Griffin, Phil Hay, Matt Manfredi & Nick Spicer, Photography – Bobby Shore, Music – Theodore Shapiro, Visual Effects – Crafty Apes (Supervisor – Tim Ledoux) & October Blimp, Production Design – Almitra Corey. Production Company – Filmbuff/Gamechanger Films/Legeartis/XYZ Films.
Cast
Logan Marshall-Green (Will), Michiel Huisman (David), Tammy Blanchard (Eden), Emayatzy Corinealdi (Kira), Lindsay Burge (Sadie), John Carrol Lynch (Pruitt), Michelle Kruisec (Gina), Jay Larson (Ben), Jordi Vilasuso (Miguel), Mike Doyle (Tommy), Mariah Delfino (Claire), Karl Yune (Choi), Toby Huss (Dr Joseph), Aiden Lovecamp (Ty)
---
Plot
Will and his partner Kira travel to a dinner party held by Will's ex-wife Eden and her new husband David. It is two years since they have heard from Eden but now they and six other friends have been invited to dinner. Will is uncomfortable because of unresolved issues in the past over the death of his and Eden's son Ty. The group settle in to dinner. Eden and David then announce that they have become members of the cult known as The Invitation. They screen videos and explain their beliefs. As the evening goes on, only Will picks up signs that something terrible is about to happen.
---
The Invitation was the fourth film for Karyn Kusama. Kusama is a name that has always held much potential, ever since her indie directorial debut Girlfight (2000), a film that Kusama based on her own experiences attending a boxing club. This won a number of awards, including the Grand Jury Prize at Sundance (as well as proved a career breakout for Michelle Rodriguez). Kusama was then co-opted for the live-action version of Aeon Flux (2005), although this was a critical flop and Kusama disowned the film because of studio interference. She next went on to make the quirky Jennifer's Body (2009) from a Diablo Cody script starring Megan Fox as an undead cheerleader. This too proved a box-office and critical flop, although this author will happily sing its merits.
In interviews, Kusama speaks of the difficulty in securing financing for films for the simple fact that she is a woman director, resulting in it taking six years for her to return to screens with The Invitation. She subsequently stayed in genre territory with the Her Only Living Son episode of the all-woman horror anthology XX (2017), followed by the underrated crime film Destroyer (2018). She has also produced Leap of Faith: William Friedkin on The Exorcist (2019) and the tv series Yellowjackets (2021- ).
After receiving good word of mouth with its premiere at the 2015 Sundance Festival, The Invitation went into limited theatrical release nearly a year later. It is a strong effort that gained Karyn Kusama some of the critical plaudits that she has long deserved – not that the rest of her work had not been worthy of such either. The film is a slow burner – the horror label it is marketed with causes some confusion as you keep expecting it to play out as a standard genre film. It does erupt into such at the end but it is also not always an easy fit.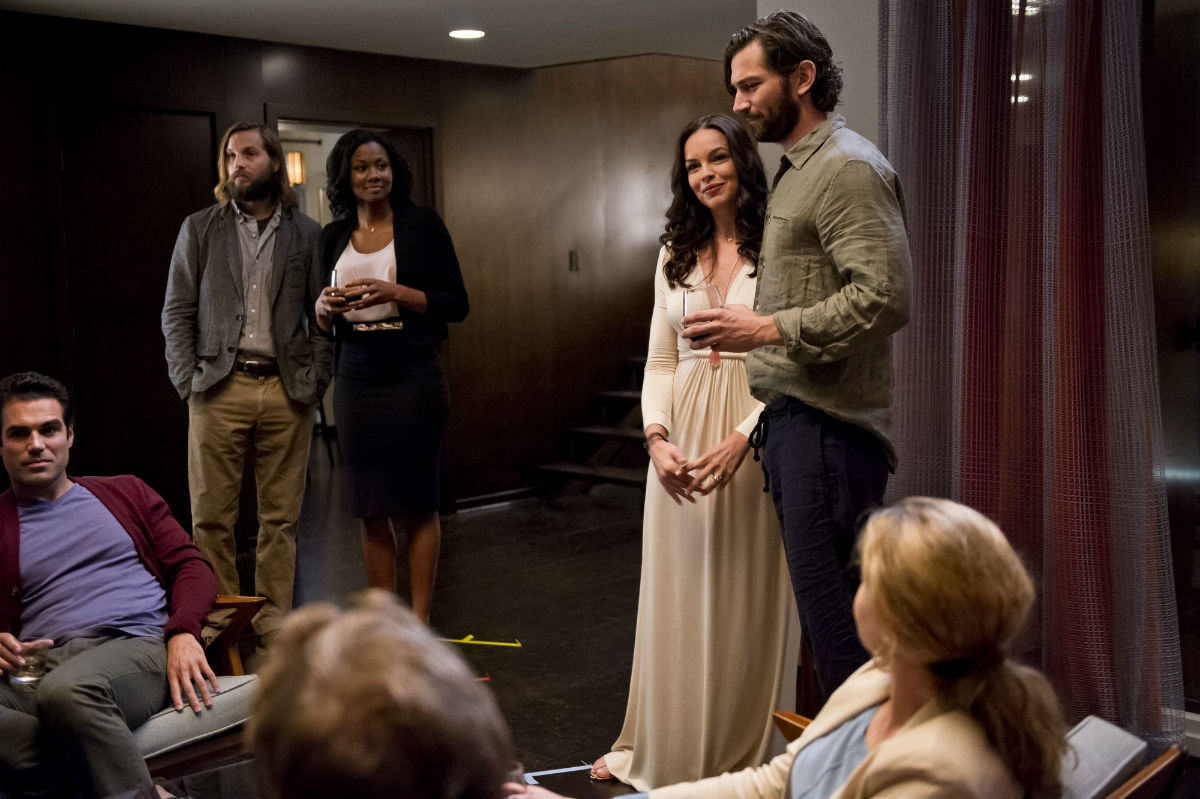 Kusama economically shoots all but the opening scene inside an expensive home in the Hollywood Hills. The ensemble – a cast of almost knowns who haven't quite gained higher profiles yet – all give good performances. Much of the early sections of the film could play out as a family reunion/dinner party drama that we have had in a number of films – examples might include The Celebration (1998), August: Osage County (2013) or This is Where I Leave You (2014). Over this, Kusama creates a constant sense of something brooding and bad about to explode.
The film is seen through the eyes of Logan Marshall-Green in full mountain man lumbersexual mode. Marshall-Green's performance is closed off, filled with dark and troubled emotions that sit just beneath the surface in contrast to the social pleasantries being exchanged by the hosts and most of the guests. Kusama never places her finger on exactly what is happening – even details about the traumatic event that occurred between Logan Marshall-Green and Tammy Blanchard in the past are only hinted at for much of the film. Kusama is constantly putting tensions on this, creating dis-ease just in the looks between characters. This contrast of brooding and unsaid things with a palpable sense of unspecified danger looming is very well sustained.
[PLOT SPOILERS] It should not be too much of a surprise to say that things do eventually explode with bloody and brutal results. (Otherwise, what would have would be a rather odd film about a dinner party where old friends find their hosts have joined a cult. And certainly not one I would be writing about here). The climax the film arrives at works with suitably brutal regard. The only drawback one feels is that the doomsday ending is one that we have seen in too many other films dealing with cults – End of the Line (2007) is a cheaper effort that comes to mind – where the surprise here is only that there are no twists on the familiarity beyond the point of ambiguous apocalyptic uncertainty that the film goes out with.
---
---