---
Crew
Director/Screenplay – Alexandre O. Philippe, Producers – Kerry Deignan Roy, Photography – Robert Muratore, Music – Jon Hegel, Additional Music – Anthony Weeden. Production Company – Exhibit A/Screen Division/Milkhaus/Family Style.
---
The Exorcist (1973) is a landmark genre classic. It was one of the biggest blockbusters of the 1970s. It has been multiply sequelised. It was nominated for and won a host of Academy Awards when it came out.
Leap of Faith comes from Alexandre O. Philippe who specialises in documentaries on genre films and fandom. Philippe has previously made Earthlings: Ugly Bags of Mostly Water (2004) about Star Trek fandom; The People vs George Lucas (2011) about Star Wars fandom; The Life and Times of Paul the Psychic Octopus (2012) about the octopus that has made accurate predictions about the outcome of the World Cup; Doc of the Dead (2014) about the zombie film phenomenon; 78/52 (2017) about the making of Psycho (1960); Memory: The Origins of Alien (2019); The Taking (2021) about the use of Monument Valley in Westerns; Lynch/Oz (2022); and You Can Call Me Bill (2023), an interview with William Shatner.
With Leap of Faith, Alexandre O. Philippe sits down for an interview with William Friedkin, director of The Exorcist, now aged 83. Although scenes from the film, behind-the-scenes shots and some location work is used, Friedkin is present for the whole 104 minutes. None of the other principals from the film are interviewed – although Jason Miller and William Peter Blatty have passed away, I would have found it fascinating to hear from the still living likes of Ellen Burstyn and Linda Blair, while the now deceased Max Von Sydow would also still have been alive within the frame of the film's shooting. The only other person that can be said to be present is very briefly a clip of Friedkin and celebrated German director Fritz Lang talking. What we end up with is really a theatrically released director's commentary.
What comes out in seeing Friedkin interviewed is just what a renaissance man he is. He talks about being inspired by Carl Dreyer's Ordet (1955); makes much reference throughout to the influence of artists. He talks literately about the use of classical music, much of which he edited in as a temporary soundtrack for the film and then had recorded after the soundtracks that were written did not work out satisfactorily – he apparently even rejecting work by Bernard Herrmann, who wrote the score for Psycho, whom Friedkin calls the greatest of all film composers. Some of Friedkin's influences are not ones that you would necessarily think of. He talks of the influence of documentary style and even of employing a cameraman who was famous for shooting documentary work with Fidel Castro. Friedkin also acknowledges the influence of radio and the willingness to use experimental audio effects to achieve results.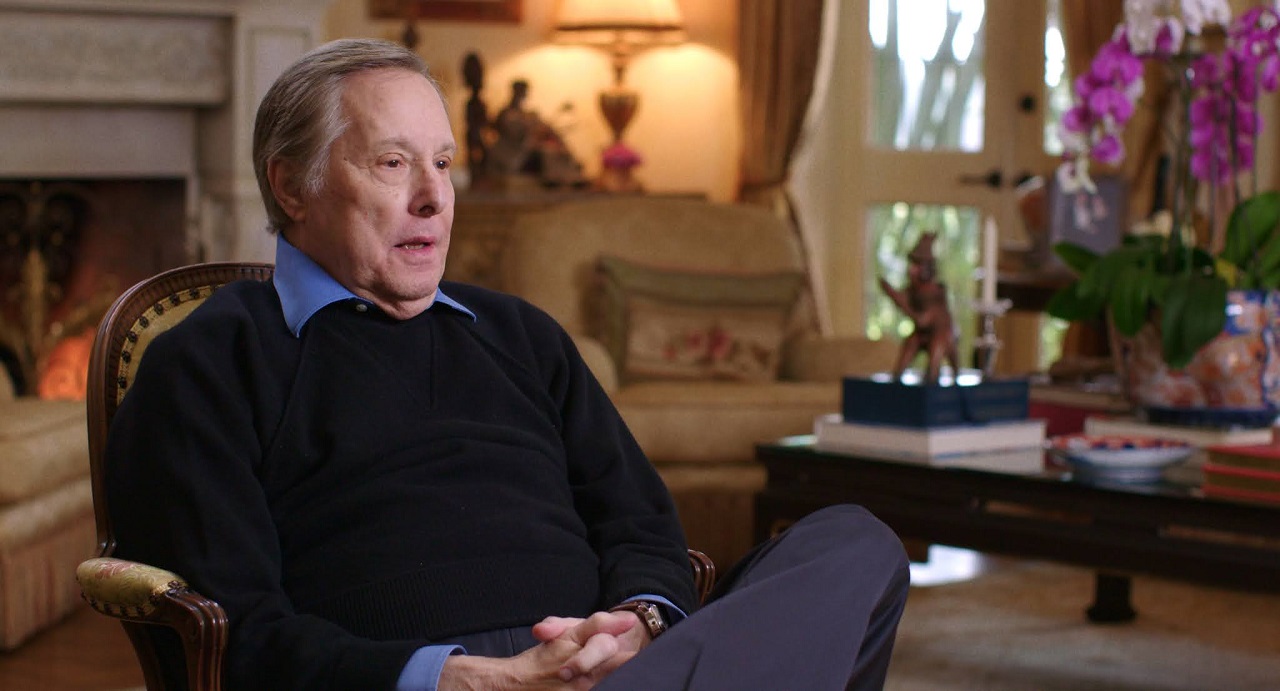 Friedkin takes us through the production, how he accepted the directing assignment after others like Stanley Kubrick and Mike Nichols turned it down. He talks of how he was a fan of William Peter Blatty's original novel and wanted to deliver on screen what made it work on the page. He calls Blatty's first script treatment of the book a travesty that went off beam and how he had to go through and underline sections that he wanted Blatty to keep. (The film even shows us Friedkin's copy of the book with the underlines in it, which is among his papers held by a library). Friedkin talks of the importance of the prologue scene and how they even went to an actual archaeological dig in Nineveh (near present-day Mosul) in Iraq to film the scenes.
Friedkin tells some fascinating behind the scenes stories. Of how William Peter Blatty begged and even offered him some of his percentage points if Friedkin would cast him as Father Karras but how he declined; of how Friedkin had cast Stacy Keach as Father Karras but then came across Jason Miller in a play about Catholicism that Miller had written, how Miller begged for an audition despite Friedkin's scepticism and Friedkin ended up casting him, resulting in the studio having to pay Keach out. Friedkin also tells how he casts an actual priest Father William O'Malley as Jason Miller's best friend and confesses to punching him in the face to get the appropriate upset response for Karras's death at the end. He speaks about the long-rumoured scene where he fired a gun on the set to get an authentic jump out of Jason Miller, a technique he learned from an article about director George Stevens on The Diary of Anne Frank (1959).
Perhaps the most eye-opening story concerns Mercedes McCambridge who voiced the possessed Regan. Friedkin had known McCambridge for years. However, when he approached her for the role, she was a recovering alcoholic and had turned to Catholicism. To achieve the demon voice, she needed to consume a mixture of hard liquor, eggs and smoke cigarettes and requested that she be bound to a chair in a squatting position. She would also keep two Catholic priests on the set and would afterwards collapse into their arms, overcome with what she had done.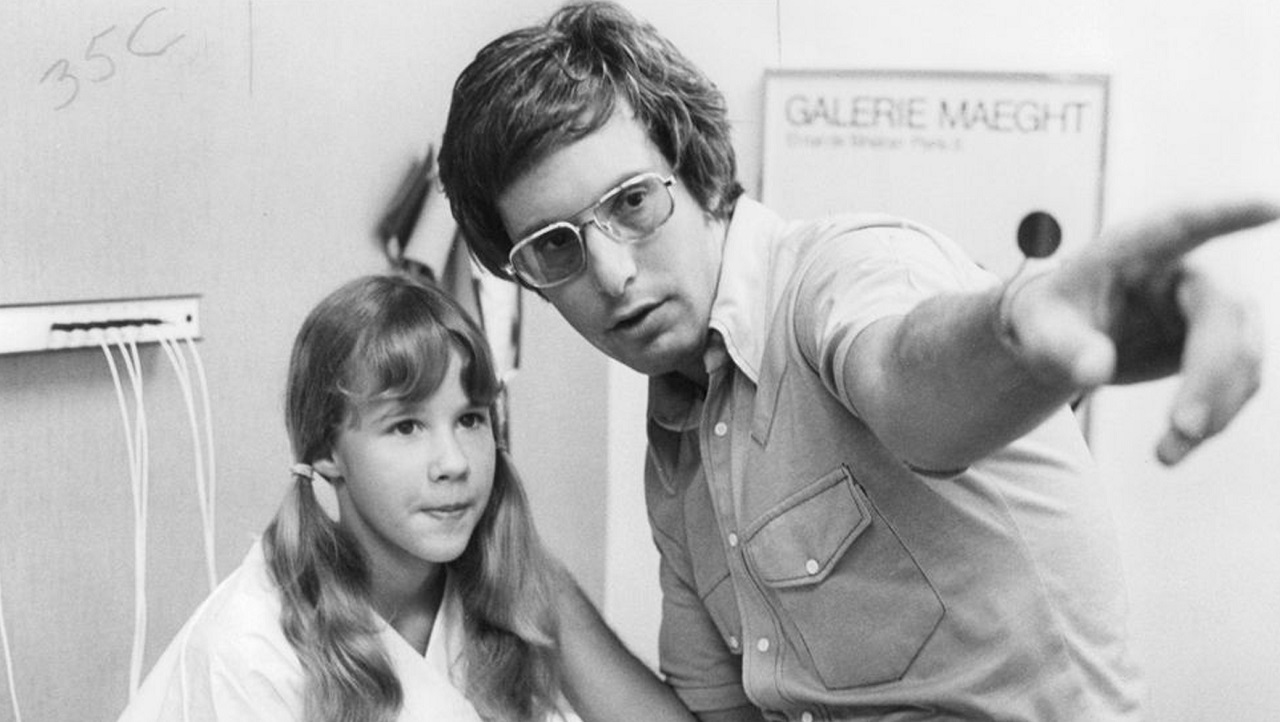 The other interesting story is Friedkin's difficulty with making the ending work, which is one he says he did not believe in. Nor it would appear did Blatty who had everything figuratively occur off-screen on the page, although Friedkin at least insisted that he depict what happen. He points out the difficulty with the believability of how the demon acts in the scene and says he does not accept it even to this day.
The making of The Exorcist had earlier been covered in the BBC documentary Fear of God: 25 Years of The Exorcist (1998), which I had not seen at the time I watched Leap of Faith. Fear of God does get interviews in with Friedkin, Blatty and most of the principal actors – Ellen Burstyn, Linda Blair, Max Von Sydow, Jason Miller and Mercedes McCambridge – along with some of the behind-the-scenes crew. In these interviews, Friedkin comes across as far more of an abrasive control freak who will subject actors to quite abusive treatments – using wires to slam Ellen Burstyn on her back on the floor, as well as Jason Miller's recount of the gun incident and William O'Malley about being hit by Friedkin, neither of which comes across as calmly and reasoned as Friedkin tells it. In some ways, Leap of Faith almost reads as Friedkin taking the opportunity to offer up his own interpretations of these stories. Around the same time as this, there was also another documentary Friedkin Uncut (2018), which focuses on his overall career.
William Friedkin's other genre films are:– Cruising (1980), a psycho-thriller set in the world of gay leather bondage; Deal of the Century (1983), a futuristic black comedy about arms smuggling; Rampage (1987), a courtroom serial killer thriller that debated the Insanity Plea; The Guardian (1990) about a baby-snatching Druidic babysitter; The Hunted (2003) about a man hunting humans for sport; and the claustrophobic Bug (2006).
---
Trailer here
---