aka The Tomb
---
USA/Ukraine. 2009.
Crew
Director – Michael Staininger, Screenplay – John Shirley, Based on the Short Story by Edgar Allan Poe, Producer – Jeff Most, Photography – Chris Benson, Music – Patrick Cassidy, Visual Effects – Bionic Reef & Soylent Dreams (Supervisors – David Davidson & Joseph Emerling), Special Effects Supervisor – Greg Goad, Production Design – Cat Cacciatore. Production Company – Darclight/Aberto Entertainment/Most Films/Emmett-Furla Films/United Entertainment/Thing One Thing Two Productions/Lamplight Films/Yalta Film Studios.
Cast
Wes Bentley (Professor Jonathan Merrick), Sofya Skya (Ligeia Romanova), Kaitlin Doubleday (Rowena), Cary-Hiroyuki Tagawa (Chancellor Len Burris), Michael Madsen (George), McKenzie Rosman (Lorelei), Eric Roberts (Vaslov), Joel Lewis (Eddie)
---
Plot
Jonathan Merrick, an English professor specialising in 19th Century poetry, finds he has an obsessive admirer in Ligeia Romanova who appears wherever he lectures. Ligeia is a student researching soul extraction and is conducting a series of illegal experiments in the university mortuary using the corpses of victims murdered by her associate. Ligeia seduces Jonathan away from his loving fiancee, the singer Rowena, and leads him on a heady trip into sexual fetish and absinthe drinking, before persuading him to marry her. Jonathan then discovers that Ligeia is dying. She convinces him to use his vast inherited wealth to buy up her family home, Romanova Manor on the Black Sea in Ukraine. There she determines to further her experiments in soul extraction and black magic. Horrified at what she is doing, Jonathan goes to leave, only for Ligeia to throw herself from the tower. Subsequently, Jonathan goes on to reconcile with Rowena. Soon however, the spirit of Ligeia begins to emerge, killing people and trying to take over Rowena.
---
Ligeia is a modernised adaptation of the classic Edgar Allan Poe short story Ligeia (1838). The story concerns itself with a narrator (all of Edgar Allan Poe's narrators are unnamed) who encounters the beautiful Ligeia who has an obsessive interest in the supernatural. He marries her but she dies soon after. Sometime after this, the narrator meets Lady Rowena Trevanion and marries her. She too falls ill and dies and the narrator then sees her revive – only to transform into Ligeia.
Ligeia has been filmed a number of times. The most famous version was the Roger Corman adaptation The Tomb of Ligeia (1964) starring Vincent Price – indeed, this was the last of the celebrated Edgar Allan Poe adaptations that Corman would make and set down the essentials of most screen adaptations where the story becomes one about the central character's second wife becoming possessed by the spirit of Ligeia. There have been a handful of other obscure adaptations:- an Argentinean tv production in 1959 about which little is known; Ligeia (1981), a French production with Arielle Dombasle as Ligeia; Ligeia (2002), a low-budget US made version; and a new US-made indie version Ligeia (2012), as well as several short film versions.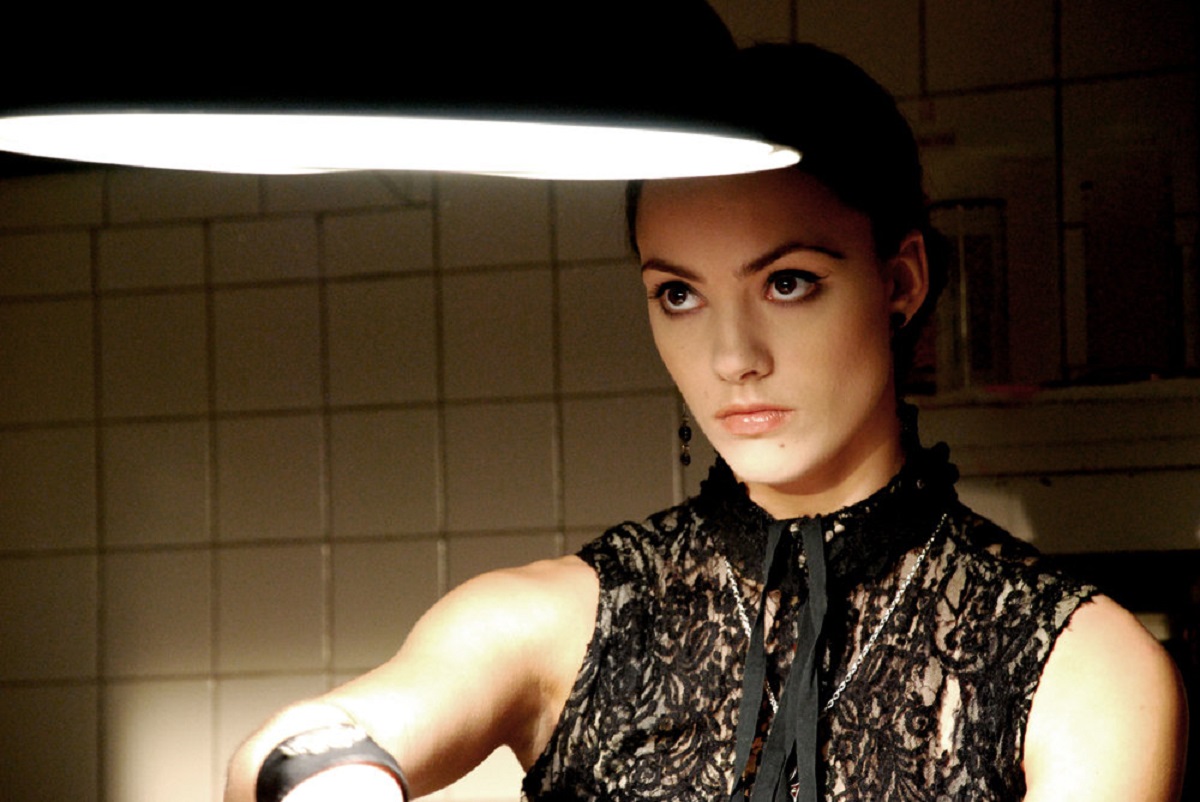 This version is a US-Ukrainian production – something that allows location shooting around Balaklava and Sevastopol in Ukraine, where the Vorontsovsky Palace in Crimea serves as a suitably imposing looking mansion. It is a debut film for director Michael Staininger. The interesting name on the credits is that of celebrated horror and Cyberpunk author John Shirley, best known on cinema screens as the co-writer of The Crow (1994).
Ligeia bravely attempts to modernise the Edgar Allan Poe short story. That said, John Shirley's script at least adheres to the basics of the original story more than the Roger Corman version did – here Ligeia is still a student of matters metaphysical and is of mysteriously European origin. However, there have been a great many other additions to the story, a few of which may well cause good old Edgar Allan to turn in his grave. Now, Ligeia's interest in matters metaphysical has her conducting some poorly explained illicit experiments in soul extraction in the university morgue. More crucially, the way the film is directed, she relishes in what is suggested are all manner of dark and forbidden pleasures, including visits to fetish clubs and lots of Goth poses on the part of Sofya Skya.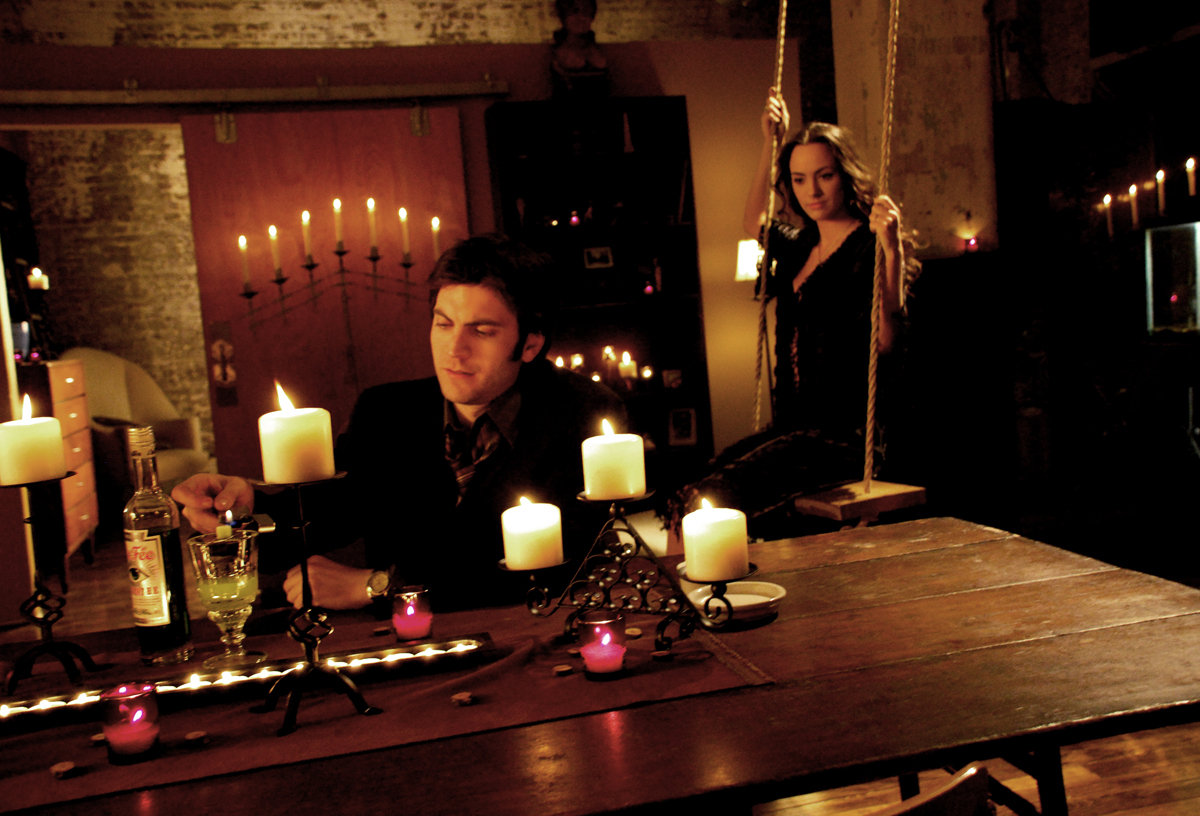 Unfortunately for the promising idea of an updated Ligeia, the film founders in a cheap and low-budget approach. You get ominous signs from the opening credits that highlight the names of Michael Madsen and, in particular, Eric Roberts who have both spent the bulk of their careers eking out a living down the lower end of the cinematic market, something that has resulted in resumes filled with bad movie titles. When Eric Roberts does turn up, seeing him cast as a faithful retainer while trying to badly affect a Russian accent produces a case of the giggles that shoots the film's credibility in the foot.
The problem also ends up being Michael Staininger's incredibly tame approach. Ligeia is a film that constantly wants to suggest Sofya Skya is engaged in all manner of kinkiness – yet when it comes to delivering anything, offers nothing more than a single vanilla love scene where we see her only bare back. Moreover, in what could have been a complex and intensely captivating title role in a better production, the film is stuck with Russian ballerina Sofya Skya who vamps the part up in a one-dimensional performance that comes down to being no more than a series of poses. Equally, an earnest and nebbish Wes Bentley makes a poor substitute for Vincent Price.
---
---