---
Crew
Director – Leigh Janiak, Screenplay – Phil Graziadei, Leigh Janiak & Kate Trefry, Based on the Fear Street Books by R.L. Stine, Producers – Kori Adelson, Peter Chernin, David Ready & Jenno Topping, Photography – Caleb Heymann, Music – Marco Beltrami & Marcus Trumpp, Visual Effects Supervisor – Paul Graff, Special Effects Supervisor – J.D. Schwalm, Makeup Effects Designer – Christopher Nelson, Production Design – Scott Kuzio. Production Company – Chernin Entertainment.
Cast
Kiana Madeira (Sarah Fier/Deena Johnson), Ashley Zukerman (Solomon Goode/Nick Goode), Olivia Scott Welch (Hannah Miller/Samantha Fraser), Benjamin Flores Jr. (Josh Johnson), Matthew Zuk (Elijah Goode/Mayor Will Goode), McCabe Slye (Mad Thomas/Thomas Slater), Jreemy Ford (Caleb/Peter), Julia Rehwald (Lizzie/Kate Schmidt), Gillian Jacobs (Adult Ziggy/C. Berman), Randy Havens (George Fier), Michael Chandler ('The Pastor' Cyrus Miller), Fred Hechinger (Isaac/Simon Kalivoda), Lacy Camp (Grace Miller/Mrs Fraser), Sadie Sink (Constance/Ziggy Berman), Emily Rudd (Abigail/Cindy Berman), McCabe Slye (Mad Thomas/Tommy Slater), Jordana Spiro (The Widow/Mrs Lane)
---
Plot
Deena Johnson sees through the eyes of Sarah Fier back in 1666 when Shadyside was a Pilgrim town. Sarah conducts a forbidden love relationship with the pastor's daughter Hannah Miller. However, they are seen together by Mad Thomas. At the same time, the town is blighted by something poisoning the crops and drinking water and killing the livestock. The pastor Cyrus Miller becomes affected and holes himself up in the church after killing several children, before he is killed by Solomon Goode. As the town tries to determine what happened, Mad Thomas speaks up about seeing Sarah and Hannah. Caleb, whose advances Deena had rejected, uses this as an opportunity to whip up hysteria and brand her a witch. Before she is captured, Sarah discovers the true figure responsible for the evil and how they conducted a deal with The Devil to sacrifice the lives of locals. In the present, Deena now tries to use this information to stop the resurrected figures coming after them and save Samantha.
---
Fear Street is a series of book from horror author R.L. Stine. Wikipedia has a list of them that includes 163 books spread over fourteen different series – even the spinoff series produce more books than most other series ever do. The setting of the books is the neighbouring towns of Shadyside and Sunnyvale and the stories concern multiple characters dealing with hauntings and assorted supernatural phenomena, as well as mundane mysteries.
This was the third in a trilogy of Fear Street films made for Netflix and was preceded by Fear Street 1994 (2021) and Fear Street 1978 (2021), each released on Netflix a week apart throughout July 2021. Various cast members play multiple roles in different eras. The three films are directed and co-written by Leigh Janiak who had previously came from nowhere with the subtly effective Honeymoon (2014) in which a newlywed husband realises his wife is being affected by an alien presence.
As the title indicates, Fear Street 1666 takes things back to the origins of the town during the Puritan era and tells the story of the witch Sarah Fier. (Much of the storyline distils elements from R.L. Stine's books to create its own narrative). This film takes place as a flashback to the 17th Century in the first half, while the second takes place immediately following the events of Fear Street 1994 (and the wraparound scenes we saw in Fear Street 1978). It also has the novelty of casting the 17th Century scenes with actors from both of the previous films.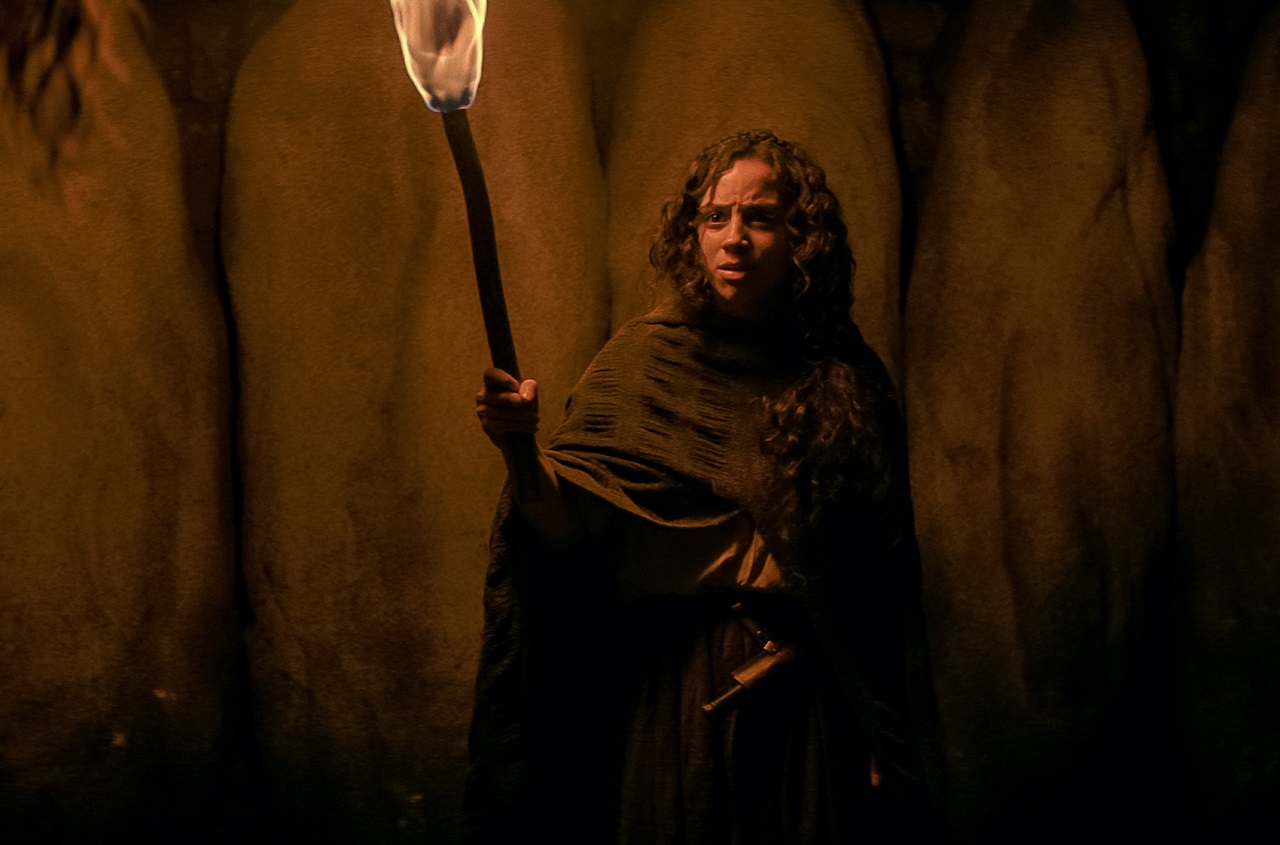 Leigh Janiak has created a trilogy of horror films that majorly embrace Woke sensibilities that have overtaken Hollywood since 2017. The heroine here and in Fear Street 1994 is lesbian and African-American, while there are strong feminist sympathies in all three films. These sympathies are at their most overt here where we learn that the witch was an innocent party who was framed by the establishment of the day (all due to her rejecting someone's sexual advances) and that the real problem is an evil that has become embedded into the social fabric and has been perpetuated through to the present day (much of which is being said during the conversation about systemic sexual and racial oppression today).
On the other hand, while you commend Leigh Janiak for making a film with a strong political voice, this is something that also gets in the way of a believable portrait of the 17th Century. Janiak wants us to believe that the people of the 17th Century were just regular modern teenagers a few hundred years earlier – they even hold their own parties in the woods where everyone makes out and gets stoned. I kept thinking – is this really what teenagers of the 17th Century would say and do? The film takes Puritanism as a backdrop, which is crucial when it comes to the unfolding dramatic events, but is also never an attitude that any of the teens actually exhibit in their beliefs and actions. There is no sense you get through these scenes of what teens of the day would have been raised to believe – in Christian virtue, being good farmers, wives and homemakers and going to church regularly. Would such teenagers so openly sexually proposition others or engage in what would be regarded as sinful (lesbian) relations without feeling shame and guilt? Would there not be some social prohibitions against taking substances that intoxicate?
The other issue is the central character. I was never quite sure why we were seeing the same actors from the 1978 and 1994 scenes in equivalent roles back in the 17th Century – is this meant to be their ancestors? (Or is it just a way for the film to cut down on casting costs?) I could quite easily go with the idea that Deanna was inhabiting the body of Sarah Fier a la Scott Bakula in Quantum Leap (1989-93). Even though it is never mentioned that Sarah was Deena's ancestor, we also see Benjamin Flores Jr., her brother from the 1994 scenes as her brother in 1666, implying that they are her descendants (even though Sarah is killed without having had any children). The jarring historical anachronism that we have here is seeing African-American heroine and her brother in the 17th Century, living regular lives and treated by everyone around them as equals within the society, at a time when the only Black persons in any Puritan settlement would have been slaves.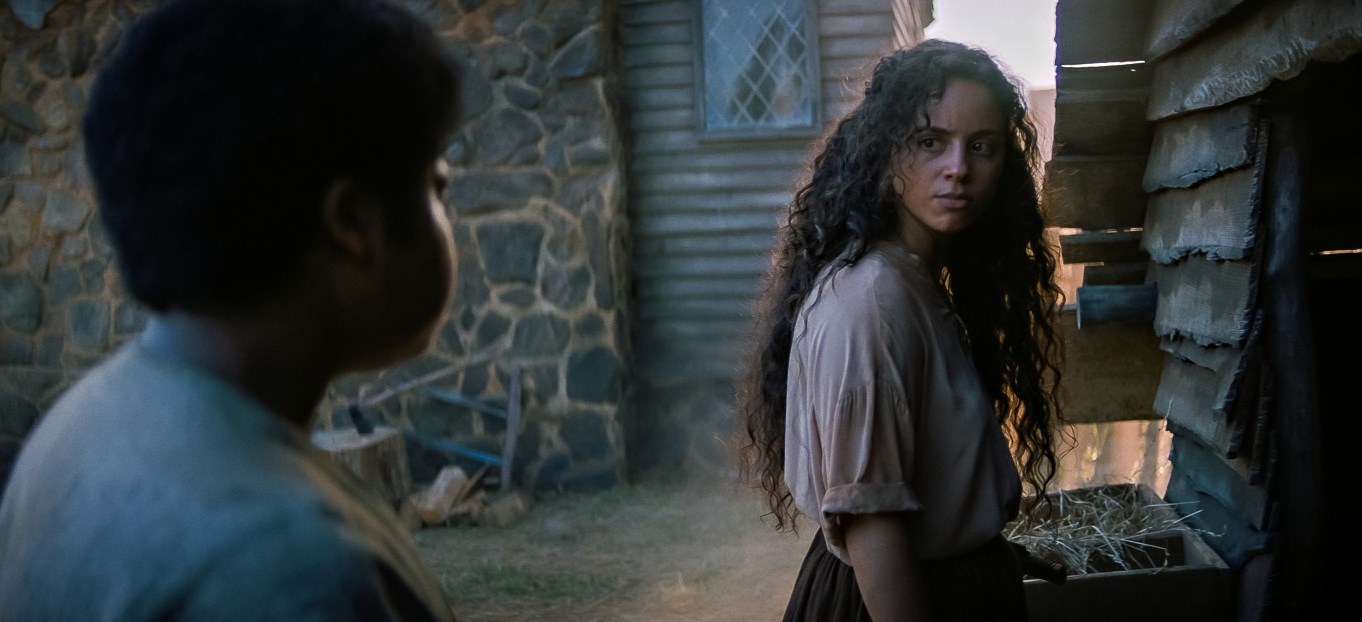 This left me with difficulty in establishing any believability in the historical scenario. Is Leigh Janiak so determined to push a Woke message and include representation for minority characters in her film that she has erased entire sections of history (ie. the existence of slavery) as inconvenient to the telling? Trying to logically process what was going on here left one's brain in a convoluted Escher-esque contortions.
The second half of the film back in 1994 has the surviving characters running around the mall trying to avoid various resurrected killers. Leigh Janiak delivers efficient horror, nothing more. What disappointed me with these scenes is that they seem lacking in the smart effective characterisations, the sense of humour and witty deflation of the cliches of the horror genre that the first two films did well.
R.L. Stine has published over 400 books since 1986 and is listed by the Guinness Book of World Records as the world's top-selling children's author. Stine's works have also been adapted to the screen as the tv anthology series The Nightmare Room (2001-2); the films Superstitious (1999), When Good Ghouls Go Bad (2001) and Mostly Ghostly: Have You Met My Ghoulfriend? (2014); the tv series Eye Candy (2015); and the film Goosebumps (2015) and its sequel Goosebumps 2 (2018).
---
Trailer here
---