---
Crew
Director – Jake West, Screenplay – Dan Schaffer, Producer – Mike Loveday, Photography – Ali Asad, Music – Richard Wells, Special Effects Supervisor – Scott MacIntyre, Makeup Effects Design – Karl Derrick, Production Design – Matthew Button. Production Company – Carnaby Film Productions PLC Film/Hanover Films (UK) Ltd/Molinaire London.
Cast
Danny Dyer (Neil), Stephen Graham (Vince), Noel Clarke (Mikey), Lee Ingleby (Matt), Emil Marwa (Graham), Keith-Lee Castle (Patrick), Terry Stone (Sergeant Gavin Wright), Neil Maskell (Banksy), Christina Cole (Candy/Ruth), Emily Booth (The Snipper)
---
Plot
A group of seven male friends leave their various partners and head off in a minibus they have rented for a weekend of partying. The intent is to help one of the group Vince get over his divorce. They travel to the village of Moodley where the women reputedly outnumber men by four to one. However, immediately upon arriving, they are attacked by the women. As they take siege from the onslaught, they discover that the village has been the site of a military experiment involving a toxin that turns women into zombies and that they have killed all the town's menfolk.
---
Doghouse was one of the films from British genre director Jake West. West first appeared and got some favourable press with the chic vampire film Razor Blade Smile (1998) and went onto the likes of the gore comedy Evil Aliens (2005), Pumpkinhead: Ashes to Ashes (2006) and the S is for Speed segment of The ABCs of Death (2012), while he has also directed numerous extras documentaries for dvd re-releases of classic horror movies.
Doghouse falls into what is termed British 'lad culture' – something promulgated by magazines like Maxim, Loaded and Stuff that seems to revel in an unrepentant male boorishness and sexism, all filtered through a mocking irony that is intended to deflate any criticism. There was a previous British horror film venture into lad culture with Lesbian Vampire Killers (2009), which was released four months earlier than Doghouse. In this respect, Doghouse could be considered to be doing for the zombie film what Lesbian Vampire Killers did for the vampire film.
It is a film that literally pits men against women – the defenders of humanity are unrepentant cavemen and the ordinary blokes in need of standing up for themselves after being dumped, while their nemeses are women who have been exaggerated and hysterically caricatured as monsters. Here Danny Dyer, the biggest name the film has, gives a performance that quite takes one aback where almost everything he says consists of either come-ons or crude innuendoes.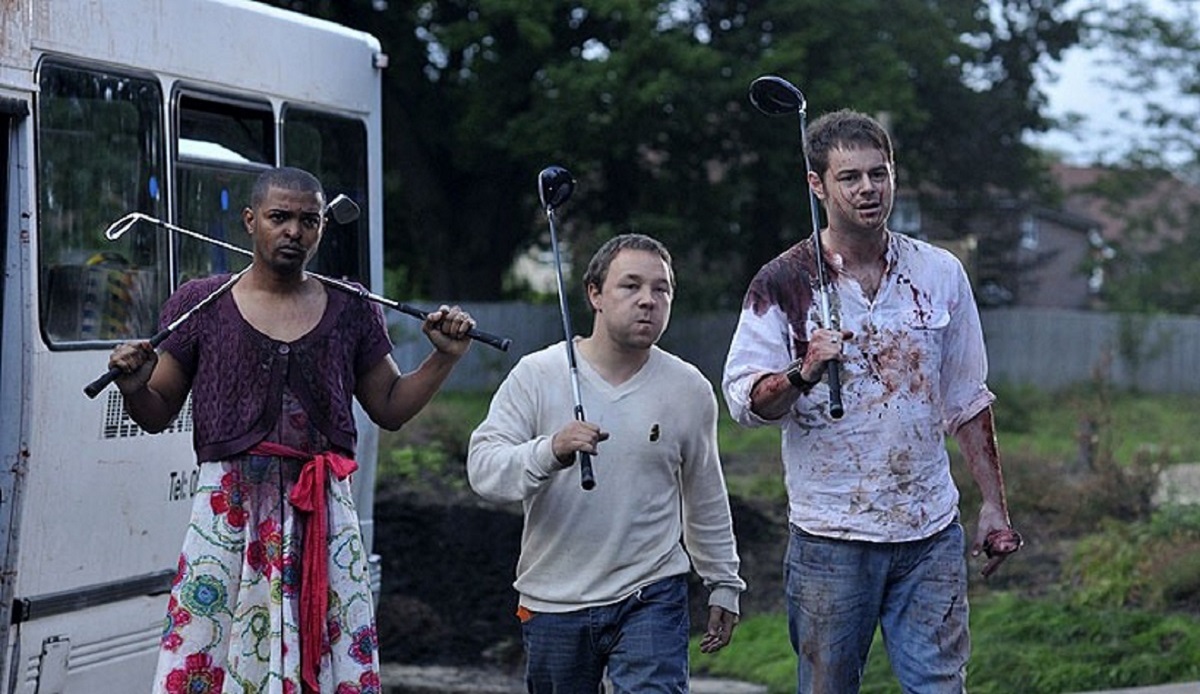 You feel like the only way such a premise could work in this day and age is if the film made it staggeringly clear to all watching that it was being a satire. Only, while Doghouse is clearly played in a comedic vein, it is not at all clear that this is what it is doing. Obviously, the fact that one of the men is gay is meant to offset any potential accusations of it simply being an anti-woman rant. On the other hand, lines like "that's for Matt, bitch" as one of the zombie women is killed don't exactly help.
Not to mention that the arc of all the characters – who are introduced in a montage of scenes where they are all either fighting with their women or splitting up because of their desire to get away and be men – shows that the film's sympathies lie in the reclamation of male identity. Indeed, the biggest character realisation comes towards the end where Stephen Graham suddenly realises that he should stop acting like a downtrodden pussy and stand up for himself. In other words, for all its wanting to treat the battle of the sexes as a comedy, Doghouse is a film where the sympathies are squarely on the side of the men putting the women down and making the crude comments that treat them as sexual objects and bitches.
There is little more to Doghouse in terms of sophistication than something that works on the level of a gore comedy. The film gets some comic amusement out of the guys' bungling attempts to fight off the zombie women using all manner of improbable jury-rigged weapons like coat hangers, remote-controlled toy cars, golf balls, garden gnomes and flamethrowers improvised out of water cannons (where the flame melts the plastic of the gun when in it is first used). Certainly, there are some entertainingly gory meltdowns, which contain some quite accomplished effects work.
---
Trailer here
Full film available online here:-
---