---
USA. 2009.
Crew
Director – David DeCoteau, Screenplay – Simon Savory, Based on the Short Story The Pit and the Pendulum by Edgar Allan Poe, Producers – Paul Colichman, Stephen P. Jarchow & John Schouweiler, Photography – Howard Wexler, Music – Gratis Music. Production Company – Here! Studios.
Cast
Lorielle New (JB DeVay), Stephen Hansen (Jason), Bart Voitila (Kyle), Danielle Demski (Alicia), Amy Paffrath (Gemma), Tom Sandoval (Vinnie), Michael King (Trevor), Jason-Shane Scott (Julian), Andrew Bowen (Alan DeVay), Jason Stuart (Dr Dmitri DeVay), Greg Sestero (The Ex)
---
Plot
A group of seven people, mostly students and athletes, volunteer for an experiment in hypnotism being held at Highgate Mansion. They learn that the house used to be Archway Asylum run by Dr Dmitri DeVay. DeVay became notorious for a series of experiments wherein he pushed patients to extreme pain thresholds while under hypnosis, which ended with several subjects dead. The current experiment is being conducted by DeVay's daughter JB who promises each of the group that she can raise their tolerance of pain or help them conquer their fears with the use of hypnosis. However, as she begins sessions with the various members of the group, what becomes apparent is that she is seeking to further her father's experiments and gains a sexual pleasure from killing each of them while they are hypnotised.
---
David DeCoteau is a director who emerged at Empire Productions in the 1980s and continued at Empire's successor Full Moon Productions, making a steady output of low-budget horror and occasionally science-fiction films with titles such as Creepozoids (1987), Sorority Babes at the Slimeball Bowl-a-Rama (1988), Puppetmaster III: Toulon's Revenge (1991), Beach Babes from Beyond (1993) and Test Tube Teens from the Year 2000 (1994). Towards the 00s, DeCoteau became an independent director and now makes a steady stream of low-budget horror films that place an emphasis on the homoerotic. (A full list of David DeCoteau's genre films is at the bottom of the page).
In the late 00s, David DeCoteau made a trilogy of Edgar Allan Poe adaptations with The Raven (2007), House of Usher (2008) and The Pit & the Pendulum here. What was common to all of these was their abandonment of all but the slimmest connection to Poe (although that is a feature common to most Poe adaptations in that filmmakers are required to pad the relatively slim originals out to feature length and usually have to invent a substantial backstory to the story). Poe's poem The Raven (1845), for instance, is about a narrator being visited by a talking raven and mourning his missing love Lenore, while David DeCoteau's version is a slasher film set in a large mansion.
All of DeCoteau's Poe adaptations update and modernise the story from the usual 19th Century setting where most other films are located. The more unusual aspect of these films as Poe adaptations was DeCoteau's typical focus on gay elements – where the relationship between Roderick Usher and the narrator in House of Usher was one of gay lovers – with frequent scenes of guys walking around bare-chested and in their boxers.
As The Pit & the Pendulum opens, it seems like typical territory for David DeCoteau. He introduces the usual line-up of impossibly handsome young guys (all of whom have never acted before and display such minimal talent they will never be heard from again – you get the impression that David DeCoteau is one of the most unashamed practitioners of the gay equivalent of the Hollywood casting couch). To be fair, DeCoteau also includes three women among the cast and doesn't make this solely a gay male film (although two of the women quickly hook up with each other).
That said, it is not long before DeCoteau gets to the inevitable scenes of guys wandering around in their boxers and making out, as well as scenes with guys in boxers in a hypnotised wrestling match that seems to go on forever. The question you keep wondering is exactly who DeCoteau made his version of The Pit & the Pendulum for – gay or straight audiences? Horror or erotica? The problem one suspects is that DeCoteau has created his own niche of softcore gay horror erotica where he now makes solely the films that only he wants to watch.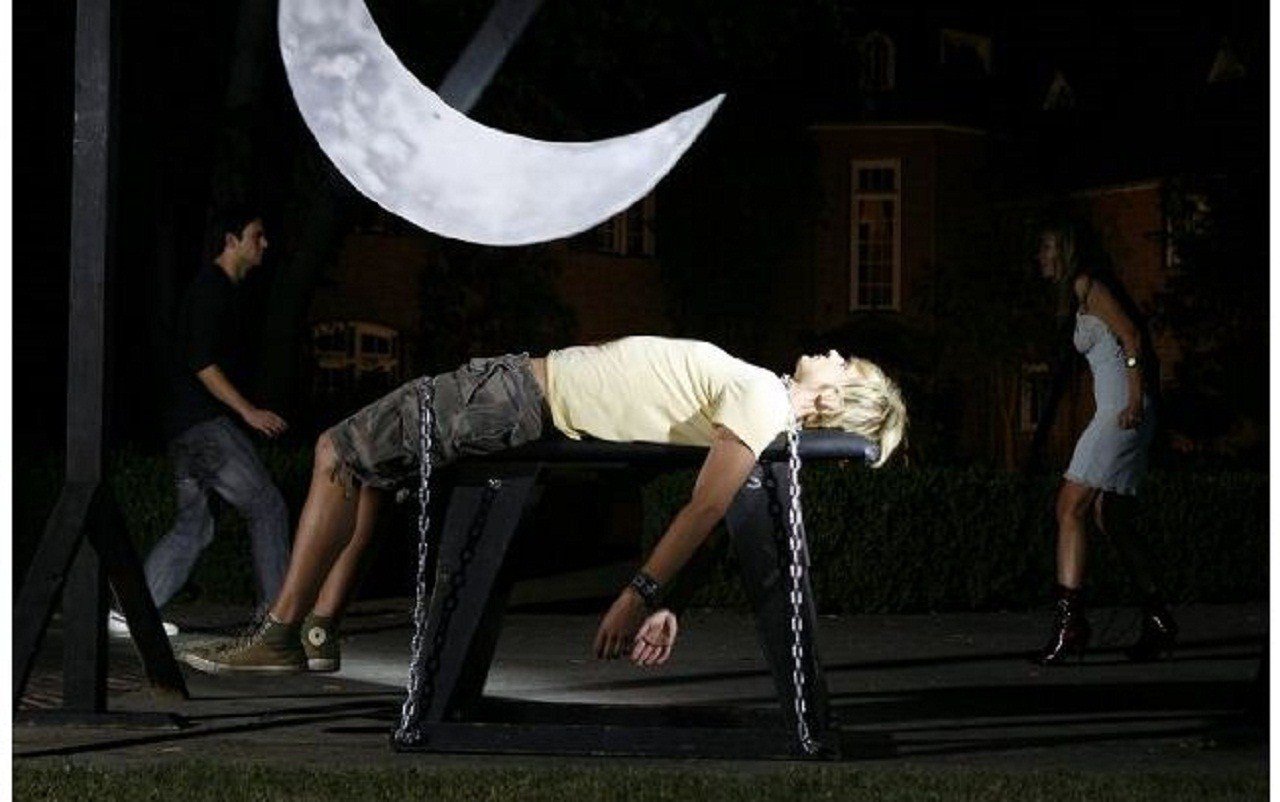 The film has very little in common with the Edgar Allan Poe short story The Pit and the Pendulum (1850). The Poe story has the unnamed narrator tied up in a dungeon by the Spanish Inquisition as a bladed pendulum swings slowly down towards him. On the other hand, the film is about a mad psychiatrist's even crazier daughter conducting a series of experiments in hypnotism – something confusing that involves testing people's levels of pain while under hypnosis – and she being obsessed with getting them to kill one another and themselves while in a trance state (none of which features in the Edgar Allan Poe short story).
Interestingly here, pendulums are expanded out beyond Poe's torture devices and refers also to the watch a hypnotist swings (which the film has essentially built its concept out around), while DeCoteau also fills the film with images of grandfather clocks everywhere. To keep the pit part of the title, DeCoteau throws in images of the hypnotised victims somnambulistically descending stairs and going down into a tunnel. Indeed, take away the two-three minutes featuring Bart Voitila tied up beneath a pendulum at the climax and all that we have is a cheap film about hypnotism murders that has appropriated Edgar Allan Poe's name to sell itself.
There is little credibility to the film. David DeCoteau has done little to no research on how hypnotism works in actuality and just buys into horror movie cliches about the subject. Lorielle New takes the opportunity to vamp the role of the psychologist/hypnotist and as a result fails to establish any credibility. Some of the scenes with her killing people are ridiculous – the worst perhaps being when she rides atop Jason-Shane Scott as he pumps iron on a bench while hypnotised and she achieves orgasm before bringing the weights down to crush his chest. The sexual overtones of the sequences turn it into something ridiculous. There is another absurd scene with Tom Sandoval and Michael King wrestling, which goes on and on, while Lorielle New strips off and masturbates with a riding crop, before strangling Sandoval and whipping his dead body with her crop while riding atop him.
The climactic scenes where Stephen Hansen confronts Lorielle New and gets her to see what she is doing are laughable in terms of the number of platitudes waved about – "Love hurts doesn't it? … Yes, but you can't change everybody to be like you, JD." We finally get the pendulum scene at the climax, which is totally absurd due to the fact that the structure simply has the pendulum built on a single pivot screw swinging back and forth and appears unable to descend towards the imprisoned victim.
Other versions of the Edgar Allan Poe story have been:- Alice Guy-Blache's French lost silent short The Pit and the Pendulum (1913); The Pit (1962), a British short film adaptation; Roger Corman's classic adaptation Pit and the Pendulum (1961) starring Vincent Price; Stuart Gordon's campy The Pit and the Pendulum (1991) starring Lance Henriksen; and as an episode of the animated anthology Extraordinary Tales (2015).
David DeCoteau's other films of genre interest are:– Dreamaniac (1986), Nightmare Sisters (1987), Creepozoids (1987), Dr Alien/I Was a Teenage Sex Maniac (1988), Sorority Babes at the Slimeball Bowl-a-Rama (1988), Murder Weapon (1990), Puppetmaster III: Toulon's Revenge (1991), Beach Babes from Beyond (1993), Test Tube Teens from the Year 2000 (1994), Blonde Heaven (1995), Prehysteria! 3 (1995), Beach Babes 2: Cave Girl Island (1996), Bikini Goddesses (1996), Lurid Tales: The Castle Queen (1996), Petticoat Planet (1996), Prey of the Jaguar (1996), The Journey: Absolution (1997), Shrieker (1997), Skeletons (1997), Beach Babes from Beyond 2 (1998), Curse of the Puppet Master (1998), Frankenstein Reborn (1998), The Killer Eye (1998), Talisman (1998), Alien Arsenal (1999), Ancient Evil: Scream of the Mummy (1999), Witchhouse (1999), The Brotherhood (2000), Frankenstein and the Wolfman Reborn (2000), Prison of the Dead (2000), Voodoo Academy (2000), Final Stab/Final Scream/Scream 4 (2001), The Frightening (2001), The Brotherhood 2: Young Warlocks (2001), The Brotherhood 3: Young Demons (2002), The Wolves of Wall Street (2002), Leeches (2003), Speed Demon (2003), Ring of Darkness (2004), The Sisterhood (2004), Brotherhood IV: The Complex (2005), Killer Bash (2005), Witches of the Caribbean (2005), Beastly Boyz (2006), Grizzly Rage (2007), The Raven (2007), House of Usher (2008), Alien Presence (2009), The Brotherhood V: Alumni (2009), The Brotherhood VI: Initiation (2009), Nightfall (2009), Son of a Witch (2009), Stem Cell (2009), 1313: Giant Killer Bees (2010), Puppet Master: Axis of Evil (2010), A Dream Within a Dream (2011), 1313: Haunted Frat (2011), 1313: Actor Slash Model (2011), 1313: Boy Crazies (2011), 1313: Wicked Stepbrother (2011), 1313: Bermuda Triangle (2012), 1313: Bigfoot Island (2012), 1313: Cougar Cult (2012), 1313: Frankenqueen (2012), 1313: Hercules Unbound (2012), 1313: Night of the Widow (2012), 1313: UFO Invasion (2012), A Halloween Puppy (2012), Immortal Kiss: Queen of the Night (2012), Santa's Summer House (2012), Snow White: A Deadly Summer (2012), 2: Voodoo Academy (2012), Hansel & Gretel: Warriors of Witchcraft (2013), My Stepbrother is a Vampire (2013), A Talking Cat (2013), A Talking Pony (2013), 3 Scream Queens (2014), 3 Wicked Witches (2014), 666: Devilish Charm (2014), 666: Kreepy Kerry (2014), 90210 Shark Attack (2014), Bigfoot vs D.B. Cooper (2014), Knock 'Em Dead (2014), Asian Ghost Story (2016), Bloody Blacksmith (2016), Evil Exhumed (2016), Sorority Slaughterhouse (2016), 666: Teen Warlock (2016), The Wrong Child (2016), The Wrong Roommate (2016), Swamp Freak (2017), The Wrong Crush (2017), The Wrong Man (2017), The Wrong Student (2017), The Wrong Cruise (2018), The Wrong Friend (2018) and The Wrong Teacher (2018). DeCoteau has made films under a variety of pseudonyms, including Ellen Cabot, Richard Chasen, Julian Breen and Victoria Sloan.
---
Trailer here
---