---
Crew
Director – Clive Tonge, Screenplay – Jonathan Frank, Story – Jonathan Frank & Clive Tonge, Producers – Mary Aloe, James Edward Barker, Craig Chapman, Daniel Grodnik, Scott Mann, Myles Nestel, Jake Shapiro & Steven Schneider, Photography – Emil Topuzov, Music – James Edward Barker, Visual Effects/Animation (Supervisor – Kevin O'Neill), Special Effects Supervisor – Mark Fenlason, Production Design – Nava. Production Company – Mann Made Films/Brighter Headache Productions/Solution Entertainment Group/Grodnik-Aloe Productions/Digital Ignition.
Cast
Olga Kurylenko (Dr Kate Fuller), Craig Conway (Dougie Trenton), Lance E. Nichols (Detective Mike McCarthy), Rosie Fellner (Helena Wynchfield), Mackenzie Imsand (Sophie Wynchfield), Mitch Eakins (Ellis), Javier Botet (Mara), Ted Johnson (Grandpa), Marcus Weastersby (Saul Conlon)
---
Plot
Psychologist Kate Fuller is called in by the police to assess Helena Wynchfield who is accused of killing her husband Matthew. Kate questions Helena's terrified young daughter Sophie who mentions the name Mara. When Kate mentions Mara to Helena, she talks about a sleep demon and says that it killed Matthew. Kate investigates further, discovering that Helena belonged to a support group of people affected by sleep paralysis. There she meets the crazed Dougie Trenton who claims that Mara has marked people in the group and is coming for them. The police suspect Dougie after the people he says are marked start to be killed. Kate then begins to experience sleep paralysis and believes that Mara is coming for her,
---
Rodney Ascher's The Nightmare (2015) was a genuinely creepy documentary on the subject of sleep paralysis, one that gets far spookier than most horror films ever do. It laid the groundwork and seemed to open the challenge for some filmmaker to come along and use the theme in a horror context. Unfortunately, the films that came after it – the likes of Alp (2016), Be Afraid (2017), The Man in the Shadows (2017) and Slumber – have singularly failed to find that same uncanniness, although Der Nachtmahr (2015) was passable.
Mara is an entry in the field that promises to be somewhat better than the others. It comes with the benefit of a name actress, Olga Kurylenko, suggesting it being made with more than the B-budget of all the other entries. The film was a directorial debut for Clive Tonge who had previously directed, written and composed the music for several short films.
Clive Tonge does a decent job and creates a number of eerie scenes. In particular, he does some uncanny things with POV shots in scenes like where Olga Kurylenko wakes up and we see as an indistinct black shape that moves in the corner of the room or a later scene where a shape scuttles out from under the table. In these scenes, the camera takes her point-of-view and just sits there and watches, creating a sense of dread as we wait for something to happen. There is also an effective scene where Olga Kurylenko is taking a bath and the shadow of something presses up against the shower curtain on the other side.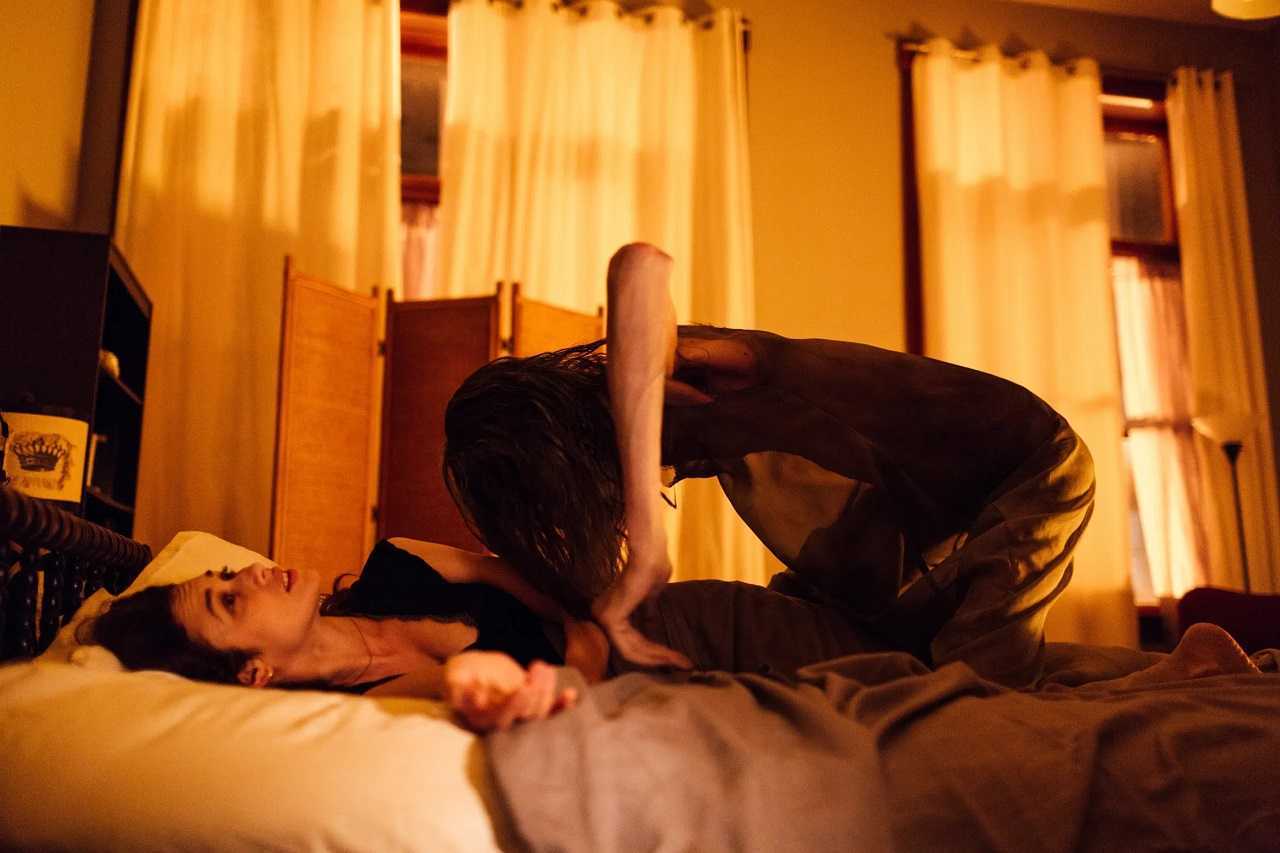 Olga Kurylenko is never an actress that has done much for me. She has tended to be shuffled around in a lot of requisite hot chick roles playing off a male lead – Hitman (2007), Max Payne (2008), Quantum of Solace (2008), Johnny English Strikes Again (2018) – but never anything I have seen her stretching her acting talent. Here however she gets something that allows her to flex her muscle and does a fine job at various points throughout of seeming appropriately concerned and haggard.
The great disappointment of Mara is that it is not the great work about sleep paralysis it promises to be. We have a handful of scenes where Olga Kurylenko is seemingly paralysed and seeing things but the film never explores these or delves into the phenomena. Instead from the point it introduces the support group, the film diverts off into another story altogether about some kind of sleep demon. This comes to take over the show and gets not nearly enough explanatory rationale, while any exploring of sleep paralysis phenomena is forgotten after a few cursory mentions.
---